Surprise! In an unexpected announcement yesterday afternoon, Amazon revealed a bunch of new Alexa-enabled devices – including a new version of the Fire TV. The latest edition of Amazon's popular device features a serious change in form factor and a few improvements under the hood. Let's check it out.
The most noticeable thing about the new Fire TV is that it looks very different from the previous model. Amazon's old Fire TV was a squarish box designed to sit near your TV like a cable box. The new version is square, too, but that's where the similarities end. The new device is much smaller and dangles from the HDMI connection via a flat connector that's very much like the one on Google's second-generation Chromecast.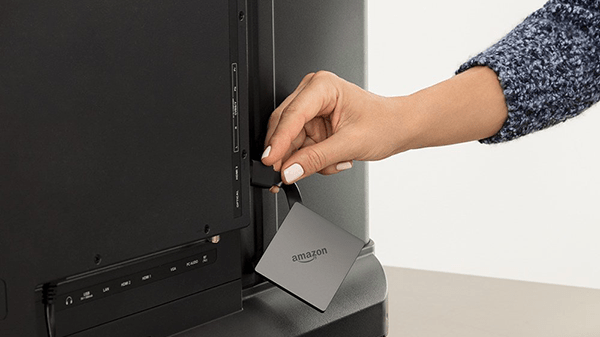 Amazon has also added support for 4K HDR. The old Fire TV supported 4K, but not 4K HDR (the Fire TV stick can handle neither). And, of course, all the good stuff is returning – including the Alexa remote, which you can use to chat with Amazon's ever-improving Alexa personal assistant. There are no ports other than the one for the power supply, unfortunately.
The device won't be available until October 25, but you can pre-order it right now for $69.99. Amazon is also offering discount bundles that lump the new device in with an antenna or with an Echo Dot.
Please like us on Facebook to keep up to date on what's new in the world of cord cutting: