Skinny bundles! They're everywhere these days. It seems like years ago that we first reviewed Sling TV, yet – wait, actually, it was years ago.
In that first Sling TV review, we went fairly easy on the first nationally available entrant into a bold new space. Sling TV was, back then, a little inconsistent, but that was okay with us – they were doing something exciting and new, and we were on board. Our expectations have been raised significantly since then: Sling TV has improved, and has inspired plenty of other reliable services, such as DIRECTV NOW and fuboTV, to join it in its market space.
So new skinny bundles now come into being with plenty of established competition. Growing pains are no longer shrugged off in this business, and newborn skinny bundles have to fight for their market share from the start. There are plenty of options here, so there is no need for the consumer to be patient with the newcomers.
The latest fledgling contender is CenturyLink Stream, one of the many new skinny bundles backed by a big ISP (CenturyLink is a thing – ask your friends from west of the Mississippi). Is it any good? Here's our Cordcutting.com CenturyLink Stream review.
CenturyLink Stream Review
User experience
I should note up front that CenturyLink Stream is still in beta, so they'll have some time to fix things before they go official with the full release. That's how a lot of these services have started, but we review them right away anyway; after all, if they're ready to sign up customers and charge them (and they sure are), then they should be ready for reviews, too. Let's get started.
Signing up is a bit more arduous with CenturyLink Stream than it is with competitors. You'll have to create an account first, with a password that fits these rather stringent rules:

Aw, come on! There's less security at the Trump White House than there is around this CenturyLink skinny bundle.
Anyway, once you've done this, you get an email. Click the link in the email to confirm your email address. Now you can go ahead and sign up for the free trial, at which point you need to enter more information – including your birthday, on a calendar that starts on the current date and takes a few clicks to get way back to your birth year.
None of this takes that long. It just seems like it could be easier, especially in a business space where everyone and their brother is offering quick-sign-up free trials.
Alright, alright, let's talk about the actual service. I found CenturyLink Stream to be very pleasant to use. The in-browser app was the easiest to manage, as is usually the case with these things – small screens (mobile) and no mouse and keyboard (Roku) make design a bit tougher – but I enjoyed using the app on all platforms. The mobile app was more impressive than the Roku app, but they were all nice. My only real complain about the app is that the mobile version hides the information usually displayed at the top of your phone (like battery life and signal strength, both of which seem relevant to streamers).
By the way, here's the tutorial the service pushes when you open the app for the first time – it explains all the perks in the peppy-flight-attendant voice that you'd expect:
Let's talk about those features. To me, a few things can set the otherwise similar skinny bundles apart. The first is the TV guide system, which usually includes a way to select favorites. CenturyLink Stream gets full marks here, as their TV guide is really intuitive and features options to set and sort by favorites.
The second big differentiating feature for skinny bundles – at least for the time being – is the cloud DVR. PlayStation Vue has one. Sling TV is in the process of rolling one out. DIRECTV NOW doesn't have one (they're working on it).
CenturyLink Stream, happily, does! And it's a joy to use. You can record single episodes or series, and sorting through your recordings is easy to do.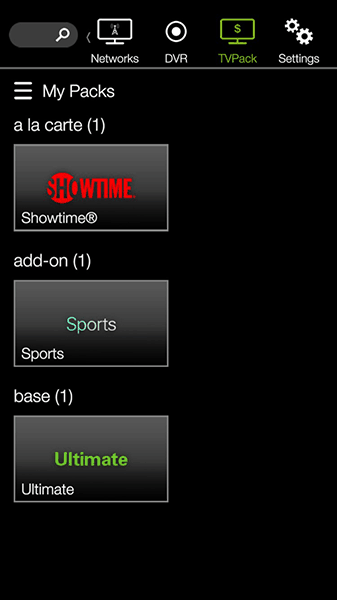 One thing I absolutely love about CenturyLink Stream is how easy it is to check in on your subscriptions. Your list of packages gets its own tab on the mobile app, and while you can't cancel or add stuff on the same screen, it makes it easy to remember how much you're on the hook for. You won't accidentally keep paying for some add-on you never watch.
Content
It's easy to find content through the great CenturyLink Stream UI. But what about the content itself?
It's pretty much what you'd expect, with a few mild disappointments. You'll see most (but not all) of the usual suspects in CenturyLink Stream's Ultimate package. Deals with Disney bring in ABC, Freeform, and Disney. NBC is here, but CBS and Fox are not. Also conspicuously missing: the Viacom networks, including Comedy Central and MTV.
You can build on the base packages with add-ons, just as you can with Sling TV: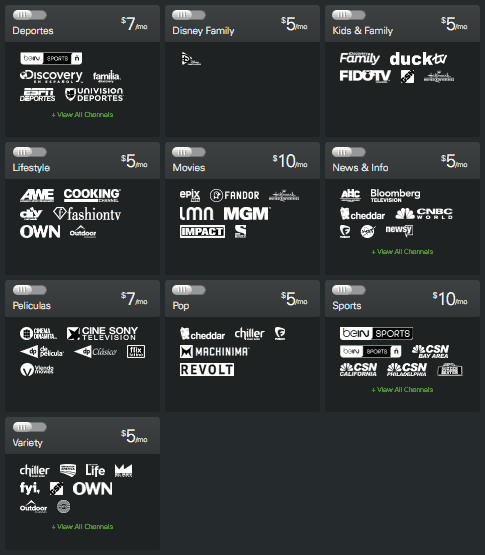 This live TV content is supplemented with on-demand stuff, an increasingly common perk among skinny bundles. There's some good stuff to stream (hey, alright, The Lego Batman Movie!), and it's a nice supplement the on-demand content you'll stock yourself via the DVR feature.
Streaming quality
The good news is that CenturyLink Stream pretty much never stops streaming. The bad news is that, in some circumstances, it will make drastic sacrifices in picture quality to keep things moving.
Under some circumstances, CenturyLink Stream seemed to avoid the poor streaming quality that has marred the early days of similar services. But particularly on low-powered devices and wireless connections, the service sometimes struggled in my trials. I had picture quality issues on my Roku Express (which is a relatively low-powered device and is Wi-Fi only). I also had issues on my iPhone, most notably when I turned off my Wi-Fi and relied only on my network (Verizon). In the worst cases, screens got so blurry and pixelated that they were unwatchable, though this never lasted long. In most cases, the service just give me standard def for a while. Unlike the pixelation, the standard def could last quite a while before snapping back into HD.
The on-demand content streams like a dream under all circumstances, but that's the easy part for these services. It's the live TV that is tough to get right.
Platforms
It's early days for CenturyLink Stream, and as is typical with these services, device support is limited.
CenturyLink Stream can be watched in four ways as of this writing: in your browser, on a mobile device (iOS or Android), on Roku, or on Android TV (including on CenturyLink's own "CenturyLink Player," which we did not test as part of this review). The last category covers the Nvidia Shield.
Those who are out of luck: users of Fire TV, Apple TV, and, most shockingly, Chromecast. How hard would it have been to add Chromecast support to the otherwise great iOS and Android apps?
You can register up to 20 devices per household, according to the service's website, which is awesome and seems like more than anyone would reasonably need. Of these, up to 3 can be streaming at once. All of this seems very generous.
But in practice, these numbers don't seem right. While the site says 20 devices, when I opened the app for the first time it told me I was registering the first of 15 devices. Worse, was cut off for reaching my "max concurrent streams" while logged in on three devices and streaming on only two. I'm not sure what caused that error, but it casts some doubt on how well families could actually use this service concurrently.
Price
Like many other skinny bundles, CenturyLink Stream offers different packages.
There's Ultimate, which is $45 a month and, despite the name, is actually the only base package, not the "best" one.
Latino costs $15/month and can be combined with Ultimate.
Then there are the add-on packages, which will run you between $5 and $7 each. These are optional, of course. There's a screenshot showing these up in the Content section of this review.
Finally, there are a few optional premium channels, including Showtime and a bunch of ones you don't care about, each priced separately: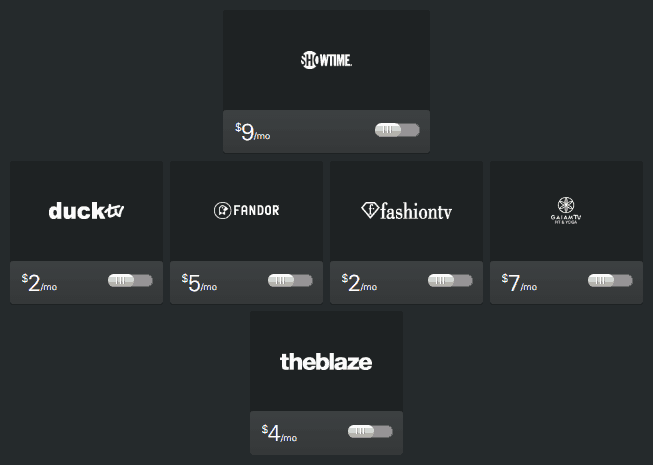 One neat thing here is that you can get the premiums without a base package. Not so with the add-ons, though.
I love that someone else is trying Sling TV's à la carte approach, but the relatively high price of the Ultimate package undermines this. Sling TV lets users build a custom package off of base packages starting at $20 – CenturyLink Stream's base package is more than twice that. The à la carte model is supposed to help users save by cutting out channels they don't need. But add a couple of add-ons to the Ultimate package and you're looking at something north of $55/month. For that much, why not just get a bigger bundle from one of the other skinny bundles, after all?
Verdict
Our first-ever skinny bundle review was fairly forgiving of Sling TV's growing pains. Sure, it wasn't the smoothing-streaming service in the world, but streaming live TV is a tough task (you can't buffer it way ahead of time if it hasn't happened yet!), and Sling TV was boldly pioneering a whole new type of service that was going to change the cord cutting world.
Now, skinny bundles are a dime a dozen – and growing pains just aren't worth putting up with when you could just turn to DIRECTV NOW, fuboTV, PlayStation Vue, or Sling TV instead. There's no margin of error here for CenturyLink Stream.
Unfortunately, the service couldn't used one. Despite having perhaps the best user interface in the market, CenturyLink Stream just doesn't have the quality streaming it takes to compete with smooth-streaming services like DIRECTV NOW, fuboTV, PlayStation Vue, or Sling TV.
On top of this, CenturyLink Stream doesn't make a great case for value. $45 is a bit steep for the starting point of an à la carte service. Add a few packages and you're paying the same as you would for a big-time bundle from DIRECTV NOW, fuboTV, or PlayStation Vue. Meanwhile, you can create an à la carte deal from Sling TV for far less.
Despite my price concerns, I think CenturyLink Stream can easily become a strong option in this space by simply improving its streaming quality – everything else about the experience is great. But streaming is the most important part of a skinny bundle experience. Until CenturyLink Stream can stream more reliably, I can't recommend it.
Please like us on Facebook to keep up to date on what's new in the world of cord cutting: