Cord cutting has been made easier for years now by streaming services like Netflix and Hulu, which operate by collecting large libraries of content and charging monthly fees for subscriptions. But a new type of streaming service has begun to emerge more recently, one that supports itself primarily through ads rather than through subscription fees. These services tend to have much smaller content libraries than Netflix, Hulu, HBO, and the other streaming giants, but they're growing fast, and they offer an exciting alternative to the paid subscription model. We've reviewed plenty of paid streaming services, so it's about time that we got around to this Crackle review.
Crackle is the best-known of the free ad-supported streaming services. It has a more robust content library than competitors like Tubi TV, but it still lags behind the streaming giants. It's free, but is it worth your time? Here's our complete Crackle review.
Crackle Review: A Strong Free Option for Streamers
User Experience
We though the Crackle's user interface was pretty strong. On the web app, you can view all of their movies unsorted, or you can drill down by genre, length, or alphabetical order. Crackle's web app lacks some of the content discovery features that, for instance, Netflix's interface offers, but if you know exactly what you want, it's pretty easy to find what you're looking for.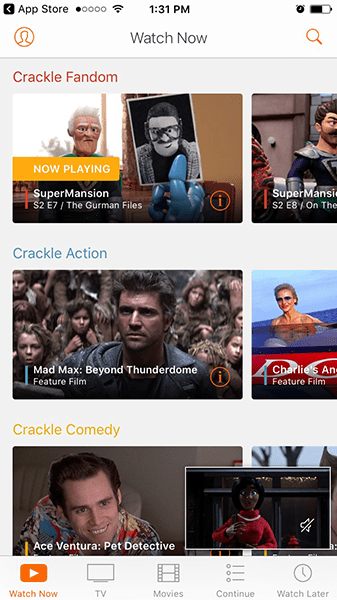 On Crackle's other platforms, they use rows of films in a way that's a bit more reminiscent of Netflix's interface. This was nicer for content discovery, but made it tougher to quickly find specific films. There's a "Watch Now" tab that surfaces featured content, and you can check out TV shows and movies on separate tabs, too.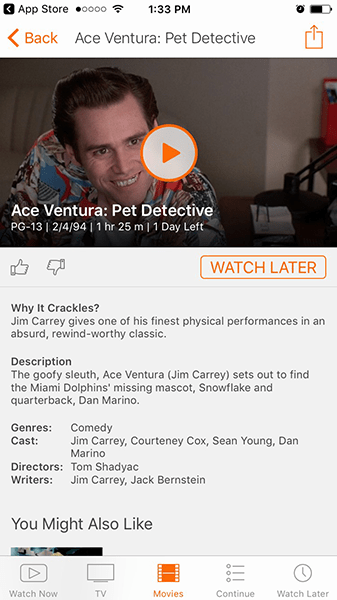 You'll get some additional functionality from Crackle if you create an account. You'll be able to create a watchlist ("Watch Later"), which is nice, as slogging through some of the lower-quality content to find the gems on Crackle probably isn't something you want to do every time you log on.
Content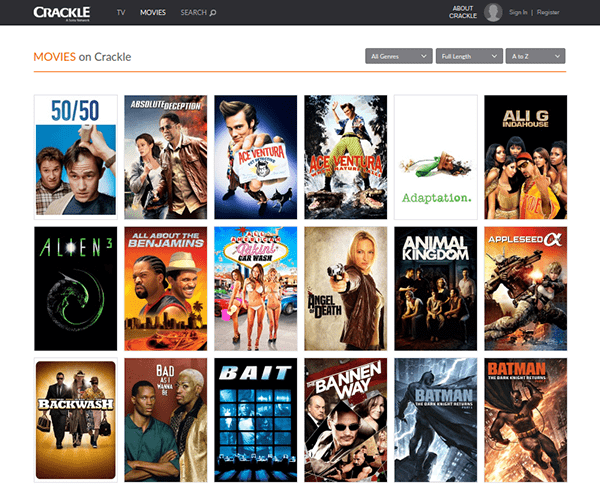 Crackle's content library clearly lags far behind Netflix, Hulu, and the rest of the big boys. Still, it has a fairly solid collection of films available for stream. Quality-wise, they have Tubi TV's collection beat easily. Wisely, Crackle has snapped up a couple of movies that are no longer available on Netflix.
Crackle's TV shows aren't quite as impressive, though they have some limited offerings from big-time shows like Seinfeld.
One exciting thing about Crackle's content library is that it's making an aggressive entry into the original programming wars. Crackle has a few original series on offer, including Jerry Seinfeld's well-known Comedians in Cars Getting Coffee.
Like other free streaming services, Crackle fills the gaps in its catalog with lower-quality content. Generally, this content isn't quite as prevalent or as useless as it is with competitors like Tubi TV. That's nice, as it makes it less frustrating to get to the next high-quality film when you're surfing Crackle. The flip side of this is that the lack of filler makes it very obvious just how small Crackle's content library is.
Streaming Quality
If HD picture is important to you, you may be disappointed in Crackle. The picture quality topped out at just 480p for the films we tried. This is probably the biggest complaint we have in our Crackle review – even YouTube videos stream in HD, guys!
The good news is that the streaming was very smooth (though at 480p, why wouldn't it be?). Movies loaded quickly and streamed reliable on all of the devices we tried. We didn't find a huge difference in either picture quality or streaming consistency across the different platforms.
Platforms
In addition to their web app, Crackle is available on Roku, Apple TV, Amazon Fire TV, and Android TV. You can get apps for all the current-gen and last-gen gaming consoles with, the lone exception of Nintendo's products. It also has an Android app and an iOS app, both with Chromecast support.
We tried Crackle on five platforms: a laptop (via the web app), an iPhone, an Android tablet, a Roku 4, and a Chromecast (casting from both iOS and Android). The streaming quality was pretty much the same across all of these platforms. The user experience was a little different on the web app, as we outlined up in the User Experience section.
How Much Does Crackle Cost?
Hooray, it's free! Crackle's main appeal is that you don't have to pay a dime for the subscription.
Of course, if you're not paying for the product, then you are the product. Crackle will run ads during your program. Ads run for a couple of minutes (you'll usually get four or five ads of 30 seconds or so each) and pop up about every 10-15 minutes. You'll only have to deal with one ad at the beginning when you start a new program.
Verdict
We're very optimistic about the potential of most free streaming services, but we're usually reluctant to say that they're worth exploring as they exist right now. Our findings in this Crackle review fall pretty much along these lines. Crackle is close to ready for mainstream consumption, but it really needs better picture quality before we recommend it for most users.
With that said, early adopters will find that Crackle is one of the better free streaming services out there right now. If you don't mind standard definition picture, we think you'll enjoy Crackle's small but solid content library.
Please like us on Facebook to keep up to date on what's new in the world of cord cutting: