Amazon Prime Day means plenty of major discounts on great products for you and your loved ones. And what's a better product than a streaming device that connects you to Netflix, Disney Plus, Hulu and much more? (We'll wait…) If you're hoping to tap into new and exciting video content with the help of a magic box, more commonly known as Roku, you might be in luck. Amazon frequently offers Prime Day sales on many of the popular streaming devices featured on the site.
Keep up with us for the latest and greatest on Amazon Prime Day deals, and we'll bring you up-to-date news on the best sales right as they happen.

Prime Day Deals on Roku Devices
There's no better time to check out a new device than Prime Day. Last year, Amazon had great deals on various Roku devices, and we have a hunch we're going to see a similar trend this year. If you're interested in a Roku but confused about all the different Roku devices and seemingly endless options, let's get you caught up.
A Roku device attaches to your TV and makes it easy to stream content from services like Netflix, Hulu, HBO, as well as watch live TV. The devices are either box shaped or look like USB drives (or as Roku calls them: streaming sticks).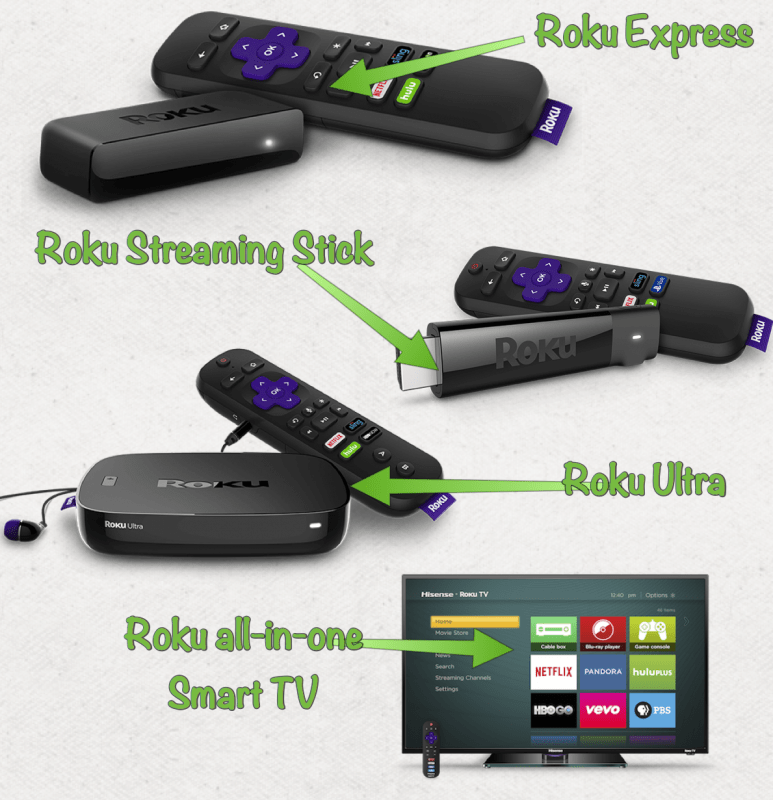 Let's quickly review the most popular Roku devices you might want to keep your eyes on during Prime Day:
Roku Express: currently on Amazon for $24.99 this basic streaming stick comes at an affordable price and offers a simple setup and remote, while still giving you access to a variety of streaming services.
Roku Premiere: currently on Amazon for $34.00. The biggest difference between Roku Premiere and Roku Express is that Premiere supports HD/HDR/ and 4K streaming, giving you a much better performance.
Roku Streaming Stick Plus: currently on Amazon for $47.00. The compact stick comes with a voice-control remote and streams in 4K and HDR.
Roku Ultra: currently on Amazon for $95.00. Roku Ultra features an advanced voice remote with TV controls, as well as private listening with a headphone jack, and personal shortcuts.
Roku TV: currently on Amazon for $248.00. This all-in-one smart streaming TV gives you the option to start watching all your favorite content right away, without having to connect additional cable equipment. It features an easy-to-navigate home screen and comes with a simple remote.
With Roku you're able to avoid expensive cable bills, get access to hundreds of different channels, and organize all your streaming services in one place. Roku also comes with a multitude of free channels like Crackle, NewsON, PBS, Pluto TV, and The Roku Channel, and gives you access to almost any other type of channel, including on-demand movies, live sports, and numerous other live feeds. You can pick from a variety of devices — depending on your needs — from those designed for beginners to those for the more advanced watchers who are looking for cool technology like the voice remote.
Prime Day Savings Strategies for Roku
First, let's cover the basics. In order to participate in Prime Day sales, you have to be a Prime member. Sign up for Amazon Prime at $12.99 per month or $119 per year. If you're a student, you can get Amazon Prime at a special discount of $6.49 per month, or $59 per year (as well as a six-month free trial). We highly recommend downloading the Amazon app on your phone so that you can see new and upcoming deals. The app will also notify you when Lightning deals are about to go live. Go to "Settings," then click on "Notifications," and turn on "Personalized Notifications" to get the scoop. If you have Alexa, she might be able to save you even more money and tell you about secret Amazon deals. Simply ask Alexa what she knows about Prime Day deals beforehand. Next, a week before Prime Day, start watching the items you're interested in by clicking the "Watch this deal" button so that you can receive an alert when they go on sale.
Want to know what our Prime Day motto is? "Add it in!" Lightning deals can disappear in the blink of an eye, as they have a limited quantity of items and run for a limited time. So if you see a deal you like, add it to your cart right away. You will have 15 minutes to purchase it before you lose your spot to whoever is on the waitlist. Spotlight deals also won't last forever, so if you want to get popular items from top brands, throw them in the cart as well. If you're really committed to being a savvy shopper, you can also download Amazon Assistant to get desktop notifications on the deals you're interested in.
One last tip: Sharing is caring. Don't forget that you're allowed to share your Prime membership with one additional adult in your household, and that applies on Prime Day!
Happy Prime Day, Roku Fans!
We hope that with some of our tips you are able to get the Roku device of your dreams for the lowest price during this year's Prime Day fun. But, if for some reason you're too late to the Prime Deal party and miss out on a Roku, or if you're not completely sold on the device and want to look at similar options, you might want to check out Amazon's Fire TV Stick and Fire TV devices, which are almost definitely going to have some type of awesome deal on them during the Prime Day sales event. Read our Roku review and Amazon Fire TV review to figure out which device might be better suited to your needs. We'll be tracking Prime Day deals on Fire TV devices, too!
If you don't want to get a Prime membership, you can also opt to wait for the Black Friday deals on Roku, taking place the day after Thanksgiving. And don't forget to check back in with us closer to Prime Day in order to get the scoop on the best deals available.