At long last, ESPN's direct-to-consumer, cord-cutter-friendly streaming service is here. ESPN+ is the first significant effort from ESPN in the cord-cutting space (but not the streaming space – the cable-fueled WatchESPN has been with us for a while already), as well as a huge step for parent company Disney, which is gearing up to become one of the giants in the streaming place. But is ESPN+ any good? That's the question that this ESPN+ review sets out to answer.
ESPN+ Review
User Experience
ESPN+ is available on apps for all kinds of platforms. These apps are actually just the old ESPN app: thanks to a recent update, that familiar app now plays host to this brand-new streaming service, no new app required. (Keep in mind that the ESPN app is not the same as the WatchESPN app).
You can sign up for ESPN+ using an existing ESPN account, which you may have if you play fantasy sports or subscribe to ESPN's premium content service, ESPN Insider. Once you've done that, getting started with ESPN+ is as easy as hopping on the ESPN app.
If it's your first time using the ESPN app, you'll start out by choosing your favorite teams and leagues. ESPN has long used these preferences to select content for you to read and watch, and the practice now carries over into content discovery features on the new ESPN+ service.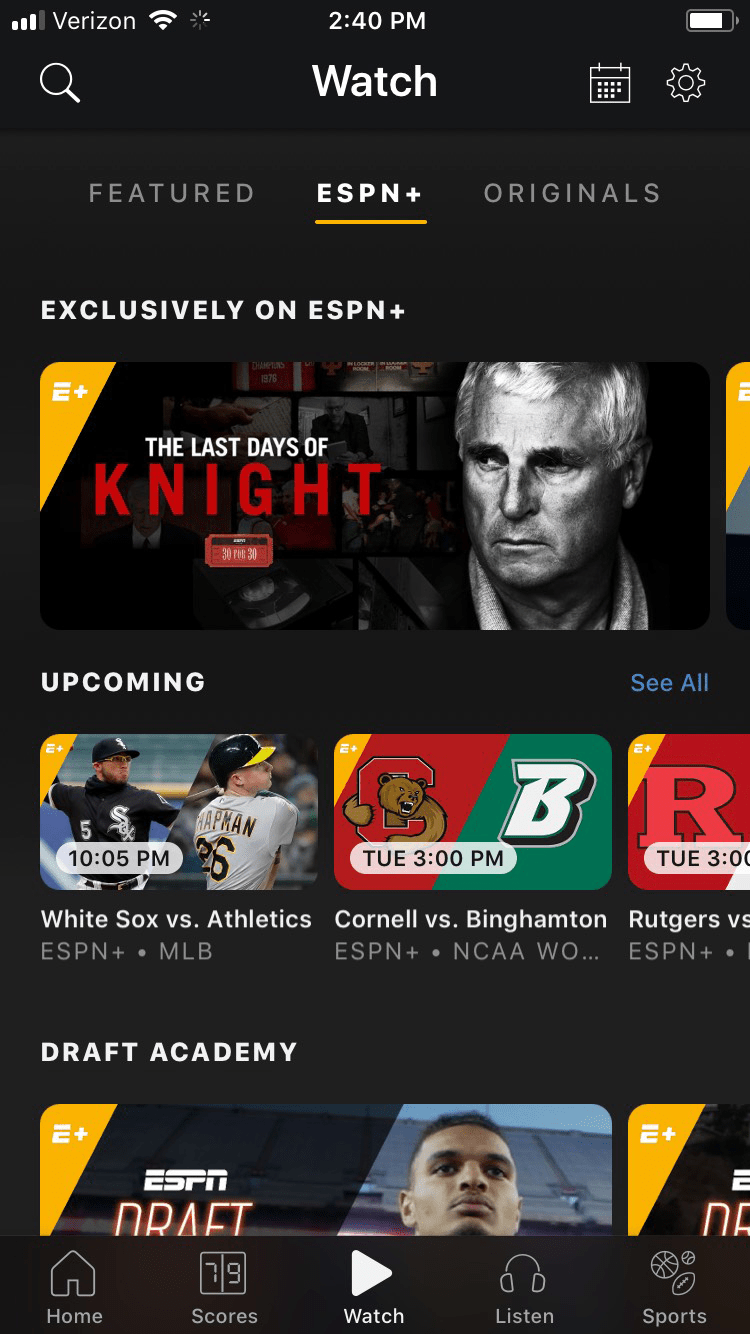 ESPN+ can be accessed via a tab on the ESPN app – on mobile, it's labeled with a "play" button. You can also check out ESPN+ through the service's website. Either way, you'll see a selection of live and on-demand content. Tap anything to play it. The video controls are simple and will be familiar to anyone who has used a streaming service before.
Put all this together and you have a pretty simple user experience. With nothing to complain about here, let's move this ESPN+ review along to our "Content" section.
Content
The knock on ESPN+ from the moment it was announced was that it wouldn't have enough good live sports broadcasts. After testing the service for a while, I think that that criticism has some merit, but it underrates what is available and unfairly neglects the strong on-demand catalog that ESPN+ has arrived with.
It's true enough that ESPN+ is a little light on live sports. It doesn't seem that you'll be able to watch Monday Night Football on this service when the NFL season rolls back around, and I didn't see any live basketball in my trials, which were conducted in April. Most of the live sports programming looks like the stuff you'd see ESPN 2 air opposite an NFL playoff game: college baseball, lower-tier soccer, and so on.
But ESPN+ does boast live MLS matches. MLS Live's offerings have been incorporated into the service at no extra charge (MLS Live's run as a standalone service seems to be over). That makes it quite appealing to soccer fans, especially considering the fact that ESPN+ costs less per month than MLS Live did.
Supplementing ESPN+'s native live sports content are two things: the ability to add other subscriptions, and a catalog of full match replays. The former is a feature that allows subscribers to log into MLB.TV and NHL.TV accounts in order to watch content from those services through ESPN's app. The latter is a robust collection of on-demand replays of recent games, including NHL playoff games. Neither of these features blew me away. MLB.TV already has a great app, and I don't subscribe to enough league streaming packages to really need a $5-a-month hub app to organize them all. As for game replays, well, I just like my sports live – as I'd guess most sports fans do.
ESPN+ also has talk shows and analysis shows, including ESPN FC. If this is your sort of thing, you'll find plenty to watch.
ESPN's saving grace content-wise is its strong on-demand library of ESPN original films and series. Films from ESPN's 30 for 30 series are available, as is their excellent documentary series on O.J. Simpson. You can also watch some old events, though not always the ones you want (you can watch Ali vs. Frazier II and III, for instance, but not their famous first battle). Unlike the replays of recent games, I think these classics have value as on-demand content for sports die-hards. Also available are best-of and highlight compilations of ESPN shows like SportsCenter and E:60.
There's a ton to like here, but ESPN+'s content library struck me as a sort of niche within a niche. Other niche streaming services, like the horror-focused Shudder, serve up the main thing that their niche audience craves. ESPN+, though, is pretty short on the main thing sports fans crave – you know, sports – and relies heavily on things peripheral to that fandom. As a big sports fan, I love live sports. I also love sports analysis, sports documentaries, and classic sports broadcasts. But do I like those secondary things enough to subscribe to a service that focuses on those and neglects that first important thing?
I liked having ESPN+, and I watched stuff on it. But there are other sources for a lot of this type of content, some of which are free and others of which I already subscribe to. I have podcasts, the radio, and blogs for sports analysis; Netflix and Amazon Prime for sports documentaries; and YouTube and MLB.TV for classic sports broadcasts. Even at just $5 a month, ESPN+ can feel overpriced for what it is.
Of course, if you're a big MLS fan, you can throw all that out of the window: to you, MLS Live will just be a cheaper MLS Live with even more content thrown in. Fans of other sports may find the content lacking, but fans of American soccer will not.
Streaming Quality
I had no issues streaming ESPN+ on wired and wireless connections. It took a minute to snap into HD on mobile, but it streamed steadily from that point on as I watched on-demand content. Live content streamed quite well, too. A caveat: ESPN+'s live content does not feature much that's in high demand. ESPN has plenty of streaming experience, so it's no surprise that I could stream college baseball without incident. But WatchESPN has had its share of problems handling larger events. Will ESPN+ stream as smoothly if it begins to feature live events that draw bigger crowds? That remains to be seen.
Platform Support
ESPN is rolling out updates to its old ESPN app, which gives ESPN+ a big structural advantage that most fledgling niche streaming services (and quite a few that aren't niche, too) don't have. Right out of the gate, ESPN+ works on Android, iOS, Fire TV, Apple TV, and Chromecast. There's also a web app.
Just days after its release, ESPN+ added support for Roku devices.
I tested the services primarily on iOS and the web app.
Price
ESPN+ costs $4.99 per month or $49.99 per year. That puts it more or less in line with the $5 to $7 price range we're used to seeing for niche streaming services (like the all-horror Shudder or the CBS-only CBS All Access).
Still, $4.99 kind of feels like a lot for what ESPN+ is. CBS All Access is a dollar more, but it offers a live stream of your local CBS channel in some regions. Of course, CBS is already available for free over the air, which you can't say about ESPN. Still, it's frustrating to pay much of anything and get so little in the way of live sports for your money.
Too be clear, I don't wish ESPN+ was cheaper: the year-long subscription works out to just $4.17 a month, which is fine in my book. I just wish it was better. I don't expect Monday Night Football for $5 a month, but one live SportsCenter broadcast a day or a pro sports broadcast every day or two would probably sell me on this thing. (As I mentioned in the Content section, MLS fans will be far more satisfied with the content at this price point.)
The price is certainly right on one thing, though: ESPN+'s free trial. You get an entire month of free streaming for free, which is really fantastic. That's very generous of ESPN, and maybe a little risky, because you can definitely finish all of OJ: Made in America in one month and then just cancel on the poor folks at ESPN+.
Verdict
Early takes on ESPN+ featured a lot of observers saying that this wasn't really a service for cord cutters at all. Without live sports, they reasoned, ESPN+ was mostly useful as something to tack on when you already had access to ESPN.
Does that take hold up? Yes and no. I wouldn't go so far as to say that ESPN+ is not for cord cutters. Cord cutters can watch a ton of sports, so supplementary sports coverage makes sense for them, too. But that is very much what ESPN+ is: supplementary.
Is it worth it for die-hards? I'd venture to say yes. The price is right, and the MLS content alone makes the service a relatively worthwhile one. But the sports fans who will like this service will be the ones with fairly democratic taste in sports. If you don't like a little of everything – if you crave NFL, NBA, and MLB content, and don't care about niche sports or MLS – then you'll be disappointed.
My main takeaway from trying out ESPN+ actually doesn't have that much to do with the current quality of the service. That takeaway is this: ESPN+ is exciting. It doesn't have enough in the way of great live sports, but it someday might. It doesn't work as a league streaming service hub just yet, but it could in the future if it adds support for more league streaming services. It has strong on-demand content already, and if ESPN keeps churning out more great 30 for 30s (and keeps them off rival services like Netflix), ESPN+ could quickly become more worthwhile. Continued improvement might trigger a price hike, but I think many sports fans would gleefully pay Netflix-level prices for a bigger, better version of what ESPN has rolled out here. ESPN+ feels like the beginning of something wonderful for sports-fan cord cutters.
For now, though? Well, it's only $5 a month, it streams fine, and it offers you a mix of talking heads and obscure sports. It's worthwhile for fans of MLS and sports documentaries who won't mind a distinct lack of the big games that get discussed around the water cooler. Whether or not there are a whole lot of omnivorous sports fans of this type, I don't know. ESPN and Disney certainly hope there are a lot of them.
Please like us on Facebook to keep up to date on what's new in the world of cord cutting: