We recommend: Try fuboTV for free.
Back when we wrote our first fuboTV review, the streaming service focused exclusively on soccer fans. fuboTV's purpose was to show you as much soccer as possible, and it accomplished that by giving you live feeds to a bunch of channels that aired soccer. In other words, it was a skinny bundle, but a very specific type of skinny bundle.
Since then, fuboTV has taken pains to increase their channel lineup and to bring in non-sports programming to balance out their offerings. There's still a bit of a sports bias in their selection (more on that below), but the bundle is much more diverse than it once was. Subscribers can now enjoy channels like USA, FX, and even Fox News – so I guess there's finally a service for all of you people who can't live without both Fox & Friends and Liga MX soccer.
fuboTV is no longer strictly for soccer fans. Instead, it has joined the fray and is competing at least a little more directly against general-interest skinny bundles like Sling TV, PlayStation Vue, and DirecTV Now. So how does it measure up? We thought it was about time for an updated fuboTV review.
fuboTV review
User Experience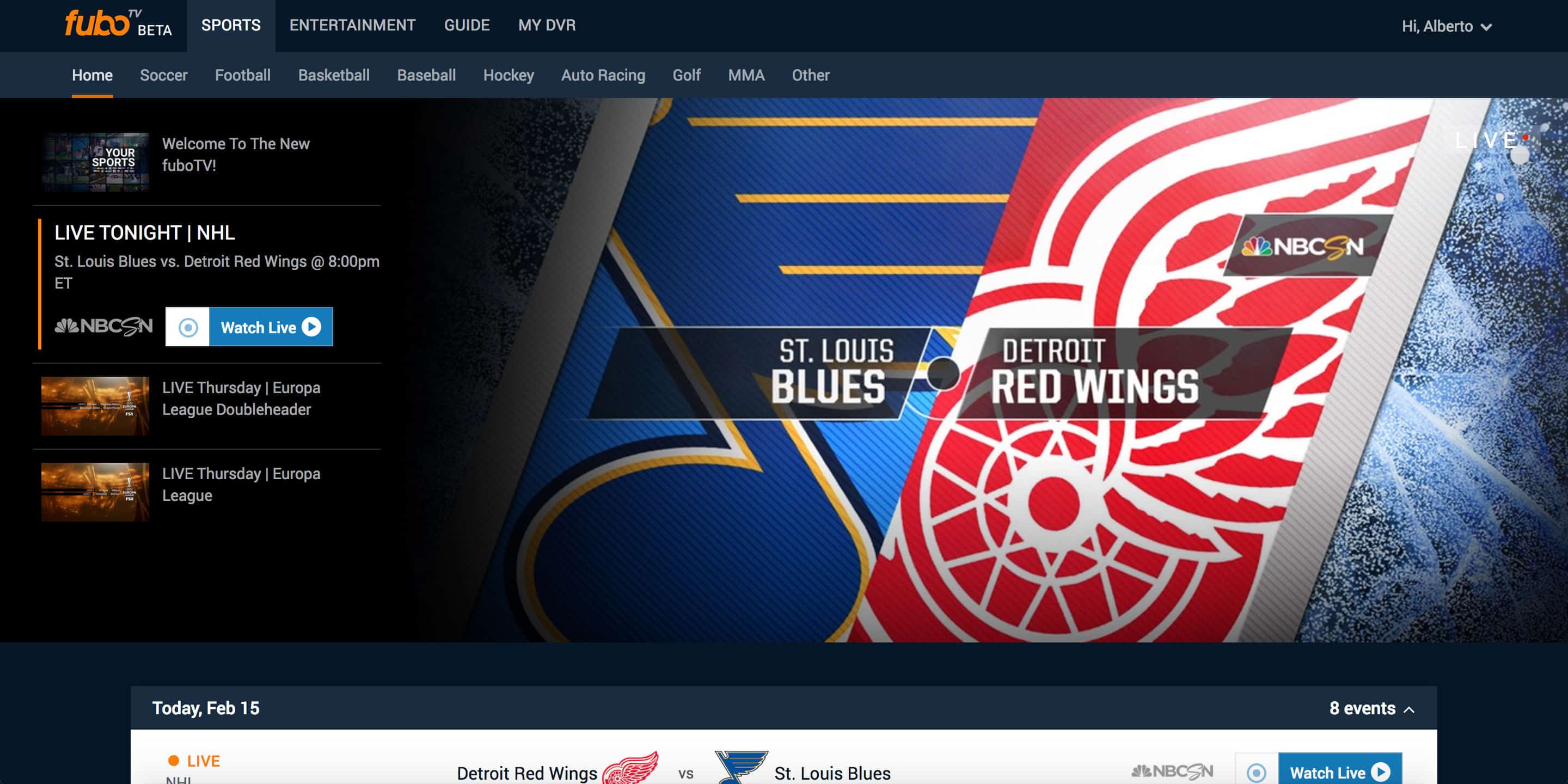 There's still a soccer focus to fuboTV, even as the service moves away from its soccer-centric branding. Sports is the first of several tabs on the web app, and soccer matches and soccer schedules are surfaced. Soccer has a sub-tab within the Sports tab on the web app, but no other sport does. [Update: Things move fast in the beta phase, and fuboTV has already added additional tabs for other sports. We've updated the screenshot above to show the improved sport-specific tab selection.]
There are two things I really like about the fuboTV interface: the channel guide, which mimics a traditional pay TV interface, and the DVR feature, which works pretty much like PlayStation Vue's. Both are welcome perks that should, in my opinion, be standard on all skinny bundles.
Things work slightly differently app-to-app, but one thing the apps have in common is the inability to really channel surf – you have to either shrink or close the video screen and then manually select a new channel.
Content

Content, of course, is where fuboTV has changed the most. Once a soccer-focused service, fuboTV now has a pretty solid selection of other channels.
Many of the usual suspects from other skinny bundles are here. There's Bravo, FX, USA, CNBC, National Geographic, and much more. But not every typical skinny bundle channel is available: notable absences include AMC and, of all channels, ESPN – the second being a surprising omission in a package that's otherwise very strong on sports.
Thanks to its heritage as a soccer-focused streaming service, fuboTV's sports selection is quite strong – as long as you overlook the previously mentioned absence of ESPN. NBCSN, FS1, and FS2 are all here, and so are a ton of channels that air varying amounts of soccer: Univision, Unimás, Univision Deportes, One World Sports, Fox Soccer Plus, beIN Sports, and beIN Sports ñ. Then there's a handful of other sports channels: Big Ten Network is here for you midwesterners, and YES is here for you fans of the Brooklyn Nets, NYCFC, and that stuffy New York baseball team that doesn't even have a mascot.
All of this above is in the English-language base package, but one of the strengths of fuboTV is its foreign-language content. There's a cheaper, slimmed-down package called fubo Latino, which drops the English-language channels (including soccer channels) and focuses on Spanish-language content and Liga MX coverage; and there's fubo Português, which features Portuguese channels alongside some Spanish-language content, with the soccer tailored accordingly.
Then there are the add-ons. Like Sling TV (and unlike PlayStation Vue or DirecTV Now), fuboTV lets you build out something of a custom package by adding small packages of channels on an à la carte basis. I found fuboTV's add-ons to be a fairly weak group. You can also add the entirety of the Spanish- and Portuguese-language packages as add-ons to the English-language base package.
With all this said, it's worth remembering that fuboTV is still technically in beta right now. I'm writing this review on launch day, and the selection (along with everything else) could still improve.
Streaming Quality
Streaming quality was pretty good on the platforms I tried, though it occasionally took a few seconds to get things up and running when loading a new channel. Loading might take a second or two, with the picture snapping into HD quality a second or two after that. Not the end of the world, but also not particularly impressive. Loading times were less of an issue on streaming boxes than they were on mobile devices, but picture quality was unimpressive at moments and on certain channels.
Platforms
Platform support is pretty solid here on day one, thanks in part, no doubt, to the fact that day one for the skinny bundle isn't quite day one for the app itself (as I've mentioned before, fuboTV had a past life as a soccer-focused streaming service).
fuboTV is available for Android, iOS, Roku, Fire TV, and Apple TV.
Price
Price is a bit of a weak point for fuboTV. Their main English-language package is about the size of the basic packages from competitors like Sling TV (here's our Sling TV channel list) and PlayStation Vue (here's our PlayStation Vue channel list), but it costs far more: $49.99/month, rather than $20 or $30 (right now fuboTV is having a sale that brings their package down to $34.99/month, which is a little more within striking distance). The Spanish and Portuguese packages run $14.99 and $19.99/month, respectively.
There is a free trial for fuboTV, but it's only 24 hours long (well short of the week-long free trial that has become the norm for skinny bundles). [Update: the free trial is now a week long.]
Put another way: our last fuboTV review called the app "a pretty nice service for the price" – but now the new and improved version of the service is more than twice the price we liked last time.
Verdict
Our last fuboTV review was pretty forgiving, but that was when fuboTV was the only service filling a key niche (soccer streaming). This time around, fuboTV is being evaluated as a skinny bundle. There's a lot of competition in that space, which is why this fuboTV review isn't quite as kind as our last one.
fuboTV works pretty well, but its channel selection and price keep it well off the podium occupied by the big three skinny bundles (Sling TV, PlayStation Vue, and DirecTV Now). Soccer fans will still find that this service appeals to them in particular, but what the service is showing on day one is not going to be enough to win a big share of the general-interest skinny bundle market. The channel selection is missing too many key players (AMC, ESPN), the package selection isn't as versatile as Sling TV's or as complete as PlayStation Vue's, and the price is just way too high (or, at least, will be after the $34.99/month promotion ends).
Please like us on Facebook to keep up to date on what's new in the world of cord cutting: