Cox may not be as big as Xfinity or Spectrum, but they have managed to carve out a place for themselves in the world of cable internet providers. There's quite a bit to love about their offerings, from their wide range of internet plans and Double Play and Triple Play bundles to their proprietary streaming device, the Contour Stream Player. But none of that matters if you can't get a good deal on Cox service. That's why we'll be taking a look at Cox's pricing, discounts, fees, and more. Let us help you find the best discounts on Cox's internet plans.
Cox Internet-Only Plans and Pricing
Cox's internet deals focus more on saving you money than anything else. There are a variety of internet plans, speeds, and rates to choose from. Keep in mind that promotional pricing across all plans is available for new customers and is typically $20 to $36 cheaper than the regular monthly rates.
| Plan | Maximum Download Speed | Introductory Price | Price After 12 Months |
| --- | --- | --- | --- |
| Cox Internet Starter | Up to 25 Mbps | $19.99 per month | $44.99 per month |
| Cox Internet Essential | Up to 50 Mbps | $29.99 per month | $65.99 per month |
| Cox Internet Preferred | Up to 150 Mbps | $49.99 per month | $83.99 per month |
| Cox Internet Ultimate | Up to 500 Mbps | $69.99 per month | $99.99 per month |
| Cox Internet Gigablast | Up to 940 Mbps | $99.99 per month | $119.99 per month |
Cox offers more options than many of their larger competitors. Both Spectrum and Verizon Fios offer just three internet-only plans, while Cox offers five cable internet plans.
Most users probably won't get the speeds they need from the starter plan, especially those who intend to stream HD content. The Internet Essential plan offers speeds up to 50 Mbps and is the lowest plan a cord-cutter should choose to stream in HD on a single device.
With speeds up to 150 Mbps, the Internet Preferred plan has more speed than a medium-sized household like mine needs — we stream all day (for background noise), and I have videoconferences most days. The standard rate is a bit expensive ($83.99 per month), but you'd pay this rate only after the first 12 months. (You can call the retention department to try to keep your promotional rate.)
It's important to note that Cox's wider selection of internet-only plans may translate to higher prices when compared to those of some of their competitors. Depending on your location and coverage availability, you may find that providers like AT&T, Xfinity, and Verizon Fios offer faster internet speeds at lower monthly rates. For example, Xfinity's highest-tiered plan is similar to Cox's Gigablast plan but costs $15 less per month. A benefit to the wider range of Cox internet plans is that there's a plan for all types of households. You can upgrade or downgrade your plan as your household and needs change.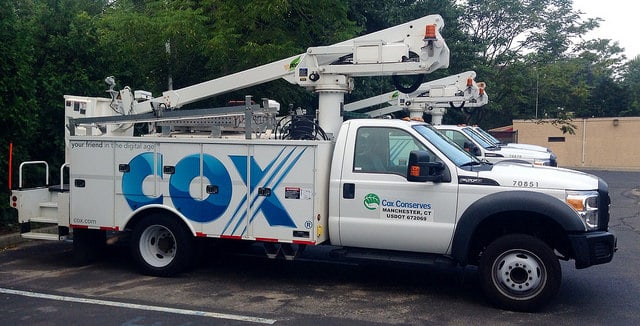 While Cox offers traditional TV service, they also have their own streaming TV service for cord-cutters. It's different from those offered by services like Netflix and HBO Max, which have their own original content. Instead, it's a streaming device that gives you access to Cox's on-demand library, live ESPN3 content, and your favorite streaming apps (including music and podcast services like iHeartRadio). You can bundle the 4K Contour Stream Player for an extra $5 per month. The only requirements are that you have an Internet Essential, Preferred, Ultimate, or Gigablast plan and Cox's Panoramic Wi-Fi gateway.
Cox Internet Deals
Free self-installation. Customers can opt for the free Easy Connect self-installation kit to avoid the $100 professional installation fee. There is no charge for shipping and handling.
Bundle discounts. Cox has Double Play and Triple Play bundles available. Like most internet providers, they give you discounts if you bundle your cable TV or home phone service with your internet plan. They also offer an unusual Triple Play bundle: internet, cable TV, and Homelife, their home security and smart home automation service.
Cox Internet Speed and Data Caps
Cox's Gigablast plan is their only residential fiber-optic internet plan. Their other plans use cable connections. Cox's Gigablast plan offers speeds as fast as 940 Mbps, which rival those of other fiber plans offered by AT&T, Verizon Fios, and CenturyLink. From user speed tests that I've seen and our hands-on Cox review, Cox's cable internet service is also the second-fastest of any cable internet provider in the U.S.
In 2020, Cox increased their data cap in light of the COVID-19 restrictions that forced many to work and attend classes from home. Now, all of the Cox internet-only plans have a data cap of 1,280 GB (or 1.25 TB) per month. The good news is that most users are unlikely to hit that cap. On average, streaming in HD consumes about 3 GB per hour. That means that even if you stream in HD for 12 hours per day, you still won't hit your data cap each month. You can increase your data cap by an additional 500 GB for an extra $29.99 per month; that would give you 1,780 GB of data each month. Or you can add an unlimited data plan for $49.99 per month to eliminate the data cap.
Just be mindful that you can exceed the data cap, as it's not a hard cap. Doing so will cost $10 for every 50 GB you use. However, Cox does cap charges for data overages at $100 per month. The first time you go over the data cap, you'll see courtesy credits cancelling out the overage charges. After that, you'll have to pay if you exceed the data cap.

Cox Internet Contracts and Fees
You don't have to sign a contract to get Cox's internet service, but there are advantages if you do. First, the introductory prices above include a $10 per month discount that you only get if you sign the contract. Second, without a contract, your monthly price can increase at any time, whereas having a contract will guarantee that your rate stays the same for 12 months.
If you decide to end your contract early, you will have to pay an early termination fee (ETF) of up to $120. This is the lowest ETF I've seen for a major provider; other providers, like Frontier and Mediacom, can charge anywhere from $200 to $450 for prematurely ending a contract.
When it comes to installation, you can choose either the Easy Connect self-installation kit or professional installation. Most users opt for the self-installation kit, which is free. If you do need professional installation, it will cost you $100.
Aside from your monthly internet rate, you may be responsible for a monthly equipment rental fee, depending on your plan. Cox charges $12.99 per month to rent a modem and router. (Actually, it's a gateway — a combined modem and router.) You could buy your own cable modem to avoid the additional fee, but be sure to verify that it's a Cox-certified cable modem before making a purchase.
Verdict: Is Cox Internet Good for Cord Cutters?
There's no doubt that Cox offers great speeds for streamers, but the pricing is on the higher end once the first-year promotion ends. Fortunately, Cox's variety of plans gives you more chances to save money, whether you're looking for an internet-only plan or a bundle. And having a low ETF is comforting if you find yourself needing to move or change providers sooner than you planned.
Cox offers good perks for people who are always online and on the go like me — access to public Wi-Fi hotspots, free cybersecurity, and a gateway that blankets your entire home with a strong Wi-Fi connection. All in all, Cox can keep any size household connected and safe online.