If you live in a rural area with limited options, satellite internet may be your best bet for internet. HughesNet is a satellite internet provider with nationwide coverage. They offer speeds of up to 25 Mbps and four data packages with prices ranging from $59.99 to $149.99 per month.
The main thing that is different with satellite internet service is the connection type: As the name suggests, satellite internet service comes in via satellite and doesn't require there to be any internet cable infrastructure in your area. But that's not the only difference that matters. Satellite internet customers should also be aware of differences in data caps and equipment. To get satellite internet, you'll need a satellite dish on your property. Satellite internet is usually a last resort for internet because of its slower speeds and higher prices, but that doesn't mean that it has to be lousy. HughesNet's plans and pricing are a bit different than what most people are used to seeing, so we will break down the differences and which plan we recommend.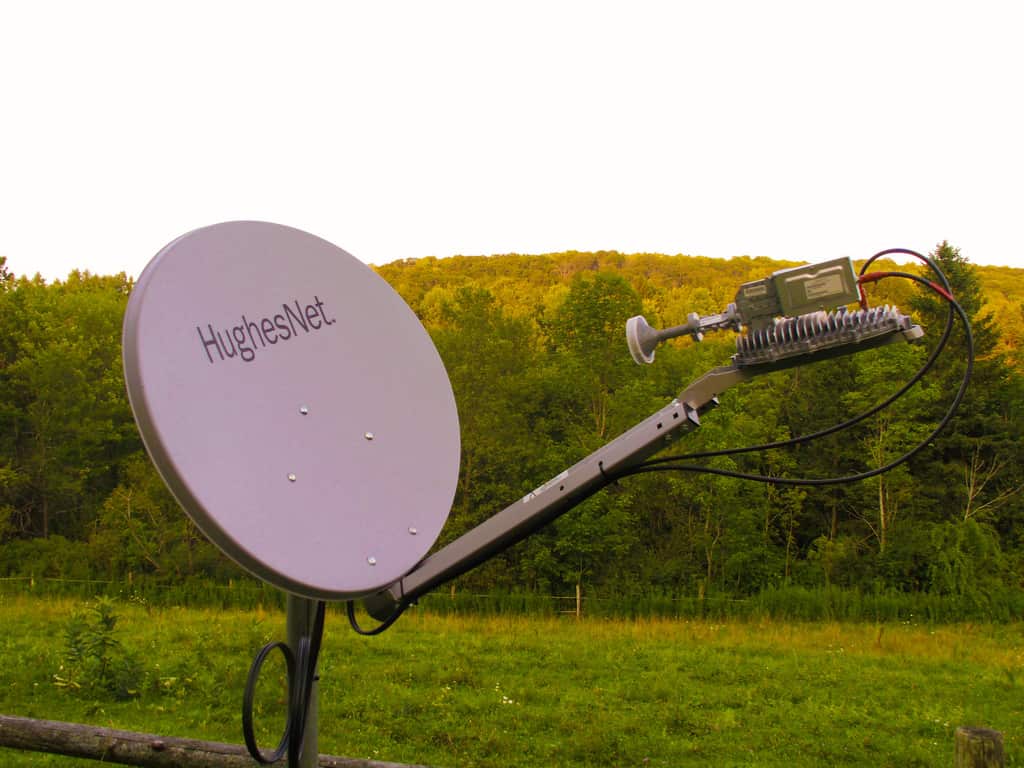 What to Expect from HughesNet
As we pointed out in our HughesNet review, one of the major advantages of HughesNet service is that it is available everywhere. Wherever you live in the United States, you can get HughesNet internet service. With cable or fiber internet, ISP service areas are limited to areas with the right infrastructure — if the right cables aren't running to your neighborhood, you'll be out of luck. This factor does not hinder satellite service. If you have a clear view of the southern sky, you can get satellite internet.
HughesNet arranges their internet plans a little differently from what you might be used to from cable or fiber. HughesNet offers its plans by data caps, rather than by speed. All HughesNet packages come with the same speed: up to 25 Mbps. Hughesnet data caps range from 10-50 GB a month. For a streamer, that's not a lot of data. Luckily, Hughesnet won't charge you data overage fees. Instead, your speed will slow down until your next billing cycle. You can buy data tokens, or extra data, to get around the slowdown — though you should be aware that this can get expensive.
HughesNet has a couple of disadvantages. They offer enough speed to stream some basic video, and some services may even work in HD, but satellite internet can only operate so fast; don't count on being able to use live streaming services or watch super high-def video. This is just a consequence of how satellite internet works: Your information is sent into space and back again. As you might imagine, that takes more time than running along a cable. This extra time causes delays called lag. So, there are certain things that satellite internet cannot do. I would not enjoy using satellite internet for fast-paced online gaming, for example — your split-second decisions will be communicated way too slowly. Streaming movies, on the other hand, might work — though you can expect some buffering from time to time, particularly if you want to watch in HD (a sharper picture means more data, which demands more speed; watching in standard def can make things easier).
A Breakdown of HughesNet's Plan and Pricing
HughesNet's pricing is unique. With monthly rates ranging from $59.99 to 149.99 per month, not including equipment and additional fees, HughesNet costs more than you might be used to from cable internet. For satellite internet, however, this isn't unusual.
HughesNet prices its plans by data, rather than by speed. I typically judge most internet plan pricing by price per Mbps (speed). But with HughesNet, I break down both their price per Mbps (speed) and price per GB (data).
| Plan | Price | Speed | Price Per Mbps | Price Per GB |
| --- | --- | --- | --- | --- |
| HughesNet 10GB | $59.99 | Up to 25 Mbps | $2.40 | $5.99 per GB |
| HughesNet 20GB | $69.99 | Up to 25 Mbps | $2.80 | $3.49 per GB |
| HughesNet 30GB | $99.99 | Up to 25 Mbps | $4.00 | $3.33 per GB |
| HughesNet 50GB | $149.99 | Up to 25 Mbps | $6.00 | $2.99 per GB |
HughesNet's internet prices range from about $2.99-5.99 per GB. Their price per Mbps range is higher than that of wired internet connections like cable and fiber. Again, that's expected — higher prices come with the territory for satellite internet. Unfortunately, HughesNet does not offer a wide variety of plan features to give more value to their plans.
With all plans at a 25 Mbps speed, your main concern will be how much you stream and download. The more people you have in your home and the more devices you have connected, the more data you will consume and the more GBs you will want to have. For instance, to stream an episode of Schitt's Creek or Stranger Things on Netflix in HD would cost you 3 GB of data. You can help save some data by lowering your resolution to SD — in that case, you'd spend less than a GB. There are ways to maximize your data plan with a bit of sacrifice here and there.
If you want to stream in HD, however, all is not lost. HughesNet has a solution for you — if you stay up late enough to get it. They call it the Bonus Zone. It is an off-peak period, between 2 am and 8 am, where each HughesNet package gives an additional 50GB of data. Since internet traffic is lower at this time of day, HughesNet can afford to let those who do use the web hog a bit more data in the wee hours.
With many services, including Netflix, you can download videos to watch later. With a little planning, you could download all your content during this six-hour Bonus Zone window without eating into your regular subscription data plan. All HughesNet packages have this added Bonus Zone.
Satellite internet providers also have higher fees than wired internet providers like Spectrum and RCN. HughesNet advertises no installation fee but then hits customers with a "lease set up" fee of $99. This is for the equipment you will be renting for $9.99 a month. They do have an option where you can purchase the equipment (a satellite dish and Wi-Fi modem) for $449.98. This purchase option is actually the cheaper way to go, considering there's a minimum two-year contract — though it's not cheaper by much.
Why Choose HughesNet?
HughesNet Internet is ideal for:
People who live in rural areas away from DSL/Cable internet provisioned areas.
Those who want a plan built around data blocks and not speed
Those who want go-anywhere internet for RVs or boats
People who want a rate that won't increase overnight
Call Hughesnet internet "Old Reliable". It's not the fastest — or first — choice, but when you need an internet connection, it's there. Having nationwide coverage is a big plus if you ever decide to move or take a trip. One thing satellite internet has over cable and fiber is that you can get satellite internet on a boat or RV. You could rely on satellite internet in areas where cell phones lose signal (which could come in hand if you go camping or driving across country).
For now, you only have two choices for satellite internet. If you don't opt for Hughesnet, you'll be looking at a Viasat internet plan.
If you can get a different form of internet service — like DSL or fiber, for example — then a satellite internet plan may not be the best internet for you.
Our HughesNet Internet Recommendations
For an Internet-Only Plan…
If you're like me, you'll do whatever it takes to stick to your budget. I suggest going with the 30 GB a month plan. It's $99.99 a month, but there's enough data for homework, remote work, online shopping, and some streaming. Besides, I stay up late watching Blacklist anyway.
For a Bundle Plan…
HughesNet does not offer or partner with a TV provider. They do offer a bundled landline phone service for an extra $19.99 per month. If you're looking for a TV provider, I'd suggest a satellite TV provider, DirecTV or Dish. There are some great HughesNet internet deals, but don't expect any of them to include bundling!
Company Summary
HughesNet began offering internet service in 1996 under the name DirecPC. Hughesnet changed its name to what we know it as now in 2012. In that same year, they became the first satellite internet provider to meet the FCC standards of "broadband" with the HughesNet Gen5. Hughesnet is now the most widely available satellite internet provider in the U.S. It's also expanding internationally.
The Good
The Bad

Ranks number one for meeting or exceeding download/upload advertised speeds
Available Nationwide
No hard data limits

24-month contract
Lagging on high definition movies and when gaming
Early termination fees (ETFs) and Unreturned Device fees cost up to $700 total
Frequently Asked Questions About HughesNet
How much is HughesNet internet?
HughesNet internet-only plans range from $59.99-$149.99 per month, depending on your plan. Their pricing depends on how much data you get, not the speed.
How to cancel HughesNet internet
The best way to cancel your HughesNet service is by contacting customer support. However, canceling within your 24-month contract will result in a steep $400 ETF. After 90 days, the fee does decrease by $15 each month of the contract served.
Is HughesNet better than DSL or Cable?
HughesNet internet reaches up to 25 Mbps. This is faster than many DSL internet plans, but most cable internet providers have faster plans than Hughesnet. When comparing apples to apples, one issue that HughesNet has is lag (ping). Its signal needs to be sent a further distance than DSL or cable which sometimes causes a delay in your connection. It does need to be said that satellite internet can be impacted by rain and bad weather more than DSL or cable internet. fizzle out during severe weather, when storm clouds block the satellite signal.