There are several attractive HughesNet deals available to consumers at the moment. In particular, the company's satellite Internet plans made a big leap forward in 2017, when they launched a new satellite and bumped the standard speed up to 25 Mbps download and 3 Mbps upload. While real-world speeds don't always meet this benchmark, they do a better job of delivering advertised speeds than most other providers according to FCC reports.
HughesNet overhauled their pricing structure as well, resulting in some compelling new satellite Internet deals in the $50–100 range.
HughesNet Satellite Internet Deals
Keep in mind that HughesNet plans all have the same 25/3 Mbps speed. Unlike cable Internet providers, HughesNet prices plans by data allowance. For this reason, we do not recommend HughesNet for cord-cutters who watch hours of Netflix every night. As we explained our review of HughesNet, these customers should consider pairing HughesNet with a satellite TV provider like DirecTV or Dish.
20 GB Internet Plan
For customers who can't shoehorn their Internet usage into the smaller 10 GB plan, the 20 GB plan is an attractive alternative. If you go over the data limit, HughesNet charges much less than cell carriers for additional data increments. Satellite Internet is generally a stronger performer in rural areas, so we'd recommend the 20 GB plan over alternatives like a hotspot or phone tethering.
This plan can handle the basic use of a household of 2–5 people, so long as they don't do much streaming. You can get away with watching a few Netflix movies on this plan, but keep a close eye on the meter so you don't go over.
The latency on HughesNet plans isn't strong compared to cable or DSL. However, so long as you schedule your game downloads during "free zone" hours from 2am–8am, this connection should be enough for the average gamer.
Keep in mind that this plan comes with a 2-year contract, like all HughesNet plans.
Includes:
25 Mbps download speed
Great for households with 2-5 people
Perfect for streaming videos, occasional Netflix and gaming
Get an extra 50 GB of data during "bonus zone" hours
Great for rural areas – better than hotspots or phone tethering
20 GB data plan with no hard data limits
2-year price lock guarantee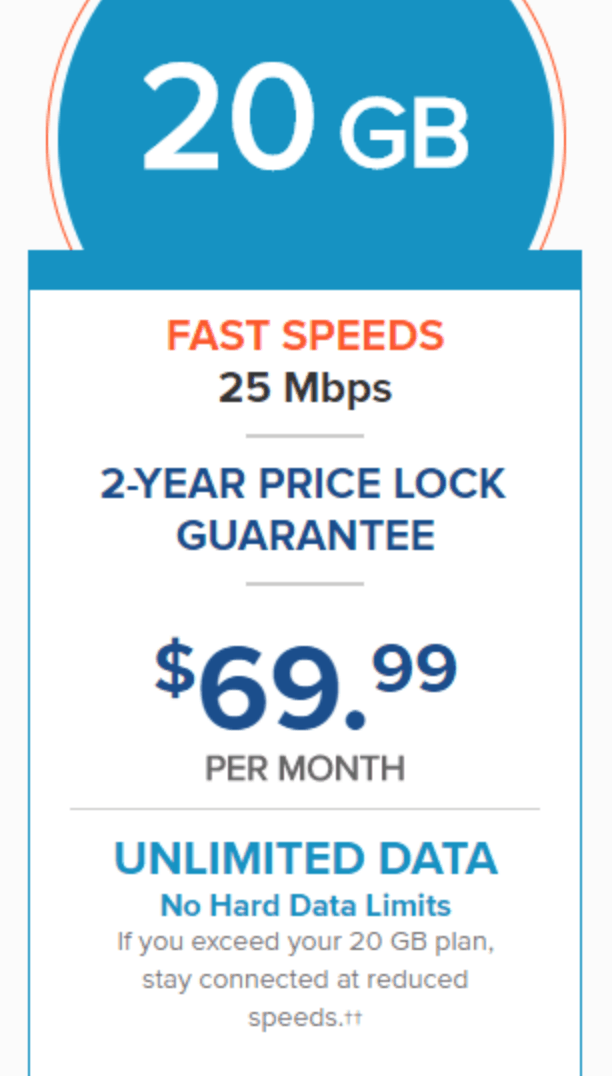 HughesNet Deals Overview
DEALS
PRICE MONTHLY
INTERNET SPEED
INCLUDES TV
INCLUDES PHONE
20 GB Internet Plan
$69.99
25 Mbps
SATELLITE
No
No
25 Mbps
$99.99
25 Mbps
SATELLITE
No
No
25 Mbps
$149.99
25 Mbps
SATELLITE
No
No
25 Mbps
$59.99
25 Mbps
SATELLITE
No
No
HughesNet "Bonus Zone" Data Bonus
HughesNet plans are organized by data caps, but all of them now come with 50 GB of extra "bonus zone" data. The catch is that customers can only use this data during non-peak hours of 2AM–8AM in the subscriber's time zone.
Bonus Zone data cannot be used to extend a customer's regular data use during the day. Once you use up your data allotment, HughesNet simply drops the speed on your service down to around 1 Mbps. This means you still have access for basic needs like checking email, but you won't be able to do more advanced things like stream video or use real-time cloud applications like Google Drive. (Or at least, not in a way that's productive or fast.)
Our recommendation is that customers use the 50 GB Bonus Zone data pack to handle large downloads, updates, and backups. These sort of activities can actually be scheduled to take place when you're asleep. This way, you can download large games or videos without taking a big dent out of your daytime data use.
Some customers we've spoken with reported combining HughesNet Internet with a video download management system like Plex to "cut the cord" even on smaller data packages that can't handle frequent real-time streaming.
Keep in mind that satellite internet has much higher latency than standard cable or DSL. This mostly matters for serious gamers and running two-way communications like Skype. For more on latency and how it affects your Internet usage, see our Internet latency guide.
How to Decide If HughesNet Plans Have Enough Data
As discussed above, HughesNet plans make the most sense for customers off the beaten path who don't have access to stronger wired internet options like Fiber, Cable, and DSL. (Those that do may want to consider deals from Verizon Fios, Xfinity, and CenturyLink.)
Even if you have access to basic DSL from someone like AT&T, wired Internet is often slow in the country. This is mianly due to signal degradation over the copper wires that deliver DSL service.
HughesNet often has better speeds, but even their larger plans will be challenging for large families with multiple devices. (Or even a single user who likes to stream TV every night.) This means that even though the speed of HughesNet is more than enough to stream Netflix or chat on Skype, using video services like this will eat through data very quickly compared to DSL or Cable.
You can tally up an estimation of how much data you'll use with the information below, which shows how quickly common Internet activities use your data.
Data Use on HughesNet Plans
SD video: 1MB/hr
Streaming HD video: 1MB/hr
Streaming Spotify: 1MB/24hrs
HughesNet Internet Equipment and Fees
Perhaps the biggest drawback to HughesNet Internet service is the equipment costs. Regardless of whether you rent or purchase your reception device, it'll cost you around $400+ for the reception dish and modem/router device and installation fee. (AKA the magic box that makes your Wi-Fi work.)
Phone service costs an additional $25–30 per month, on average. HughesNet will also try to upsell you an "express repair" service on top of this fee. Essentially, this is an insurance policy for when you have issues with the equipment. If customer ratings are any guide, you will have issues at some point, and the express repair service will help you get a repairman out to the property faster and cheaper.
Here's a quick breakdown on the most common fees and add-ons in all HughesNet Internet service areas:
| EQUIPMENT | PURCHASED | LEASED |
| --- | --- | --- |
| Satellite antenna and modem | $249.99 | $14.99/mo. |
| Installation | $199.99 | $99.00 |
| Express Repair | $7.95-11.95/mo. | $7.95-11.95/mo. |
| Phone service | 29.95/mo. | 29.95/mo. |
Here's a final cost breakdown from one of our test purchases through HughesNet. (This is for online ordering. Better deals and bargains may be available over the phone.)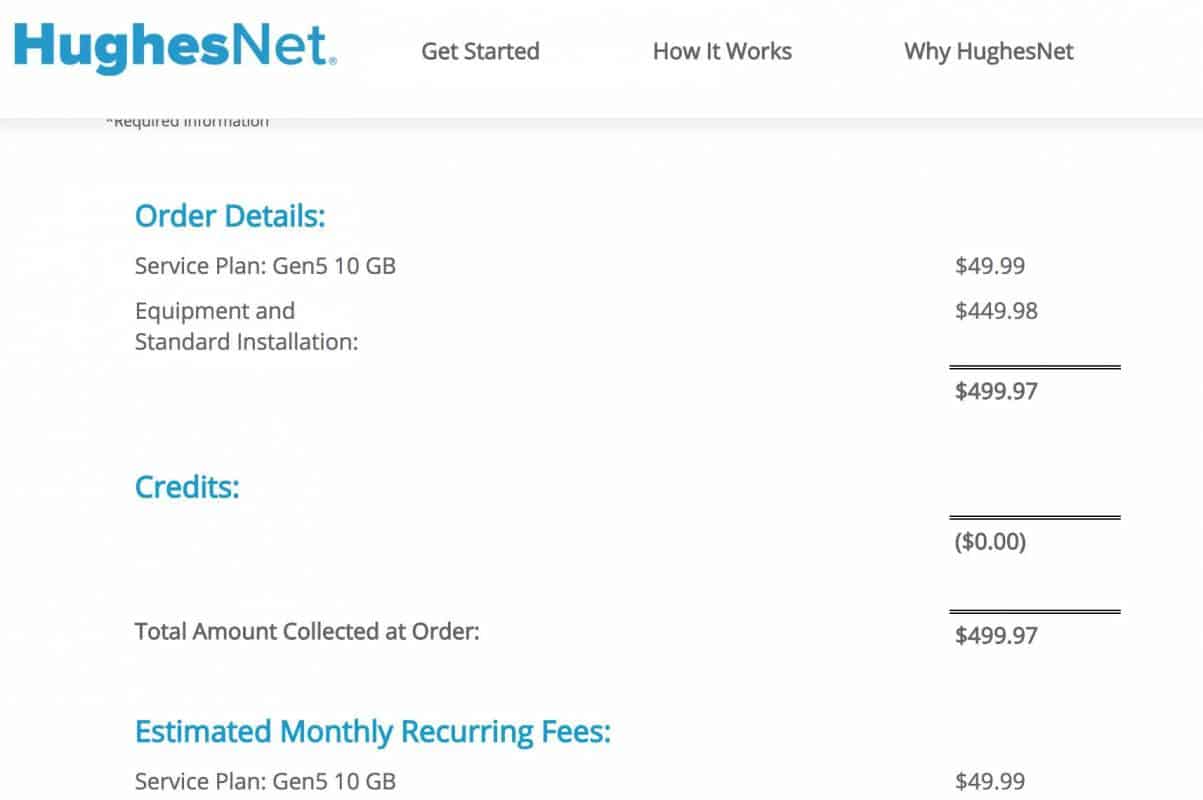 As you can see in this sample checkout run, the fees add up quickly even without repair security or phone service.
HughesNet Bonus Data Packs
If you go over your data limit in a given month, you have two options with HughesNet: either your speeds are throttled down to around 1 Mbps for the rest of the month, or you can purchase additional data in the following increments:
| DATA PACK | PRICE |
| --- | --- |
| 3 GB | $9 |
| 5 GB | $15 |
| 10 GB | $30 |
| 25 GB | $75 |
HughesNet GEN 5: Why the Satellite Upgrade Matters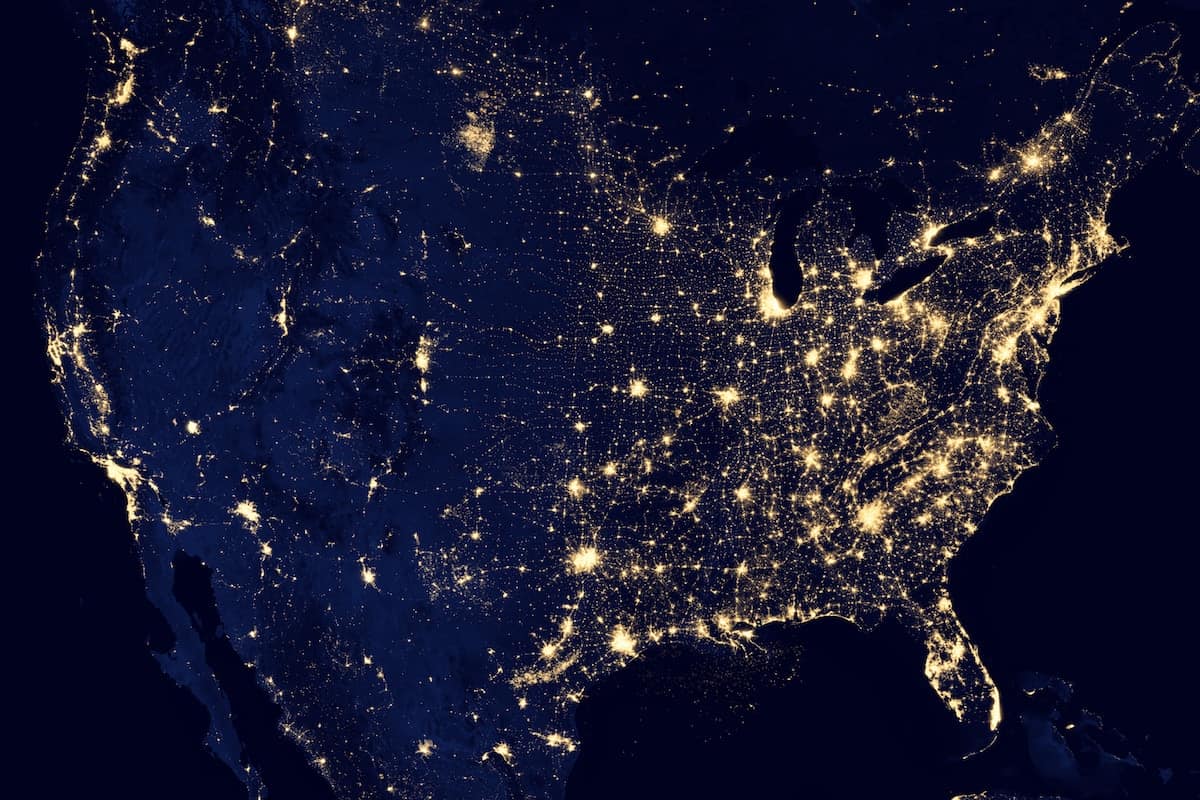 If you'd asked us a couple years ago about HughesNet, we wouldn't have recommended it since their competitors had faster speeds and better technology. Since the 2017 GEN 5 satellite upgrade, however, the provider has jumped to the front of the pack for satellite Internet in the USA.
The data usage-based pricing can be frustrating, as some readers have noted. That said, it's an improvement on the older system that had more variable speeds and limitations. While they've increased the equipment fees slightly, the inclusion of a Wi-Fi enabled modem/router brings them in line with other modern providers like Spectrum and Xfinity when it comes to full-home Wi-Fi.
The launch of a new satellite promises to drive competition from their primary competitor, Viasat. In fact, they are expected to launch a similar technology upgrade in the near future.
Frequently Asked Questions about HughesNet Internet Deals
Can I get TV service from HughesNet?
HughesNet does not offer TV service. It is strictly an Internet and phone service. Customers in rural areas who watch television daily usually opt for a satellite TV provider like DirecTV or Dish. Both of these providers will require a seperate dish and contract to operate. If you're frustrated with streaming under HugesNet's data limitations, unlimited viewing, a large on-demand library, and 4K channels can be had from either provider for around $50–150/month depending on the plan.
Does HughesNet have phone service?
Yes, HughesNet has landline phone plans that can be added onto your monthly bill for around $25–30/month. These plans include unlimited nationwide calling. HughesNet runs phone service over their satellite just like the Internet service, so it is not a true "landline" phone service, and will be subject to power outages just like your Internet service.
Can I stream Netflix on HughesNet?
Yes, all HughesNet plans have sufficient speeds to stream HD content on Netflix and similar video streaming services. However, due to the limits on their data plans (ranging from 10–50 MB per month), we advise that you look into seperate TV service unless you only watch TV or movies once a week or less.
Conclusion: HughesNet's GEN 5 Upgrade Makes it Almost as Good as DSL for Rural Customers
In conclusion, HughesNet isn't ready for prime time as a direct competitor with Cable and DSL. Of course, it's a dramatic improvement on the options rural customers used to have for broadband Internet.
If you allocate data wisely and consider pairing the service with a satellite TV provider like Dish or DirecTV, HughesNet should be enough to satisfy basic household needs. (At least, until the technology catches up with the constantly increasing demand for bandwidth in 2018.)
HughesNet isn't your only internet service option, so be sure to check out our reviews and deals for all internet providers.