Rise Broadband is a fixed wireless internet provider that is available across 16 states. Fixed wireless internet is unique and differs from cable and satellite connections. Like satellite internet, fixed wireless internet is wireless; unlike satellite internet, though, it keeps communication pretty close to the ground and uses radio waves to communicate with transmitters (fixed wireless isn't exactly the same thing as your smartphone's mobile network connection, but it's pretty similar). In short, a service like Rise Broadband uses a transmitter at the top of a tower to beam a signal to a receiver installed on your home. The only issue is that you'll need a clear line-of-sight for good service. Anything in the way, like buildings or trees, would disrupt the signal.
Rise Broadband offers speeds up to 50 Mbps and monthly rates ranging from $29.95-59.99. Rise Broadband offers month-to-month service, but you'll get more benefits with their contract plans. Below, I'll break down Rise Broadband's pricing, give you my recommendations for plans, and go over what makes Rise Broadband a good fit for some internet users.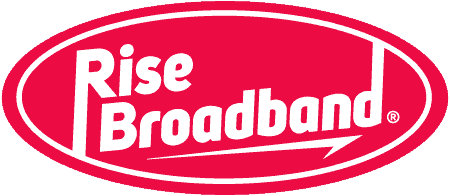 What to Expect from Rise Broadband
Rise Broadband's coverage area is the largest of any fixed wireless provider, though the company doesn't cover nearly as many people as a typical wired provider does. Fixed wireless internet, like satellite internet, allows for only limited connection speeds. Fixed broadband's lag time is a lot better than satellite internet's, though, because not all wireless connections are created equal: A satellite connection has to beam information to outer space and back, whereas a fixed wireless signal only has to reach the nearest transmitter tower! As a result, the up to 50 Mbps for $44.95 a month plan is much more reliable than comparable satellite internet plans, like HughesNet's.
As with many internet companies, customers are required to rent equipment from Rise Broadband. And, as with satellite internet, it's this equipment that receives your all-important internet signal. The good news is that there's no big satellite dish to worry about here: Rise Broadband will install only a small tablet-sized antenna. With fixed wireless, that's enough to get the signal into your home.
A Breakdown of Rise Broadband's Plan and Pricing
Rise Broadband's low pricing follows the same model that other wireless providers (including satellite internet providers) use: Their plans are priced primarily by data use. Like its hard-wired cousins, though, Rise Broadband also offers a choice of connection speed. There's a more significant increase in plan prices if you choose an unlimited data plan than if you upgrade to a faster speed.
| Plan | Price | Speed | Price Per Mbps |
| --- | --- | --- | --- |
| Rise Broadband 25 (with 250GB limit) | $29.95 a month | Up to 25 Mbps | $1.20 per Mbps |
| Rise Broadband 25 (no cap) | $59.99 a month | Up to 25 Mbps | $2.40 per Mbps |
| Rise Broadband 50 (with 250GB limit) | $49.95 a month | Up to 50 Mbps | $1.00 per Mbps |
Rise Broadband's internet price range breaks down to about $1.00-2.40 per Mbps. While Rise Broadband employs a data cap of 250GB per month, they provide higher-priced plans without data caps. If you go with the capped version, you are charged $5 per 10 GB of data overage once you go over 250 GB.
Rise Broadband prices are higher than what you'd pay with a wired provider like Spectrum or Xfinity, but they are on the lower end for wireless internet options. If you live in a suburban or rural area, Rise Broadband may be one of the faster and cheaper providers. Plus, they have much larger data caps, making it possible to cut the cord in rural areas.
Rise Broadband gets bonus points as a rural internet option for having:
Month-to-month plans
No data cap options
Low-prices
Now let's discuss fees. All internet providers have their fees. Rise Broadband is no different. They have an installation fee of $150, but you can cut it half by choosing to sign either a one- or two-year contract. From there, you pay a rental fee of $10.99 per month for equipment.
If you choose a contract, there is an early termination fee (ETF) of $10 per month left on your contract. So, if you have a 2-year contract and after three months you decide to cancel your service, your ETF would be $210. Their fees get even higher if you don't return the equipment.
Why Choose Rise Broadband?
Rise Broadband internet is ideal for:
People who don't have access to wired internet service
The budget-conscious
Those who want to cut the cord in rural areas
If you live in a rural area, fixed wireless may be your best bet for internet. It's generally speedier, cheaper, and more reliable than satellite internet, so it's the clear choice for those with access. If you live close enough to a fixed wireless transmitter tower, you won't have to deal with satellite internet's flaws, like poor coverage on stormy days.
Rise Broadband also offers an affordable alternative to the rising costs of DSL and cable internet services. If you're not planning to use much data, Rise Broadband could be a budget choice instead of just a rural necessity. Even its cap-free plan is cheaper than some DSL and cable alternatives, though it's not necessarily as speedy.
If you want internet security, Rise Broadband also offers several services as part of their Rise@Home protection plan. These options can protect your home network from malware and viruses, with prices ranging from $9.99-19.99 a month.
Our Rise Broadband Internet Recommendations
For an Internet-Only Plan…
I do not have much difficulty recommending Rise Broadband's up to 50 Mbps unlimited data plan for $49.95 a month with such limited selection. It is enough speed to stream Netflix and YouTube to your heart's content, and you won't have the burden of hitting any caps, especially if you have multiple users in your home. At this price, Rise Broadband offers a better deal than some satellite and DSL providers.
For a Bundle Plan…
Rise Broadband does not have a cable or television bundle plan. They offer residential phone service that can be bundled with your internet service for $24.95 plus the cost of equipment.
Company Summary
Before 2015, we knew Rise Broadband as Internet America. Their parent company, JAB Wireless, has been around since 2005 and has also operated under the names Prairie iNet and Rhino Communication. After JAB purchased the company (then called Internet America), everything was rebranded with the Rise brand that we know today. Today, Rise Broadband is based in Englewood, Colorado. It offers high-speed wireless internet and digital voice service in 16 states across the country. Most of their subscribers live in Texas, Illinois, Colorado, or Utah.
The Good
The Bad

Contract-free options with no data caps
Low-priced rural internet option
Internet security plans available

Limited plan selections
Only available in 16 states
Requires Line of Sight for connection
No bundling options
Frequently Asked Questions About Rise Broadband
How much is Rise Broadband internet?

Rise Broadband internet-only plans cost range from $29.95-59.99 per month. Rise Broadband does not offer a cable or TV bundle option, but they offer residential phone service for an added $24.95 a month.

How to cancel Rise Broadband internet

The best way to cancel your Rise Broadband service is by contacting customer support. There are no ETFs unless you choose to sign up for a contract option. The ETF would then be $10 per month left on your contract.

How does Rise Broadband internet work?

Rise Broadband works on a fixed wireless network. This type of connection is a blend of cable and satellite internet. The cable internet lines are run from the provider to access points in your neighborhood. Each access point has a transmitter on top of a tower that beams a signal. Customers receive the signal through a receiver placed on their home and sent to their modem.