If you're an active streamer, a strong internet connection and a reliable internet provider are an absolute must. I've been a happy customer of Verizon Fios and think they hit the mark as an ideal internet service for streamers, but unfortunately for me, they weren't available when I moved to a new city earlier this year. Verizon Fios has several internet deals specially designed for streamers like me. In my view, you won't find another fiber internet provider that offers as many perks as Verizon Fios.
Verizon Fios Internet Deals for New Customers
In addition to promotional pricing, Verizon Fios comes with a bunch of nice freebies for cord-cutters. New Verizon Fios internet customers can get a free AMC Plus subscription with Verizon Fios internet plan. No matter what plan you choose, you can get a better deal by switching to Verizon Wireless. Verizon offers a $79.99 a month deal when you combine the 200 Mbps deal with a Wireless Unlimited plan.
Verizon Fios Internet Deals for Existing Customers
If you're an existing Verizon customer and want to switch to Verizon Fios internet or renew your current contract, you can get special deals on your new contract as well. For customers who want to upgrade to the Fios Gigabit Plan, the router is completely free. Existing Verizon customers can also take advantage of bundling their mobile and internet plans by switching both to Verizon.
Verizon Fios Internet-Only Plans and Pricing
Verizon Fios internet-only plans are pretty straightforward. Though you do have the option to "mix and match" if you want to bundle with TV, there are only three Verizon Fios internet plans:
| Plan | Connection Type | Promotions | Router | Speed | Price |
| --- | --- | --- | --- | --- | --- |
| Verizon 200 Mbps | Fiber | AMC Plus (12 months) and $50 Verizon gift card | $15 per month | Up to 200 Mbps | $39.99 per month |
| Verizon 400 Mbps | Fiber | AMC Plus (12 months) and $100 Verizon gift card | $15 per month | Up to 400 Mbps | $64.99 per month |
| Verizon Gigabit Connection | Fiber | AMC Plus (12 months) and $200 Verizon gift card | Free | Up to 940 Mbps | $89.99 per month |
Although internet plans from Spectrum and Xfinity offer similar speeds and are more widely available, Verizon Fios offers the cheapest internet plans for speeds up to 400 Mbps. That said, AT&T also offers a fiber gigabit, or 1,000 Mbps, plan for just $60 per month. That's $30 less than Verizon's comparable Gigabit Connection plan.
While you will need to pay a little more per Mbps, I'd recommend the Gigabit Connection as the best option among the Verizon Fios internet plans. It offers the highest upload and download speeds, a free router (saving you $300 or more), and a free year of AMC Plus. But if you plan on sticking with Verizon Fios for the long haul and are willing to buy your router (or use your own router), the Verizon 400 Mbps plan offers the best value compared to any other provider's plan for the same speed.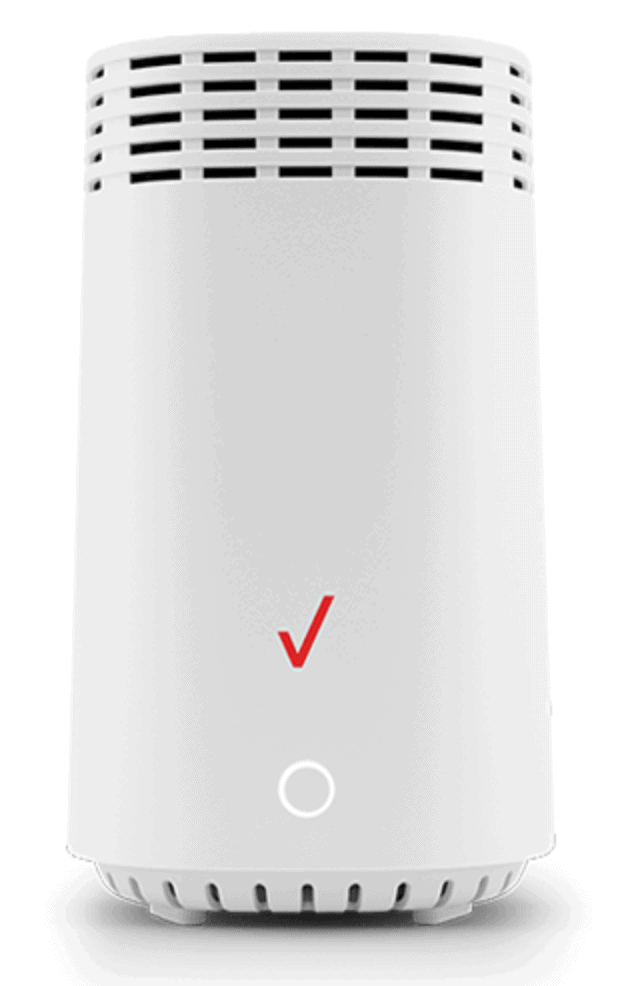 Verizon Fios Internet Speeds & Data Caps
This is where Verizon Fios really shines. All three plans outlined above have no data caps. This means that you don't have to worry about going over your "limit" each month. You can stream as much content as you want without having your service throttled or limited in any way.
For the most part, the speeds listed in each plan are hard to reach. Fiber cables provide faster, more reliable speeds, but getting to 200, 400, or even 940 Mbps is not easy. Verizon Fios internet customers get average speeds of just 373 Mbps, but this number varies greatly by region. As with any internet provider, the advertised numbers represent the "maximum" speed.
Contracts and Fees
You can sign up for a Verizon Fios internet-only plan without a contract. Verizon has dropped contracts to try to prevent customers from cutting the cord completely. This gives you more freedom to customize your internet and streaming experience. However, like any internet provider, there are fees that you will have to pay.
If you're considering moving to Verizon Fios but are worried about early termination fees with your current internet provider, Verizon will pay up to $500 in early termination fees (ETFs) which is more than enough to cover any provider's ETF. You'll still need to pay the termination fee to your old provider, but you'll have $500 in credit waiting for you once you switch to Verizon Fios internet. (Another thing you should do before you switch is read our Verizon Fios review.)
The cost of the router will be the biggest expense outside of your monthly premium. You can choose to rent or lease the Fios Home internet router for $15 per month. This option is better if you don't plan to stay with Verizon internet for more than a year. Leased routers also come with upgrades and faster technical support, which are a big plus.
Verizon Fios may require a $99 professional installation fee. It is a one-time payment to have the modem/router set up in your home, but you can avoid it if you self-install. Unfortunately, Verizon isn't clear on how much their self-installation kit costs.
Verdict: Is Verizon Fios internet good for cord cutters?
Verizon Fios internet plans make it easy to be a streamer. The speeds are fast enough for binge streamers and heavy internet like my household. Plus, the current deals offer a free, year-long subscription to AMC Plus. Any plan will have enough speeds, but you'll get the most for your money with the Gigabit Connection plan.
Verizon offers free Wi-Fi hotspots and free cybersecurity like most providers, but you have to live in the northeast to take advantage of Verizon Fios internet deals.
Verizon is one of the only internet providers that offer bundles streamers can take advantage of. They're the only provider to offer a discount if you bundle your mobile service with your internet. If you're interested in finding out more about how well Verizon's internet performs, check out this year's review on Verizon Fios.