Netflix's second quarter earnings report has just been released – and, according to The Verge, it has not impressed Netflix's stockholders. Netflix had a pretty good year in 2015, but their new earnings report suggests that 2016 will not be as kind to them. Bearish investors began selling off Netflix stock following the report, causing Netflix's share price to plunge by 14% overnight.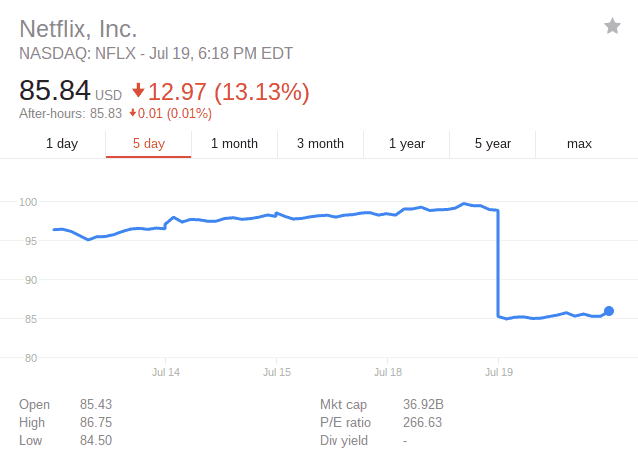 Netflix's earnings numbers aren't necessarily terrible, but they do show less growth than Netflix itself had predicted. Netflix's own projections had them adding 2.5 million new customers this quarter. They fell nearly a full million short of that mark, adding a comparatively paltry 1.54 million subscribers.
Why the lower numbers? Netflix cited "churn," a term meaning older subscribers leaving. In other words, Netflix claims its adding customers at its usual clip – but is losing old ones at the same time, which depresses the net change.
Netflix is presumably "feeling the churn" because of their recent price increases. Netflix had been grandfathering longtime users into a cheaper price, but that ended this quarter – and most likely sparked the exodus that, in turn, generated these disappointing numbers.
The price hike no doubt hurt Netflix, but there's only so much that the company can do about it. With increased competition in the OTT space, customers have more options and content is getting more expensive. Netflix has focused on original series and international growth, but its fighting against a growing number of similar services as it does so.
Please like us on Facebook to keep up to date on what's new in the world of cord cutting: