Cutting the cord doesn't have to mean giving up live TV. Thanks to the rise of OTT "skinny bundle" services like PlayStation Vue, cord cutters can enjoy live TV without cable and at a fraction of the cost.
So what exactly does PlayStation Vue offer? The service gives subscribers the option of three tiered channel packages. We've listed the channels included in each package below, along with short descriptions of what the channels are, since some of them will probably look more familiar to you than others.
It's worth noting that PlayStation Vue also offers local coverage to some markets, and that some sports events can be blacked out depending on where you are. It's a good idea to start with PlayStation Vue's free trial to see exactly what channels your region gets.
Access Slim
ABC On Demand – PlayStation Vue doesn't allow you to stream ABC live, probably because ABC has different programming on at the same time on different local affiliates across the country. You can, however, watch ABC network programming on demand.
FOX On Demand – As with ABC, PlayStation Vue will offer your FOX programming on demand (no local news broadcasts, though).
NBC On Demand – The last of three major networks that PlayStation Vue only offers on demand.
AMC – AMC airs movies as well as acclaimed original programming like Fear the Walking Dead.
Animal Planet – Animal Planet airs animal-themed programming, including reality shows, documentaries, and more.
BBC America – The American arm of Britain's state-owned broadcaster. News, dramas, and more.
Bravo – Bravo airs reality TV and dramas, plus some movies.
Cartoon Network – As the name suggests, Cartoon Network airs cartoons aimed at children. At night, it becomes Adult Swim, which airs cartoons for adults and offbeat humor programs.
CNBC – CNBC is NBC's business and finance news channel.
CNN – CNN airs 24/7 news programming.
Destination America – Destination America brings its viewers American history, travel, and lifestyle programming.
Discovery – Discovery has its roots in science and nature programming. Much of the focus is now on reality programs related to those subjects.
Discovery Family – Discovery Family features children's programming like My Little Pony: Friendship is Magic.
Disney Channel – Disney's flagship channel airs original movies, children's TV series, and more.
Disney Jr. – Disney Jr. offers similar programming to the Disney Channel, but is aimed at an even younger audience.
Disney XD – Disney XD offers programming that's very similar to Disney Channel. It shows a bit more action-oriented stuff than the flagship channel does.
DIY Network – The DIY Network features programming about home improvement and other DIY projects, usually in the form of reality shows.
E! – E! is focused on celebrity and pop culture news. It airs reality shows like Keeping Up With the Kardashians and news programs like E! News.
ESPN – ESPN is a giant of sports programming. It features news programs like SportsCenter as well as live sports coverage.
ESPN2 – ESPN2 offers more of the same from ESPN, including both news programs and live sports.
Esquire Network – Esquire Network is the TV arm of the men's interest magazine Esquire. It airs original series and reality TV as well as a diverse group of syndicated shows that include Parks & Rec and The A-Team.
Food Network – Food Network features cooking shows and reality programming related to cooking and food.
FOX Business – FOX Business is FOX's finance news network.
FOX News – FOX News airs 24/7 news programming.
Freeform – Formerly ABC Family, Freeform airs programs like Shadowhunters and Pretty Little Liars.
FS1 – FOX Sports 1 is FOX's answer to ESPN. It airs live sports and sports news programming.
FS2 – FOX Sports 2 offers more sports and sports news programming.
FX – FX airs original series like Archer.
FXX – FXX airs similar content to FX. Programming includes It's Always Sunny in Philadelphia (which moved from FX) and Man Seeking Woman.
HGTV – HGTV airs lifestyle programming about homes, including shows about fixer-uppers, house hunting, and flipping houses.
HLN – This news network airs news programming. It focuses on social media, opinion pieces, and tabloid-style crime programming.
Investigation Discovery – Investigation Discovery airs documentaries and documentary series focused on crimes, violence, and unsolved mysteries.
MSNBC – MSNBC is NBC's political news and commentary channel.
National Geographic Channel – The National Geographic Channel airs programming related to science, nature, history, and culture.
NBCSN – NBCSN is NBC's sports channel. It airs live sports and sports news programming. NBCSN targets NHL hockey and Premier League soccer fans in particular.
NECN – News, weather, and more with a New England focus.
OWN – OWN is the Oprah Winfrey Network and, as you might imagine, focuses on talk shows. It also airs movies and documentaries.
Oxygen – Oxygen targets women viewers with reality TV, original series, and movies.
Pop – Pop focuses on pop culture and entertainment. It airs reality series and syndicated shows.
Science Channel – A sister channel to the Discovery Channel. It focuses on science and nature programming.
Syfy – Syfy airs science fiction series and movies, as well as horror, fantasy, and reality programming.
TBS – TBS airs original series, mostly comedies. It also covers some sports, including baseball games and college basketball.
Telemundo – This Spanish-language network airs telenovelas, sports, and more.
TLC – TLC focuses on lifestyle programming and airs mostly reality shows.
TNT – TNT airs original series as well as some sports programming, including NBA basketball.
Travel Channel – The Travel Channel airs reality shows and documentaries about world travel.
TruTV – TruTV airs reality shows and comedy series. It also airs games during the NCAA basketball tournament.
USA Network – USA airs original programming, including a lot of action and drama series.
WE tv – WE tv features reality programming and syndicated series. Once aimed exclusively at women, the channel is now engineered for a broader audience.
Core Slim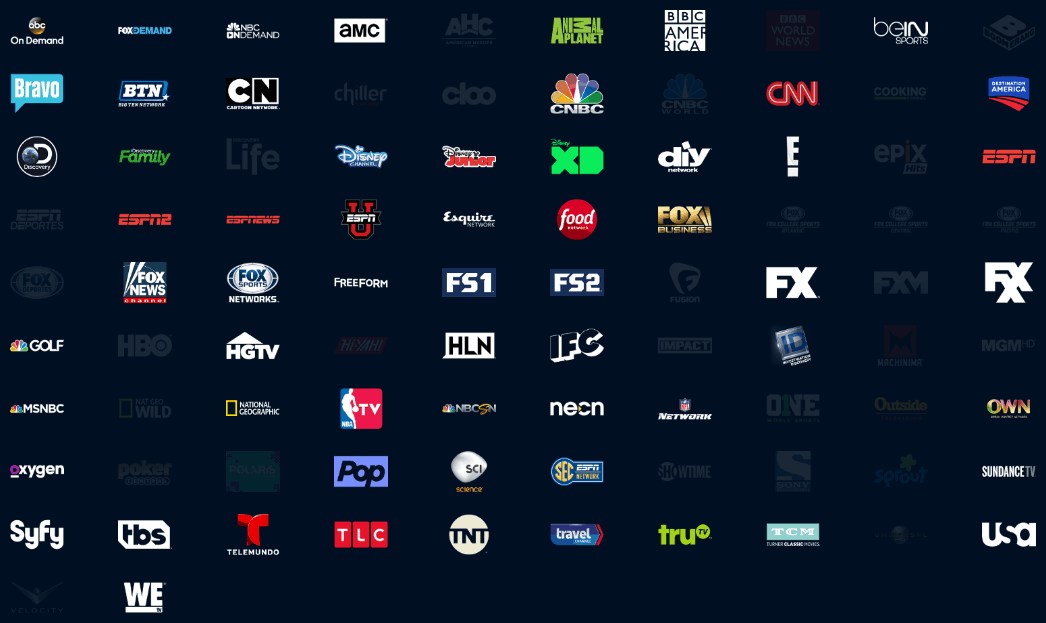 Core Slim includes all of the channels listed in the Access Slim section, plus:
BeIN Sports – BeIN Sports is a sports network that focuses on soccer fans.
Big Ten Network – Big Ten Network airs college sports games between teams in the Big Ten Conference.
ESPNEWS – ESPNEWS is a sister channel of ESPN that airs and re-airs news programming like Sportscenter.
ESPN U – ESPN U airs college sports and college sports programming.
FOX Sports Regional Networks – Select areas will get broadcasts from their local FOX Sports network, which can include local NHL, MLB, and NBA teams.
Golf Channel – Owned by NBC, Golf Channel airs live golf and golf-related programming.
IFC – IFC airs independent movies and offbeat comedy series.
NBA TV – The NBA's channel is focused entirely on pro basketball.
NFL Network – The NFL's channel is, of course, all about NFL football.
SEC Network – This ESPN-owned network airs college sports games featuring teams from the Southeastern Conference (SEC).
Sundance TV – Sundance TV airs independent films, foreign films, documentaries, and more. It also airs reality and news programming about the Sundance Film Festival.
TCM – Turner Classic Movies airs classic films, mostly in black and white.
Elite Slim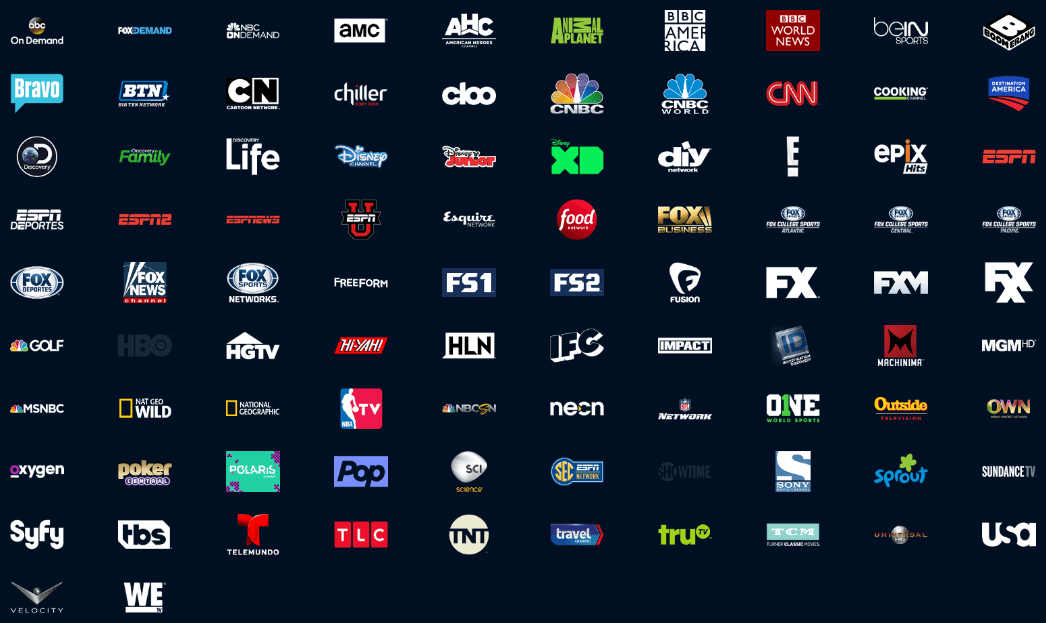 Elite Slim includes all of the channels listed in the Access Slim and Core Slim sections, plus:
AHC – The American Heroes Channel airs history and documentary programming about wars and the military.
BBC World News – International news from a British perspective.
Boomerang – Boomerang airs classic cartoon programming like Loony Tunes, as well as some more modern shows from sister channel Cartoon Network.
Chiller – Chiller features horror and thriller programming.
Cloo – Cloo airs mystery and crime programming, including scripted series and documentary programming.
CNBC World – Like CNBC, CNBC World is focused on business and financial news. CNBC World broadcasts programming from CNBC's international channels.
Cooking Channel – The Cooking Channel offers cooking and food-themed programming.
Discovery Life Channel – Discovery Life airs programs about health, fitness, and life events.
Epix Hits – Epix Hits airs movies and original programming.
ESPN Deportes – ESPN's Spanish-language sister channel.
FOX College Sports Atlantic – FOX College Sports Atlantic airs NCAA college sports games that feature teams from the Eastern United States.
FOX College Sports Central – FOX College Sports Central airs NCAA college sports games that feature teams from the Central United States.
FOX College Sports Pacific – FOX College Sports Pacific airs NCAA college sports games that feature teams from the Western United States.
FOX Deportes – FOX's Spanish-language sports network.
Fusion – Fusion is a comedy channel aimed at a Hispanic audience. It features a lot of spoof news channels.
FXM – FXM, also called the FX Movie Channel, airs feature-length films.
Hi-Yah! – Hi-Yah! airs Kung Fu action movies.
Impact – Impact is an on-demand channel that features action movies from the MGM catalog.
Machinima – Machinima is a gaming channel that airs live video game programming.
MGM HD – MGM HD shows movies from Metro-Goldwyn-Mayer's extensive back-catalog of feature films.
Nat Geo Wild – Nat Geo Wild is a sister channel to the National Geographic Channel. It airs reality programming related to nature, science, and culture.
One World Sports – One World Sports airs live sports and sports news programming. They cover a lot of foreign sports leagues and niche sports.
Outside Television – Outside Television programming is focused on outdoor hobbies like hunting, fishing, and camping.
Poker Central – Poker Central, as the name suggests, is a 24/7 poker channel.
Polaris – This channel, from the folks at Maker, is video gaming-focused.
SONY Movie Channel – This movie channel plays films from Sony Pictures.
Sprout – Sprout is an NBC-owned children's channel that features original programming as well as programs acquired from PBS Kids.
Universal HD – Universal HD airs programming from NBCUniversal's vast catalog of movies and TV shows. Most of the content comes from NBCUniversal channels like Oxygen, Bravo, Syfy, and even NBC itself.
Velocity – Velocity is a Discovery-owned channel that focuses on cars and sports programming.
Ultra Slim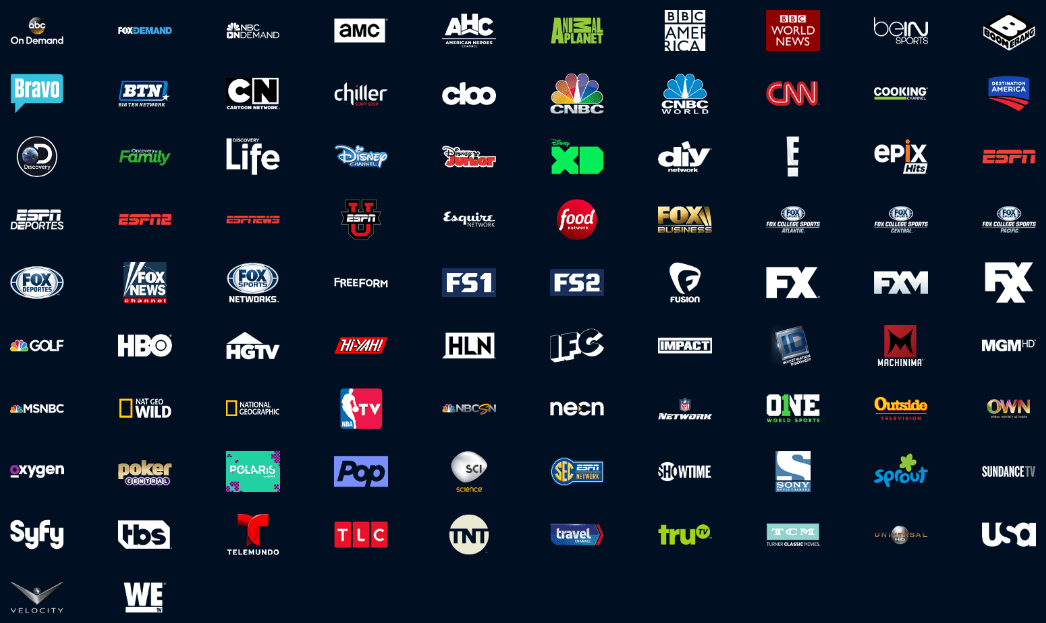 Ultra Slim includes all of the channels listed in the Elite Slim, Access Slim, Core Slim sections, plus:
HBO – The premium channel leader features mega-hit original series like Game of Thrones and Westworld.
Showtime – Another premium channel. Showtime is best known for shows like The Affair.
Please like us on Facebook to keep up to date on what's new in the world of cord cutting: