The OTT landscape changed significantly in March when Sony rolled out PlayStation Vue nationwide. PlayStation Vue is a skinny bundle OTT service. Like cable, it offers a selection of live streaming channels. The appeal to cord cutters is that the bundle of channels is "skinny," meaning smaller than the 200+ channel packages we're used to seeing from cable companies. That drops the price significantly and makes live TV once again an option for cord cutters.
But PlayStation Vue isn't the first service to try to bring live TV back to cord cutters. Sony is stepping into a business space that is already occupied by a very well-known service. Sling TV, Dish Network's OTT live TV service, managed to go just over a year before running into this major competition. Now the two services are poised to become the Pepsi and Coke of OTT skinny bundles.
So how do these two services stack up now? Here are our thoughts.
PlayStation Vue vs Sling TV
Channel Selection and Packages
If you look at the channels available on Sling TV's three main packages and PlayStation Vue's skinniest bundle, you'll see a lot of overlap. Some die-hard fans of specific channels may find themselves called to one service or the other, but there's a lot of similarity here.
There are, of course, slight differences in coverage between the two services – especially when you take into account Sling's add-ons and Vue's larger packages (more on those in a moment). Sling TV has notable advantages in sports coverage and Spanish-language coverage. For its part, Vue has better coverage for kids and more music-focused channels.
Where channel selection really comes into play is in PlayStation Vue's larger bundles, like the Elite Slim (pictured above). Elite Slim offers more than 100 channels, dwarfing Sling TV's 25+ and 40+ channel packages. Of course, you have to pay more for all these channels (more on that in the next section).
When looking at Vue vs. Sling, it's important to note that Sling is more truly à la carte, while Vue offers scaled bundles. Neither is necessarily better, but it's a key difference. Do you want lots of diverse channels to surf? If so, look at Vue. If you have a clear idea of what kind of content you want, you might prefer Sling's specific add-on packages, which enable you to build a more customized experience.
Pricing
When we interviewed Roger Lynch, the CEO of Sling TV, he said this about his companies competition with PlayStation Vue:
the first obvious [difference] is that their [service] is $50, and we're $20. So, from a price point standpoint, they're very, very different services. Our service is available nationwide, theirs is in limited markets. Our service is more like Spotify, where you can just take it anywhere, it's in your pocket, on your phone, or on your Roku at home, or on your Xbox, or whatever. It travels with you, whereas theirs is only available at your home.
A lot has changed since Roger Lynch said that. Vue is now available outside the home (via its iOS app), is available in all markets, and is cheaper. Sling TV has added some more expensive options, too. But, to some extent, price difference between Sling and Vue remains: you'll have to shell out at least $29.99/month for PlayStation Vue vs. Sling TV's $20/month cheapest option. Vue can cost as much as $44.99/month, though Sling TV now comes close to that with their largest base package ($40/month).
Perhaps the most important difference in the two services' pricing models is that Sling TV offers $5 add-on packages, making it more truly à la carte. You can build a $30 package on Sling TV that offers about as many channels as Vue's version, but is more tailored to you. For viewers with specific interests, Sling's model may be more efficient and cost-effective.
Platforms and User Experience
Sling TV has a slight edge in user experience and a huge edge in platform support over PlayStation Vue. Vue just rolled out a couple of months ago, so this could change soon, but right now its platform support is absolutely woeful. At the time of our review, PlayStation Vue was only available on iOS (with Chromecast support), Amazon Fire TV, and PlayStation systems (3 and 4). They've since added Roku support, and Android support should be imminent, but the service still lags behind Sling TV in platform support. Sling TV is available on just about everything: Roku, Fire TV, Android, iOS, Mac, and Windows, among other platforms (you can Chromecast from the mobile apps, too).
And once you have the apps up and running, there are user experience differences. PlayStation Vue has a great system for setting up favorite channels and shows, but Sling TV has the better overall user experience. Channel flipping is easier on Sling, and tweaking settings is easier, too. Even signing up, cancelling free trials, and paying for the service can be difficult through PlayStation Vue, which has very clunky accounts and settings menus.
Other User Experience Differences: Multi-Streaming and DVR Capabilities
Another difference between PlayStation Vue and Sling TV is the ability to watch multiple streams at the same time on different devices. On PlayStation Vue, streaming is fairly unlimited – according to their FAQ, you can stream on up to five different devices at the same time! Sling TV lags behind here, with their Sling Orange package limiting viewers to one stream at a time. Confusingly, Sling Blue does allow multiple streams at once – it's just Sling Orange (the package with Disney properties included) that does not.
PlayStation Vue also offers a digital DVR service that allows you to record your favorite shows. Sling TV doesn't offer a true DVR, though you can scroll back and manually find old shows to watch on most channels.
Streaming Quality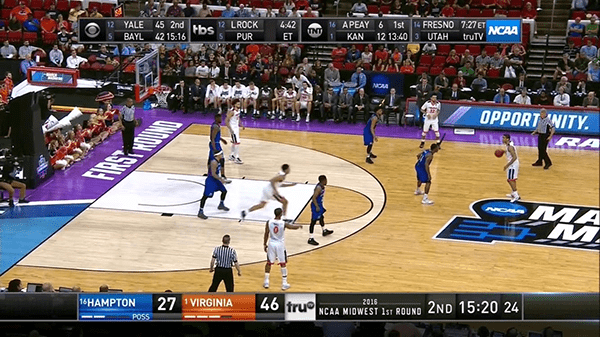 Streaming quality is one area in which PlayStation Vue vs. Sling TV becomes an open-and-shut case. PlayStation Vue dominates Sling TV in this department, which is arguably the most important thing of all. We noted in our review of PlayStation Vue that the service streams smoothly and, generally, with a quality picture. Sling TV, however, still stutters and freezes at times. Things are better than in Sling's earliest days, but the choppy streams are frustrating. It's unfortunate that sports – something that Sling TV has more of than Vue does – are particularly annoying to watch on choppy streams.
A Race to the Finish
If there's one thing to remember about the skinny bundle OTT business space, it's that it's still very young. PlayStation Vue may be the newcomer here, but Sling TV is only a little over a year old itself. And both services are still very much working out their kinks. Sling TV had streaming quality problems when we reviewed it last year; things are better now, but there's still work to be done. Our PlayStation Vue review noted a serious lack of platform support, and that needs to change is Vue is going to dominate. Both companies have a chance to fix their respective problems first, and whichever one does will be well positioned to take off in the future.
For now, we think the formula is pretty simple: If you own iOS devices and a Chromecast, an Amazon Fire TV, and/or a PlayStation, you'll want to look at PlayStation Vue. If you don't have those devices, you'll want Sling TV. But keep an eye on how things develop in this space, because these two rivals are poised to compete for some time.
Please like us on Facebook to keep up to date on what's new in the world of cord cutting: