Pay TV is still the most popular source of content among American viewers, but its subscriber base is looking pretty restless – more than half of all cable and satellite subs are weighing the possibility of cutting the cord.
That's according to a new survey that Public Policy Polling conducted on behalf of Mohu. Mohu is an antenna company, so they of course have an interest in these results, but the methodology here was fairly sound: 1,200 American TV watchers were polled, with a margin of error of +/-2.8%. The sample skews a bit older, with 39% of respondents reporting their age as 46 to 65 years old, but there's not much to complain about other than that.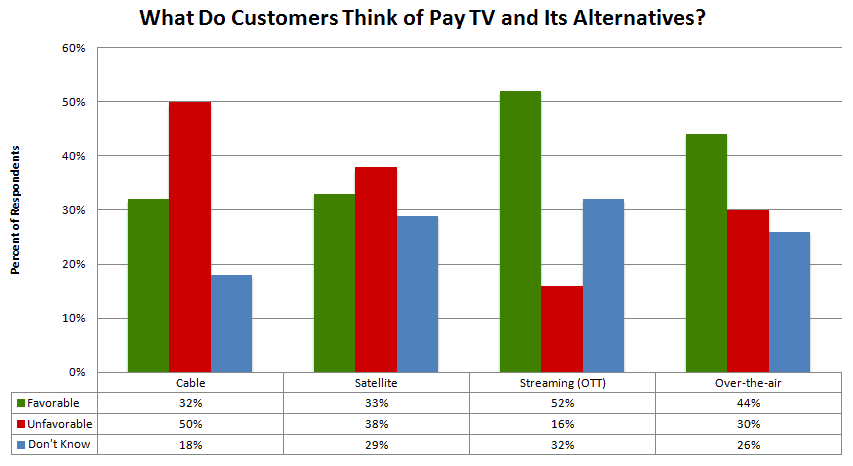 Public Policy Polling found that 80% of their respondents got most of their content through pay TV (cable led satellite, 51% to 29%; OTT edged OTA, 10% to 7%). But that subscriber base is none too pleased with the companies they're paying. 50% of respondents had an "unfavorable" opinion of cable companies. Satellite fared a bit better but "unfavorable" was still the most popular answer, at 38% of respondents. And among the respondents that had pay TV, 54% reported that they have considered getting rid of it.
Are antenna companies like Mohu poised to take advantage of this discontent? The results show potential, but also customer confusion. Eighty-nine percent of respondents somewhat agreed (17%) or strongly agreed (72%) that "having access to free, over-the-air television content is an important option for everyone to have in today's society." But at the same time, 30% of respondents had an unfavorable opinion of "over-the-air broadcast using a TV antenna." Forty-four percent of respondents had a favorable view of OTA, but that's nowhere near the 89% that liked free OTA when it was presented in the other question. The straightforward phrasing of "free over-the-air" got rave reviews, but without "free" noted explicitly in the question, OTA's approval rating plunged.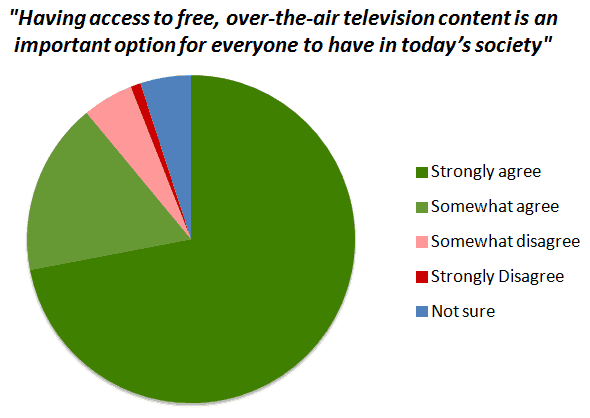 OTA is free, of course, so the market for a big antenna surge seems to be there. But antenna companies clearly have some work to do in getting their message out there. Nuvyyo CEO Grant Hall recently told us that his OTA DVR company needs to "educate the market on the availability of free over-the-air HDTV," and the results Mohu has gotten here seem to bear out the idea that OTA's battle is less with consumer preference than it is with consumer awareness.
Public Policy Polling slipped a few of their trademark cheeky questions in there, too, taking favorability ratings for cockroaches and Congress (alas, both were even more unpopular than pay TV, robbing those of us in the press of some great headlines). They also broke down the results by political party, which had some interesting results – Republicans tend to have satellite TV, while Democrats tend to use cable, a result that's likely linked to the rural/urban divide between the parties. Republicans had a more unfavorable opinion of satellite, cable, and OTT than Democrats did (they also hated Congress and cockroaches slightly more), but a more favorable opinion of OTA.
You can check out the full results of the survey here.
Please like us on Facebook to keep up to date on what's new in the world of cord cutting: