When it comes to renting movies on your streaming box, tablet, phone, or computer, you have a few options. One such option is FandangoNOW – the app formerly known as M-GO, and the one you may recognize from its place of honor in Roku's main menu. FandangoNOW functions in pretty much the exact same way as competitors like Vudu and Amazon. How does it measure up? Here's our full review.
User Experience
FandangoNOW has a pretty basic but very useable interface. It's reminiscent of cable or hotel room pay-per-view menus, with genres and promotions on a menu and a selection of titles sorted under each.
When you highlight a movie, you'll be able to see its Rotten Tomatoes and IMDb score. Click on it, and you'll get more information – a synopsis, cast list, and so on.
The TV show organization is interesting: FandangoNOW sorts its catalog by channel as well as by day of the week. It's a cool idea (though if you know what day your show airs, it might be because you already have cable and a DVR!).
In our trials, we had a few error issues, but nothing severe – for instance, one show had to be re-started because it registered us as already watching on another device.
All of this describes the experience on a Roku – on mobile, things aren't quite as nice. When you hop on your iPhone, you'll see a screen like this: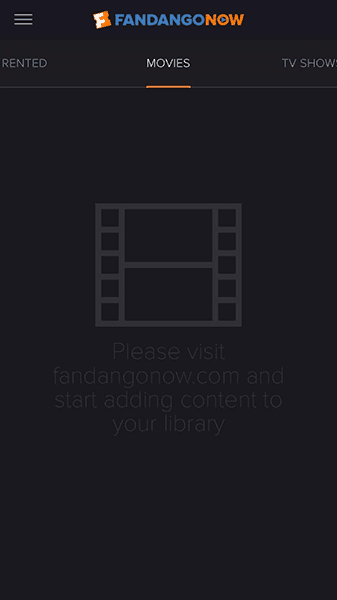 It seems that all of the renting and buying has to take place in the browser app or on the Roku. The mobile app allows you to access your purchased and rented movies, but you can't add to your library on the go, which is disappointing.
One more complaint: FandangoNOW's in-browser streaming does not work with Chrome. You'll need to use Firefox or Safari.
Content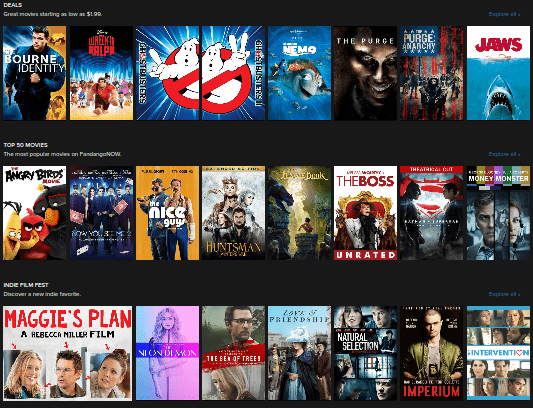 FandangoNOW has a very large library. It's hard to quantify how it stacks up to rivals like Amazon, since both libraries are so complete – you're almost certainly going to find what you're looking for, regardless of which service you use.
In addition to the movies for sale and rent, FandangoNOW offers streaming trailers of movies that are currently playing in theaters, which is a nice touch.
Streaming Quality
In our trials, we had no problems at all with FandangoNOW's streaming quality. The stream was smooth and in HD pretty much the entire time, and the experience was very comparable to competitors like Amazon. It worked well on iOS and on the Roku. There's really nothing to complain about here.
Platforms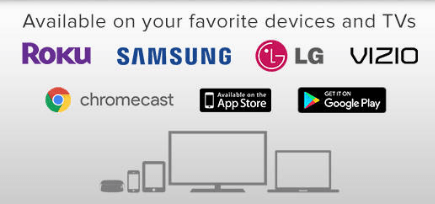 FandangoNOW is available via a browser app and for Roku, iOS, Android, Chromecast, and LG and Vizio smart TVs. For this review, we tried it in-browser and on Roku and iOS. FandangoNOW is integrated into the Roku platform, where it gets its own spot on the main menu (under "Movie Store" and "TV Store" in the left-hand column).
As we mentioned up in the User Experience section, it was disappointing to see how little control the mobile apps granted. The mobile app is basically just a satellite app for the real program, which can only be accessed on Roku or a computer. There are also browser limitations for the browser app. Overall, FandangoNOW's platform support could use some improvement.
Price
FandangoNOW lets you rent and purchase movies. New movies are usually $19.99 to buy and $5.99 to rent in HD, which is about on par with competitors like Amazon.
FandangoNOW does run some great sales, though, which makes this service worth checking when it's time to watch something. They offer sales as low as $1.99 rentals, and it's easy to browse titles that are on sale.
Verdict
There's not a lot of daylight between the movie rental and purchase services right now as far as price, library size, and streaming quality go. FandangoNOW doesn't really lag behind competition like Amazon, but it also doesn't do a ton to differentiate itself.
So the question of whether to use FandangoNOW comes down to convenience. For Roku users, it's easy to find and set up, so it's worth checking out. If you use a different streaming device, though, you'll probably want to stick with the competition.
Please like us on Facebook to keep up to date on what's new in the world of cord cutting: