When you cut the cord, there are some things that are very easy to replace. Thanks to services like Netflix and Hulu, it's pretty easy to get ahold of all of the movies and television shows you want to watch, even if you don't have a cable subscription. But there are other things that are still tough to access as a cord cutter – like local news.
NewsON is here to change that. They offer a simple app that works on a bunch of different platforms and promises to deliver local news to cord cutters wherever they are. Is it worth your time? Here's our full review.
Content
NewsON offers content from various local news stations from across the country. You aren't required to choose your own – just have location services enabled on your device, and NewsON will find your local station for you.
Unfortunately, NewsON doesn't have enough stations on board yet. Your faithful blogger lives in the small-town Northwest, more than five hours away from Seattle, Washington. That was close enough for NewsON, which cheerfully beamed Seattle's local news into my living room.
There's a way to access specific channels with the in-app map (more on that in a moment. Looking at the map gives you a good idea of how many networks NewsON supports, and whether or not they're available in your area.
User Experience
The NewsON user experience asks a bit too much of the user. They're really focused on making full use of the screen on mobile devices, which is fine, except that the user is left pretty clueless as to how to access settings and content menus. The answer is to swipe (or, on Roku, use the directional buttons).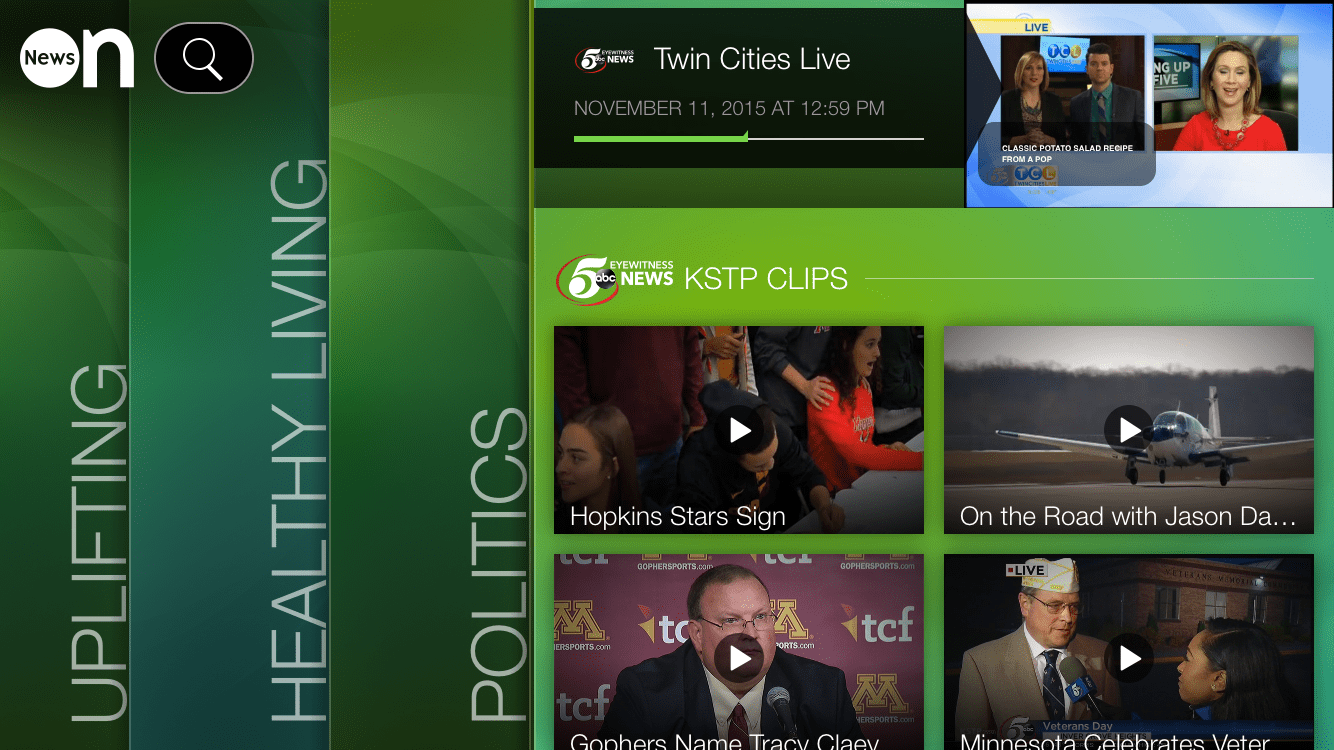 Swipe to the right and you'll move left to a screen that sorts clips by genres: you can choose from "Healthy Living," "Uplifting," and other familiar local news sub-genres. Swipe the other way and you'll move to the right, where you can view the TV guide for the channel you're on or select a new channel manually from the map (since the app locates you automatically, you would need this feature in order to find your home network when out of town).
You'll figure it out eventually, but the app feels a bit squeezed and over-simplified. For instance, when on the right screen with the map open, you can't put your finger on the map when you swipe back to your program – that would just move the map. Instead, you have to close the map by pressing the button in the upper left, then swipe right (or you can just swipe from the upper corner without touching the map). Small but annoying quirks like this are pretty much par for the course with NewsON.
Streaming Quality
The streaming quality on NewsON is really pretty good. The picture quality stays very high the vast majority of the time, and the stream is consistently smooth. We tried a few different news channels, and the quality seemed consistent across all of them. The streaming quality was pretty much equally strong on all of the devices we used to test the service.
Platforms
NewsON is available on iOS, Android, and Roku. You can also Chromecast it from either of the two mobile apps. We used it on all four platforms. Streaming quality was solid across the the board, but the user experience frustrations we've noted here were present on all of the devices.
Price
This is the one thing about NewsON that can't be beat. It's a completely free service.
The Verdict
The NewsON team has a very promising idea, but it hasn't been fully realized yet. They need to secure more local providers before their auto-locate feature is useful to rural residents, and that's a problem – after all, most urban residents can get their local news with an antenna and don't need NewsON in the first place. Their interface could use work, as well. It might be worth checking to see if they have your local station, but don't expect a perfect app.
We can't recommend NewsON just yet, at least not in an unqualified way. With that said, NewsON is very new at the time of this writing. Growing pains are inevitable with new apps, and hopefully NewsON can overcome theirs.
Please like us on Facebook to keep up to date on what's new in the world of cord cutting: