We recommend: Try PlayStation Vue for free.
For many of us, cord cutting used to mean giving up live TV. But the growth of antenna usage and live streaming channel services like Sling TV and Pluto TV has shown that live TV is far from dying – it's just filling out some change-of-address forms.
The idea of live TV solutions for the cord cutting set is a really exciting thing, but development has been a little slow. Sling TV is barely more than a year old, and it's had its share of growing pains. Sling TV has caught plenty of flack for the quality of its live TV streams, a problem that our review also noted.
Into this landscape steps PlayStation Vue, Sony's skinny bundle live TV service. PlayStation Vue has been available to PlayStation console owners for a while now, but they've just unveiled a nationwide service for cord cutters that includes apps for Fire TV and mobile devices. How does it measure up to the competition? Here's our full review.
User Experience
PlayStation Vue's user experience is solid, but ease of use isn't the selling point of this service. We found that flipping through channels was a little annoying to do. PlayStation Vue, like competitor Sling TV, seems to assume you're more interested in what else is coming up on the channel you're already watching, rather than what might be playing on other channels. For a service that's designed to emulate and replace the traditional cable experience, it doesn't enable channel flipping quite as well as we'd like (for our money, the free Pluto TV and it's original channels still re-create this experience best).
One great feature that PlayStation Vue has is its built-in DVR. It's an awesome perk that helps the service more fully compete with traditional cable. It's even more powerful when combined with the ability to favorite channels and shows – favorited shows will automatically be recorded. The favoriting feature is surfaced well in the mobile app, where it's the first thing you see when you log in for the first time. The Fire TV app, by contrast, didn't push this feature.
Content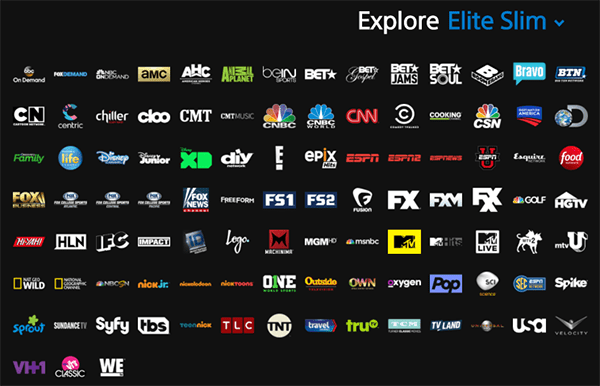 PlayStation Vue offers three packages, ranging from 55+ channels to 100+ channels. The highlights of the package include AMC, CNN, ESPN, TBS, TNT, and USA. You can check out the full channel list over on PlayStation Vue's site. It's pretty impressive, particularly at the lower tier. They've snagged deals with some key channels, like NBCSN and FOX News, that competitors like Sling TV have been unable to ink. On top of the live channels, PlayStation Vue offers on-demand content from ABC, FOX, and NBC, which is a really nice perk.
The quality of the channels diminishes a bit as you get to the higher packages. It's a matter of personal preference, of course, but I thought that the Elite Slim package had a few too many no-name channels (have you ever heard of Chiller?).
Streaming Quality
Streaming quality is where PlayStation Vue really shines. In our trials (using both Wi-Fi and ethernet connections on Fire TV and mobile), the video quality was consistently high. More important still was the smoothness of the live broadcasts. Streaming quality has been the knock on Sling TV from the start, and PlayStation Vue is not repeating its primary competitor's mistakes. There is, frankly, no comparison between the two: PlayStation Vue blows Sling TV out of the water on streaming quality.
We've been fairly charitable about live stream quality in the past because, as Sling TV CEO Roger Lynch mentioned in our interview with him last year, there are inherent hurdles to the process. You can't pre-load live TV when you have extra bandwidth available, because (obviously), it hasn't happened yet. But after seeing what PlayStation Vue can do, we're starting to think we went a little too easy on Sling TV's live streaming quality. PlayStation Vue has changed the game in terms of live streaming quality. (To be fair, we reviewed Sling TV some time ago, and the service has improved a bit since.)
Platforms
PlayStation Vue is very, very young – and, in terms of platform support, it shows. The new service may be available everywhere, but it's not exactly available to everyone. PlayStation Vue is available on only a very limited number of platforms, namely:
PlayStation (PS3 and PS4)
iOS (with Chromecast functionality)
Fire TV
That's it. No Android option, and no in-browser app – and you can forget about Apple TV, Roku, and the rest. This fact alone is a dealbreaker for a huge chunk of cord cutters.
PlayStation Vue's console-based legacy is also hard to forget. To get PlayStation Vue, you'll have to create an account with PlayStation (not just with Vue). You'll even have to enter the zip code for your PlayStation's location. That's kind of an odd request for those of us without PlayStations, and it furthers the impression that PlayStation Vue is still tethered to PlayStation consoles in some significant ways.
This wouldn't be so bad if PlayStation had a great shopping interface. Using one's Amazon account for Amazon Fire TV, for instance, isn't nearly as annoying. Amazon is all about easy checkout, and the integrated purchasing on the Fire TV means that it simply makes sense to connect the device to an Amazon account. With PlayStation, though, the e-commerce know-how just doesn't seem to be there. For instance, it took me a long time to get my credit card information to be approved. The problem turned out to be that PlayStation's checkout system reads address lines in the wrong order. So those of us with unit numbers have to enter our addresses like this:
Apartment 1A
123 Main Street
Instead of the normal way (with the apartment number below). PlayStation message boards clued me into the problem; apparently it's a long-standing issue, and some less informed PlayStation users have even resorted to buying gift cards on Amazon in order to use them (instead of their credit cards) on PlayStation's site.
That's just one anecdote, but it does show the problem PlayStation has in trying to expand its reach. Historically, this hasn't been what PlayStation (or Sony) does. They're still learning how to do it.
Price
PlayStation Vue offers three price points, each with a different channel selection. The packages are:
Access Slim (55+ channels): $29.99/month
Core Slim (70+ channels): $34.99/month
Elite Slim (100+ channels): $44.99/month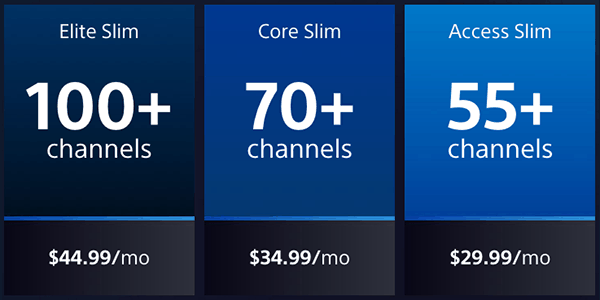 PlayStation Vue's cheapest package is still more expensive than its main competitor, Sling TV – but it also offers more channels. Sling's $20 for 20 channels deal is, of course, $1 per channel. PlayStation Vue's Access Slim package is less than 55 cents a channel, or almost half the price per-channel.
This difference maybe the most interesting thing about PlayStation Vue's positioning. It's clearly cheaper on a per-channel basis, but is this bundle "skinny" enough? After all, cable offers hundreds of channels, and cord cutters generally reject that pricing scheme. Where is the sweet spot in terms of number of channels vs. monthly price? My gut says that PlayStation's slimmest package will be its most successful.
You can try out PlayStation Vue through its free trial.
Verdict
There's a lot to love about PlayStation Vue, especially as far as streaming quality goes. It clearly bests its live TV competitors in that department, and that's a huge step forward for cord cutters. We've been waiting for Sling TV to get video quality right for a year, and PlayStation Vue has come right out of the gate with a solution.
But ultimately, our verdict on PlayStation Vue is still similar to our verdict on Sling TV: we're more excited about what it could become than we are about what it is now. Right now, PlayStation Vue is severely limited by the devices it can be used on. How could they roll out nationwide without an Android app? Hopefully this is something that PlayStation Vue will fix quickly.
We recommend PlayStation Vue for Amazon Fire TV users who like the monthly fee/number of channels balance. For other platforms, PlayStation Vue may be the future – but it's not the present.
Please like us on Facebook to keep up to date on what's new in the world of cord cutting: