In the world of cord cutting, the streaming box market is dominated by a few products backed by major companies: the Amazon Fire TV, Apple TV, and Roku. But there are plenty of other options out there for tech-savvy cord cutters – including the products from Element Technologies. Element uses Google's Android operating system to make TV boxes that, it says, offer all of the perks of the major boxes while also providing the flexibility of Android and coming pre-loaded with Kodi, the popular media center application.
Are they right? Is the Element really a good alternative to the Apple TV, Fire TV, or Roku? Here's our full review of the Element Ti4, the top-of-the-line Element model.
A Quick Disclosure
Here at Cordcutting.com, we will always let you know about any freebies we receive from the companies we review. If you don't see a disclosure, we didn't get anything! In this case, the folks at Element were kind enough to provide a free review copy of this device.
The Device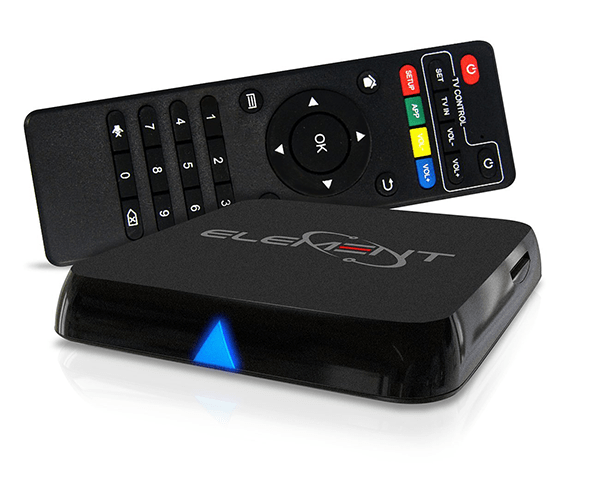 The Element is a tidy little box and looks pretty aesthetically pleasing. It comes with a remote that you can program to use on your TV, too, which is a nice touch. The included HDMI cable is a bit short, but probably long enough to cover most of the logical places you'd put your Element Ti4. The package did not include an ethernet cable.
The Element has two USB ports and an SD card slot, so there are plenty of ways to load up your own content (remember, the Element Ti4 Android Box's main claim to fame is its ability to use Kodi, which will let you stream local content). It also has AV and optical jacks.
The most promising thing about the Element is that it's an absolute monster under the hood. It has a Quad Core 2.0 Ghz processor and 2 GB of RAM.
The Element also runs very reliably off of Wi-Fi, which was impressive. Wi-Fi is the industry standard on streaming boxes these days, of course, but that doesn't always mean that your streaming will run smoothly. The Element behaved very well on Wi-Fi during the review period.
Using the Element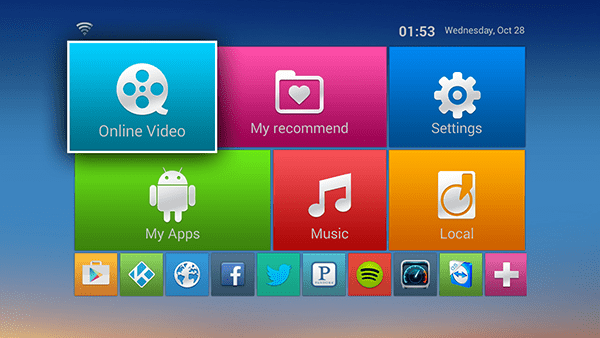 The Element greets you with a pretty appealing main screen. Setting is up is pretty simple, but it takes forever if you use the remote: the on-screen keyboard isn't the simplest thing in the world, and as we tried to click individual keys we felt that the remote seemed less responsive than the ones that come with major devices.
Perhaps that's why Element recommends that users control their device using a wireless keyboard and mouse through the two USB ports. We initially tried to avoid that, as most cord cutters probably aren't canceling cable because they're dying to have a computer keyboard and mouse sitting on their living room coffee table, but eventually we had to give in. More on that later.
The idea of the Element is that it offers virtually every possible streaming app (because it is running Android and offers the full Google Play Store) while also including Kodi from the get-go. Once you're using a keyboard and mouse, you'll find that it's pretty easy to get all of your favorite apps and attach them to the "Online Video" section so that you can click them quickly. As you'd expect from an Android device, this thing is pretty customizable. Some of the apps work better than others, though – again, more on this later.
Kodi on the Element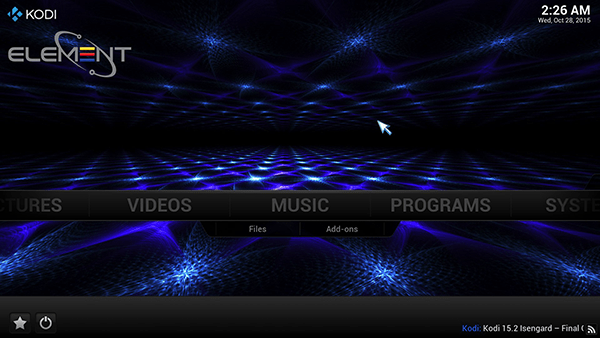 We have some major gripes about this device, but it does get at least half of its mission done right. The real appeal of the Element is that it comes pre-loaded with Kodi. It even has its own splash page and home screen and comes pre-loaded with the SuperRepo repository. The latter makes it a breeze to install Genesis.
Unlike most of the other apps you'll use on the Element, Kodi actually works pretty well with the included remote. You'll want to use the keyboard and mouse set-up to get all of your content on there and install your preferred add-ons, but once everything is set up, the remote will suffice. If all we ever did with the Element was boot it up and head straight to Kodi, we probably wouldn't have many complaints about this device. It's fast, effective, and more than capable of handling the HD streaming you'll get from add-ons like Icefilms.
A Tablet OS on a TV Device
The biggest recurring problem with the Element is its inability to act like the TV boxes that it claims to be competing with. It is first and foremost a little computer running on a tablet OS; it is only secondly (and sometimes not at all) a convenient way to watch content from your couch.
When you choose to use the remote control – as most users would – you'll find that you're essentially controlling the OS as you would with the directional keys of the keyboard. That means that you'll sometimes have to find creative ways to get from point A to point B in places like the Google Play store.
There's no real keyboard work-around – you just have to keep plugging away or give up and bust out the keyboard – but there is a work-around for the mouse. By clicking a button on the remote, you can activate a cursor and move it around with the directional buttons. That's good, because some Android app screens are completely unnavigable without a mouse cursor.
Not all apps play nicely with the Element. For instance, we set up MLB.com At Bat, the baseball app connected with the MLB.tv service. On the "Select a Favorite Team" screen, the bottom was cut off and there was no way to scroll (at least that I could find). We were later able to select a favorite on a different screen, but the Element experience is something you have to work for.
Incidentally, the problem seems to be that some of the apps in question are presented in vertical screen mode, despite (obviously) my television being a horizontal screen. As a result, you can lose your cursor in "mouse mode" down there in the abyss. The device seems to remember where you last left your cursor, so you can lose it down there, advance the screen, and then spend a few minutes trying to figure out why the cursor button isn't working – which, of course, is exactly what I did.
For this reason and others, you'll never quite forget that you're using an OS designed for a mobile device. Turn on Sling TV, and you'll be reminded that you just have to "swipe down" to exit "full screen" – and you'll have to use the remote to affirm that you've seen the explanation, or it will just float in front of your video forever.
Probably the single most embarrassing thing for the Element is that Netflix – the most essential cord cutting tool of them all – is terribly difficult to navigate in their OS. You'll see the normal screen that you get in landscape mode on any Android device: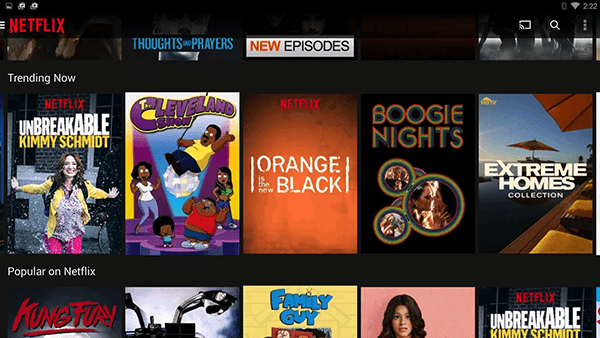 You end up getting enormous cover images, since Android thinks its on a tablet and not a widescreen TV, but that's not the worst of it. Using the remote, it is impossible to slide the rows of Netflix films. The only way we were able to move them was to click in on the scroll wheel of our mouse and swipe to the side. The remote was totally useless in the Netflix app – we couldn't select anything or play anything, much less find what we wanted. That's ridiculous.
Price
At $109.99, the Element Ti4 Android Box is priced right around where most of its competitors are. It's slightly cheaper than the Apple TV and Roku 4, despite lagging behind in perks like voice activation (doesn't exist) and usability.
Verdict
The Element is kind of fun to play with if you love tinkering with Android devices or (like me) you're getting paid to use the thing. It is also a pretty solid Kodi box with great technical specs and easy ways to load your local content.
What it is not, however, is a simple plug-and-play streaming box that will please the whole family. Your parents and your kids probably won't be able to use this thing. If you're tired after a long day at work, you probably won't want to go beyond its core capabilities either.
The Element's purpose is to run Kodi well while also filling the role that your Roku or Apple TV normally would. It does the first thing moderately well, but it's a full-blown disaster in the second department. We recommend you save your money – $109.99 is way too much for a device that, at times, almost feels homemade.
Please like us on Facebook to keep up to date on what's new in the world of cord cutting: