The Roku Ultra's second generation is here, which means that your Roku 4 is officially OLD AND EMBARRASSING. But should you shell out for another Roku, make do with last year's model, or jump ship to a different device entirely? I would tell you now, but then you wouldn't read this Roku Ultra review. Come on, let's go on this journey together.
Roku Ultra Review
Disclosure
Roku sent its lineup our way for free so that we could review it. As always, we're disclosing this. We don't profit from our review copies or use them to promote the site. This won't affect the objectivity of our review.
Device
Here is a photo of the brand-new Roku Ultra: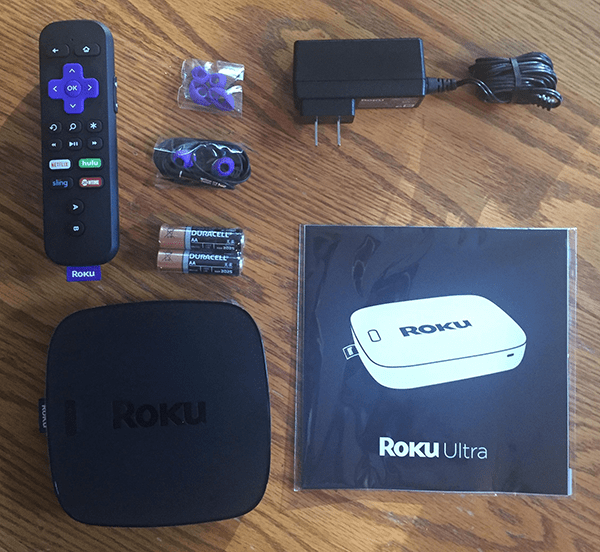 No, just kidding, that's last year's model. Here's this year's:

Yeah, lookin' pretty similar. Roku tells me this one is slightly more powerful, and the optical audio port is gone, but other than that there are only two things that have really changed here: the remote control and the price. Let's tackle those one at a time.
The remote, which was upgraded nearly across the board in the new Roku line (the Roku Express and Express+ were left out), now features a power button that turns your Roku remote into a universal remote. More on that in a bit. It also has a headphone jack for private listening; shortcut buttons for some services (including Netflix); and two buttons ("A" and "B") for "gaming," which is something that I don't think anyone actually does with Roku, but hey, the buttons there if you need 'em.
As for the price, it's $99.99, but that's a matter for our second-to-last section, so hold your horses. No, come on, don't scroll, I worked hard on this.
User Experience
Roku has a bit of a large-print cheerful aesthetic that works well in some places but that will probably not appeal to RISD graduates as much as Apple TV's does. But don't let that fool you: Roku's platform is well-designed from a user perspective. It is the Norman Rockwell to Apple TV's Mark Rothko: just as simple, much more cheerful, and more likely to be understood and appreciated by your grandparents.
Unpleasant and untroubling as it is, Roku's OS is also largely unchanged. For newcomers, though, here's a brief overview: your home screen on Roku is essentially just a grid of apps (Roku calls them "channels"), which you can reorder if you'd like. You can use the side navigation to do things like rent movies and download more apps (sorry, "channels"), but a quick click of the remote's home button always bring you back to that simple app grid. This makes Roku relatively agnostic towards which services you use. While Fire TV pushes Amazon content and relegates your apps to the fifth of six tabs, Roku surfaces your apps to the Home screen and saves its shameless shilling for less important tabs (well, and the remote shortcut buttons, which I assume came about through some money changing hands). Roku's voice search is fairly agnostic, too, and while it can't order a pizza, it can help you find something to watch.
Speaking of the remote, it's universal now. Roku can detect the TV you're using and program the remote for you, eliminating the "punch in the code" step that cost you five minutes and your grandparents years of their lives. Once working, the universal remote is a beautiful thing. It is, however, missing an input button. That helps it to avoid confusing your parents, but it also means that OTA users, video gamers, and (dare we say it) cord-havers will still have to keep their regular remote within easy reach. And, naturally, even Roku-only users will occasionally want to dig up their regular remote to change the picture and whatnot.
Roku's universal remote is a step in the right direction, even if lacks a feature or two. The rest of the user experience is pretty much where it always was. But Roku's UI remains significantly ahead of the competition's, and at a time when just about every device on the market streams pretty well, that's a huge advantage.
Streaming Quality
Oh, yeah, speaking of which: the Roku Ultra streams pretty well. It was good last generation, and it's good now. As you'd expect from its status as Roku's top device, the Ultra is the best streamer in its family. It streamed about as well as the Fire TV on Wi-Fi, and its ability to connect via Ethernet (the new Fire TV, unlike the previous generation, needs an adapter – sold separately – to pull that off) means that it's capable of being even more reliable. The Roku Ultra is 4K- and HDR-capable. It's all good news in this section, folks.
Price
We have arrived at the second-gen Roku Ultra's raison d'etre! Thank you for reading every work of this review so far and not just scrolling down here. The Ultra is the least-improved of Roku's second-gen lineup, but its price has dropped to an appealing $99.99. That's more than the new Fire TV ($69.99) and Chromecast Ultra ($69), but less than the last generation's price ($129.99) and much less than the Apple TV 4K (one healthy kidney and the soul of your first-born child).
Verdict
For my money, the Roku Ultra was the streaming device to beat last generation, and I think it still has that honor this generation. The call is a bit tougher this year thanks to the Roku Stick+ (stay tuned for that review) and the push toward lower prices, which makes the Ultra's $99.99 price tag – while low by the standards of the past few years – feel a little high. The bottom line, though, is that Roku's platform is a huge advantage, the universal remote is a nice addition, and the Ultra is the best Roku available.
If you have last year's Ultra, I don't think you need to be in a big rush to upgrade. Other than the universal remote, not much has changed here. But if you don't yet have a streaming device or are way overdue for an upgrade, this is a device I'd strongly recommend.
Please like us on Facebook to keep up to date on what's new in the world of cord cutting: