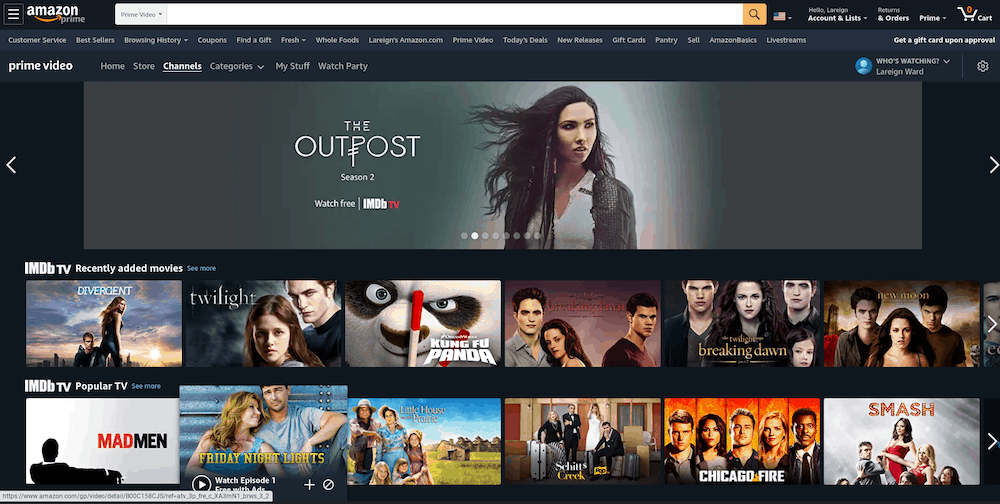 You already know you can use IMDb to look up that guy who starred in that movie your mom likes. But did you also know that IMDb has a streaming service? It's true! The service is called IMDb TV, and it launched in early 2019 under the name Freedive. Six months later, parent company Amazon changed the service's name to IMDb TV, probably because "Freedive" sounds more like an Olympic event than a streaming service.
IMDb TV is owned by Amazon, which also owns all other things IMDb, including the original website. IMDb TV is a free streaming service that makes its money on ads, which means you won't have to hand over any credit card info to watch movies and shows — you'll just have to sit through some commercials from time to time. IMDb TV competes with free-with-ads competitors like Tubi and Crackle, and it's safe to say the service is looking to draw in people who already use the paid streaming service Amazon Prime Video. How successful is the service? Keep reading, because we've got answers to that and more in our official Cordcutting.com review of IMDb TV.
How It Felt to Use IMDb TV
I enjoyed using IMDb TV, but this free service has its quirks. To use IMDb on my phone, I had to download the IMDb app. You'll notice that I didn't say the IMDB TV app — that's not a thing. Instead, I had to download the free IMDb app, then scroll down to the IMDb TV section. From there, I could choose something to watch — as long as I'd signed in first.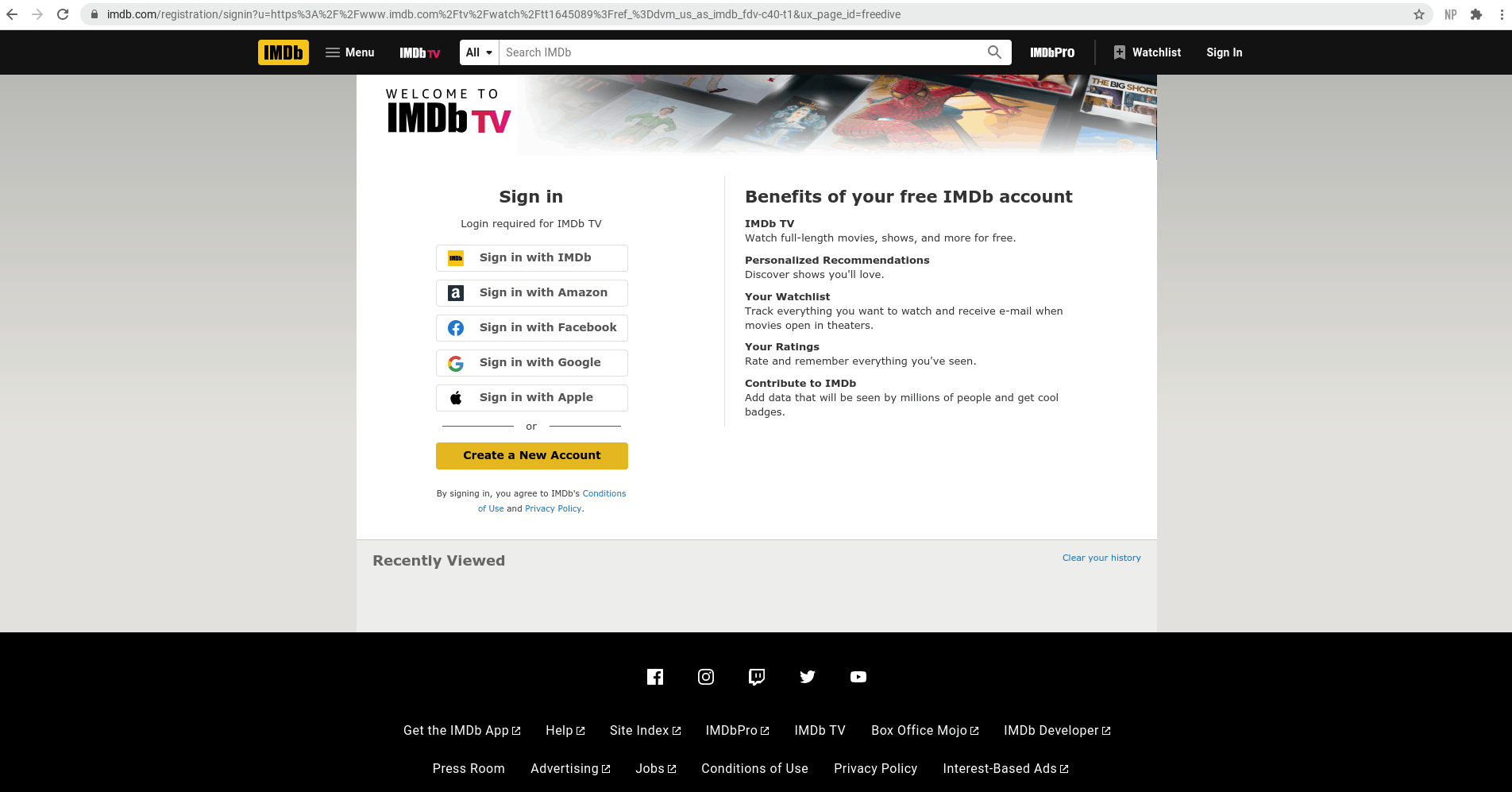 While signing in is a little annoying, IMDb did at least give me a lot of choices for how I wanted to sign it. I used an IMDb account, but if you don't have one of those, don't sweat it: There's no need to create one because you can just choose from Amazon, Google, Facebook, or Apple, and log in with an existing account of your choice. Signing in is all that I had to do to start watching TV shows and movies on IMDb TV. I think you'll find it's worth the small hassle.
The IMDb app let me toggle easily between TV shows and movies. I could also choose my genre. I think you'll find the IMDb app pretty easy to use. The problem is, you might not be able to get it. The IMDb app is readily available for mobile platforms and Fire TV streaming devices, but the experience is a little different from other sorts of devices.
I felt that I didn't get as much control when I logged into IMDb TV using my internet browser. And I had even fewer ways to sort and control things when I checked out IMDb TV on Roku. With a Roku device, I couldn't get the IMDb app at all. Instead, I had to use the Amazon Prime Video app and access IMDb TV within that app's menus. With the Amazon Prime Video app on Roku, I just saw IMDb TV's selections as a list of movies to scroll through; I didn't see any way to break it down by genre or anything like that. If you're a Roku user, I think you'll find this a bit annoying — especially if you don't normally use the Prime Video app.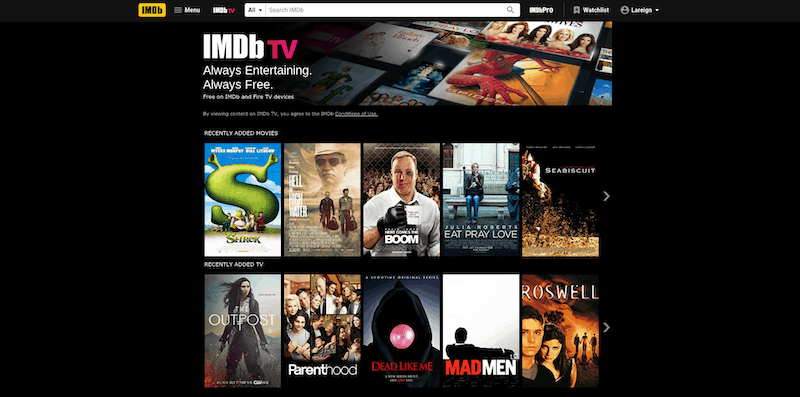 Since they use the same app (on Roku, anyway), watching IMDb TV feels quite a bit like watching Amazon Prime Video. In my testing on the Prime Video app, I was dealing with the same user interface and video playback controls as always. There's nothing too out of the ordinary going on here — if you're familiar with the Prime Video app, you'll be right at home.
Using IMDb TV to watch TV shows and movies means watching ads, too. To me, the ads didn't feel any more intrusive than the advertising on other services. If anything, the breaks felt a bit less frequent than better-known services like Hulu. Not surprisingly, I saw quite a few ads for Amazon Prime Video programming when I tested IMDb TV. If you've been able to tolerate ads in the past, I don't think IMDb TV's commercials will bother you.
What You Can Watch on IMDb TV
I had a lot to watch during our Cordcutting.com testing period. I'll talk more about the selection below, but remember that titles are always leaving and entering IMDb TV's catalog. To know what's available right now, your best bet is to open the app!
How do you feel about documentaries on the financial collapse? No, not the current one; the one in 2008. If so, there's an Oscar-winning documentary called Inside Job available on IMDb TV.
If that's too obscure, let's take a look at the movies IMDb classified as "most popular" when I tested the service. First up was Taxi Driver. That's a classic, so I've got no argument there. Second was Whale Rider, which is a little more obscure. Then there was Tracks, a drama that I'm pretty sure is about hiking, not intravenous drug use.
If you're not sensing a pattern, it's okay — neither did I. With IMDb TV, I was getting a big grab bag of movies, some good and some… well, less so. I enjoyed Groundhog Day, which just left Netflix. The 1992 baseball classic A League of Their Own was available, too (a slick move by Amazon, since they have a TV reboot set to debut exclusively on Amazon Prime Video soon). If you're looking to entertain kids, you'll be happy to hear that I also found plenty of kid-friendly content, including Shrek and Stuart Little.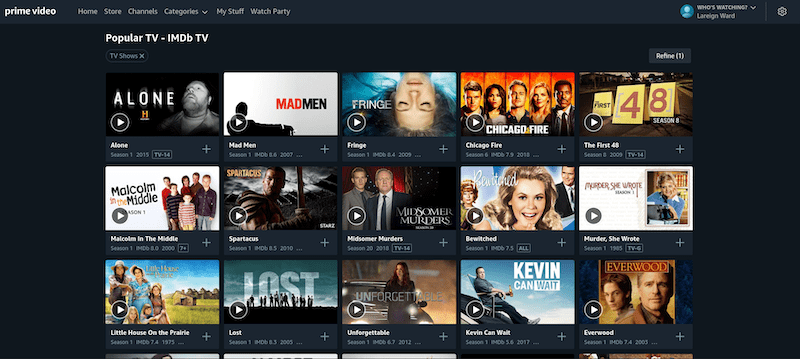 What about TV shows? IMDb TV has some of those, though the selection didn't blow me away. If you never watched all of Mad Men, you can catch up with all seven seasons on IMDb right now. I also saw plenty of Disney-owned content, which was no surprise: In early 2020, IMDb TV made a deal with Disney to stream full seasons of older shows like Ally McBeal, My So-Called Life, and Malcolm in the Middle. Back in May of 2020, IMDb TV became the only free streaming service that has Lost. And I have good news for you if you're an Angela Lansbury fan: As of this writing, you can enjoy access to all 12 seasons of Murder She Wrote on IMDb TV.
Does IMDb TV have any original content? It does, but the lineup didn't impress me too much. Last year, IMDb TV debuted its first original scripted show, an animated comedy called You're Not a Monster. It's about a shrink for literal monsters. I don't remember hearing much buzz about this show, even though it features names like Kelsey Grammar and Patton Oswalt. My other options included Special Skills with Jay Pharoah, a show that involves experts teaching the former SNL comedian activities like skateboarding, golfing, and hockey goaltending. I also checked out Casting Calls, which is all about how movies like Jurassic Park and Sleepless in Seattle got cast. A reboot of Leverage is also coming to the service, but it's not here yet.
I think you'll find that the best reason to watch IMDb TV is the programming from other sources, not the original content. The original programming lineup might get stronger with time, but it didn't offer me too much during our Cordcutting.com testing.
IMDb TV Features and Streaming Quality
IMDb TV gave me a few different options for streaming quality. Using IMDb TV in my Chrome browser, I could choose between three resolutions: "Good," "Better," and "Best." IMDb TV describes these using data usage rates instead of usual terms for resolution, like "1080p" or "720p." According to the app, Good uses around 0.38 GB per hour, Better comes in at 0.86 GB per hour, and Best is 1.17 GB per hour. Based on those numbers and what I saw on my screen, the options seem to correspond to standard definition, 720p HD, and 1080p HD, respectively. My computer browser defaulted to Best, but I could easily change that by clicking on the Options icon in the top right.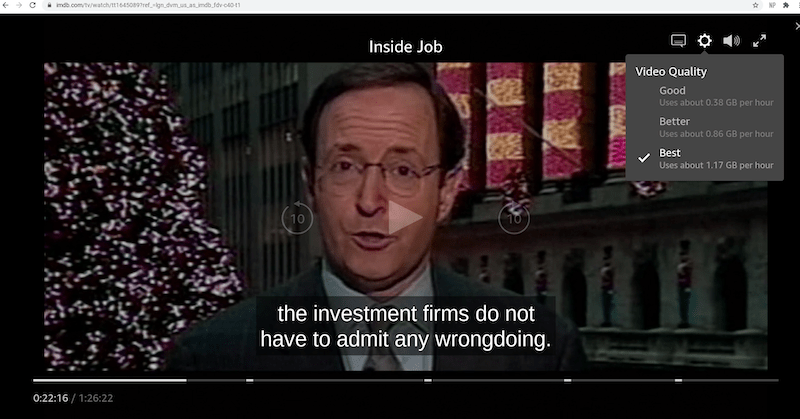 I didn't notice any major issues with streaming quality. Rewinding led to minor buffering issues when I watched on my mobile phone. That was only a mild inconvenience, though, and not anything close to a dealbreaker. Closed captioning is also easy to toggle on and off, which is helpful. Overall, I think you'll find IMDb TV's streaming quality to be solid, if unspectacular.
IMDb TV Platform Support
IMDb TV is an Amazon product, so I wasn't surprised that it was easy to use on my Amazon Fire TV Stick and other Fire TV devices. But I was surprised that using a Fire TV device was my only option for using IMDb TV within the IMDb app. On other platforms, like Roku and Android TV, I had to go through the Amazon Prime Video app to access IMDb TV's content. If you're a Roku user, this is something to keep in mind. You can use IMDb TV in the IMDb app on iOS and Android mobile devices, too.
IMDb TV works in major web browsers, too. If you've got an Echo device with a screen, you can use it to watch IMDb TV as well, albeit only in standard definition.
As we talked about way up in the first section of this IMDb TV review, you can use different apps to access IMDb TV on different platforms. IMDb TV content is built into the Amazon Prime Video app, that might be your only way to watch if you're on a platform that doesn't support the IMDb app, such as Roku. This multiple-apps situation is a little more confusing than what we get with competitors like Crackle and Tubi, which have the same apps and similar functionality on all of our favorite streaming platforms.
For this review, I tested IMDb TV on Roku, iOS, Chrome, and Fire TV.
IMDb TV Value
The best thing about IMDb TV is that it's free. There's no paid tier, only one free one. There's no need to worry about things like free trials or deals, because it doesn't cost you anything to watch IMDb TV.
By the way, don't be confused by the existence of "IMDbPro" — that's a separate service for actors and industry members that has nothing to do with IMDb TV.
Considering the somewhat limited content, I think that free is an appropriate price point. But we're getting ahead of ourselves; read on for our final Cordcutting.com verdict on IMDb TV.
IMDb TV Review: Our Verdict
So how good is IMDb TV, really? For a free service, I think you'll find it pretty middle-of-the-road. There are some good titles, but I don't feel particularly passionate about IMDb TV. With its odd mix of programming, I'm also not sure what demographic the service is supposed to target — other than "people who aren't sure they want to pay for Amazon Prime Video."
In my view, there's simply not a ton here to distinguish IMDb TV. In a crowded market, IMDb TV often felt redundant to me. I had other, better streaming options. Then again, it's not a zero-sum game: I think IMDb TV might be useful to you as a supplement to paid services like Netflix, or as a way to get out of the occasional rental fee on FandangoNow or Vudu.
Though it didn't blow me away, IMDb TV is worth checking out if you have the time, especially if you're already in Amazon's apps or if you want a taste of Amazon's streaming options without having to pay. It won't replace your paid streaming options, but it's a nice way to grab some extra content at no extra cost.