Kodi is one of the most popular media center applications on the planet, and you can run it on just about anything. Kodi can sort the movies on your desktop computer or help you stream media on your tablet. So it only makes sense to get Kodi on a streaming box and hook it up to your biggest, baddest TV. But what's the best Kodi box? Here's a hint: it's not one you can buy online.
In our post on the best devices for Kodi, we talked up the virtues of Kodi on a few different devices. But we trashed one type of device: the pre-made Kodi box.
Beware the Shady Kodi Box
When we talk about pre-made Kodi boxes, we're talking virtually exclusively about shady devices that purport to allow you to watch free movies and TV. And, in fact, they do – the only catch is that it's all illegal. These Kodi boxes are pretty simple (and often cheap and low-quality) under the hood. They run an operating system – usually Android TV in some form – and either include Kodi or boot directly to it. And they ship out with a boatload of Kodi add-ons already installed. It's these add-ons that make all the free streaming possible. It's also the add-ons that make the whole thing illegal.
Kodi, of course, hates these things. To be fair, that's something of a recent development – Kodi (which has previously gone by the names Xbox Media Center and XBMC) used to be fairly agnostic about the many illegal add-ons that polluted its library. But recent years have given us a better-branded and better-supported Kodi that cares a great deal more about its reputation. Kodi has begun to police its add-ons in a way more reminiscent of how other platforms manage official app stores.
So when you buy a pre-made Kodi box, you're getting a product that Kodi did not approve and does not officially support. You'll also get questionable hardware and lousy functionality – not just from Kodi, but from the operating system as well (we've seen Kodi boxes that use Android's touch-screen interface on your TV, and it's not pretty). And the device will get you in trouble if the authorities find out you have it. As for customer support, forget about it. There's no best Kodi box out of this lot! Fortunately, though, you can build a good one on your own.
But first, let's get one more option out of the way.
Installing Kodi on an Existing Streaming Box
Kodi's battle with illegal add-ons has helped it gain legitimacy, so it's no surprise that you can get it in some popular app libraries. You can install Kodi on Android TV (just as you can on regular old Android), so if you own the Nvidia Shield or another Android TV device, creating your new Kodi box is as simple as installing Kodi on the streaming box that you already have.
With that said, part of the joy of Kodi is that you can keep your costs low while getting a great media center experience. So let's assume that you don't have a pricey streaming box, and you'd rather not buy one. What are your options then?
Build the Best Kodi Box and Put Kodi on Your TV
The idea of a streaming box is to have a device permanently plugged into your TV that runs a media management application and makes it easy to summon the entertainment you want. In this sense, all we really need is a device that can connect to our TV (by HDMI, ideally), support for Kodi, and a way to control things remotely.
For these purposes, you can use most of the options from our list of the best Kodi devices. But the most obvious choice is the Raspberry Pi.
The Raspberry Pi has the small footprint we'd expect from a streaming box, and it has an HDMI port that we can use to hook the device up to the TV. You can install Kodi on Raspberry Pi, we're set in that regard. And you can buy USB remotes that will work with Kodi and Raspberry Pi, so we're all set there, too. In fact, the Raspberry Pi is so perfect for Kodi that Kodi's first-ever hardware product was a Raspberry Pi case.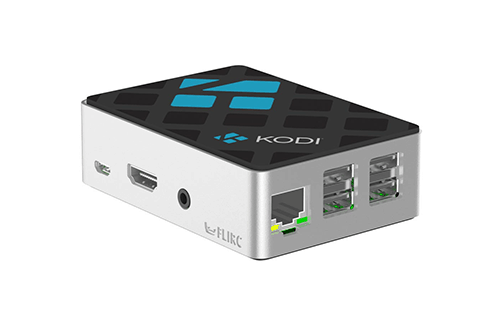 It's worth mentioning that you can also combine Kodi with other popular Raspberry Pi projects. For instance, you can install Kodi on RetroPie and have both your media and your gaming emulators on one Pi. By the way, if all of this Raspberry Pi tinkering sounds like fun to you, then check out our sister site The Pi.
Once you have your Kodi box set up, you can choose your own add-ons – the ones that are on Kodi's approved list. You'll be able to add streaming video functionality and a whole host of perks and improvements, all while staying on the right side of the law.
So the best Kodi box is the one you put together yourself, and the best device to use for this purpose is the Raspberry Pi. But, of course, the Pi isn't your only option. Kodi is so appealing in part because it runs on just about anything, so use your imagination. An old laptop tucked behind your TV will work well, too. And you can swap out the physical remote in favor of remote apps and other ways of controlling Kodi over Wi-Fi. You can customize your Kodi solution to your needs and create the best Kodi box for you if you build it out yourself, and you'll avoid all of the nasty legal issues that come with those pre-loaded boxes.
Please like us on Facebook to keep up to date on what's new in the world of cord cutting: