Netflix started off in the United States, and its offerings here have always dwarfed its foreign catalogs. Netflix is trying to even things out a bit – their recent changes have shrunk their American catalog significantly while making a growing number of titles available overseas – but the American selection remains the largest. That doesn't mean, however, that all of Netflix's titles are available stateside.
Netflix has deals for content all over the world. Out of the many, many titles that Netflix has the rights to somewhere on earth, only a minority are available in the United States – but Americans still have access to a higher percentage of titles than viewers in any other country.
U.S.-Based Netflix Viewers Have Access to More Than a Third of All Netflix Titles
To figure out exactly how much of Netflix's catalog is available in the U.S., we started with the total number of Netflix titles worldwide. Working with AllFlicks' database, we found a total of 13,612 titles (this figure counts each title only once, regardless of availability – even if Forrest Gump is available in eight countries, it's still only counted as one title in this total).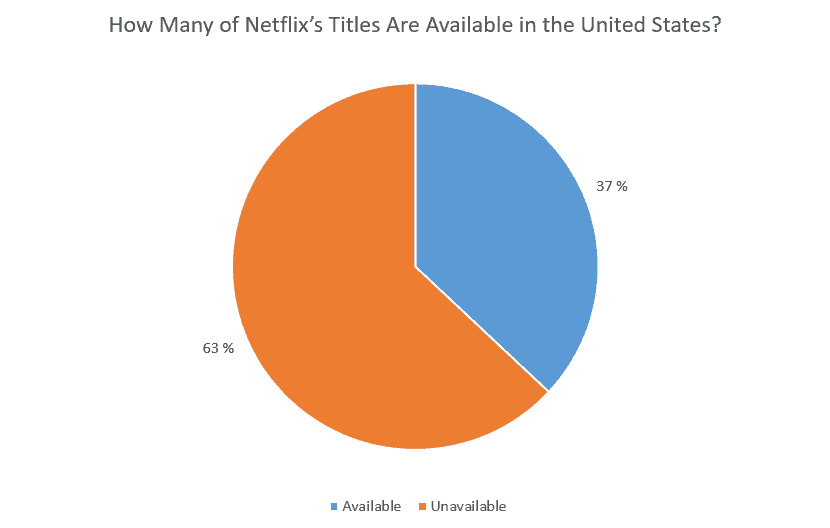 The U.S. Catalog has 5,087 titles total. That means that American viewers have access to about 37% of Netflix's total catalog. That's not a majority, but it's more than a third – and is good for the highest percentage out of any of Netflix's 241 catalogs.
Please like us on Facebook to keep up to date on what's new in the world of cord cutting: