Streaming has changed the way we consume content forever. Most of us are old enough to remember a time when video and music content took the form of files that you saved on your own computer. To take them on the go, you had to load them onto a device like an iPod. Nowadays, everything seems to be streaming – but are your local music and video files really obsolete? Not if you use a media server program to turn those files into play-anywhere streaming files. In the past, we at Cordcutting.com have introduced you a wide range of media server apps like Plex and Emby. This time around, we're here to show you Subsonic. What is Subsonic? Let me explain.
What Is Subsonic?
What is Subsonic? Well, it's a media server. And like other media servers before it, Subsonic is a simple answer to a common question: how can you make local video and music files available on the go? If you bought and ripped DVDs of all of your favorite movies, it doesn't seem right that you'd have to buy them all again on Amazon or Google Play just so that you can watch them on your phone. With a media server like Subsonic, you don't have to.
How it works
Subsonic works in much the same way as competitors like Plex. First, there's the server app. This is the program that goes on the computer you have your content on. It makes movies and music that you select available through the client app, which can be installed on other computers and mobile devices. Open the client app on your phone, for instance, and you can watch movies from files stored on your desktop computer. In the case of Subsonic, the client app for Mac, Windows, and Linux computers is actually an in-browser app. That quick and easy solution is one of the things that set Subsonic apart, as we'll discuss in the next section.
What makes Subsonic different?
Well, not too much – the service is fairly reminiscent of Plex and some of the other more polished media servers (this is no knock on Subsonic, of course). But there are a few things we should note here.
First, as I mentioned, Subsonic puts an emphasis on its in-browser app. Premium users even get their own server URL, making it easy for them to quickly log in from any browser. Some other apps have great in-browser apps, but Subsonic really emphasizes the browser app and out-of-home-network streaming, which is (impressively enough) available even to free users.
Second, like some of its competitors, Subsonic is open source. Open-source programs make their code freely available. Some users prefer open-source programs because they invite customization or for reasons related to personal values.
How much is Subsonic?
Subsonic is free, but it also offers a premium version. This is a very common strategy for media server apps. When it comes to what's stashed behind the paywall, Subsonic chooses some of the same functionality as its competitors – mobile device support, for instance. But Subsonic does make out-of-local-network access available from the get-go, which is very impressive. And Subsonic's premium version costs just $1/month, low even by the fairly affordable standards of the media server market space.
Trying out Subsonic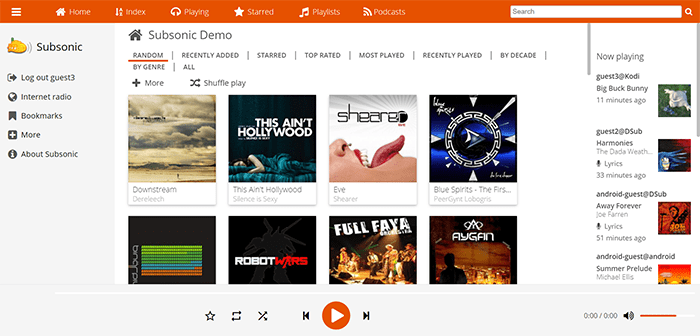 Subsonic is free, of course, so downloading it and testing it out won't cost you anything. But on top of that, the service also offers an in-browser demo on their website, which is a great way to get a feel for the service.
What is Subsonic?: The short version
In short, Subsonic is a media server application that makes your computer's local video and music files available to stream anywhere. The ability to stream outside of your home network with the free version is an advantage over the competition, and Subsonic's emphasis on in-browser accessibility makes it simple, quick, and ideal for users who might want to access their files on computers that don't belong to them.
Please like us on Facebook to keep up to date on what's new in the world of cord cutting: