The way we watch our favorite shows and movies has changed drastically over the past decade. This is especially true since we've gotten a taste for the convenience and on-demand content that Netflix has brought to the table. We've seen a surge of competitors rise to the top, like Hulu, Apple TV, Amazon Prime, and more.
Streaming services used to be a financial no-brainer solution for ditching cable: You could gain access to a huge amount of content without the fuss involved with expensive cable companies. However, after Netflix raised its prices this year, the company has seen some backlash, and consumers are keeping a closer eye on what their services are charging.
While the bigger brands may be getting pricier, finding a streaming service that offers a wide range of shows for a low cost is like a breath of fresh air. Fortunately, Discovery Plus is just that. With access to over 15 popular networks like Discovery, HGTV, Travel Channel, and Food Network, Discovery Plus customers have over 2,500 titles at their fingertips, and all for about the same price as a fancy latte.
User Experience
While it acts as a portal to over 55,000 episodes and documentaries, Discovery Plus does a great job of keeping the user experience straightforward and simple on both desktop and mobile.
Discovery Plus on desktop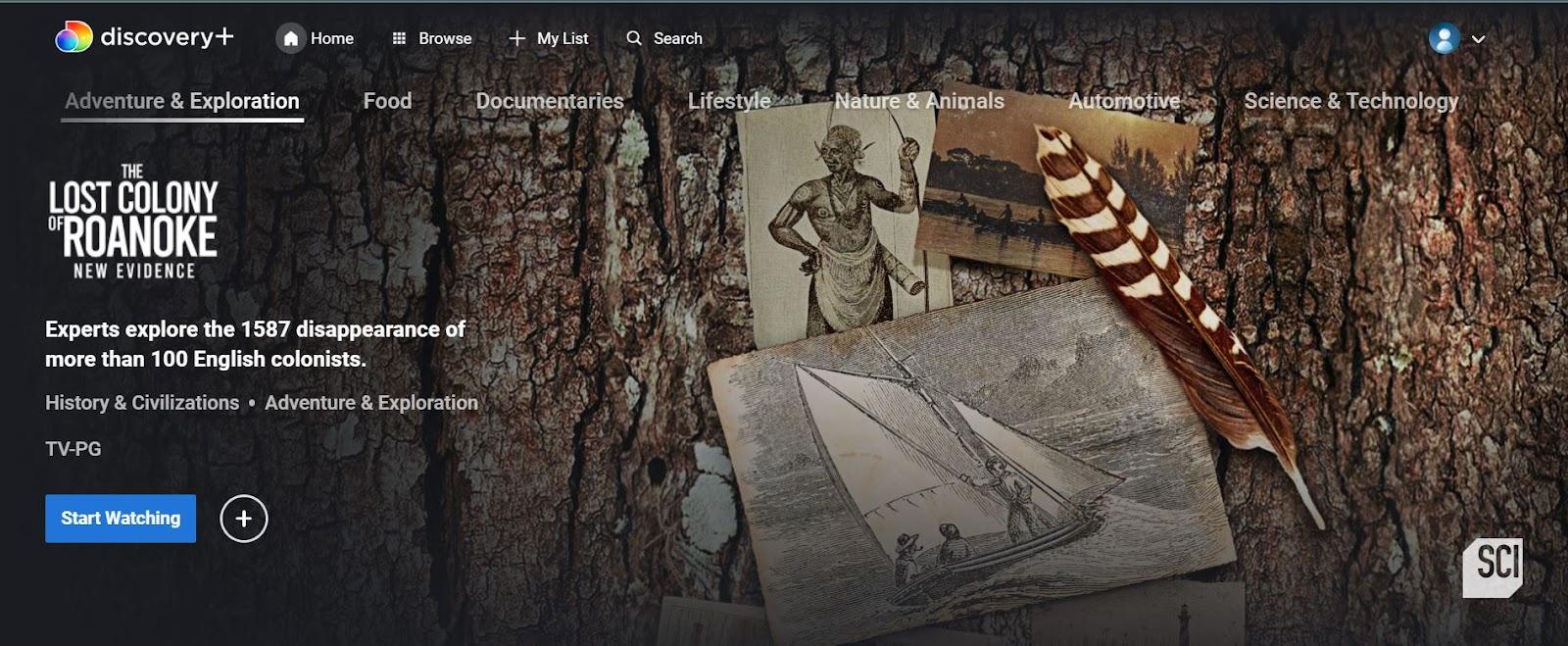 If you're streaming on your laptop or TV, Discovery Plus will have easy access to Home, Browse, My List, and Search functions as well as account information. Right below these functions are a horizontal scroll of Discovery Plus' most popular category selections:
For You
True Crime
Paranormal & Unexplained
Relationships
Home
Adventure & Exploration
Food
Documentaries
Lifestyle
Nature & Animals
Automotive
Science & Technology

Each title's preview image is easy to read and tagged with the network logo. Hovering over a title reveals a brief preview, rating, number of seasons, and an easy way to add the title to your watchlist – a capability that mobile viewing doesn't have. (This seems to be one of the rare functionalities that aren't shared across devices.)
Once you click on a title, you're presented with a horizontal scroll of Episodes, Extras (if applicable), About the Show, and You May Also Like. You can easily find your progress and choose seasons with a vertical scroll for season selection.
Discovery Plus on mobile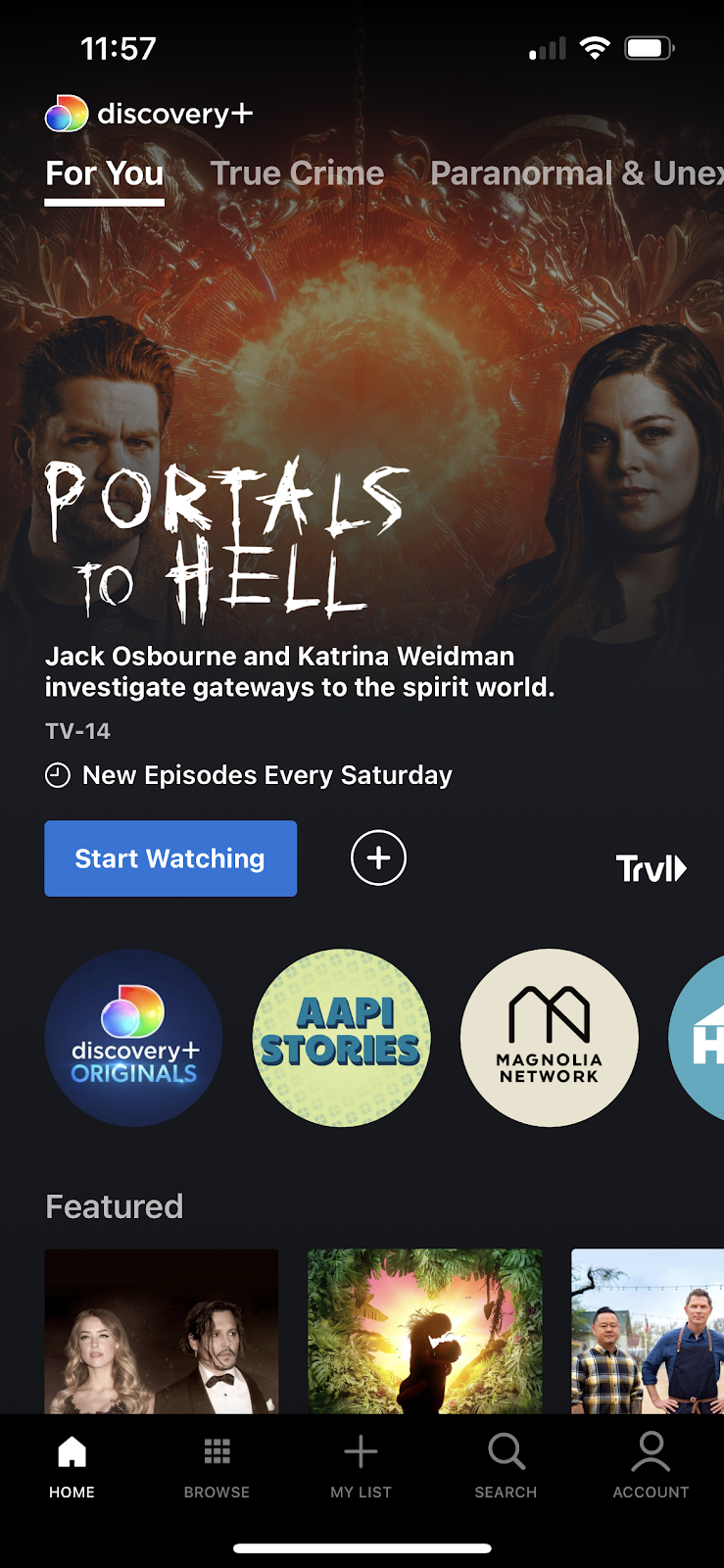 Discovery Plus' mobile app user experience is a breeze. It's very similar to the desktop or TV viewing experience, although there are certain aspects that are optimized for mobile use.
While the horizontal scroll of categories sits at the top of the screen, the main menu (Home, Browse, My List, Search, and Account Info) are placed at the bottom of the screen for easy access. And while the title pages are essentially the same, users can expect vertical scrolling for episodes as opposed to the desktop's horizontal scrolling.
Content Available on Discovery Plus
Discovery Plus is a great option for anyone who loves current and classic nonfiction TV titles but wants to step away from live TV and cable.

Discovery Plus seems to put an emphasis on its True Crime and Paranormal & Unexplained titles, but other all-time favorites call this streaming service home, making it your one-stop shop to binge on "Chopped," "90 Day Fiance," "Love It or List It," and more.
While many of these shows can be streamed on other services (Hulu Live, the History Channel App, etc.), it's nice to have them all in one place, especially when the service is so inexpensive.
Streaming Quality
Discovery Plus provides fast, clean streaming on desktop, TV, and mobile devices. When we tested on a Spectrum internet connection with a 12-millisecond latency, titles loaded quickly and the video quality was clear and crisp (taking into account the episode's airing year).
The slowest-loading device seemed to be the laptop, but again, it's important to take into consideration that the device had multiple tabs open and was streaming from the web, not the app. App-based viewing on TV and mobile seemed to load the quickest.
And while most of us aren't brave enough to stream without an internet connection, there are times when cellular streaming is necessary. In that case, it took a bit longer on mobile to load without a Wi-Fi connection (using 5G, two bars) but the title seemed to play through without any major issues.
Devices and Platforms
There are multiple ways to gain access to the Discovery Plus app. Outside of downloading the mobile app on iOS and Android, the Discovery Plus app is available on a number of streaming devices, including:
Amazon Fire TV
Android TV
Apple TV
Cox Contour TV
LG Smart TVs
Roku
Samsung Smart TVs
Vizio SmartCast
Xbox One
Discovery Plus can also be found as an add-on service on other streaming platforms such as Amazon Prime and Max.
How Much Does Discovery Plus Cost?
| Plan | Price | Details |
| --- | --- | --- |
| Ad-Free | $6.99/month | Get instant, uninterrupted access to thousands of episodes with the ad-free plan |
| Basic | $4.99/month | The basic plan offers everything that the ad-free plan has, except it requires ad support |
| Discounted | $2.99/month | Verified students, military and veterans get 40% off the basic plan |
| Verizon Unlimited | Free for 6 months | Verizon Unlimited customers can enjoy Discovery Plus for six months free of charge. After those six months, the plan will default to the ad-free plan ($6.99/month) |
As you can see, prices are inexpensive compared to other competitors. There's only a $2 difference between the ad-free and basic plans, which shouldn't break the bank, but if you really want to save money, ad-supported plans are the way to go. Students, military, and veterans get a special discount, knocking down the price from the basic plan by a couple of bucks. If you recently signed up or are considering a Verizon Unlimited plan, you might be able to get a free six-month subscription to Discovery Plus.
In short, Discovery Plus is far from being one of the pricier streaming services currently out there.
The Verdict
While you won't find blockbuster hits on Discovery Plus, you'll have access to tons of popular reality titles, which many platforms tend to gloss over. Discovery Plus offers high streaming speeds and copious content for a reasonable monthly price.
Ultimately, this service is an excellent choice for those who want to binge on nonfiction programming and cut ties with cable, but don't want to miss their favorite shows and documentaries from Discovery, Discovery Plus originals, and other top networks.