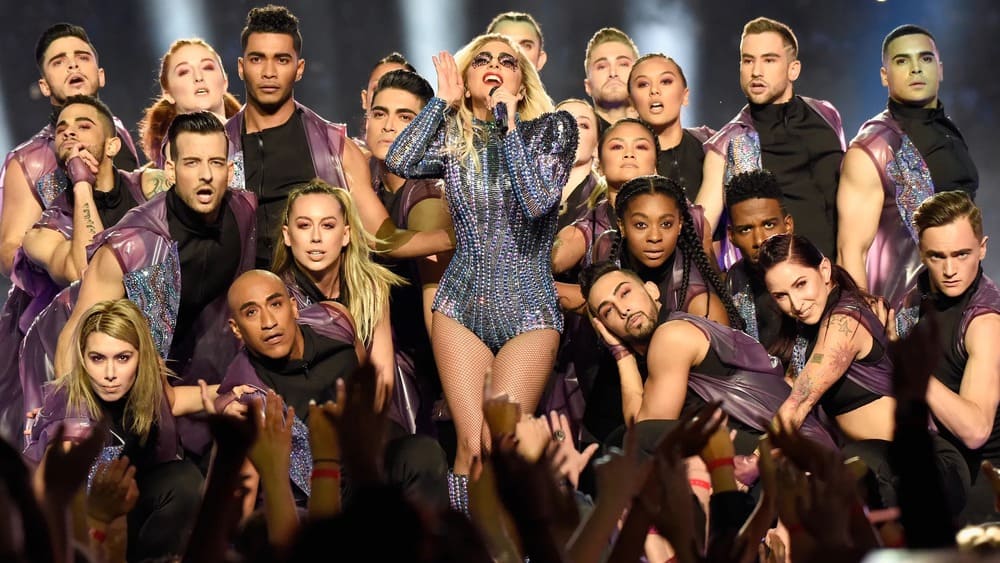 No disrespect to the hard-core football fans, but some of us only watch the Super Bowl for the half-time performances and the commercials. The show never disappoints: Somehow, each half-time performance seems better than the last, which makes picking all-time favorites as difficult as stopping a Jordan Lynch Option Run. Rihanna will have a high standard to cross this year. Needless to say, we believe RiRi has what it takes. Here are some of the best all-time performances ahead of her half-time show debut.
Justin Timberlake and Janet Jackson — Super Bowl XXXVIII (2004)
Justin Timberlake and Janet Jackson's half-time performance at the XXXVIII Super Bowl is certainly one of the most famous performances in the game's history. Most people remember or at least heard of the infamous moment when Timberlake tore off part of Jackson's corset and exposed her skin to the viewing public. The incident was a huge scandal at the time, resulting in thousands of dollars in fees for CBS and the temporary blacklisting of Jackson's music and career.
However, many people forget that this duo put together an amazing half-time performance. The set list included many songs popular at the time, including Jackson's "All for You," "Rhythm Nation," and "Rock Your Body," for which Timberlake joined her. Jackson started the performance by descending on an elevator and was later followed by P. Diddy, who emerged from a cloud of stage fog. Nelly Furtado also made a dramatic and exciting entrance in a car to perform "Hot in Here." The crowd was going wild, and it's a shame a brief moment eclipsed the performance.
U2 — Super Bowl XXXVI (2002)
U2's Super Bowl half-time show back in 2002 was a deeply emotional and powerful experience. Janet Jackson was supposed to perform that year, but U2 replaced her after some NFL owners attended one of the band's concerts in New York City shortly after the 9/11 attacks. The half-time performance was one of the first big-time events in the aftermath of the tragedy, and U2 successfully managed to bring the nation together in a perfect moment.
U2's Super Bowl half-time performance was a touching and moving tribute to the victims who died in the attacks. The band kicked off the event playing "It's a Beautiful Day," a fitting choice to set the mood and bring closure. A giant screen displayed the names of the victims commemorating their legacies and uniting the country in their farewell. The band ended their concert by playing "Where the Streets Have No Name." Who knew rock bands could be so endearing and thoughtful? Bono also showed off his jacket lined with the American flag on the inside — a beautiful experience all around.
Lady Gaga — Super Bowl LI (2017)
There was some confusion when it was announced Lady Gaga would be headlining the event, and some even questioned whether she would fit in at the biggest football game in the sports industry. Gaga carefully curated a performance that tempered some of the wildest theatrics from earlier in her career and didn't spook anyone off. Love or hate her, there's no denying that Lady Gaga can put on a show. She will, at the very least, make you stare.
She initiated her performance with a beautiful rendition of "God Bless America" and quickly built up the tempo to deliver an electric concert that featured some of her biggest hits, including "Telephone," "Just Dance," "Bad Romance," and, of course, "Poker Face," among other hits. While no musical guests joined her on stage, Lady Gaga managed to hold everyone's attention with a technologically-advanced concert that included 300 LED drones forming an American flag across the night sky. Because this was a Gaga show after all, she jumped off the roof and into the stadium in a pre-recorded stunt, giving viewers just the right amount of goosebumps.
Beyoncé — Super Bowl XLVII (2013)
All the single ladies tuned in to watch Beyoncé's Super Bowl half-time show — and the married ones too! The Super Bowl XLVII performance would go on to become the second most-watched half-time show in the game's history at that time. Queen B delivered a charged performance that brought back together Destiny's Child, where they performed hits such as "Bootylicious," "Independent Women Part I," and "Single Ladies (Put a Ring on It)." This half-time performance was a concert for the ages — a truly well-done production with everything from impeccable vocals to stunning visuals.
It's not an exaggeration to say that Beyoncé's Super Bowl performance stole the show. She and her massive group of backup dancers executed every move with precision and accuracy, reminding us Beyoncé is the real deal and can do more than just sing. Wearing an outfit similar to the one Michael Jackson wore when he headlined the Super Bowl in 1993, Beyoncé paid tribute to the "King of Pop" and delivered a performance that put her up there with the greats.
Prince — Super Bowl XLI (2007)
Arguably, the best Super Bowl performance belongs to the one and only Prince. That year's game took place at the Dolphin Stadium in Miami, Florida, where the weather surprised everyone with rain showers and even downpours. But the rain didn't stop the great Prince. In fact, the weather became a prop in this musical experience, and the singer was said to have reveled under the rain, even reportedly going as far as asking the showrunners if they could make it rain harder. Wearing a turquoise suit and standing on a stage shaped like his signature love symbol, the image of Prince delivering a 12-minute performance while being in his element as rain fell around him has gone down as the most legendary performance in Super Bowl history.
The show started with an intro that included "We Will Rock You," as well as fireworks and visual effects simulating lightning. Prince also performed "1999," "Baby I'm a Star," and "Let's Go Crazy," for which he enlisted the crowd to participate in an ad-libbed call and response. At the night's final song, Prince sang his iconic "Purple Rain" — and it really felt like the sky was singing back to him.