Free over-the-air TV is one of the best cord-cutting solutions around. By finding the best antenna for your needs, you can access live major-network broadcasts and watch local TV, local news, local and national sports broadcasts, and much more. But plugging an antenna into a TV solves your problems in only one room. What if you have multiple TVs? Do you really need a separate antenna for every TV in your house?
No, you don't. And while having separate antennas is a perfectly acceptable (and appealingly simple) solution, there are alternatives that allow you to use one antenna for your entire home. Here are a few ways to do it.
You Don't Need a Separate Antenna for Each Room in Your House: Three Ways to Use One Antenna for Your Whole House
There's no perfectly efficient way to use one antenna for every TV in your home, but there are a few pretty good solutions available. If you're using a large rooftop antenna, these fixes are a must. If you're in an area where a small indoor antenna is enough to get you decent reception, you may find that consolidating down to one antenna is more trouble than it's worth — though, with the third of these options, you'll gain some perks for your trouble and expense. Ultimately, this is about your preference and your personal antenna situation, so read on and choose the antenna option that works best for you.
Split the Signal
Let's start with the most obvious (if not the most elegant) solution: You can just run a lot of coaxial cables around your house.
You'll start, naturally, with one antenna. Stick it somewhere (the higher, the better; check out our article on the subject for more tips on getting better antenna reception). Rig it up to a coaxial cable and off toward your TVs. Of course, you have just one coaxial cable in your hand at this point and a lot of TVs to plug it into, which is why you'll need some splitters. They look like this: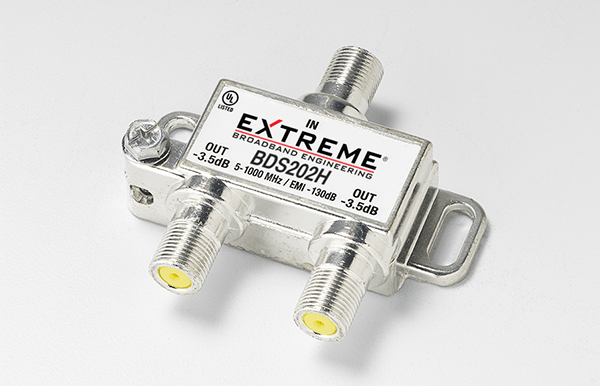 Or, you know, something like that. Some of them split the signal three ways, or four, or…you get the idea. Anyway, off you go, unwinding the coaxial cable and splitting the signal at forks in the road. One more thing: Splitting a signal reduces its power, so you'll want to use an amplifier or two with this setup. Amplifiers, splitters, and coaxial cables of all lengths are all very easy to come by, fortunately.
This is your cheapest solution, though it's not always the prettiest. With that said, though, it's not too hard to get your cables organized. Plan out your cable path ahead of time and put your splitters in the places where they'll do the most good in minimizing your total cable volume (for instance, if your antenna is at one end of the hall and two TVs are in different rooms at the other end, just run one cable down the hall and split it at the last second, rather than running two cables all the way down the hall from the start).
And buy plenty of cable clips – those little plastic things you tack onto the walls that hold coaxial cables. With enough of those in place to keep the cable running along your white baseboard or carefully behind your furniture, your big cable installation doesn't have to look like a big mess.
For Those Without Cable Internet: Use Your Home's Cable Wiring
As we've mentioned a few times already, you'll be connecting your antennas and TVs with coaxial cables. Those are these: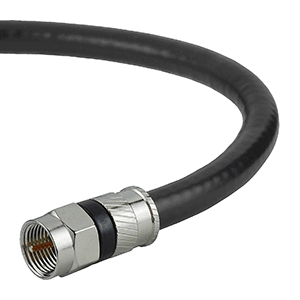 This most likely looks familiar, and that's because your cable company uses the same type of cable. Your home is almost certainly rigged up with a bunch more in the walls, popping out in outlets that look like this: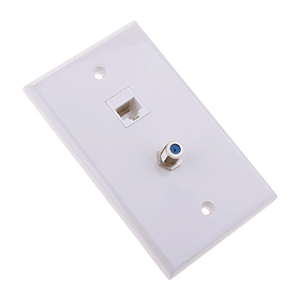 The good news is that you can run an antenna signal through these just as easily as you can run a cable TV signal. The bad news is that you can't use these cables for two things at once. You probably don't have cable TV if you're on this website and trying to rig up antennas, but you likely have broadband internet, which uses these same cables.
If you don't, though, you have a very easy way to rig up one antenna for all of your TVs. Just connect your antenna to the place where your cable company would enter the system. There's a good chance that this place is a cable box outside and that your cable company is currently plugged in there (even if you're not paying for — or getting — service). Once you've tracked this down, plug in your one antenna there and rig up your TVs to their nearest coaxial outlets (just as you would with a traditional pay TV setup). Bingo: one antenna for every TV in your house.
Use an OTA DVR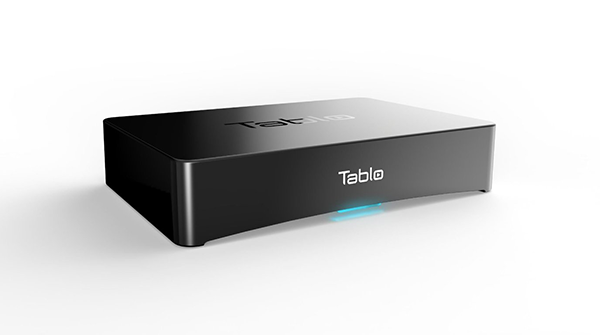 An OTA DVR isn't your cheapest method for using one antenna for your entire house, but it is arguably the best method. Hey, you get what you pay for!
Here's how it works. As the name suggests, an OTA DVR records live TV from an antenna. It can do this only when an antenna is plugged into it. From there, OTA DVRs have to offer you a way to watch what you record. Most of them use Wi-Fi internet and apps for various devices to do this. From there, it's not too hard to offer you the ability to stream OTA TV live, which is exactly what OTA DVRs like the Tablo do.
As you've probably noticed, this approach has its drawbacks. You no longer have to buy an antenna for every TV, but now you have to buy a streaming box for every TV to run your OTA DVR's app (unless you have smart TVs that can run it). And, of course, you have to buy the OTA DVR itself and, in some cases, pay the DVR's monthly service fees.
But this solution has lots of perks (like the ability to record live TV, which, of course, is kind of the whole point of OTA DVRs). And, once its set up, it's very simple and streamlined compared to having a house full of antennas. Sometimes minimalism isn't cheap.