When it comes to streaming libraries, it's not all about quantity – quality is important, too! We know how Netflix and Hulu stack up when it comes to library size, but how will movie buffs find the selection on each service?
It's impossible to objectively measure the quality of Netflix, Hulu, or Amazon Prime Video's entire catalog, but one method we like to use is to look at the number of movies each service has from lists of great movies. In the past, we've used the American Film Institute Top 100 list as our barometer. This time, we're going to use the IMDb Top 250 list as our standard. Let's see how the major streaming services stack up!
Netflix Wins a Close Decision
Out of all the streaming services we looked at, Netflix featured the most top 250 movies. Netflix included 34 movies from the list. That's only 13.6% of the movies, but it's better than any other service managed.
Hulu finished quite close behind Netflix, with 31 movies from the list. Amazon finished last, with just 19 of the top 250. Both Hulu and Amazon's numbers could theoretically be boosted by adding add-on subscriptions like Showtime or Starz, but that's not really in the spirit of our competition here.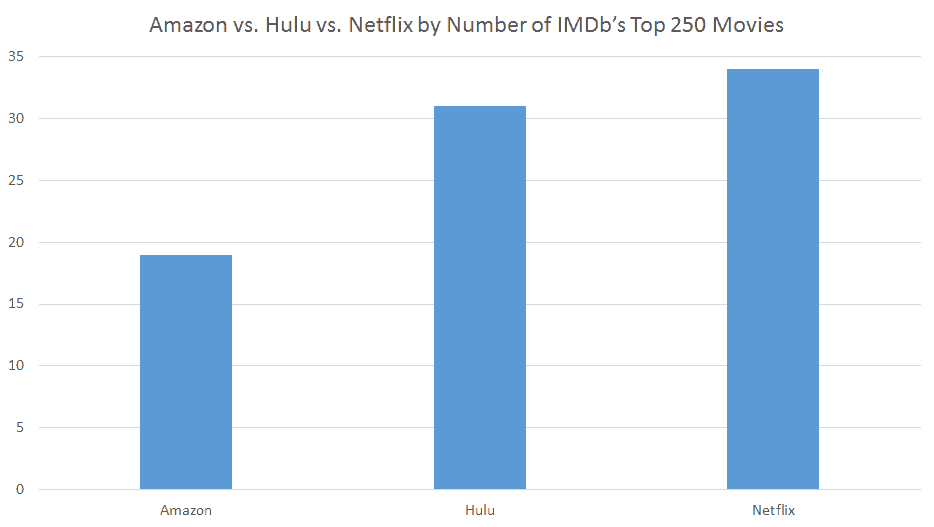 Netflix also managed to include a lot of high-ranking movies: 21 of their 34 came from the top half of IMDb's list, compared to just 13 and 11 from Hulu and Amazon, respectively. It's also worth noting that Netflix's selections trended more modern than Hulu's – though Hulu has nearly as many movies from the top 250, most of the ones they have are older. That's neither good nor bad, but it is interesting.
Here's a complete list of IMDb's top 250 movies available by streaming service:
Amazon Prime Video
7. Pulp Fiction (1994)
32. Interstellar (2014)
48. Apocalypse Now (1979)
75. Reservoir Dogs (1992)
77. Am©lie (2001)
79. A Clockwork Orange (1971)
89. 2001: A Space Odyssey (1968)
95. The Kid (1921)
107. Good Will Hunting (1997)
121. Chinatown (1974)
125. Room (2015)
142. The General (1926)
155. Trainspotting (1996)
165. No Country for Old Men (2007)
167. Kill Bill: Vol. 1 (2003)
207. Before Sunrise (1995)
217. The Terminator (1984)
232. Song of the Sea (2014)
241. Roman Holiday (1953)
Hulu
19. Seven Samurai (1954)
23. The Silence of the Lambs (1991)
35. City Lights (1931)
39. Modern Times (1936)
48. Apocalypse Now (1979)
54. The Great Dictator (1940)
66. Old Boy (2003)
74. M (1931)
92. Snatch (2000)
95. The Kid (1921)
99. Rashomon (1950)
105. Metropolis (1927)
109. Yojimbo (1961)
128. Ikiru (1952)
130. The Gold Rush (1925)
135. The Seventh Seal (1957)
139. The Passion of Joan of Arc (1928)
141. Wild Strawberries (1957)
152. Tokyo Story (1953)
167. Kill Bill: Vol. 1 (2003)
168. Mary and Max (2009)
177. Platoon (1986)
180. The Wages of Fear (1953)
188. The 400 Blows (1959)
191. Persona (1966)
210. Diabolique (1955)
218. Groundhog Day (1993)
224. La Haine (1995)
229. The Battle of Algiers (1966)
245. Fanny and Alexander (1982)
249. Paris, Texas (1984)
Netflix
7. Pulp Fiction (1994)
13. Forrest Gump (1994)
25. The Usual Suspects (1995)
29. Saving Private Ryan (1998)
30. Once Upon a Time in the West (1968)
46. Gladiator (2000)
53. Sunset Boulevard (1950)
56. Cinema Paradiso (1988)
58. Django Unchained (2012)
63. American Beauty (1999)
66. Old Boy (2003)
75. Reservoir Dogs (1992)
77. Am©lie (2001)
83. To Kill a Mockingbird (1962)
85. Eternal Sunshine of the Spotless Mind (2004)
86. Amadeus (1984)
88. The Sting (1973)
105. Metropolis (1927)
106. The Hunt (2012)
107. Good Will Hunting (1997)
114. Unforgiven (1992)
155. Trainspotting (1996)
165. No Country for Old Men (2007)
166. Into the Wild (2007)
172. There Will Be Blood (2007)
182. Spotlight (2015)
196. The Princess Bride (1987)
200. Zootopia (2016)
206. The Truman Show (1998)
221. Jaws (1975)
235. Pirates of the Caribbean: The Curse of the Black Pearl (2003)
236. Gangs of Wasseypur (2012)
238. The Imitation Game (2014)
239. Ip Man (2008)