It's become something of a cord cutting tradition to complain about Netflix's choices whenever they announce the latest monthly changes to their lineups. But after an investigation into Netflix's catalog in 2014 and now, we're ready to say that it's not just your imagination. Netflix's catalog has shrunk significantly over the past, and plenty of big-name titles have been quietly pulled from the service over the course of nearly two years.
A Massive Shrink in Selection
The statistics are simple and remarkable: in January of 2014, Netflix offered users a selection of 8,103 movies and television series. As of October 14, 2015, they offer just 5,769 titles. That's an incredible 2,334 fewer tiles, or a reduction of 28.8%!
So how did we get here? Through lots and lots of turnover. Of the 8,103 titles that Netflix offered in January of 2014, only 2,340 remain. The other 5,763 have been removed at some point since 2014 began. That means that 59.4% of the titles (3,429 items) that Netflix currently offers have been added since January 2014. That's an incredible amount of turnover.
Movie Fans Have It Worst
Okay, so the Netflix catalog has shrunk a lot since 2014. But is this necessarily a bad thing? Well, that's a subjective evaluation, but we do have some data about how the selection has changed with the size of the catalog.
The first obvious thing that's changed is that Netflix has become a bit more TV-focused. In January of 2014, there were 6,494 movies and 1,609 television shows available on Netflix. There are now 1,968 fewer movies on Netflix, but the number of television shows has dropped by only 366.
Another way of looking at this: at the beginning of 2014, Netflix's catalog was 80.1% movies and 19.9% television shows. Now, its catalog is 78.5% movies and 21.5% television. It's a small rise, but a significant one when you think of how large Netflix's catalog is.
The Latest and Greatest
Here is a fact about Netflix's changes that could be seen as redemptive: there's been a significant increase in the amount of new (that is, recently produced) content available in the catalog.
In 2014, 37.4% of the titles available in Netflix's catalog had been produced in the 2010s. Now, that number is 65.1%.
Of course, there have been 21 more months of the 2010s in the interim, so some growth was always going to happen. But the step up is huge, as you can see in the graph below. The 2010s now contribute more content to Netflix than any other decade.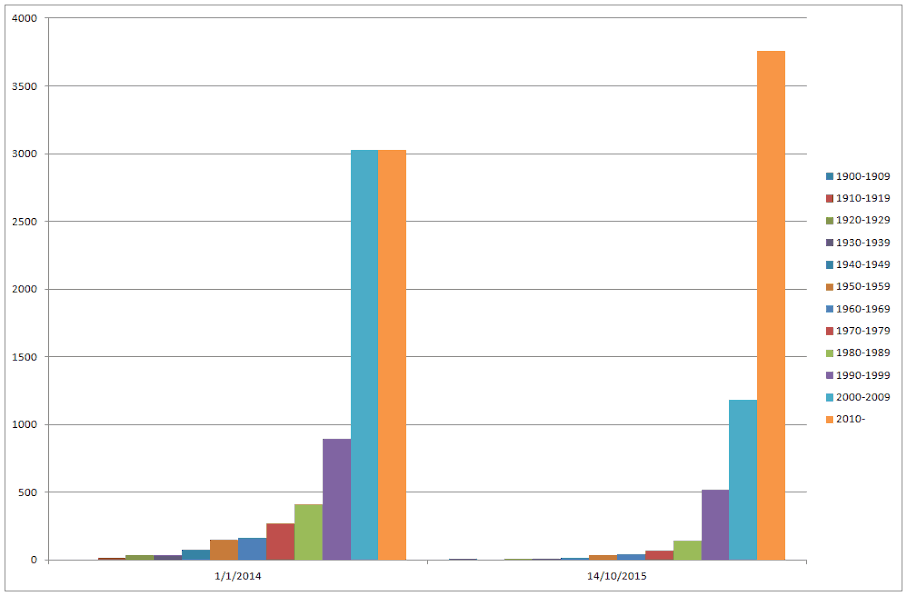 This new emphasis on recent content may seem like a no-brainer, but it's an interesting peek into Netflix's strategy. It meshes with Netflix's shift to television (outlined above) and their emphasis on original series. Netflix began as a place to rent movies, which is something you do with old content (movies that are out of theaters); now, it's pushing the latest and greatest, which is a great way to compete with HBO and Hulu.
So Netflix now has the latest. What about the greatest?
Obviously, the quality of Netflix's offerings is a matter of taste. To keep things subjective, we looked at the IMDb ratings of Netflix's current catalog. They do pretty well: out of IMDb's current top 250 movies, Netflix now features 43. That's up slightly from the 40 of them they featured back in January of 2014. We're using a quick and dirty method here, but on the face of it, it doesn't appear that Netflix's shrink in content has been accompanied by a proportional shrink in quality. You could certainly argue that Netflix features a higher percentage of quality content in their new, smaller catalog.
IMDb Top 250 Movies on Netflix (1/1/2014)
Pulp Fiction (1994)
Forrest Gump (1994)
Life is Beautiful (1997)
Once Upon a Time in the West (1968)
The Intouchables (2011)
Terminator 2: Judgment Day (1991)
The Pianist (2002)
Memento (2000)
Apocalypse Now (1979)
Cinema Paradiso (1988)
Old Boy (2003)
Am©lie (2001)
Witness for the Prosecution (1957)
Reservoir Dogs (1992)
Double Indemnity (1944)
The Apartment (1960)
All About Eve (1950)
Metropolis (1927)
Some Like It Hot (1959)
Raging Bull (1980)
Downfall (2004)
Lock, Stock and Two Smoking Barrels (1998)
The General (1926)
Warrior (2011)
Fargo (1996)
Trainspotting (1996)
Into the Wild (2007)
Mary and Max (2009)
Butch Cassidy and the Sundance Kid (1969)
There Will Be Blood (2007)
The Grapes of Wrath (1940)
Hachi: A Dog's Tale (2009)
Donnie Darko (2001)
The Avengers (2012)
Udaan (2010)
The Truman Show (1998)
Ip Man (2008)
High Noon (1952)
The King's Speech (2010)
Pirates of the Caribbean: The Curse of the Black Pearl (2003)
IMDb Top 250 Movies on Netflix (10/14/2015)
Pulp Fiction (1994)
Forrest Gump (1994)
City of God (2002)
Silence of the Lambs (1991)
Once Upon a Time in the West (1968)
Gladiator (2000)
Sunset Blvd. (1950)
Cinema Paradiso (1988)
Django Unchained (2012)
Old Boy (2003)
Amelie (2001)
Reservoir Dogs (1992)
Braveheart (1995)
A Clockwork Orange (1971)
To Kill a Mockingbird (1962)
Lawrence of Arabia (1962)
2001: A Space Odyssey (1968)
Inglourious Basterds (2009)
All About Eve (1950)
Metropolis (1927)
Batman Begins (2005)
The Hunt (2012)
Chinatown (1974)
The Great Escape (1963)
Good Will Hunting (1997)
Fargo (1996)
Trainspotting (1996)
The Sixth Sense (1999)
Kill Bill: Vol. 1 (2003)
Hotel Rwanda (2004)
Butch Cassidy and the Sundance Kid (1969)
There Will Be Blood (2007)
Stand by Me (1986)
Million Dollar Baby (2004)
Hachi: A Dog's Tale (2009)
The Terminator (1984)
Infernal Affairs (2002)
Rocky (1976)
Ip Man (2008)
High Noon (1952)
Roman Holiday (1953)
The Hustler (1961)
The Graduate (1967)
A Quick Word About Our Methods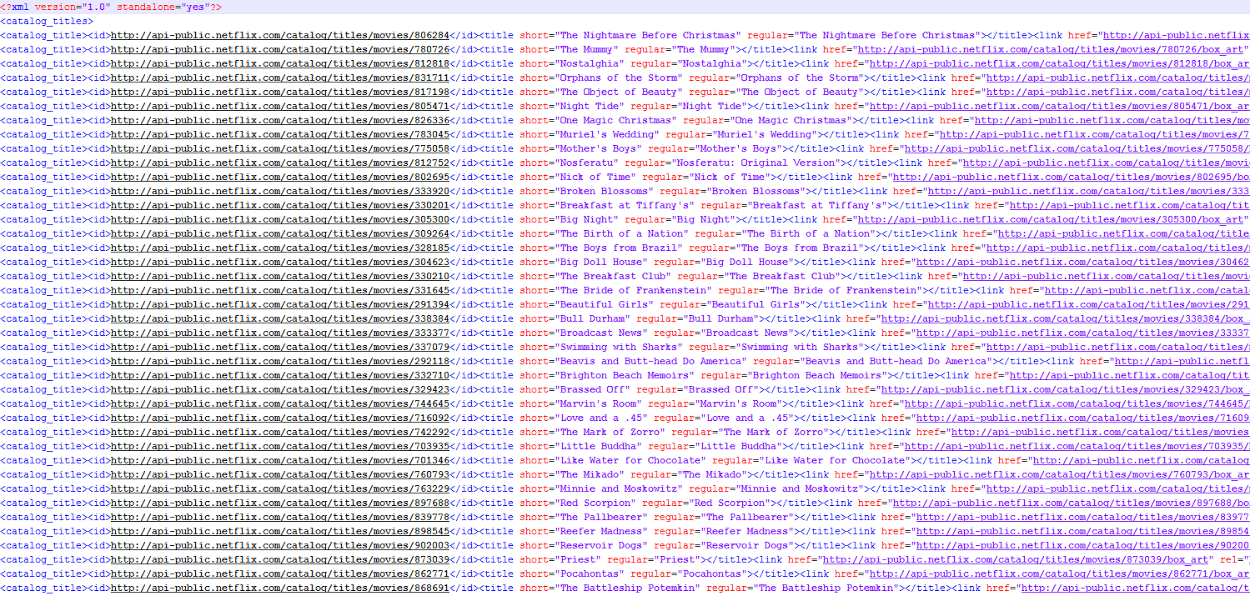 We used a backup of Netflix's old database from January of 2014. The data was pulled directly from Netflix's API, so it's accurate. Then, we compared that to Netflix's current database (our sister site, AllFlicks, specializes in keeping up with Netflix's current lineup).
It's true that sites like AllFlicks sometimes show minor variations in their catalogs, so it's possible that the numbers above aren't exact. However, they are fairly accurate: we would peg the margin of error at somewhere around +/- 100 releases, which doesn't make much of a dent in the massive differences we observed.