Free over-the-air TV lets you watch live TV for free as a cord cutter. But what if you aren't around to watch something live? Cable and satellite providers offer DVR devices and services to their subscribers, but what can cord cutters do? Simple: they can get an OTA DVR. And when it comes to OTA DVRs, few brands loom as large as Tablo. Tablo devices have focused on over-the-air TV from the start, and their latest and greatest offering is the Tablo Quad. As the name suggests, the Tablo Quad boasts 4 TV tuners. That's a lot of tuners! Do you need this much OTA DVR in your life? I'll try to answer that in our Cordcutting.com Tablo Quad review.
Tablo Quad review
Device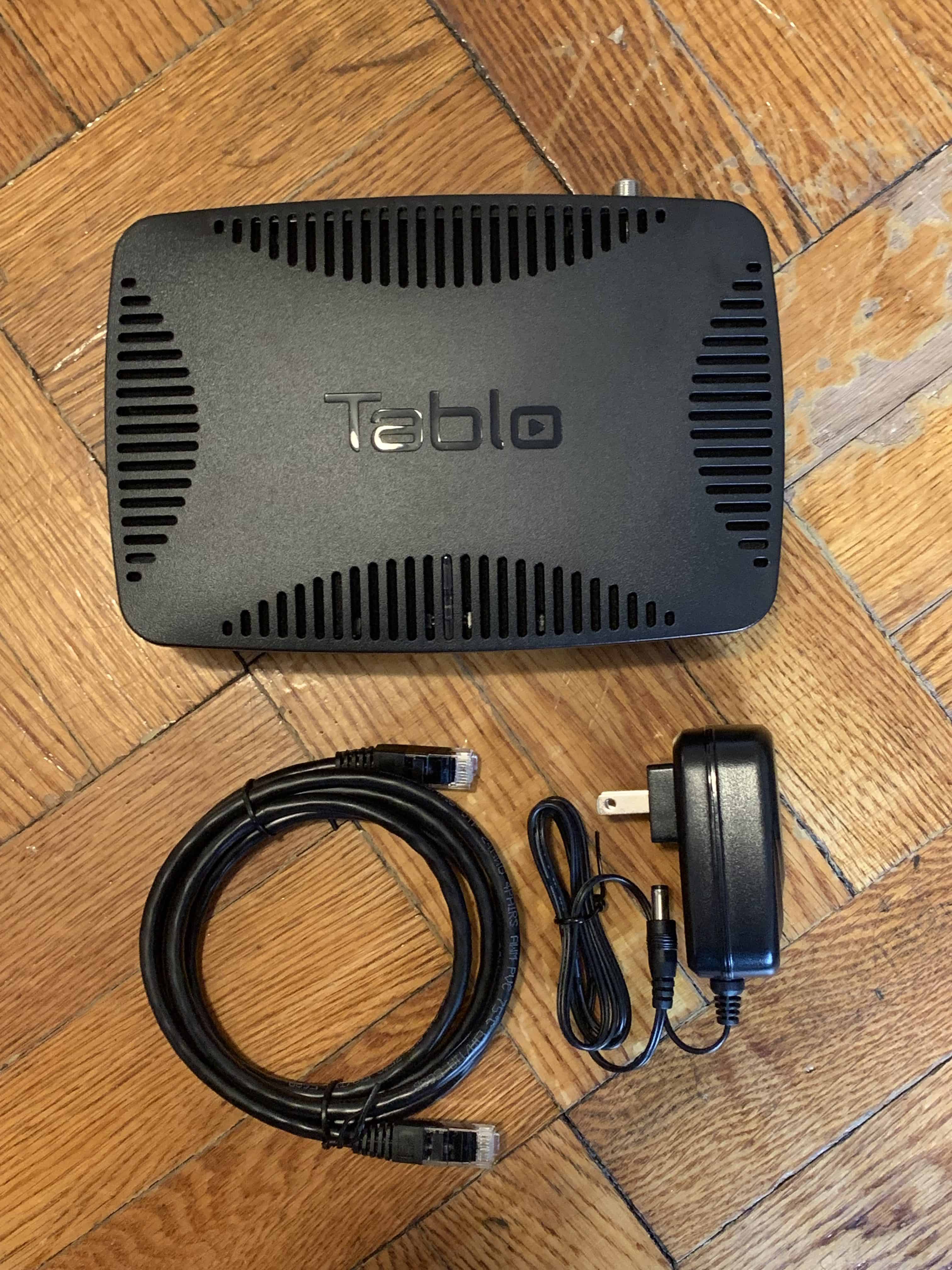 The Tablo Quad is sporting a look that is pretty similar to that of its little brother, the Tablo Dual. The Quad is therefore a bit more curvaceous than Tablo's older four-tuner model, the extremely creatively named "Tablo 4-Tuner OTA DVR" (though that one was not a bad-looking device either). The Tablo Quad is bigger than the Tablo Dual, and Tablo has elected to stuff the extra space into a rectangle rather than a larger square. In addition to being wider than the Tablo Dual, the Tablo Quad is slightly deeper and slightly taller.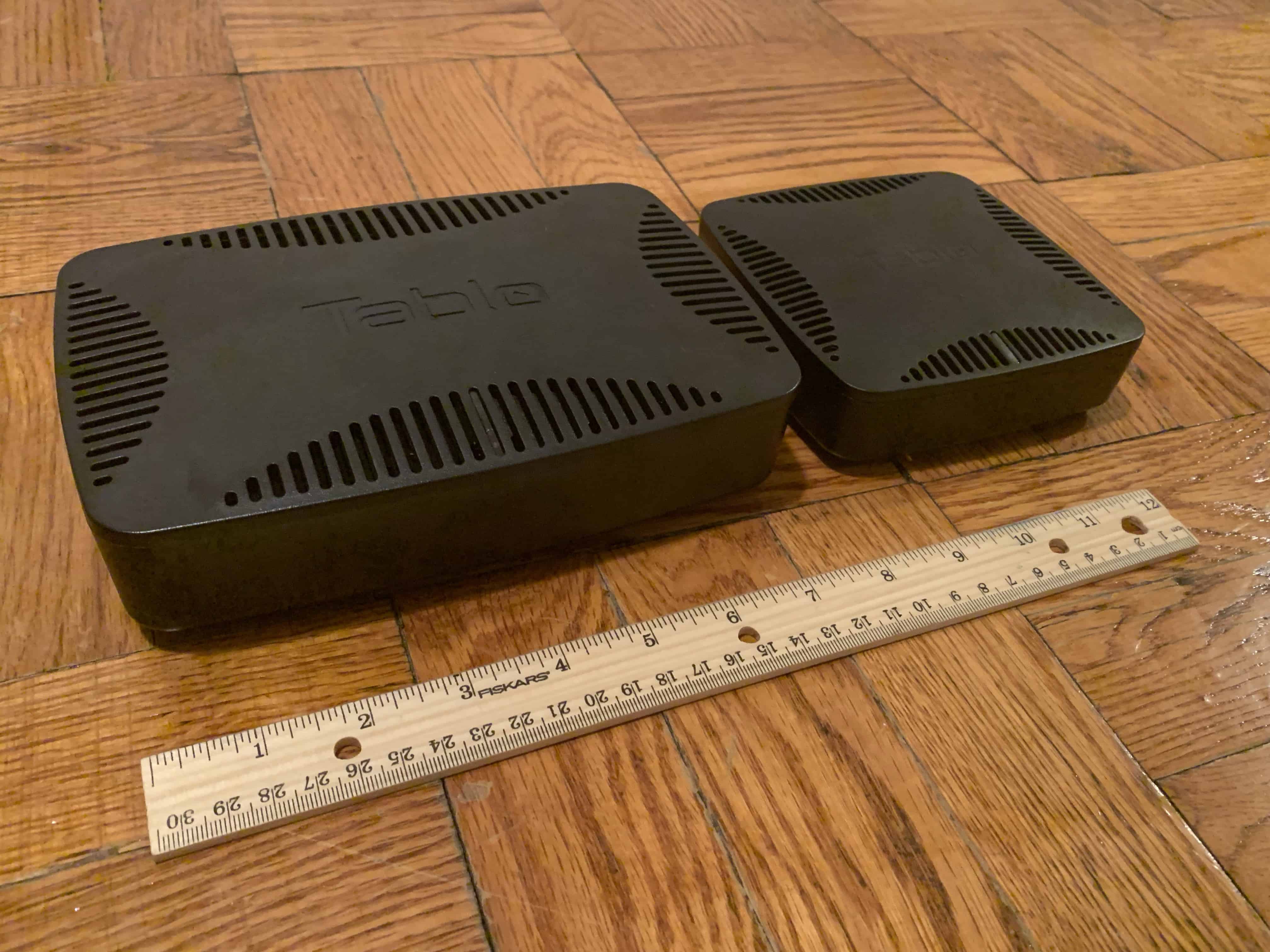 Around back are the familiar inputs. For the uninitiated, those are:
A coaxial jack for the antenna
A USB port for external storage
An Ethernet jack for the included (hooray!) network cable
A jack for the included 12V AC adapter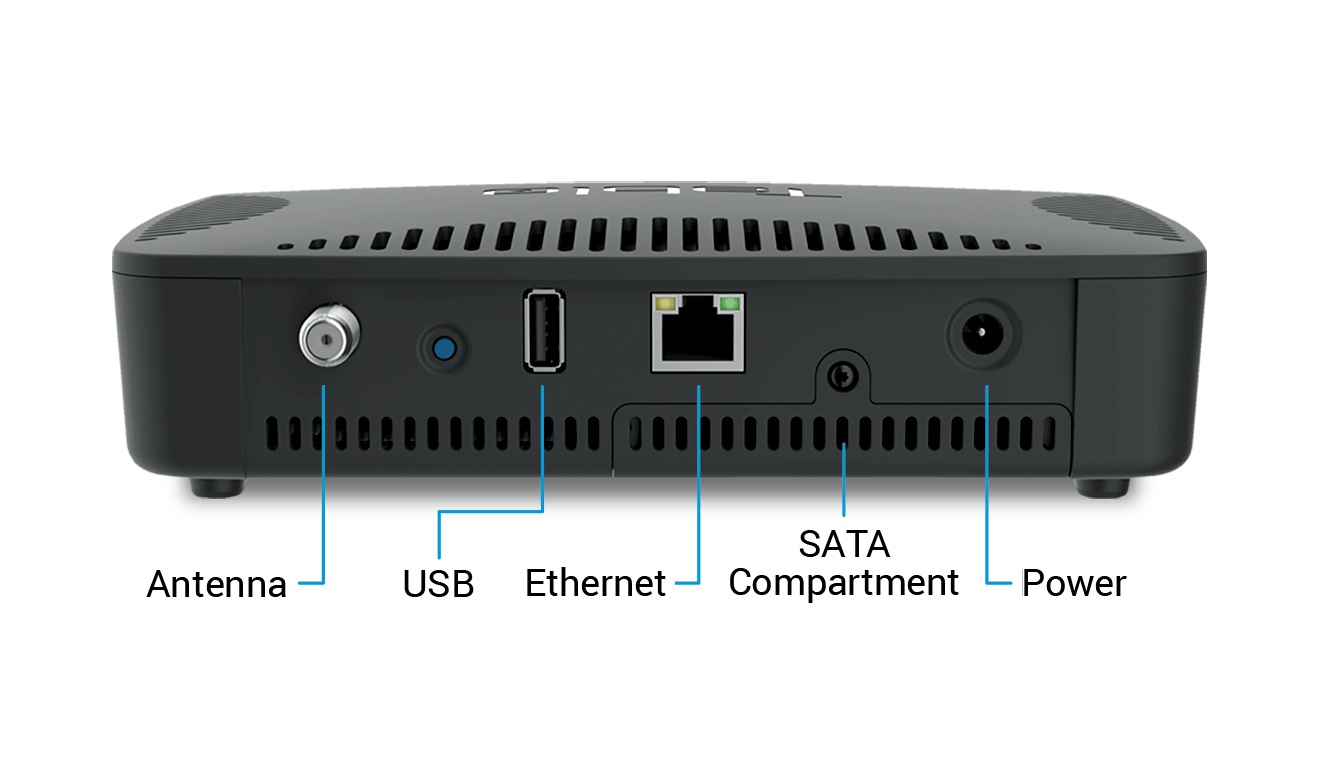 There is also a reset button and a Phillips-head screw. The latter holds on the cover for the internal hard drive slot — which, I regret to tell you, is empty on new Tablo Quad OTA DVRs. This is a BYO storage situation, folks: you have to install an internal hard drive or plug in an external hard drive yourself.
If I have one beef with Tablo (and I do have pretty much exactly one beef with Tablo), it's that they seem so willing to ship devices with no onboard storage. To be fair, are exceptions: for instance, you can now bypass the Tablo Dual Lite OTA DVR (which has no onboard storage) in favor of the Tablo Dual 64GB OTA DVR (which has, uh, 64 GB of onboard storage). But it's kind of wild that you can even buy a DVR that cannot, out of the box, actually record anything because it has nothing to record it on. Maybe it's a sign of the niche nature of the OTA DVR market right now — maybe many of the people who would buy hardware like this have stacks of unnecessary hard drives hiding in their drawers (yes, folks, it's me). But you would think that Tablo, already emphasizing user-friendly simplicity and no doubt hoping to find new customers in less tech-savvy demographics, would not want to embrace this DIY kind of aesthetic. More likely, I suspect, Tablo's weirdness about storage a price thing. But even if Tablo were determined to sell lots of no-hard drive devices, I would think they could toss, like, 32 gigs of flash memory in there, or something, so that you could at least record a show or two while you're out making your frustrating trip to Best Buy.
With all of that said, the Tablo Quad does offer a big improvement in the form of its internal hard drive slot. With a quick twirl of a (rather small) Phillips head screwdriver, you can remove the hard drive cover on the underside of the device and slide in a 2.5″ SATA hard drive. Tablo will support up to 8 TB in storage (which, technically speaking, is SO MUCH storage), and you can put that storage either inside the device or outside of it. Inside, obviously, is a bit more aesthetically pleasing. To be fair to Tablo here, this is actually kind of great for tech-savvy people: I have some 2.5″ SATA hard drives in a desk drawer somewhere, and they're pretty cheap online, so you can effectively get exactly as much storage as you want (and upgrade it as necessary) while paying less if you get an empty Tablo Quad and add storage to it. Still, this is not something that my Mom is ever gonna do, and I just can't shake the feeling that it adds a layer of complexity and frustration that is not in service of Tablo's broader popularity. Another frustrating wrinkle: Tablo does not support flash memory, so a little USB stick won't work. It has to be a hard drive.
By the way, none of this was my problem: Tablo sent me a Tablo Quad with a 1 TB hard drive already installed. Such are the perks of the high-powered blogging lifestyle.
A hard drive might not always be included in Tablo's products, but I'm happy that they gave me a network cable (yeah, I've got a million of them, but it's annoying when companies cheap out on cables — looking at you, Apple).
An antenna is not included, but that's pretty reasonable: how would Tablo know what kind of antenna you need in your area? Besides, you can get antennas pretty cheap these days. If you're still trying to get yours, check out our guide to finding the perfect antenna.
There are no screens or controllers to worry about here. It's not just that they weren't included — it's that Tablo doesn't really need them. Once the hardware is set up, you can kind of forget about it. You'll be using other devices to access all the good stuff Tablo offers — it's all in the Tablo app, which we'll talk about in a minute.
User experience
Setting up the Tablo was a breeze. I unboxed it and, following the directions, plugged some stuff into it in order: my antenna, then external storage (actually, I got to skip this step, since my device had a hard drive pre-installed), the network cable (with the other end in my router), and then the power adapter. The Tablo Quad can use Wi-Fi instead of a wired connection. Wi-Fi setup is managed with the help of another device, and the fairly simple process is outlined in the manual.
Once everything was all plugged in, I set up my new Tablo using the Tablo app.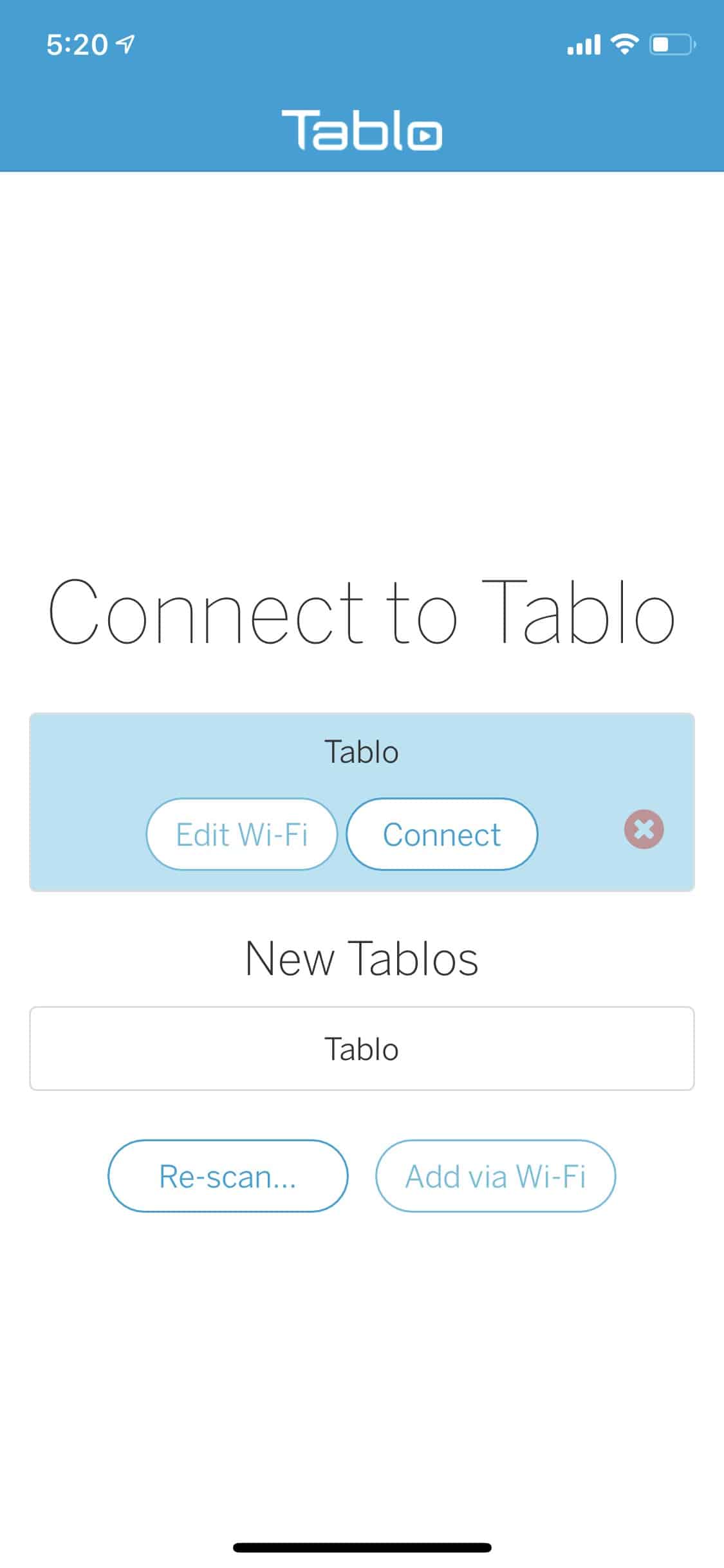 The Tablo app is pretty user-friendly. Use it on a device connected to your home network, and it will show you Tablo devices on that network. My Tablo was connected to my router, so it popped right up. Actually, two Tablo devices popped up, with the other being my now unplugged Tablo Dual 64GB. Both were labeled as just plain "Tablo," which seems kind of silly, but I figured out which one I wanted quickly enough.
Wi-Fi users will have to search for their device and hop onto their Tablo's personal Wi-Fi network in order to introduce it to the home network. The process is simple — when it works. For me, the process was frustrating. My Tablo repeatedly failed to throw a Wi-Fi network that I could detect on my iPhone. When I finally managed to connect to the Tablo and enter the requisite home network information, I got a "failed to connect" message. Luckily, this turned out to be a lie, and my Tablo was available on Wi-Fi after that.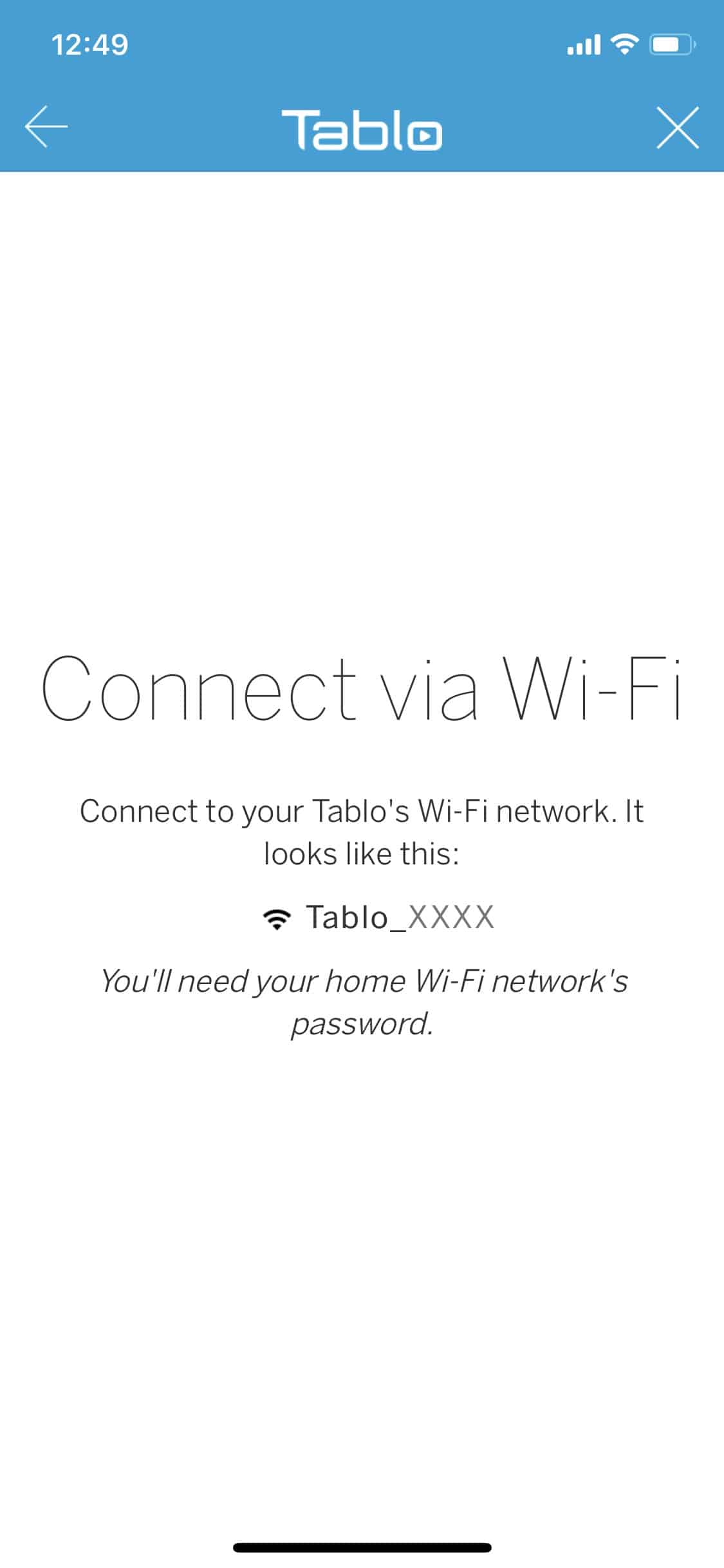 Anyway, once I had my Tablo selected, I entered my location and scanned for channels. Tablo seemed to pick up more or less the same stuff as my TV, which makes sense, as the TV should be the most important factor there (however, Tablo's tuners did seem to give up on weak broadcasts more easily than my TV's tuner did — more on that in the next section).
With everything plugged in, the device connected to my home network, and the channels scanned, my Tablo was fully set up. I could use the Tablo app to stream live TV from my antenna/Tablo setup, and I could record programs and replay my recordings.
I liked the live TV setup. Tablo's TV guide (a subscription service — see the Price section) is an obvious improvement over plain old guide-less over-the-air TV. On my Roku remote (though not on my iPhone), I could hit up or down to see a mini-guide within my screen without leaving the channel I was already watching. That effectively meant that I could channel-surf, which is huge for me. Channel surfing is the experience that streaming services have most struggled to replicate, and it's a big part of why I love over-the-air TV. Tablo converts OTA into streaming video and adds streaming service perks, but it does not lose OTA's channel-surfing appeal, and I love that.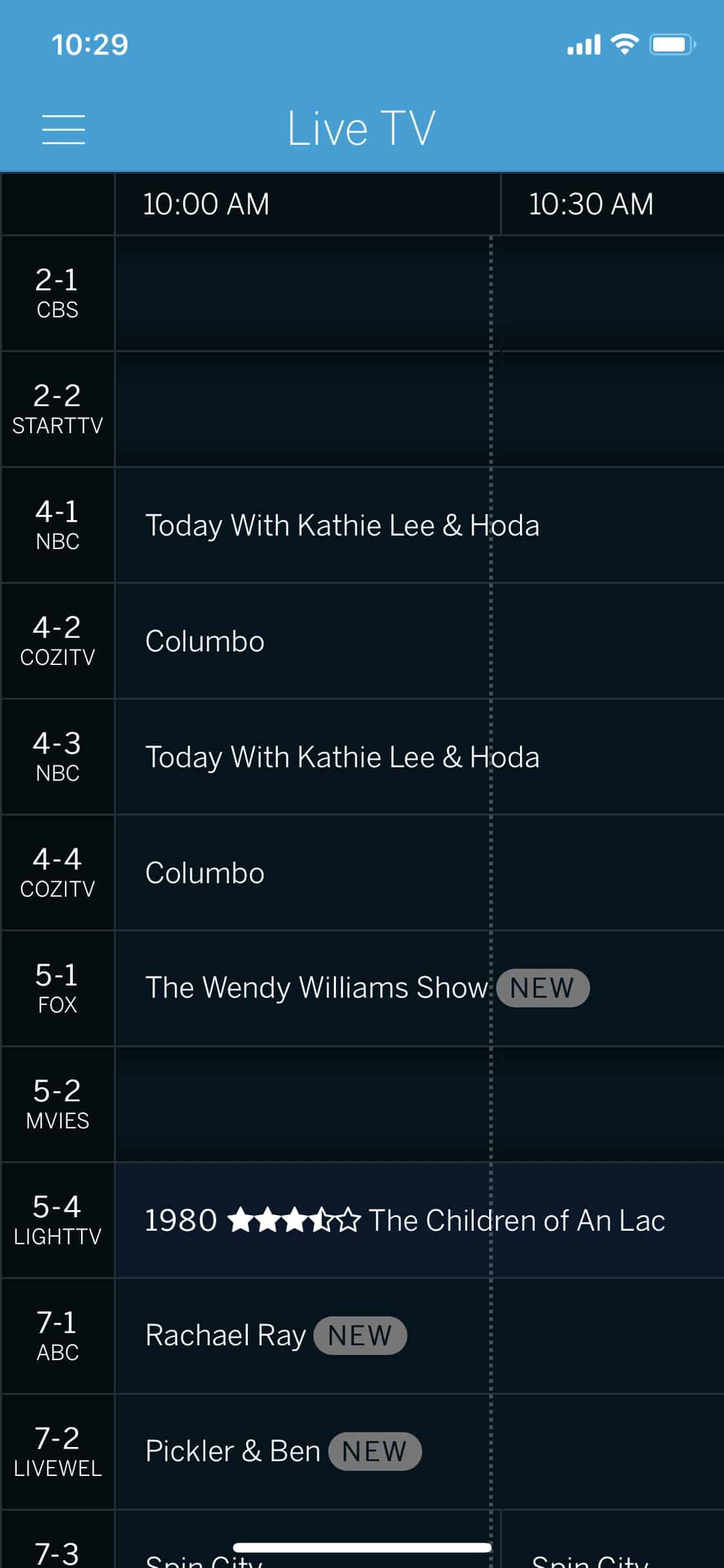 Recording TV shows and movies with Tablo is a breeze. There are a few ways to get to a program's page and view your recording options. You can tap on a program in the TV guide screen, or you could find it through one of the Tablo app's menu categories ("Prime Time," "TV Shows," "Movies," and "Sports"). You can also search within each each category (there doesn't seem to be a way to search everything at once, so you had better know if your program is a movie or a TV show).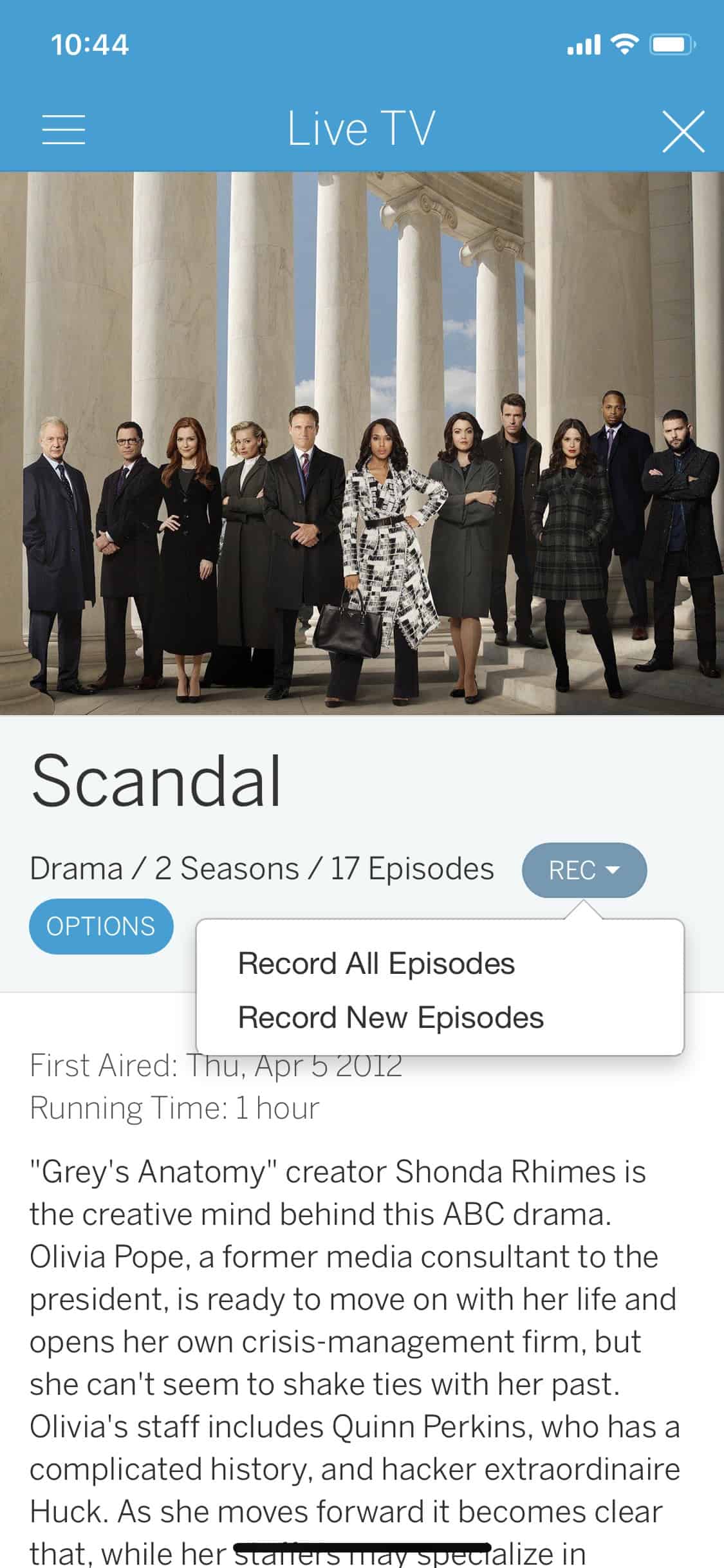 Once you're on the program's page, you'll have familiar DVR options. You can record individual episodes, all episodes, or new episodes.
When you record programs, they'll be stored in the "Recordings" menu, which is accessible through the Tablo app's main menu. The recordings menu is further organized by the familiar "TV Shows," "Movies," and "Sports" categories, plus "Most Recent" and "Manual." The "Manual" recordings are any recordings you make while not paying for Tablo's TV guide service. They'll have no descriptive information.
Without the TV guide service subscription, you'll have "Basic" Tablo service. You'll still have a TV guide, but with just one day's worth of information instead of two weeks of it. You won't have the cover graphics or be able to record things by series.
Streaming quality
Generally, I was pretty impressed with the Tablo's streaming quality. Whenever my antenna signal was strong, my Tablo Quad matched that strength with smooth streaming. Of course, if you're not picking up a strong signal with your antenna, you'll see that antenna choppiness on the streaming version of the same feed, but that's not Tablo's fault.
One thing I noticed was that Tablo would show a black screen — no signal — for channels that were particularly weak, while other TV tuners I had would show (choppy, weak) signals. I also got a weak channel scan out of Tablo the first time, but when I re-scanned later (during better weather conditions), I got everything I expected. Ultimately, I don't have a real clear sense that I'm getting fewer channels on Tablo than I would with a regular antenna setup — and, really, I shouldn't, since it should primarily be the antenna that determines this — but it did seem a bit up-and-down at times.
I was not impressed with the streaming quality that my Tablo Quad delivered over a Wi-Fi connection. Things got much choppier relative to the wired connection, and the quality issues were enough to disrupt the viewing experience. This was true even when I lowered the streaming quality options in the Tablo app's settings. I had trouble on both my iPhone and my Roku TV (and my Roku TV is wired to my router, so the issues were quite clearly with the Tablo Quad's Wi-Fi connection). The exception was recorded programming, which streamed smoothly over Wi-Fi. For those who will use their Tablo Quad primarily as a DVR (rather than to send live OTA TV to various streaming devices), the Wi-Fi issues will be no big deal. For those who are more interested in live TV, the Wi-Fi problems are a real weakness.
On Wi-Fi, Tablo sometimes showed a blank screen an claimed to have a "weak signal" on a given channel. To me, that implied that the fault lies with the antenna, but it wasn't true: when I plugged in the Ethernet cable, the channel started streaming again. It was the Tablo's Wi-Fi signal, not the antenna and the channel, that caused the issue.
There's one more way to stream OTA TV through Tablo, and that's from outside of your network. Flipping a setting in the Tablo app allows you to access your Tablo over the internet. I found that this worked quite well as long as the Tablo itself still had a wired connection on the home network end of things. You can tweak the streaming quality to make things more manageable, but I didn't need to.
Platform support
Tablo works through the Tablo app, so its platform support is crucial to its appeal. Good news: you can get the Tablo app for a ton of different platforms.
Tablo's app is available for Roku, Fire TV, Apple TV, Android TV (Nvidia Shield, etc.), and (through other apps) Chromecast. It is also available on iOS and Android mobile devices (including both tablets and smartphones), which can be used with Chromecast.
That amounts to impressive platform support for Tablo.
Price
The Tablo Quad has an MSRP of $199.99. To get the most out of it, you'll also want to subscribe to Tablo's TV guide service — without the TV guide, it's hard to know what you're actually recording or to find the right recording to watch later on. That TV guide service costs $4.99 per month, though the price drops a bit if you opt for an annual subscription ($49.99) or a lifetime subscription ($149.99)
The $200 price tag on the Tablo Quad might raise the eyebrows of those who are not real familiar with the OTA DVR marketplace, but it's actually not particularly high for this sort of device. The TiVo Bolt OTA, for instance, will cost you $249.99 (the Bolt OTA comes with 1 TB of onboard storage, and you can get a 1 TB 2.5″ SATA hard drive on Amazon for about $50, so you do the math).
Whether or not $200 is something a sane person would spend on a device designed to add features to a content you can already get for free is another question, and one that you could address to the whole OTA DVR industry. With that in mind, the most frightening Tablo competitor out there may actually be the Amazon Fire TV Recast, which costs more — $229.99 for the 500 GB model — but boasts all of the Fire TV platform's typical streaming functionality.
If you want to buy an OTA DVR for less, Tablo does have other options, including the Tablo Dual 64GB, which I reviewed here on Cordcutting.com last year. The Tablo Dual 64 GB costs $179.99, and the Tablo Dual Lite (no storage included) costs $139.99.
Verdict
The Tablo Quad OTA DVR is a competent device that works with a delightful app. Its only major drawback is its struggles with Wi-Fi streaming. If you're looking for an OTA DVR that you're going to wire into your router (which, in my view, is the right way to go about an OTA DVR setup anyway), I think the Tablo Quad is a great choice. If you need to keep your OTA DVR on Wi-Fi, you may want to look elsewhere — or consider the possibility that you shouldn't get an OTA DVR at all.
And if you're not going to get an OTA DVR, well, I'm not sure I blame you. This is a $200 device that will cost you another $5 a month to use, and it's fair to ask if it's really worth it. This isn't just a Tablo problem: TiVo has to worry about it, too. OTA DVRs make the OTA experience better, there's no doubt, but the per-dollar value is open for debate.
For those with the budget for it and a spot available near their router, the Tablo Quad OTA DVR is a delight. It turbo-charges free over-the-air TV and fits perfectly into a larger cord cutting entertainment setup.