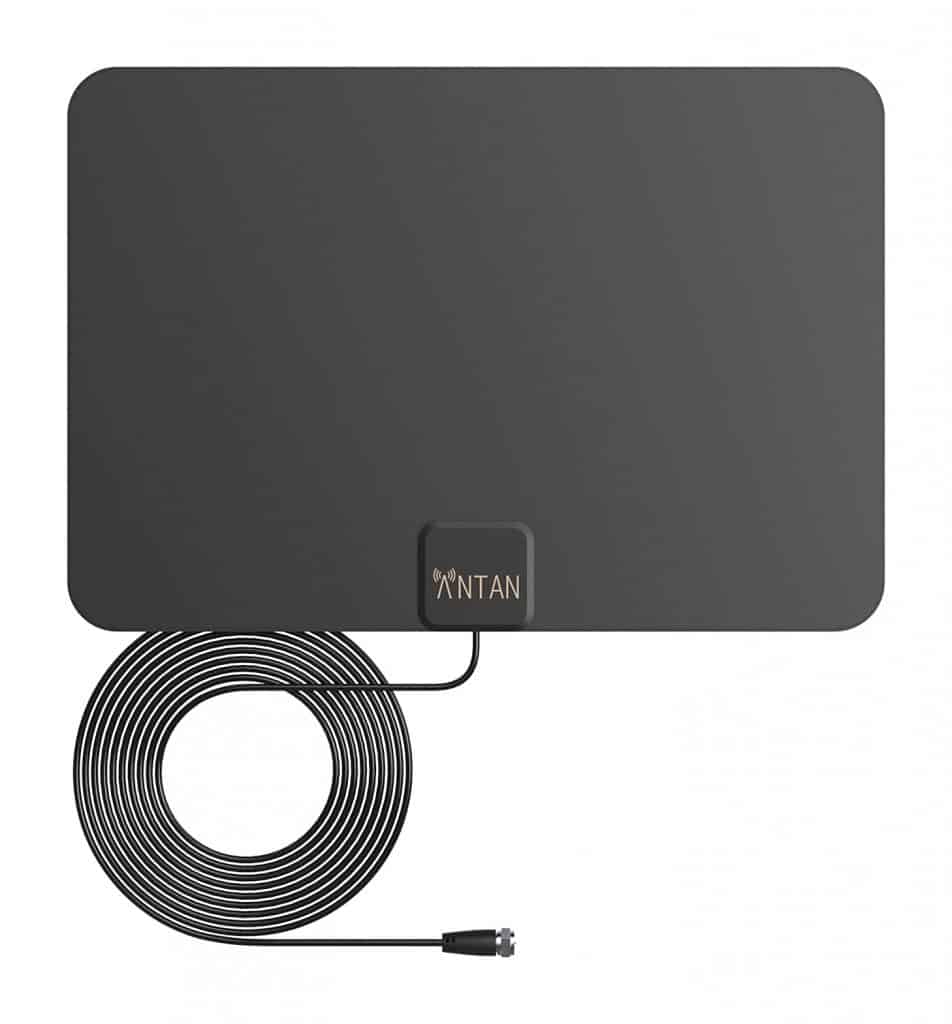 A TV antenna can give you access to free over-the-air TV
ABC, CBS, FOX, and NBC are among the channels that broadcast over the air in many areas.
Not all channels are available over the air. For networks like ESPN and Fox News, you'll need a live TV streaming service.
Which OTA channels you'll get will depend on which ones your antenna can reach, so choose wisely!
In suburban and urban areas, an indoor antenna should be sufficient. An amplifier can help you get a stronger signal.
Here at CordCutting.com, our whole thing is showing folks like you how to watch TV without cable. Cutting the cord is the easy part, after all – the cable sales rep might give you a hard time, but you'll power through. The only remotely difficult part of this whole thing is staying entertained after you've banished your overpriced cable package, and we set out every day to show you how to do it. And there's one solution that we end up talking about constantly, both because it's incredibly powerful and because it's very underappreciated: free over-the-air TV. Free over-the-air TV, or OTA TV for short, is the best way to get everything from NFL games to local news broadcasts. To get it, all you'll need is an antenna and the very basic knowledge that it takes to set it up. Easy, right? Yet this is where some people get tripped up: The basic knowledge needed to use an antenna isn't exactly common knowledge, at least not these days. That's why we're here today to show you how to choose a TV antenna. We'll recap the basics, link to more specific how-tos, and give you the straight dope on how to choose the best antenna.
Feel free to keep scrolling if the remedial topics here aren't what you're here for — we'll meet you wherever you pick back up! For those who want to stick around, we're going to start with a very brief recap of what OTA TV actually is.
Free Over-the-Air TV: A Refresher
For folks who have been using cable for years, the very fact that OTA TV exists can be a surprise. Yes, people still use antennas that work (sort of) like the ones that your grandparents used — and, more importantly, channels are still broadcast for free over the air!
Over-the-air TV was, of course, the original form that TV channel broadcasts took. Networks like NBC were networks because they were able to connect different broadcast towers and air content all over the country at the same time. But individual viewers were not connected to these networks: They picked up the content with antennas after the network broadcast it from broadcast towers.
Eventually, due to issues with rural reception and other factors, companies began connecting customers to cable networks. But local stations kept on broadcasting over the air, too. If you've ever driven by your local news station's headquarters and seen a big tower, now you know what that was: a broadcast tower! That tower airs local content, but also the national stuff: If your local station is a Fox affiliate, for instance, then you can get Fox comedies and dramas as easily as you can get your local news team's broadcasts. It's all on the same channel!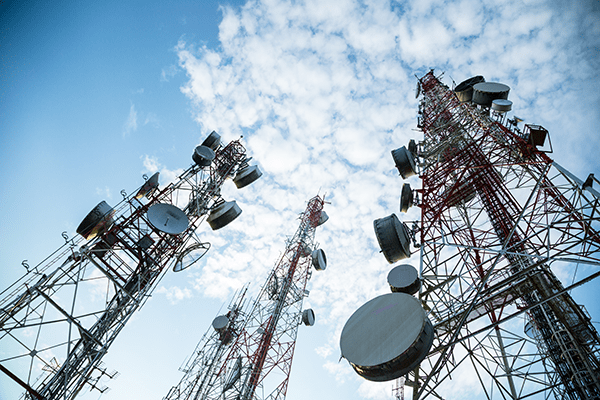 Depending on where you are, your free over-the-air TV selection can include all four major networks (ABC, CBS, Fox, and NBC), PBS, Spanish-language stations like Univision and Telemundo, and much more.
Of course, to get it, you'll need an antenna!
How to Choose a TV Antenna
A lot goes into picking out the perfect TV antenna but, fortunately, it's all pretty simple once you have the proper background. Here's what you need to know.
Types of Antennas and Other Concerns
You can probably picture a few different types of antennas right off the top of your head: For instance, you probably know what "rabbit ears" antennas look like on old TV sets, and you probably know what roof-mounted outdoor antennas look like. These two examples represent two extremes of antenna design. Let's talk about antenna types!
Antennas can be indoor or outdoor antennas. They can also be directional and omnidirectional. The difference between indoor and outdoor antennas is fairly self-explanatory; as for directional and omnidirectional, that distinction refers to whether or not you have to point your antenna at the source of the signal. Omnidirectional antennas pick up broadcasts equally well from all directions.
Outdoor antennas tend to have larger ranges. They're big, but that's okay because you don't have to fit them in your living room. They also tend to be directional, but that's okay, too: If you live in a rural area where an outdoor antenna is a necessity, there's a good chance that your nearest broadcasts are all coming from more or less the same direction, anyway (They're going to be clustered around the nearest population center).
Indoor antennas are smaller and, ideally, a bit less ugly. They are often flat and designed to be mounted on the wall. They can also be free-standing, like rabbit ears. Indoor antennas are virtually always omnidirectional.
Antennas come in different ranges, and you'll of course want to get one that can reach the OTA stations you want to watch (more on how to find information on this in a moment). Generally, indoor antennas will top out at ranges of around 40 to 50 miles. For more range than that, you'll have to take things outdoors. Keep in mind that the ranges claimed by antennas can be a bit generous since we don't all live in the sort of ideal spaces in which these antennas are tested.
How Much Range Do You Need?
To know how to choose a TV antenna for your situation, you'll need to know what that situation is: How far away are your over-the-air stations? Once you know that, you can figure out what sort of range you'll be looking for in your ideal antenna.
Fortunately, finding your nearby OTA stations is incredibly easy. There are a few different tools available online that will calculate things for you. The FCC has a tool you can use, and there are two competing sites run by pro-antenna folks: AntennaWeb and TVFool. They all work pretty much the same way: You put in your address (or just your zip code, if you're feeling paranoid) and click a button or two. The site then shows you how far your nearest OTA stations are from you. You'll get a labeled list and a map. Pick out the stations you're aiming for (Look out for duplicates – you might not need to reach the CBS station 38 miles away from you if you have another CBS affiliate just 4 miles away!) and start getting a sense for the kind of range you'll want from your antenna.
Keep in mind that you might not get every station you'd expect within a given range because it's possible that a station will be blocked by an interfering building or landscape feature. So don't get too obsessed with the idea of reaching a specific channel – instead, make a holistic decision and aim to get the best possible bang for your buck. Upgrading from a 25-mile antenna to a 50-mile one just to (possibly!) secure one more channel might not be the best move, though, of course, it's up to you!
Other Considerations: Brand Names
Antennas aren't very complicated things, but that doesn't mean that it's impossible to make a bad one. There are plenty of lousy antennas out there! A cheap antenna might not deliver the same range that you'd expect. That's an obvious consequence of cheaping out, but it's worth mentioning that cheap antennas can fail you in other ways, too: They can look ugly or feel flimsy, they can break, and they can come with damaged coaxial cables that make it hard or impossible for your TV to read the signal from an antenna. Like pizza and James Bond movies, antennas are something that should be easy to make and yet are sometimes, somehow, made badly.
Fortunately, there are a lot of antenna brands that we've come to respect over the years that we've spent reporting on, explaining, and reviewing antennas here on Cordcutting.com. Here are a few of them, in alphabetical order:
Antennas Direct
ChannelMaster
Mohu
NoCable
It's hard to go wrong with these brands, and this is hardly an exhaustive list. We've picked up antennas from relatively little-known brands that have blown us away — like the RG Monarch, for example. Just do some research and read a few reviews (both user reviews and online ones like ours) and keep some key brand names in mind as you shop.
More to Think About: Appearance
Most TV fans will find that their needs are covered well by an indoor antenna of some kind. That means that your antenna will be in your living room, bedroom, or other space with you as you watch TV – which means you'll probably want it to look decent!
Most indoor antennas are flat, wall-mounted antennas. Most come in either black, white, or both (Some even come with black and white on the same antenna — one on each side, so you can choose). The coaxial cables are almost always white or black, too. If you have a white wall, you might want to choose a white antenna to make your antenna as inconspicuous as possible — or you might want to opt for a high-contrast look to keep your space looking crisp and modern.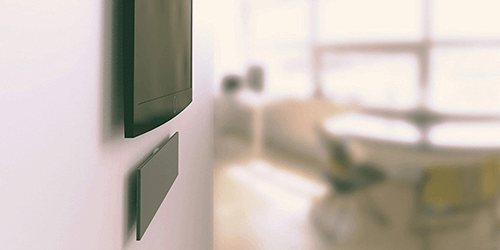 Some antennas are meant to be statements. The sleek and minimalist design of the Mohu Blade, for instance, impressed us in our review. The Mohu Blade is an example of an antenna that strives for style rather than camouflage. We think it's a good look, especially in modern spaces. If you find something like this is to your taste, go for it!
Antennas are utilitarian things, but it pays to keep their looks in mind. Since you'll get better reception with an antenna high on the wall, you may end up mounting your antenna in plain view. You'll be seeing a lot of it, so consider spending just a little bit more to get the look you want.
Setting Up Your Antenna
Once you've chosen the perfect antenna for your space, you'll want to make sure that you've got it set up correctly. Many antenna users have been frustrated or fooled after forgetting to properly place the antenna or scan for channels!
Antennas will get better reception from higher places. Watch out for interference, too, though. Try your antenna in a few different spots to see how it affects reception.
Remember to scan for channels! Your TV's TV tuner can figure out where the channels are, but it needs time to think. Go into your TV's menu and scan for channels. Once you've scanned, your TV will be able to show you the channels it has memorized. You may want to try scanning a few times to try to capture the most channels possible – try moving the antenna around and scanning from different spots, and try scanning on a nice clear day (weather's effect on antennas is pretty minimal, but every little bit helps!).
Improving Reception
We've shown you how to choose a TV antenna, but we all make mistakes. If you're not happy with your antenna's reception, though, you might be able to fix it without having to buy a whole new antenna!
For starters, check out our troubleshooting guide and try moving your antenna around in search of better reception. You might have missed a step or simply put your antenna in a spot that – for whatever mysterious reason – is no good!
You can also improve the reception your antenna gets by adding an amplifier. If your antenna didn't already come with one, you can grab an amplifier on its own from sites like Amazon. Amplifiers, as you might expect from the name, amplify the signals your antenna picks up. They can turn barely-there signals into ones strong enough to be picked up in your next channel scan, and they can turn weak, choppy signals into a smooth live TV experience. Amplifiers need to be plugged in. Once you've got one working between your antenna and your TV, you'll have a stronger signal.
How to Choose a TV Antenna: Just Pick One!
We've spent a lot of time telling you the ins and outs of choosing an antenna. And, to be sure, there was some valuable information to pass along! If you don't know the right range of antenna to look for, you'll be in trouble. And if you don't remember to scan for channels, you won't be watching anything but static!
But don't get paralyzed by your choices: antennas are pretty simple things. We love micro-analyzing the differences between them, and we'll be the first to recommend name brands and top models. But your choice of antenna is not likely to make a world of difference in your OTA experience, so try not to sweat it! Just determine your range, look at some name-brand options, double-check a review or two, and then make your purchase. You'll be watching TV without cable for free in no time.