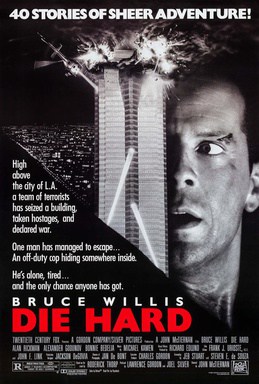 When it comes to action movies — and Christmas movies, too — it doesn't get much better than "Die Hard" with Bruce Willis. This 1988 thriller is a stone-cold classic, and it even spawned a whole franchise (the most recent film, "A Good Day to Die Hard," came out in 2013). The original is still arguably the best, though, and we're here to help you stream it. Whether you're watching it for the first time or the hundredth, here's how to stream this unconventional Christmas classic online.
How to Stream 'Die Hard' Online Without Cable
If you're in the "Yes, Die Hard is a Christmas movie" camp, then you surely won't let any Christmas season pass without watching, regardless of your cable subscription situation. Luckily, this Christmas meets calamity action thriller is available all over the place, including some of our favorite streaming services. Here's where you can catch up on violent holiday vitriol with "Die Hard" online without cable.
Since making its debut on the streaming scene as a sports lover's dream, fuboTV has quickly made a name for itself in providing full TV entertainment to a wide variety of subscribers. It features a sizeable selection of entertainment, news, and of course, sports channels. FuboTV includes Bravo, the network you'll need to tune into to watch "Die Hard." Find out more about fuboTV with our guide on fuboTV subscription cost and pricing plans.
Another live streaming service similar to DIRECTV and fuboTV is Hulu + Live TV. Hulu is a little different though in that it also offers countless award-winning Hulu Originals you'll enjoy as part of this premium subscription service. If you're looking for "Die Hard" on Hulu + Live TV, you can watch it on the Bravo network, one of the many popular channels Hulu + Live TV offers. Learn more with our guide to Hulu live TV streaming and pricing.
More on the level of DIRECTV or fuboTV is YouTube TV. It's YouTube's latest brainchild: add existing TV entertainment to user-curated productions. It's higher on the pricing spectrum, so be sure to do your research to ensure it's got the channels and content you're looking for. It does, however, carry Bravo, which is airing multiple runnings of "Die Hard" this year.
If you're looking for an on-demand option for "Die Hard" for non-stop TV action mayhem, check out Amazon Prime Video. You'll be able to watch for free (technically speaking) through IMDB TV, which is included with Amazon Prime. You will, however, have to put up with commercials. You can also rent ($3.99) or purchase ($7.99) "Die Hard" through Amazon Prime Video.
Another way to watch "Die Hard" on-demand is through Peacock, the streaming app brought to you by NBCUniversal. Peacock is one of the lowest-priced streaming services, though more limited than what you'll enjoy from a live TV streaming service like Sling TV or Hulu + Live TV. However, it has a ton of satisfying viewing content from NBC's history of programming and the Universal film repository.
Can I Watch 'Die Hard' on Roku, Fire TV, Apple TV, or Chromecast?
Watching "Die Hard" from home is easy when you have streaming devices. You can use these streaming devices with these services to stream "Die Hard" this Christmas:
Roku
Fire TV
Apple TV
Android TV
Chromecast
iOS
Android
Web/
browser
Hulu + Live TV
Yes
Yes
Yes
Yes
Yes
Yes
Yes
Yes
fuboTV
Yes
Yes
Yes
Yes
Yes
Yes
Yes
Yes
Sling TV
Yes
Yes
Yes
Yes
Yes
Yes
Yes
Yes
YouTube TV
Yes
Yes
Yes
Yes
Yes
Yes
Yes
Yes
One of the elements of this movie that make it so enjoyable is the play between Bruce Willis who plays "John McClane" and Alan Rickman as "Hans Gruber" the ruthless, sarcastic mega-villian, during the film. Another dynamic relationship is the one between John and unassuming but insightful police officer "Sgt. Al Powell" played by Reginald VelJohnson. Here's the rest of the cast of characters:
Bruce Willis as "John McClane"
Alan Rickman as "Hans Gruber"
Reginald VelJohnson as "Sgt. Al Powell"
Bonnie Bedelia as "Holly Gennaro McClane"
Paul Gleason as "Dwayne T. Robinson"
De'voreaux White as "Argyle"
William Atherton as "Thornburg"
Movies Like 'Die Hard' You Should Stream Next
Suppose you're done with "Die Hard" but are still looking to get more use out of your streaming subscriptions. No problem. We've got some other excellent holiday entertainment suggestions for you:
"Lethal Weapon" – Mel Gibson and Danny Glover team up to be a dysfunctional crime fighting team shooting up Christmas tree lots and kicking butt with Christmas in full swing in the background. Like Die Hard, Lethal Weapon superbly balances humor, action, and drama in this blockbuster holiday action movie.
"Die Hard 2" – Yep, another "Die Hard" on another Christmas. This time terrorists hijack an air-traffic control system, and John McClane finds himself right in the middle of it. While sequels are not often as good as the original, this sequel will be sure to entertain, especially if you're looking for a nice mix of action and ironic Christmas spirit.
"Fatman" – Mel Gibson stars in this dark comedy about a businessman forced to partner with the U.S. Military and, in the process, goes to blows against an assassin who has been hired by a go-getter kid who wants payback for receiving coal in his stocking.