Hundreds of college football fans have spoken: Michigan vs. Ohio State narrowly trumps Alabama vs. Auburn to be the most beloved NCAA football rivalry.
Written By – Stephen Lovely, Managing Editor | Published: November 16th, 2022
College football has been a popular sport to watch for decades. In fact, some sports enthusiasts prefer watching the pageantry and tradition of college football more than its professional counterpart.
With more ways than ever to watch NCAA football, the sport is growing in popularity. The TV deals are expanding as well. Case in point: the Big Ten Conference just struck a seven-year, $8 billion broadcasting agreement with FOX, CBS, and NBC.
Some of the most compelling college football games take place during Rivalry Week, which usually spans from the Saturday before Thanksgiving to the Saturday after. However, not all rivalry games are created equal. Some are appointment television, and you are probably better off checking the box score for others.
So which games deserve your undivided attention and which ones can you skip this year? Read on to find out.
Table of Contents
Fan-Favorite Football Rivalries
To determine the most anticipated NCAA football rivalries, we conducted a poll of hundreds of college football fans from every region of the country. From a list of about 35 historic rivalries, they carefully chose their can't-miss matchups.
Among the top 10 rivalries, SEC teams dominated, with five unique teams from the conference earning top spots with fans. However, three Michigan matches appeared in the top 10, which means the Big 10 conference was also well represented in the best rivalries list.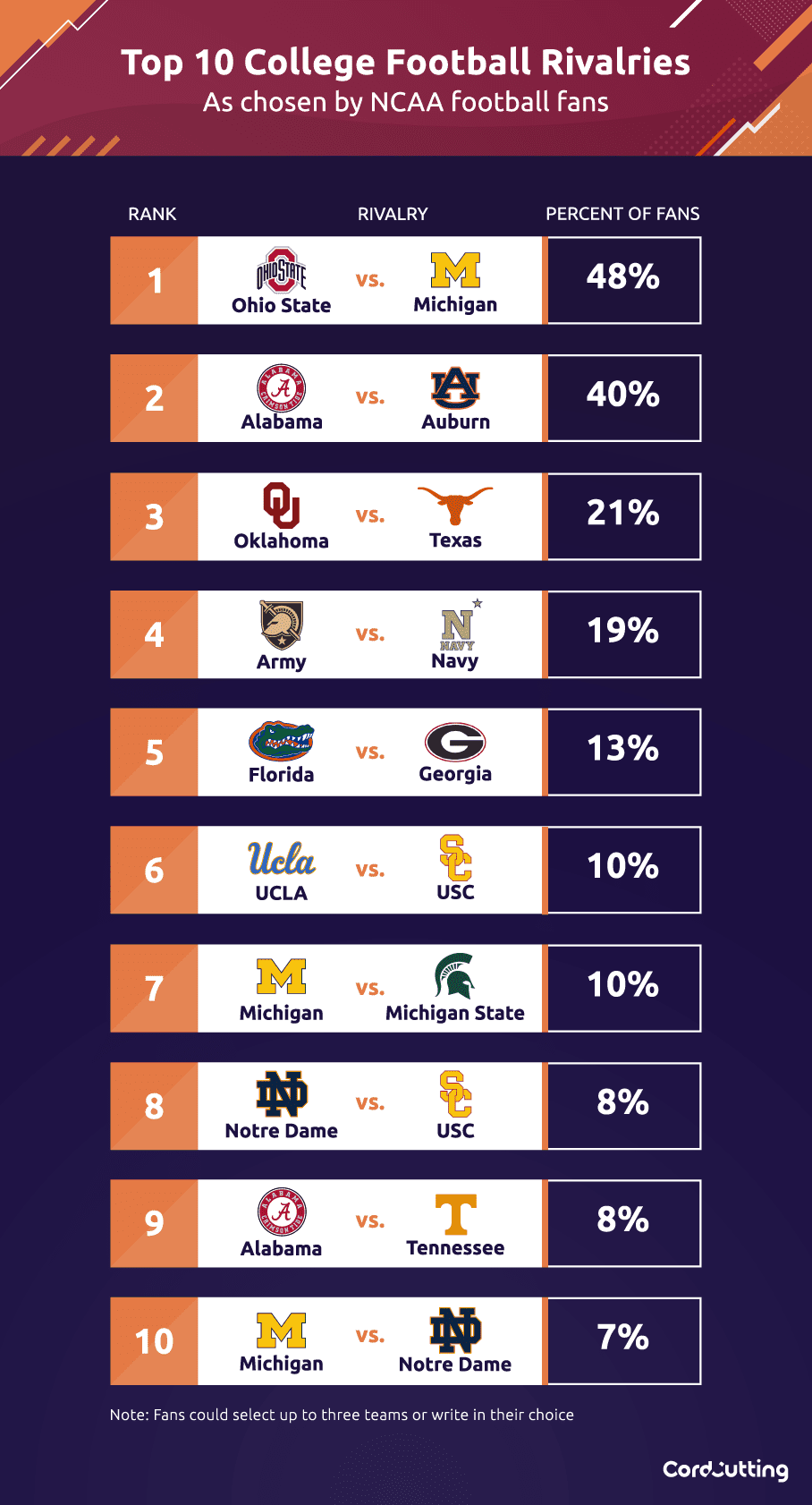 1. Michigan vs. Ohio State
According to our research, Michigan vs. Ohio State is the fan-favorite college football rivalry. Nearly half of participants from across the U.S. consider this matchup to be one of the best rivalries in all of American sports.
Known to some as "The Game", the stakes of this rivalry have been through the roof for decades. The result of this game often decides the Big Ten Championship, Rose Bowl, and College Football Championship scene. That was the case last season, as Michigan defeated Ohio State to earn a spot in the College Football Playoff while simultaneously denying its rival that opportunity. The 2022 version of this rivalry is shaping up to be another high-stakes battle that could serve as a de facto playoff game. Interestingly, no team appeared in the top 10 more frequently than Michigan, which shows how dominant this program has been against teams across the Midwest.
2. Alabama vs. Auburn
Alabama has made it to the National Championship in eight of the last 11 years. Whether college football fans love or hate the Crimson Tide, odds are they'll tune into the big games on Alabama's schedule. In fact, 40 percent of college football fans put this match up in their top three. None of them is bigger than the Alabama-Auburn rivalry.
Nicknamed the "Iron Bowl", this game has produced some of the best moments in American football. Heading into this matchup, at least one team has been ranked in the Top 10 for 14 straight years. That brings National Championship and College Football Playoff implications to an already fiery rivalry between these in-state foes. Alabama has a much-better team than Auburn in 2022, but the Tigers would love nothing more than to spoil the Tide's playoff hopes.
Alabama vs. Tennessee also ranked in the top 10 strongest football rivalries, though the Crimson Tide lost by a small margin to the Volunteers in their 2022 matchup.
3. Oklahoma vs. Texas
Oklahoma vs. Texas ranked third in our poll of best college football rivalries, with 21 percent of fans ranking it in their top three favorite rivalries. Both programs have a rich college football history to produce some exciting games in this series nicknamed the "Red River Showdown".
This matchup is typically played earlier in the season, and the 2022 installment wasn't very competitive: Texas easily dominated and secured a 49-0 victory. Oklahoma will look for a shot at redemption in its other rivalry game later in the season, taking on their in-state foe Oklahoma State. There's more on that matchup later in the article.
4. Army vs. Navy
Though one in five college football fans consider this matchup to be one of the strongest rivalries, the Army vs. Navy rivalry is different than the previous three. While all these matchups center around tradition, the Army-Navy game takes it to a different level. This contest is usually the last game of the college football season (before the bowl games) while getting a prime TV spot as the only football matchup of the day.
That's the case in 2022, as these teams will square off on December 10 at 3 p.m. ET on CBS. Army and Navy are no longer the college football powerhouses they were in the 1940s and 50s, but the pageantry, emotion, and tradition of this rivalry remain unmatched.
5. Florida v. Georgia
Florida vs. Georgia ranks fifth in our poll of best college football rivalries, which dates back for over 100 years. There's something unique about this series, known as the "world's largest outdoor cocktail party," as it's played on a neutral site every year. Neither side hosts this game in its home stadium. Instead, Florida and Georgia fans have traveled to Jacksonville, FL for this rivalry since 1993.
In the 90s, Florida dominated this rivalry, winning nine out of 10 games against the Bulldogs. However, Georgia holds the upper hand in recent meetings, taking five of the last six meetings against the Gators. That includes a convincing 42-20 victory in 2022.
Most Anticipated Rivalry Week Matchups
While some of these historic rivals have already faced off in 2022, the majority of the most contentious games will take place during Rivalry Week, spanning from Saturday, November 19 to the following Saturday, November 26. In other words, the week of Thanksgiving also includes a side of great college football games to enjoy along with your feast. With so many great games scheduled in such a short amount of time, it can be almost impossible to choose which ones to watch.

Most of the can't-miss games align with fans' favorite rivalries as outlined above. Of course, more fans plan to watch Michigan vs. Ohio State than any other game, followed closely by Auburn vs. Alabama. Both of these key games will take kick-off on November 26.
Here are the top picks for the most-anticipated Rivalry Week games.
November 19
USC vs. UCLA
These two prestigious schools square off in one of the top west coast rivalries, and 46 percent of fans in our study plan to tune into this legendary match. This game could decide who advances to the Pac-12 Championship Game to keep its Rose Bowl (and potential playoff) hopes alive.
If you like offense, then this game should pique your interest. Caleb Williams of USC and Dorian Thompson-Robinson of UCLA are both dual-threat quarterbacks who can light up the scoreboard. This could be a back-and-forth, entertaining shootout that is decided in the final minutes.
Oklahoma State vs. Oklahoma
This rivalry had plenty of hype heading into the season. However, Oklahoma is not the contender many anticipated. The Sooners suffered three losses, ending their hopes of reaching the College Football Playoff.
On the other hand, Oklahoma would love to spoil those chances for its in-state rival. Oklahoma State could roll into this game with Big 12 Championship aspirations, but playing to Sooners on the road is enough to make OSU fans nervous. Forty percent of fans are going to make sure to catch this game.
November 25
Florida vs. Florida State
These two teams have been fan favorites in the college football world for the past two decades. While neither squad will factor into the 2022 National Championship landscape, this rivalry will still get center stage, airing on ABC at 7:30 p.m. ET on Black Friday. In fact, it's the most anticipated game on November 25 for the fans in our study.
Turn the volume up for this game, because the atmosphere will be electric at Florida State's Doak Campbell Stadium in Tallahassee. The quarterbacks from both sides are more than capable of putting on a show, as college football fans have already witnessed several times this season.
November 26
Notre Dame vs. USC
This game is the third most-anticipated by football fans for the Saturday after Thanksgiving. While it may not get as many viewers as Michigan vs. Ohio State and Alabama vs. Auburn, this 96-year-old feud is still one to watch because of its historic legacy. Notre Dame has had a disappointing season to this point, but the Fighting Irish will put every ounce of energy into this regular-season finale.
USC has the better team this season, and they will be favored to win. However, rivalries are fantastic settings for upsets, and this is a major hurdle for the Trojans to clear while trying to retain their Top 10 status.
Honorable mentions
In our research, we established that college football fans love to watch rivalries with rich histories and high stakes. Michigan vs. Ohio State and Auburn vs. Alabama carry a perfect blend of those ingredients.
However, there are some other college football rivalry games shaping up to be exciting battles. These matchups either ranked low in our study of top rivalries or didn't make the list at all. Regardless, you should probably have the remote handy to at least check in on these games on November 26:
Clemson vs. South Carolina
This rivalry has been one-sided since 2014, as Clemson has transformed into a college football powerhouse. On the other side, South Carolina has been rebuilding. Those efforts are starting to pay off, as the Gamecocks are enjoying a solid season while cracking the Top 25.
South Carolina has a viable team and enough belief to give Clemson a challenge. The Tigers could be fighting for a spot in the College Football Playoff at that point in the season, and they can't afford a slip-up against their in-state rival. The stakes and emotions will be high in this contest.
Wisconsin vs. Minnesota
The winner of this border battle gets to carry Paul Bunyan's Axe. Seriously, the winning team runs to the sideline and picks up a giant axe while celebrating the victory.
The West division of the Big Ten Conference is wide open this season, and it could come down to this game. These states have a rivalry in nearly every sport (think Packers vs. Vikings), and things could get chippy. Let's be honest, that makes for an entertaining football game.
Conclusion
Regardless of the outcome, every college football fan will be buzzing over the Ohio State vs. Michigan matchup on November 26. If you had to pick one rivalry game to watch this season, that's definitely the one.
Alabama vs. Auburn will be played the same day as Ohio State-Michigan, and there's a good chance they will be played back-to-back. That's seven hours of high-stakes rivalry football! Cancel your other plans and make sure you have plenty of snacks.
Speaking of snacks, if you are looking for an appetizer for Rivalry Week, then UCLA vs. USC serves as the perfect fix. That matchup could easily decide the state of the Pac-12 Conference as well as bragging rights in Los Angeles. Welcome Rivalry Week with open arms while watching this entertaining matchup on Saturday, November 19.
Our data
In October 2022, Cordcutting.com conducted an internet-based poll of 600 college football fans (as determined in a preliminary survey) to determine the most anticipated NCAA football rivalries. We presented them with 36 college football matchups and asked them to select the three teams they considered to be the greatest rivalries. We also asked them to select which of the games they planned to watch this year.
Participants ranged in age from 19-84 with an average age of 40. Participants were selected based on their Census regions so a wide variety of opinions were included: 39 percent lived in the South, 23 percent lived in the West, 21 percent lived in the Midwest, and 17 percent lived in the Northeast. 76 percent of participants were men and 24 percent were women.