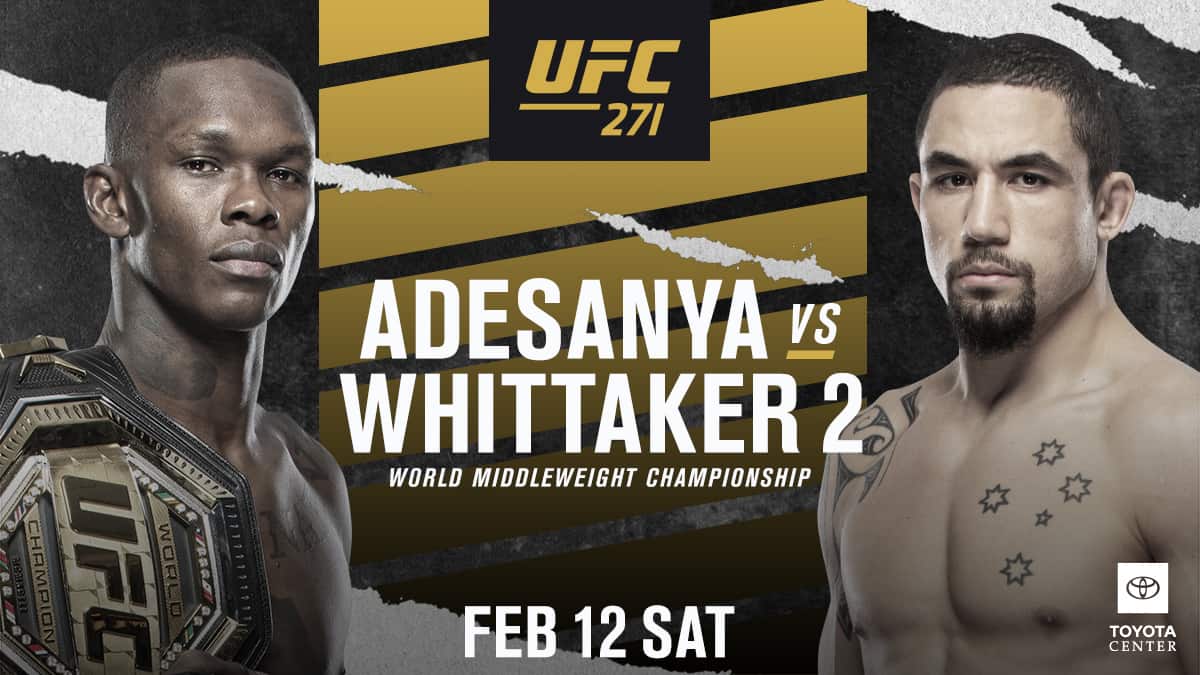 The UFC is headed to the Lone Star State. On February 12th, Houston will host UFC 271. The main fight card features middleweight champ Israel "The Last Stylebender" Adesanya (21-1-0) taking on a challenge from Robert "The Reaper" Whittaker (24-5-0). In their last match in October 2019, Adesanya defeated Whittaker by knockout. It's not too surprising, though, as Adesanya has never lost a bout at the middleweight level.
We'll find out soon enough how much, if anything, has changed between these fighters, but one thing that has changed is the way UFC fans can watch matches. No longer do you need a cable subscription to catch UFC action. Instead, you can use streaming alternatives to watch your favorite UFC events, including UFC 271: Adesanya vs. Whittaker 2. Read on to learn all the details on how to watch UFC 271.
When Is UFC 271 and Where Can You Watch It
Are you ready to watch UFC 271? Get all the details about the fight below:
When is UFC 271: February 12
Where is UFC 271: Toyota Center in Houston
What time does the Main Card start: 10 p.m. ET / 7 p.m. PT
What time do the Feature Prelims start: 8 p.m. ET / 5 p.m. PT
What time do the Early Prelims start: 6 p.m. ET / 3 p.m. PT
Note: You can also watch the Early Prelims through streaming, but you'll need UFC Fight Pass to access those fights.
With five different bouts on the Main Card and four feature preliminary fights, UFC 270 is packed with action and entertainment. Check out the Fight Card for all the details:
| Matchup | Weight class | Time | Odds |
| --- | --- | --- | --- |
| Adesanya vs. Whittaker | Middleweight Title | Main card | Adesanya -280 |
| Lewis vs. Tuivasa | Heavyweight | Main card | Lewis -170 |
| Cannonier vs. Brunson | Middleweight | Main card | Cannonier -165 |
| Hernandez vs. Moicano | Lightweight | Main card | Moicano -160 |
| Green vs. Haqparast | Lightweight | Main card | Green -145 |
| Arlovski vs. Vanderaa | Heavyweight | Preliminary card | Arlovski -155 |
| Modafferi vs. O'Neill | Women's Flyweight | Preliminary card | O'Neill -400 |
| Phillips vs. Rojo | Bantamweight | Preliminary card | Phillips -435 |
| Ulberg vs. Cherant | Light Heavyweight | Preliminary card | Ulberg -265 |
How to Watch UFC 271: Adesanya vs. Whittaker
If you want to catch the main card action of UFC 271 through livestreaming, then you only have one option: ESPN Plus. Check out all the details of this stream below:
ESPN Plus is your key to unlocking UFC 271. But consider it more of an appetizer than a main course. That's because the regular $6.99 monthly subscription alone isn't enough to access UFC 271. After you subscribe, you'll also need to pay a $74.99 pay-per-view fee specifically to watch the UFC 271 main card. All in all, it's not a bad deal, especially if you get a few friends to chip in, in exchange for watching it on your big screen.
If you're looking for both UFC 271 and a long-term subscription to ESPN Plus, there's another deal worth mentioning: For $99.98, you can purchase both UFC 271 and an annual subscription to ESPN Plus. In that case, you can pay $99.98 and get both UFC 271 and a full year's subscription. Now, that's a significant savings over simply paying for ESPN Plus on a monthly basis.
Best of all, you can keep streaming all kinds of sports content from basketball to football and beyond on ESPN Plus even after the fight is over. Next time a UFC Fight Night or event comes up, you will also already be prepped and ready.
Can I Watch UFC 271 on Roku, Fire TV, Apple TV, or Chromecast?
You've got the ability to watch UFC 271 on a lot of different devices. Check out the following chart to find your device compatibility:
Roku
Fire TV
Apple TV
Android TV
Chromecast
iOS
Android
Web/
browser
ESPN Plus
Yes
Yes
Yes
Yes
Yes
Yes
Yes
Yes
More to Watch for UFC Fans
Now you know how to watch UFC 271, regardless of what matches interest you most. But what do you do after all the bells have run and UFC 271 is over? After all, UFC 272 isn't until March.
We recommend checking out the 2022 Winter Olympics for just as many surprises as the knockouts and submissions of UFC has to offer. Snowboarding Cross is more or less a fight on snowboards, and we particularly enjoy the intensity of the skeleton runs. Want to learn more? Check out our in-depth guide to watching the 2022 Winter Olympics without cable.
Also, don't forget, the Super Bowl is also this weekend. Whether you like the Bengals or the Rams for that game, you'll want to know how to stream it on the big day. Slide over to our guide on how to watch Super Bowl LVI without cable for more details.