Your little Roku is a powerful tool that can do a whole lot more than just stream video to your big screen. Thanks to "channels" (Roku's version of apps), your Roku is capable of doing everything from playing games to cranking up your favorite tunes.
Roku's channel selection is great, but there's even more options available than the ones you're seeing. Roku also has a large selection of so-called "private channels" – channels that, for one reason or another, aren't visible when you browse for new channels on your Roku. These include experimental channels that aren't ready for a full release, among others. These private channels are hidden – but you can still access them. Here's our step-by-step guide.
Step 1: Hop on Your Computer
Since private channels are not available on the Roku's channel store, you'll have to ditch the Roku remote for a moment and head over to your laptop or tablet. Private channels come from all different sources, and you'll find them on individual third-party websites. Here's an example from the Nowhere Man, a private channel developer: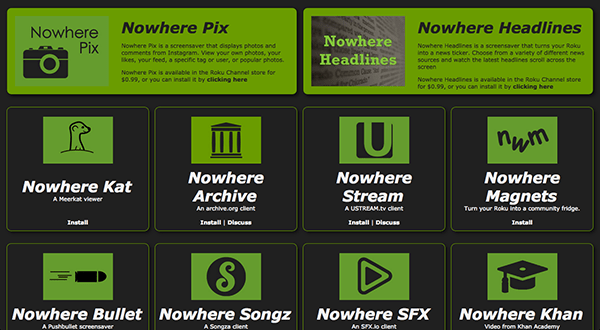 If you take a little time to Google "private Roku channels," you're sure to find a lot of useful apps for your Roku. Depending on which channels you're looking at, you may be able to use a link to install the channel or you may have to enter a code.
If you see a link on a trustworthy developer's site, just click it – you'll be redirected to Roku's site with the code pre-entered. Click "Add Channel" and meet us at step 4.
If you see a code, copy it and stick with us – we'll show you what to do with it.
Step 2: Go to my.roku.com and Navigate to Your Account Page

To get to the page that you see in the screenshot above, just click on "[YOUR NAME]'S ACCOUNT." It's the left-most button on the top navigation.
At the top of the screen, you'll see some basic information about your account – your name, email, address, PIN settings, and payment method. Under that you'll find some options labeled "Manage Account," which we've captured in the screenshot above.
Step 3: Click on "Add a Channel"
You'll want the upper-left-most of these options, "Add a Channel." It should bring you to a screen that looks like this: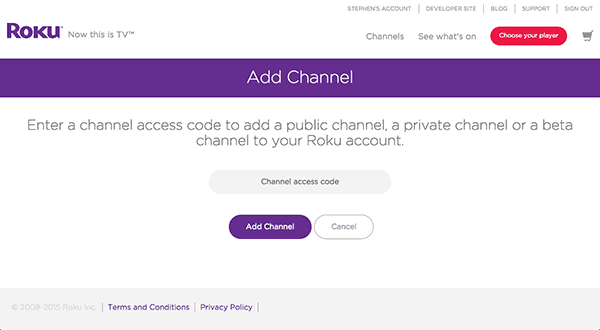 You probably know what to do from here. Just enter that code you copied and hit the "Add Channel" button.
Step 4: Turn on Your Roku
You're now scheduled to download your new channel with your next update! That will happen within 24 hours, but you can accelerate the process by going to Settings > System > System Update > Check Now.
And that's it! Whether you install the channel immediately or wait until it auto-updates, you'll see it appear alongside your other channels. It's really that simple.