Digitalsmiths, the content discovery and movie recommendation company that TiVo acquired last year, has come out with a comprehensive trends report that analyzes how consumers using TiVo and OTT services choose and access their content. Digitalsmiths does this every quarter, and they've unearthed some pretty interesting things with this latest edition. We've got the highlights for you below.
Guess Who's Winning the Cable vs. Streaming War?
It's a familiar story: cable companies are losing ground, and streaming services are gaining it. The Digitalsmiths data, which comes from a survey of over 3,000 consumers, shows growth for every major streaming service (this data includes both cable subscribers and cord cutters):

We've heard that in other surveys, but Digitalsmiths has some more to say: the good stuff comes when the survey drills down into the "why" of cord cutting, and starts to suggest what cable companies can do about it. Let's check that part out.
Cable Isn't Helping Us Find New Content
As you'd expect from their business model, Digitalsmiths is very interested in whether recommendations and improved ways to search for new content would entice customers to stay with their cable providers. The answer seems to be yes:

That makes sense, given that charts later in the report indicate that a majority of users get frustrated when trying to find something to watch: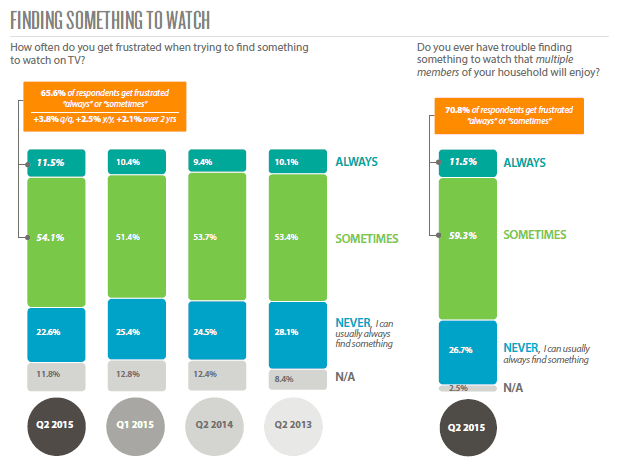 This is particularly important because content recommendation may be the advantage that cable can most easily reclaim from streaming services. A survey of our own showed that Netflix users were split on the site's design, with plenty of respondents saying it wasn't easy enough to find new content. Perhaps cable companies and observers are overvaluing the role of prices and on-demand content and undervaluing the role of effective search and recommendation features.
Money Matters
Of course, high bills are still a major factor in the cord cutting trend. Digitalsmiths doesn't miss that, noting that a plurality of users have seen their bills rise, even as satisfaction ratings for cable have dropped. The bills have risen despite the fact that less than 20% of users have added new services and the majority still don't subscribe to any premium channels.
What Do We Need All These Channels For?
A la carte cable is examined as well. Respondents to Digitalsmiths' survey showed an increasing awareness of streaming services (including, amusingly, "Hulu Plus" – Hulu's efforts to drop the "Plus" part from their brand seem to have been unsuccessful) and a serious interest in a la carte cable.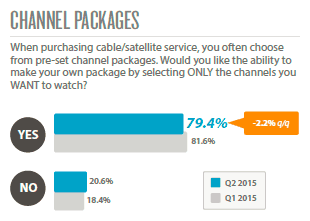 Combined with the fact that most users only view a limited number of channels, this leads Digitalsmiths to explicitly endorse the idea of la carte cable packages:
Key Takeaway

What does the lack of engagement with more than 10
channels, and the decrease in respondents who feel it is
easy to find something on TV mean for Pay-TV providers?
Digitalsmiths believes the metrics from those two
questions strongly support the need to personalize the
Pay-TV experience. Many Pay-TV providers have introduced
their recommendations to subscribers leveraging a
"popularity" model. This means recommendations have
not taken into consideration the subscriber's viewing
habits; instead, Pay-TV providers leverage what consumers
as a whole are watching or metadata to generate "More
Like This" recommendations.
This ties in well with Digitalsmiths' earlier focus on content recommendation. If customers are intimidated or irritated by a superfluous channel selection, that makes it harder for them to find their next show or movie.
Our Thoughts
Digitalsmith has a clear interest in the results of this survey, but their methodology seems very sound and their conclusions ring true to us. Re-claiming an advantage in content discovery would be a big win for cable, and the success of "channel-surfing" streaming services like Pluto TV and Sling TV show that there's still an appeal to stumbling upon content.
Of course, this doesn't mean that the cord cutting benefits that are most often noted by observers (including us!) aren't still the main reasons behind the cord cutting trend. We don't doubt the ability of search and discovery improvements to stem the tide a bit, but we seriously doubt that cable can reverse the trend entirely.
Of course, those are just our own takeaways – we'd love to hear yours. Take a look at the full survey here and share your own thoughts in the comments!