Roku, Fire TV, Nvidia SHIELD: one of these things is not like the other. Though it's a streaming box, Nvidia's SHIELD is a unique offering in several ways. It retails for a steeper price, comes equipped with a gaming controller out of the box, and uses a different company's operating system (Google's Android TV platform) as its base. Above all, it offers a gaming focus that's almost totally absent from the competition.
So how does Nvidia SHIELD measure up to its not-quite-direct competitors? What kind of consumers will want to give it a closer look? Here's our full review.
A Quick Disclosure
Nvidia sent us a 500GB SHIELD for the purposes of this review. As always, that has no affect on the objectivity of this article.
The Device
The Nvidia SHIELD is noticeably larger than most streaming boxes (and much smaller than most gaming consoles). It measures about 8 ½" by 5″. It's about 1″ wide, but it's width varies thanks to its unique form factor – it's kind of a wedge shape, but the face of it is made up of criss-crossing surfaces rather than one flat side.
Out of the box, the SHIELD includes one controller – a gaming controller that can be charged by plugging into the device and runs wirelessly on a lithium battery when detached. For the purposes of this review, Nvidia also sent us a more traditional remote control, which charges and runs wirelessly in the same way.
The SHIELD comes in a couple different models, with the difference being hard drive storage space. I got to try the 500GB version (thanks, Nvidia), but the baseline model has 16GB (you can expand storage thanks to a micro SD card slot). Under the hood, this is a very powerful machine: it features a Nvidia Tegra X1 processor with a 256-core GPU and 3GB RAM.
It's a minor thing, but I was pleased to see that the Nvidia SHIELD came with the HDMI cable included. Its competitors tend to expect you to provide your own.
User Experience
The Nvidia SHIELD uses the Android TV operating system. It's a pretty straightforward OS, but it does tend to surface Google's offerings (much in the same way that the Fire TV surfaces Amazon's stuff). Despite the fact that the experience isn't totally neutral, it's still a pretty pleasant and straightforward user interface.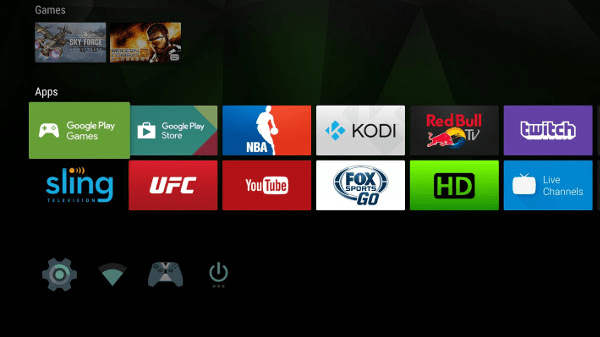 Setting up the SHIELD is pretty easy, but there's not much in the way of manuals. If you want to do things like customize your main menu, you'll have to figure that out yourself. And, speaking of customizing your home screen, you need an app to do it. The SHIELD experience is not a bad one, but the user-facing stuff is pretty basic.
The SHIELD also features Google Cast – in other words, it's a Chromecast as well as a streaming box. This may seem redundant, but I actually found it to be rather convenient. Content discovery could still happen on the big screen (perfect for when you're with family and friends), but I could still sling a quick YouTube video to the main screen or share a browser tab with the room without having to touch anything but my phone.
Content
Nvidia SHIELD's app library is pretty solid, but where it's missing content, you'll notice. Marquee services like Amazon Prime Video are still missing from the Android TV platform, and while the OS is making up ground, that's still a major blow for a device that is, at its core, a streaming box.
But the SHIELD also has content that no other streaming box can touch. It's essentially a gaming console with a PC attitude. There are three ways to game on the Nvidia SHIELD: with apps (essentially Android games you can play with a controller), with Nvidia's GeForce NOW game streaming service, and with a gaming PC (which the SHIELD can stream from thanks to a service branded as Nvidia GameStream).
The gaming content is a huge part of the SHIELD experience, and it's something that no other streaming box offers. Roku is pretty much devoid of games, and the Fire TV's games (while very enjoyable) are mostly on the level of mobile games. The SHIELD, by contrast, has PC-quality games at the ready.
The SHIELD is kind of a unique type of gaming system, though, and it's hard to know exactly what type of gamer would love it. As a fairly casual gamer with a love for emulators and mobile games, I loved the device. Most PC gamers would probably love it too, but some have complained about lag, so the most competitive folks out there might not be into it. This is definitively the best streaming box for gaming, though, no matter how you slice it.
Streaming Quality
In my tests, I had absolutely no problem enjoying consistent HD video on the Nvidia SHIELD with both wired and wireless connections. I tried out apps like Netflix, MLB.TV, and others with absolutely no problems.
Streaming games through the GeForce NOW service was also no problem, with smooth streaming over Ethernet connection. You can use GeForce NOW with Wi-Fi, but you'll need a very good Wi-Fi connection to meet Nvidia's standards.
The Nvidia SHIELD is 4K-capable, which is true for some but not all of its competitors.
Price
The Nvidia SHIELD is the priciest streaming box around right now, with the 16 GB model going for $199.99 and the 500GB model going for $299.99. The latter is about what you'd expect to pay for a gaming console.
Verdict
The Nvidia SHIELD is a powerful device with great gaming options. Its app library is fairly robust but is nevertheless missing a few key services that could disappoint cord cutters. It's best suited for the PC gaming set, since it's a great way to get PC games on the big screen while also getting all of the media center/streaming box functionality you'd want from a competitor device. Non-gamers would enjoy this device, too – it's a quality streaming box, and the casual gaming library is huge and fun for the whole family – but they may find themselves reluctant to pay so much more than competitor devices go for.
In short, the Nvidia SHIELD is a great gaming box and a decent but unspectacular streaming box. It's the undisputed king of its unique niche, but it's really only a fit for folks who want that combination.
Please like us on Facebook to keep up to date on what's new in the world of cord cutting: