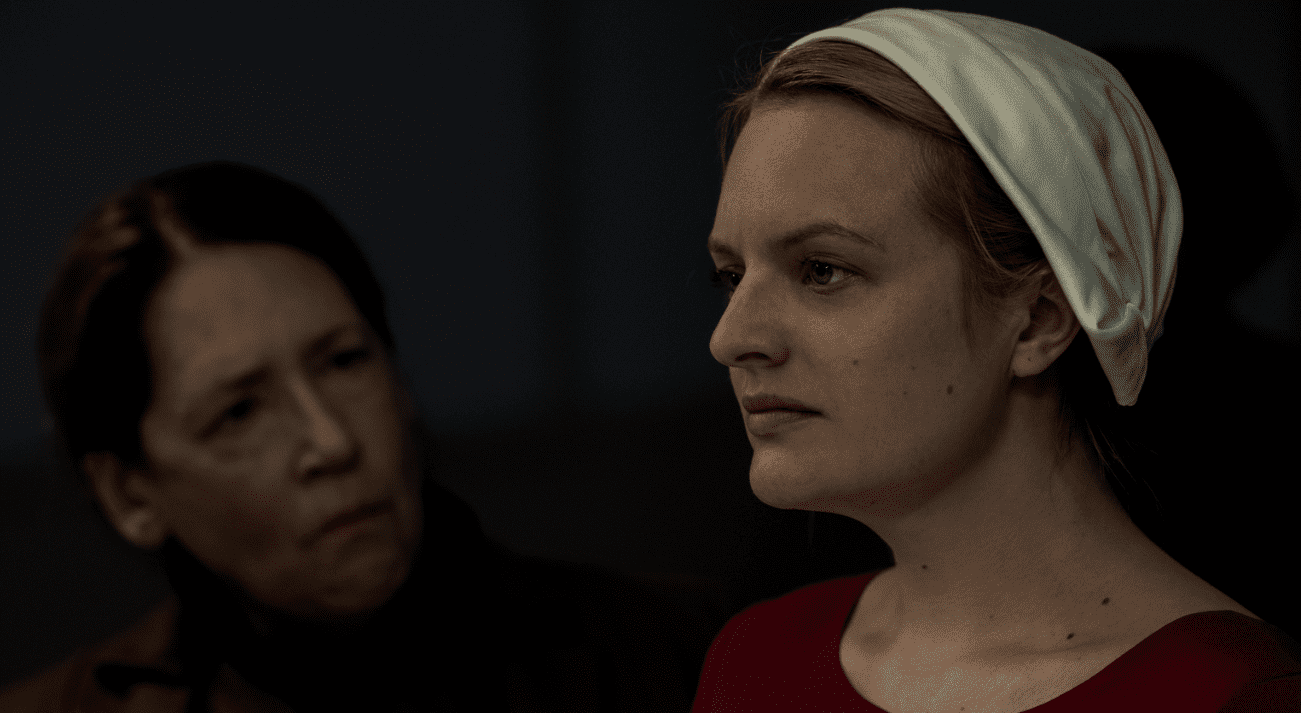 Praise be – after a long, arduous wait since the season four finale aired last June, "The Handmaid's Tale" returned to Hulu on Sept. 14 with a two-episode premiere to kick off its fifth season.
Season five stars Elisabeth Moss, Bradley Whitford, Yvonne Strahovski, Max Minghella, O-T Fagbenle, Samira Wiley, Ann Dowd, Madeline Brewer, Amanda Brugel, and Sam Jaeger. Episodes drop every Wednesday.
Based on Margaret Atwood's eponymous 1985 novel, this award-winning Hulu original series is a tumultuous dystopian drama full of twists and turns, so unless you just recently rewatched some episodes to prep for the show's return, you may want to brush up on a few details. Here's everything you need to know before diving into season five of "The Handmaid's Tale."
Here is our favorite way to stream The Handmaid's Tale:

| | Price | Channels | Free Trial | |
| --- | --- | --- | --- | --- |
| #1 | $7.99 – $82.99 | 85+ | 30 days | |
**S1-S4 spoilers ahead!**
Season 1 Recap
Key Episodes
S1, E1: "Offred"
S1, E5: "Faithful"
S1, E6: "A Woman's Place"
S1, E10: "Night"
In response to a national fertility crisis, Gilead (formerly known as the United States of America) has devolved into a dystopian nightmare of oppression, particularly affecting women's personal and bodily freedoms. Fertile women, the handmaids, don red robes and are expected to serve their assigned households – in particular, their commanders (the man of the house).
Aside from severe oppression, Gilead strikes fear in its citizens' hearts with The Eye, an ever-watching and -listening secret police force tasked with maintaining order. The Eye has been known to enlist the help of spies, including handmaids themselves. Already, the stage is set for recurring feelings of suspicion, anxiousness, and betrayal.
The main storyline follows June (renamed Offred, meaning "Of Fred," her commander) (Elisabeth Moss), who is expected to bear children for Fred Waterford (played by Joseph Fiennes) and his wife Serena (Yvonne Strahovski). One day, June's walking partner Emily (Alexis Bledel) reveals that she is part of the resistance group, Mayday, and recruits June to spy on Fred, a high-ranking member in Gilead.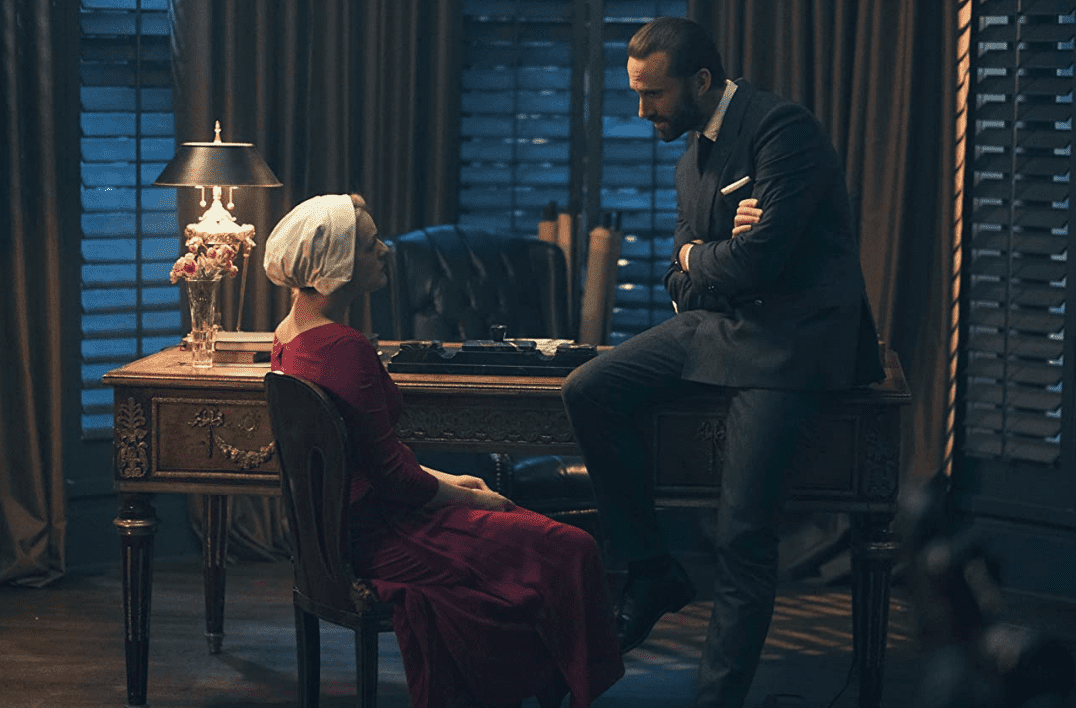 Just as June seems to make some personal connections with Fred and make headway in her mission, she finds that Emily has been arrested by The Eye – not for her connection with Mayday, but for her homosexuality. During Emily's disappearance, June continues her mission with Fred and later reunites with her friend Moira (Samira Wiley), whom she knew before the fall. Moira is also with the resistance, leaves an important bundle of letters about the treatment of women in Gilead with June, and later escapes to Canada.
Despite numerous "ceremonies" to conceive, June still has not fallen pregnant. Serena admits that this could be because of Fred's potential infertility, so she devises an illegal plan for June to get pregnant with Nick (Max Minghella), the Waterford's driver. Although Nick's duty as a driver is to report to The Eye, he's a survivor, not a believer, and eventually Nick and June fall in love, and June becomes pregnant.
We learn that June had a husband and daughter before The Fall. June was captured during their escape to Canada, her husband Will (O-T Fagbenle) successfully fled, and their daughter Hannah (Jordana Blake) was tragically captured and placed with another family.
In Gilead, pregnant handmaids must give their babies up to their commanders, then move on to their next-assigned commander. As punishment for trying to take back her baby and attempting suicide, handmaid Janine (Madeline Brewer) must be stoned to death by the other handmaids. In an act of resistance, June refuses to cast a stone, inspiring the rest of the handmaids to drop their stones as well, ending the season with empowerment and trepidation.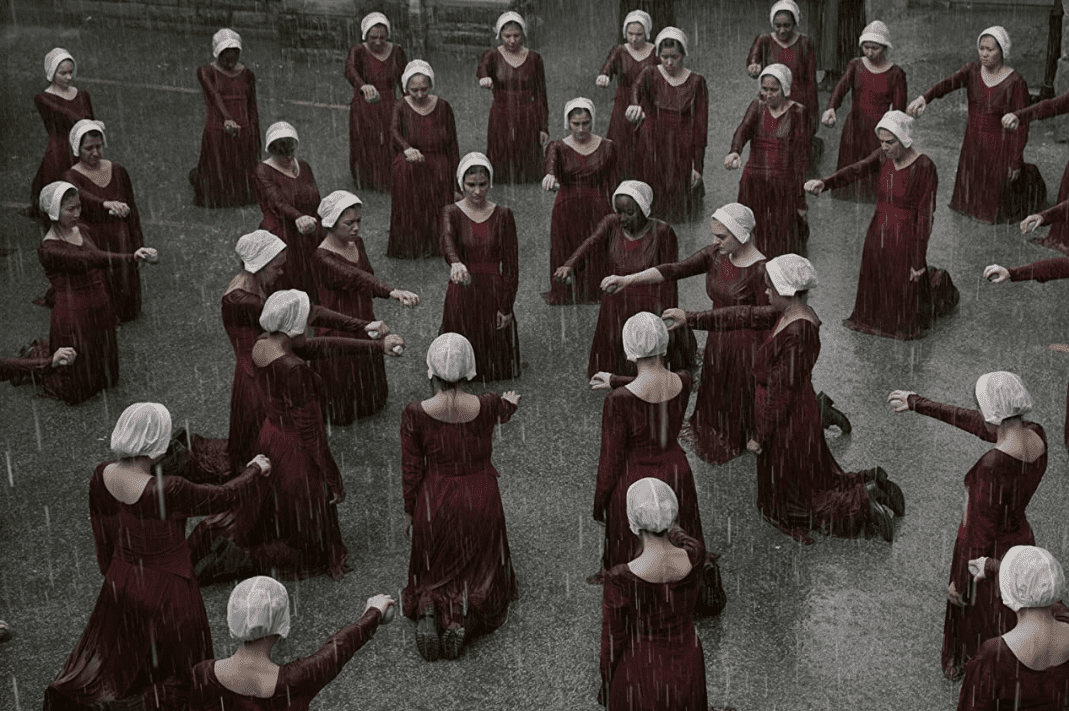 Season 2 Recap
Key Episodes
S2, E1: "June"
S2, E4: "Other Women"
S2, E10: "The Last Ceremony"
S2, E12: "The World"
After refusing to cast their stones on Janine, the group of resistant handmaids is put under the charge of The Aunts for intense punishments, and because she is pregnant, June is spared from the worst of them.
Nick hatches a plan to break June out and help her flee to Canada, but unfortunately, the escape is foiled. Nick covers up his involvement in her escape and is rewarded with an extremely young wife, who eventually is executed for falling in love with a guard.
Fred, Serena, and Nick take a diplomatic trip to Canada, where we learn that despite the rest of the world's denouncing of Gilead, it is still a powerful global force with valuable military and trade resources. Nick connects with Luke, who is protesting Gilead nearby; informs him about June; and passes off that bundle of letters, which Moira and Luke later post online. Meanwhile, Serena befriends an ex-U.S. agent Mark Tuello (Sam Jaeger), who has been exiled.
Nick arranges a secret and very brief meeting between June and her daughter Hannah. After being taken away, June finds herself unsupervised near the Canadian border and tries to take her chance to escape, but she goes into labor and ends up delivering the baby alone. Unable to trek through the snow with a newborn, June returns and gives her new daughter, Nicole, to Serena.
After surviving a bombing by a resistant handmaid, Fred is too injured to work, so to keep the household afloat and out of trouble with The Eye, Serena secretly does his work for him and enlists June's help. Upon his return, Fred punishes Serena, inspiring Serena to begin a movement among the commanders' wives, only causing her to be punished again.
June makes another attempt to escape with the help of the house's Martha (indentured servant), Rita (Amanda Brugel), this time with newborn Nicole. Serena catches them but ultimately lets them go so Nicole can escape. The escape plan takes June through the Martha network out to The Colonies, where we reconnect with Emily. Since her disappearance, Emily worked in The Colonies; was reassigned to a sympathetic commander, Joseph (Bradley Whitford); stabs Aunt Lydia (Ann Dowd); and is now escaping as well with the help of Joseph.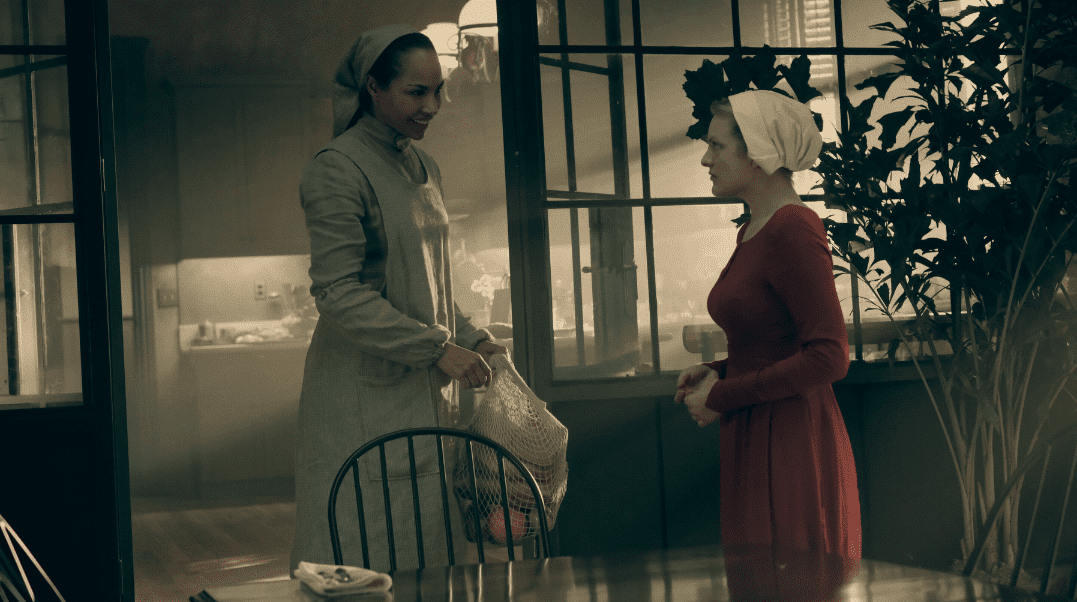 June and Emily are in the process of escaping, but – unable to leave without Hannah behind – June gives Nicole to Emily as they drive away to Canada.
Season 3 Recap
Key Episodes
S3, E1: "Night"
S3, E5: "Unknown Caller"
S3, E11: "Liars"
S3, E13: "Mayday"
After Serena sets the Waterford house on fire, June is transferred to a new commander, who happens to be Joseph. Although sympathetic, Joseph is not part of the resistance, but he doesn't seem to mind June's efforts to conspire with the house's Marthas so long as he can't be tied to any illegal activity.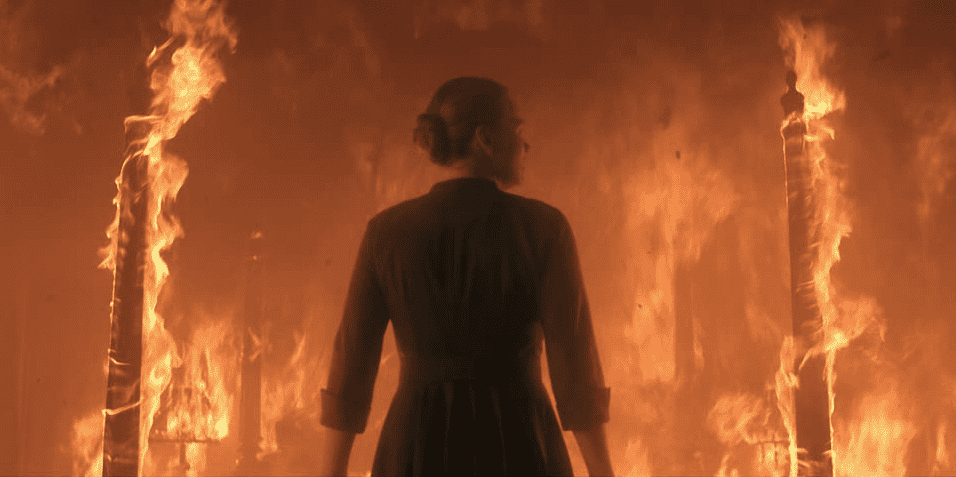 Emily and Nicole make it across the border and reconnect with Luke and Moira. Upon seeing a video of Nicole in Canada, Serena regrets her decision to let Nicole go, and the Waterfords team up with High Commander Winslow (Christopher Meloni) and start a campaign asking for Canada to return Serena to her home. This fuels a falling out between June and Serena and reignites Serena's affection for Fred. This campaign, however, is only a front, as having a child in Canada gives Fred greater political power.
With the help of newly befriended Eleanor (Julie Dretzin), Joseph's wife, June finds out which school Hannah goes to. Unfortunately, Hannah is then transferred to a different school under extreme secrecy, but June doesn't relinquish her efforts; instead, she is inspired to free all of the handmaids' children.
After being forced to perform a Ritual together by Fred and Winslow, Joseph agrees to join the resistance, which helps June's mission to smuggle children out of Gilead on a soon-to-arrive supply plane. While smoothing out the details of this plan, June is recognized by Winslow and ends up killing him. Housekeeping helps take care of the body.
Luckily for June, Winslow's disappearance is overshadowed by another news headline: Serena, who was aware of Fred's deception, gives him up, thanks to her connections with the CIA, in exchange for visitation rights with Nicole, but ultimately finds herself in trouble too for essentially forcing June and Nick to conceive.
Under the cover of nightfall, June leads handmaids, Marthas, and over 50 children to the airport to escape. June sacrifices her freedom and safety once again by distracting a security guard and leading him through the woods. She is shot by the guard but is able to shoot and kill him as the plane takes off for Canada.
Other quick points worth remembering: (1) Aunt Lydia survives her incident with Emily, which has made her crueler than ever; (2) June and Nick reunite briefly before he is sent to eliminate rebellion efforts in Chicago as part of his new promotion; (3) To avoid suspicion and for the sake of her mission, June decides to let Eleanor die of an overdose, even though she had time to call for help.
Season 4 Recap
Key Episodes
S1, E2: "Nightshade"
S1, E6: "Vows"
S1, E7: "Home"
S4, E9: "Progress"
S1, E10: "The Wilderness"
June survives her wound and is helped by some fellow handmaids. Now fugitives, the handmaids discover the Safehouse, an estate in the middle of nowhere owned by Commander Keyes (Bill MacDonald), who is senile and unaware of the goings-on in the house. His teenage wife Esther (Mckenna Grace) is a supporter of the resistance and is happy to host them.
To stay hidden, June then moves to a nearby estate that ends up being a huge brothel for Gilead officials. June suggests killing them while they're under one roof. With the help of Esther, they poison the party-going commanders.
Unfortunately, The Eye catches up with June, where she reunites with Nick, who promises to help her as much as he can despite his leadership position. June is carted away to a serious prison, where she is tortured into giving up her fellow fugitive handmaids, who escaped before she was captured. When physical torture doesn't work, The Eye threatens Hannah, so she sacrifices the handmaids in exchange for her daughter's safety.
Later, June and the fugitive handmaids are put together in a van but manage to overthrow their supervisor, Aunt Lydia, and make a break for it, aiming to cross the train tracks right before an oncoming train approaches – but only June and Janine make it. June and Janine eventually end up in Chicago, which looks like a war zone featuring Gilead and the resistance.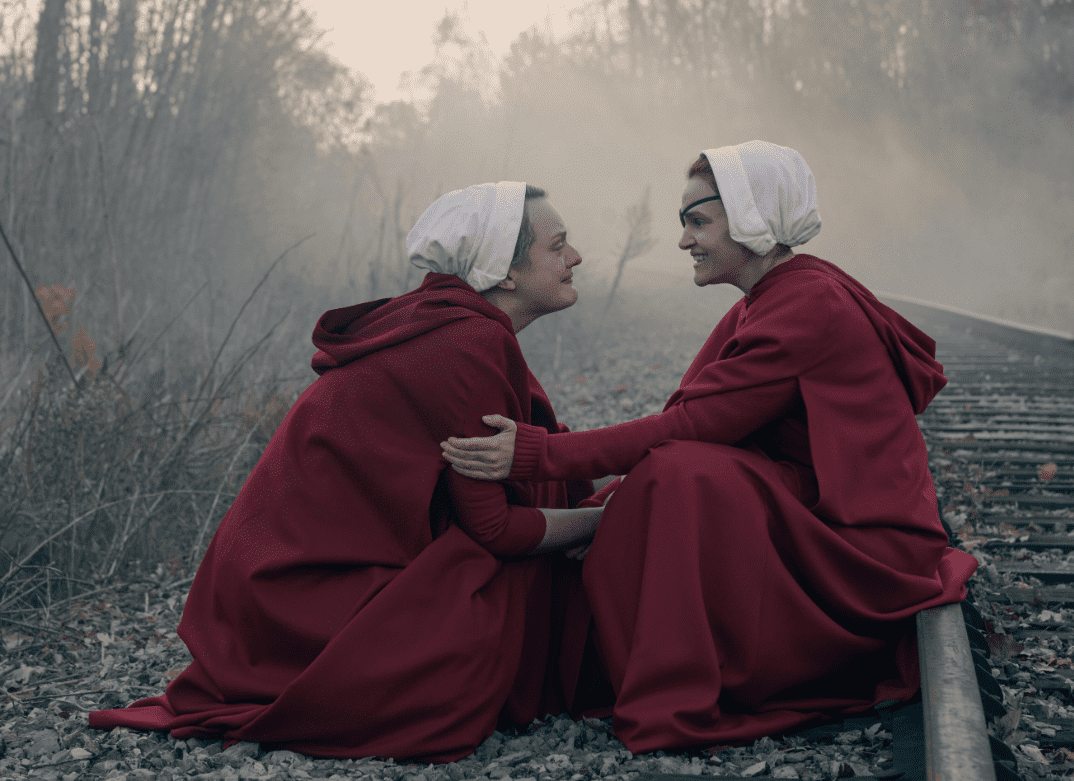 Meanwhile, Joseph is under suspicion of The Eye, but he avoids execution and is instead given the title of consultant and is responsible for easing diplomatic tensions in Chicago. Despite his efforts, the other commanders do not agree with his proposals.
Desperate to be reinstated after being forced to retire after June's most recent escape, Aunt Lydia attempts to blackmail Joseph, who uses her blackmail on other commanders to help them both regain their positions of respective power.
Then, after a bombing in Chicago, June is left severely shell-shocked but alive. Fortunately, humanitarian aid arrives, and she is reconnected with Moira, who transports her to Canada, where she is reunited with Luke, Nicole, and Emily. June cannot shake her trauma or anger and, in a Gilead survivors' support group, begins crafting her next plan to take down Gilead.
June then testifies against the Waterfords for their actions. Fred offers to become an informant and trade information for his immunity (leaving a pregnant Serena behind), which enrages June, leading her to team up with Agent Tuello.
June and Tuello meet up with Joseph and make a deal: 20 prisoners for Fred's return. Fred is then taken back to Gilead, but before he arrives, Nick leads him into the woods, where June and her fellow support group members eventually torture and beat him to death.
June returns home to Luke and Nicole and, upon recognizing Luke's disturbance with her brutality, decides to leave.
Other quick points worth remembering: (1) June helps Esther get her revenge on one of the guards who assaulted her; (2) In prison, June is reunited with Hannah, who doesn't recognize her because she was so young when they were separated from each other; (3) Nick arranges a secret rendezvous with June where they share a passionate kiss (despite his involvement in her torture); (4) Janine survives the Chicago bombing but is captured and paired with recently demoted Esther, who is now also a (very reluctant) handmaid; (5) June sends Serena Fred's finger.
What's Next for 'The Handmaid's Tale'
"The Handmaid's Tale" has been renewed for a sixth and final season, as confirmed by the show's creator, Bruce Miller, days before the season five premiere, so stay tuned to see how it all ends.