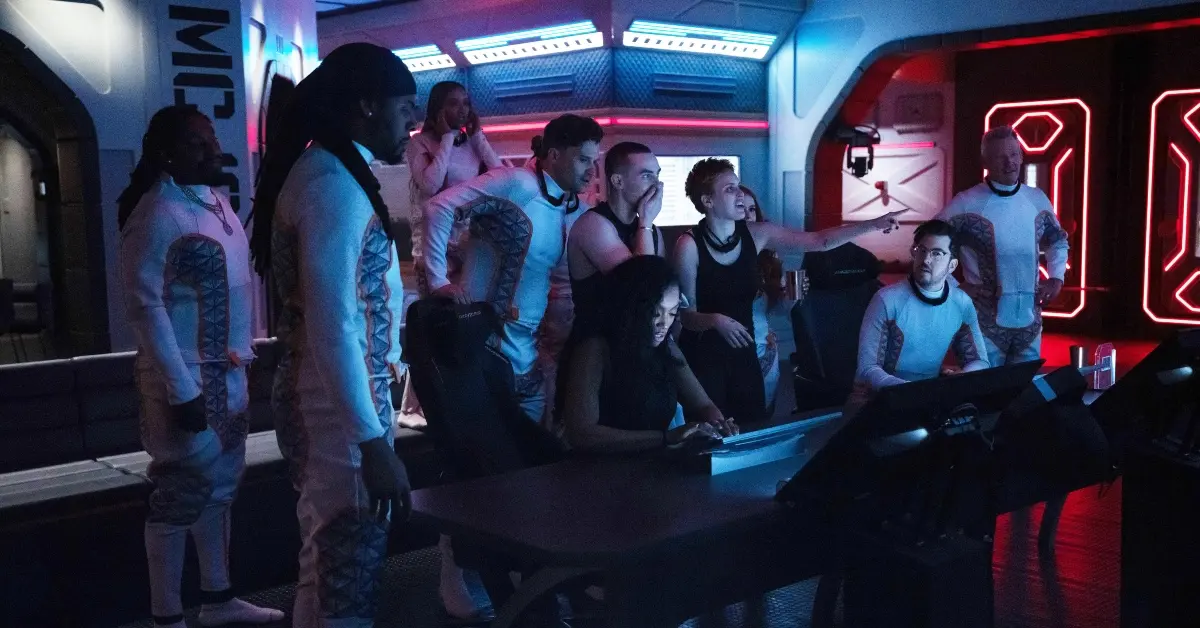 In "Stars on Mars," celebrities pit their strengths and wits against the brutal conditions of a completely fake mission to Mars. Eliminations happen every episode, and only one C-lister will ultimately earn the title of "Brightest Star in the Galaxy." Who has the upper hand after the premiere? Read on for our weekly rankings, from the most to least likeliest to extend their stay on this faux Mars.
1. Marshawn Lynch
Last week: 
Marshawn won the job of Base Commander in the premiere episode. Well-liked, athletic, and with Richard Sherman as his right-hand man, he looks like a clear favorite right now.
2. Richard Sherman
Last week: 
Showing up with a pal feels like it should be against the rules. We found out in the premiere that Base Commanders will choose who gets eliminated, which means "Survivor"-like alliances are going to matter. Richard and his old Seattle Seahawks teammate Marshawn Lynch have an existing friendship, and that instantly puts everyone else at a disadvantage.
3. Porsha Williams Guobadia
Last week: 
The "Real Housewives of Atlanta" star was the first person declared safe from elimination by Base Commander Marshawn after the emergency challenge. It's a strong start for someone who I think is taking this game pretty seriously.
4. Ronda Rousey
Last week: 
Ronda has been smart about socializing early on. She gets the "Survivor"-like aspects of this game, and she seems like a real threat to go deep into the series.
5. Lance Armstrong
Last week: 
Lance carries himself with the easy charm and confidence of a man half his age on a show twice as good. I think he's going to be a relatively popular guy and a real asset in challenges. But going on the show strikes me as a real image-rehab move for ol' Lance, who had a bit of a fall from grace a few years back. That makes me wonder if he's willing to slum it when things inevitably get less dignified in the Martian habitat. You can't win reality TV with grace. We know Lance can play dirty, but will he pull out all of the stops for this goofy game show? I think I speak for all of us when I say: I sure hope so.
6. Tinashe
Last week: 
I'm pretty sure that Tinashe is the least-famous person on this show, which is an incredible accomplishment.
7. Tallulah Willis
Last week: 
I take back what I just said about Tinashe: Tallulah Willis is absolutely the least-famous person on this show. It is not quite fair to say Tallulah is only famous for being the daughter of Bruce Willis and Demi Moore. This is because she is actually not famous at all, for that or for anything else. As the "Mission Specialist" this week, Tallulah was immune from elimination in episode one, but that also means that we haven't really seen her in action yet. Consider her a big question mark heading into episode two.
8. Natasha Leggero
Last week: 
Natasha avoided the bottom three, but she didn't really make her presence felt in the premiere. She needs to earn more screen time on our TVs and more allies on fake Mars.
9. Tom Schwartz
Last week: 
The reality TV veteran was on the brink of elimination in the premiere, and could easily have been the one sent home. It's an awfully slow start from someone who should know better. After all, he's from "Vanderpump Rules."
10. Ariel Winter
Last week: 
Winter provided the high point of the first episode by mixing up Lance Armstrong, former world-famous cyclist and current reality TV show contestant, with Neil Armstrong. The latter, of course, most people may know from his work as the first guy to walk on the moon. Ariel is not operating at a championship level right now. She needs to get her Armstrongs straight and get serious.
11. Adam Rippon
Last week: 
Adam risked being "extracted" from the habitat as one of the bottom three in the premiere's critical challenge. Like some of the other weak performers, he did a little too much standing around. Getting out of the way might help the team finish tasks more quickly, but it isn't doing anything to help Adam's odds of sticking around.
---
Eliminated: Christopher Mintz-Plasse
Last week: 
Poor McLovin was booted in the series premiere. Things move fast on Mars, and Mintz-Plasse just couldn't get out of the gate cleanly.