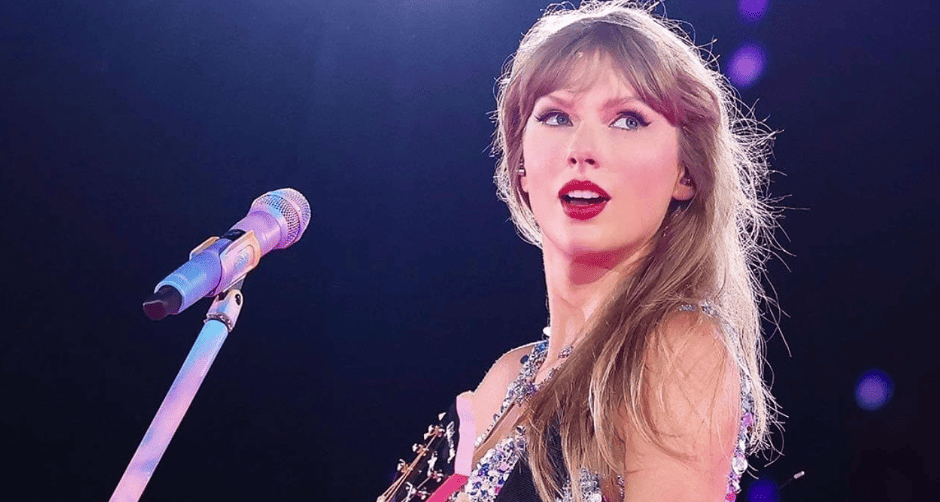 Swifties will remember Nov. 15, 2022, as the Ticketmaster debacle. For some of us, like myself, we were stuck at work and didn't have the time to step away and purchase tickets before they were gone — and they were gone fast. Then there were others, like my fiance who wanted to surprise me with seeing my favorite artist live, who had to deal with the nightmare that was Ticketmaster's never-ending technological glitches.
Many frustrated fans — my fiance included — wound up without a concert ticket secured. The site wasn't equipped to handle that many people purchasing tickets simultaneously — but that's what happens when a pop star finally goes on tour after five years.
The Eras Tour originally only had 27 shows, but Taylor Swift's show was in such high demand that she added more dates. The tour turned into an event bigger than anyone imagined and has become a cultural phenomenon. Concertgoers dressed up in their favorite Swift era and draped their arms with friendship bracelets to trade. They arrived at stadiums hours or even days before the concert and made new friends throughout the night. Our love for Swift brought many of us together for an experience of a lifetime — if we could afford the tickets.
I've never seen Swift live in concert, so the "Taylor Swift: The Eras Tour" film was a groundbreaking announcement, and it didn't disappoint! I saw the film in theaters during opening weekend and chatted with fellow Swifties as we lost our minds over Swift's incredible performance on the big screen. Let me tell you: It felt like I was actually seeing Swift live in concert.
A More Affordable, Live Concert Alternative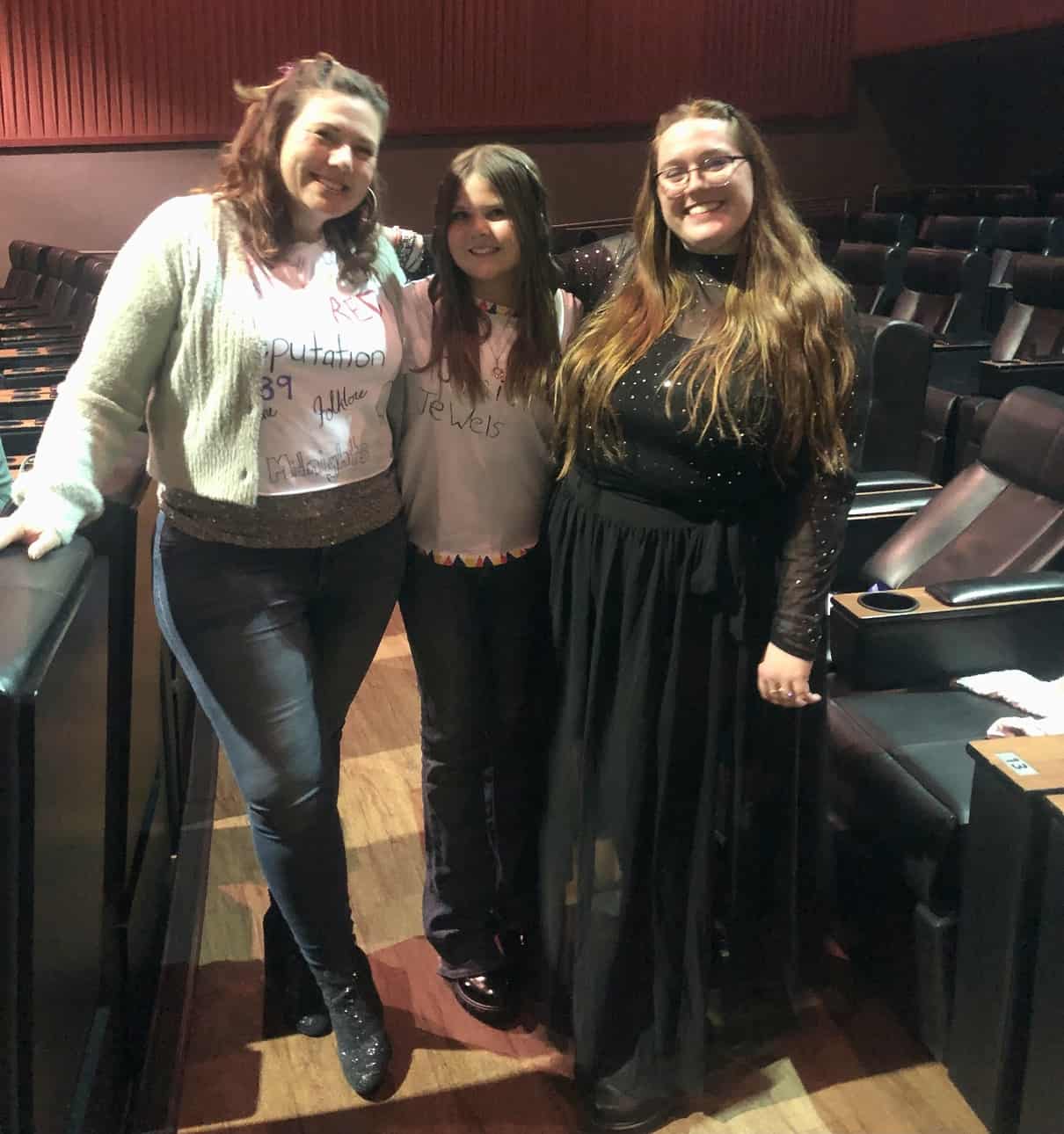 Attending your favorite artist's concert is something that everyone should do at least once — to feel the anticipation of hearing your on-repeat songs, singing the words in tandem with the artist, and dancing with friends for hours on end. The best part is that it's a judgment-free zone because everyone is there for the same reason. But with ticket prices skyrocketing, many of us can't afford to see our favorite artists live. I'm 100 percent in favor of concert movies now that I've experienced the trials and tribulations of snagging concert tickets. Because of the movie, I didn't feel I was missing out on the Taylor Swift experience.
Taylor Swift is still making a killing with movie ticket sales. The first weekend of the Eras Tour movie brought in $92.8 million domestically and $123.5 million internationally. Meanwhile, she's bringing the concert to those who can't afford to see her live — a $13 movie ticket versus over $1,000 for a concert ticket. While Ticketmaster was selling tickets from $49 to $499 depending on seating and without a VIP package, the resale value easily shot up to over $1,000.
Juliet, a mother at the movie theater on Friday night with her daughter Leslie and cousin Katie, replied, when asked if they had seen Swift in concert, "Heck no. We can't afford it. That's why we're here. We're huge fans." She laughed, "It's the Eras Tour on a budget." Luckily for these three, their favorite songs, "Our Song," "All Too Well (Taylor's Version)," and "Shake It Off," were in the movie.
This family wasn't the only one dressed up for the event. The movie theater lobby bustled with rhinestones, cowboy boots, cardigans, shaggy coats, and friendship bracelets, which were swapped in concession lines, as well as before and after the movie. During my conversation with Juliet and her family, seeing that I didn't yet have a bracelet on my wrist, Leslie gave me a lavender-beaded one. It was a rite of passage for any Swiftie and concertgoer, and I was finally in their ranks.
"'It's the Eras Tour on a budget.'"
To say you could spot who was there for the Eras Tour movie would be an understatement. We were everywhere — and yes, I dressed up too! I couldn't decide on an era, so I combined a few of my favorites. I'd put on sparkly white cowboy boots, a rusty orange skirt that gave off "Folklore" and "Speak Now" vibes, and a forest green flannel that reminded me of "Evermore." And who could forget Swift's trademark cat eye?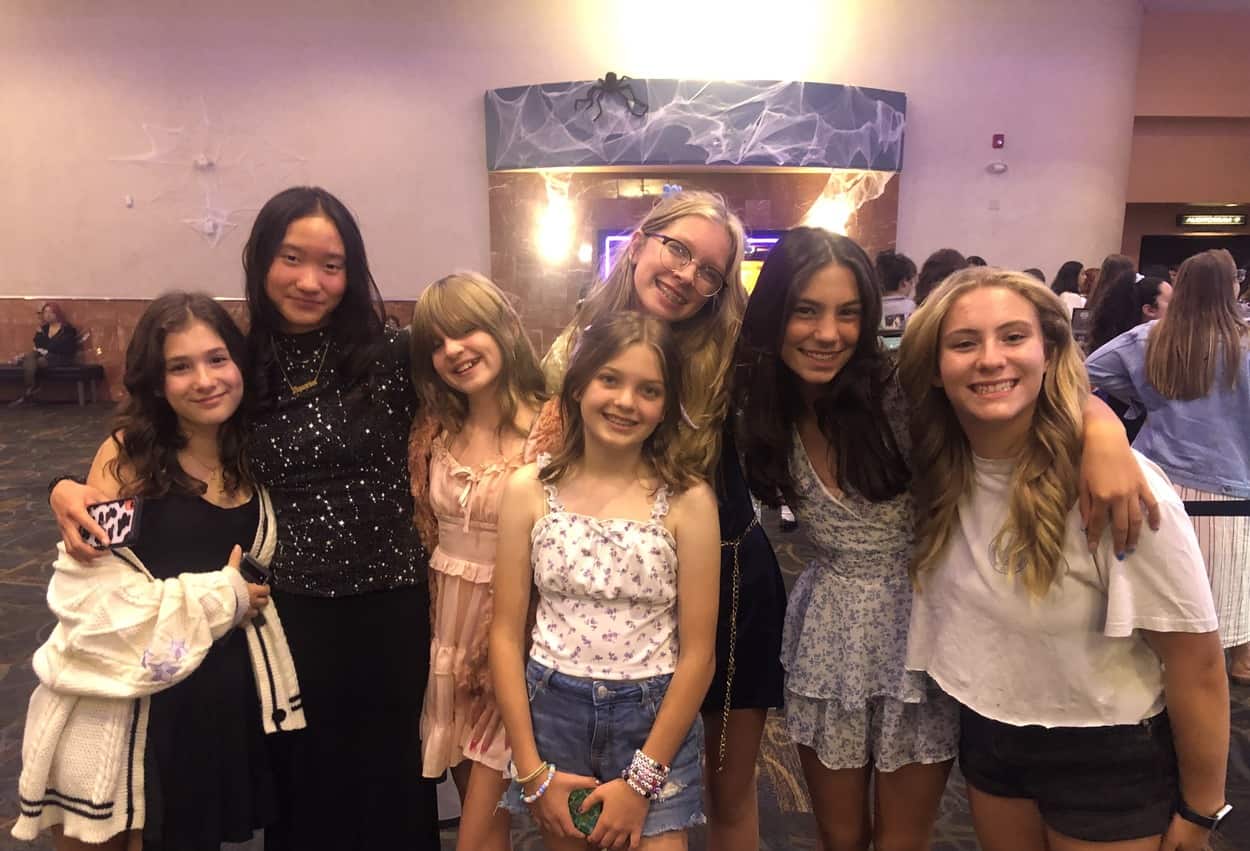 There was one group of middle school-aged girls, all dressed from different eras, in the concession line behind me, with one of their dads also dressed up. He wore a black suit with sunglasses, and I nicknamed him "Bodyguard Dad." He said the girls didn't get the opportunity to see Swift's concert and were really disappointed. The family had been out of town when Swift was in their area, but it was his daughter's birthday, and "the movie was the next best thing." Plus, I'd imagine taking seven girls to the movies was more affordable than taking seven girls to a concert!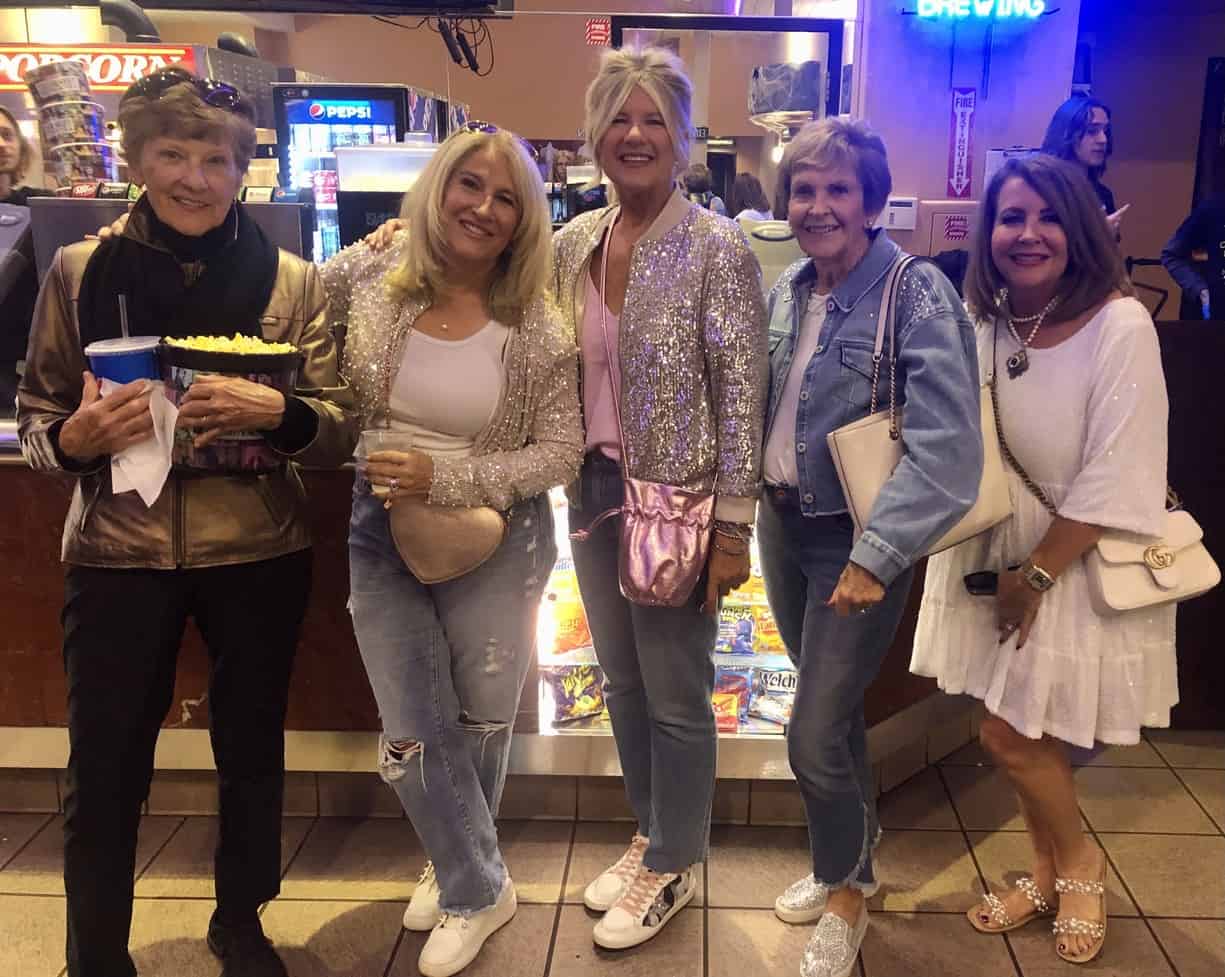 While most of the audience was younger, they weren't the only demographic coming to the theater to see Swift. A sequined group of older women were getting wild at the concession stand, purchasing adult beverages with their popcorn. I spoke to one of them, Cammy, who said, "My mother, who's 80 years old, sent me a text and said, 'Cammy, tickets for the Taylor Swift … movie are going on sale tomorrow. You should get tickets.' I said, 'I'm getting five tickets, and we're coming to see this flippin' concert.' We've got our sparkle on, and we're ready."
Cammy and two friends (who are sisters) and their mothers, who have been friends since they were teenagers, all came to see the movie together. The women had never seen Taylor Swift in concert before and were excited about finally having the opportunity to do so by watching the movie. The positive, radiant energy that poured off these women was infectious. They were so excited to be there and dressed to shine.
Swift is popular among all age groups because she's transparent with her audiences and sings about relatable experiences. By having a concert movie, Swift is including fans who may not be able to handle the energy and late nights of seeing a concert live. Mary, another moviegoer, said, "Her music is positive, even when it's moody. She has a positive energy about her."
The screening room was quieter than the lobby. The Regal Cinema theater had recently updated seating from stadium fold-down seats to spacious recliners, providing enough space so that you didn't feel like you were being packed in like sardines — which is my least favorite part about going to a live concert. Before the movie started, people talked about their favorite songs and traded bracelets. I enjoyed the Swift-themed pre-movie entertainment: a look at Swift's fashion throughout her career, as well as Swift trivia. It's worth it to get there early just for simply meeting and bonding with fellow Swifties over which songs we listened to in the car on the way to the theater. Bodyguard Dad and the seven girls were listening to "Getaway Car."
"By having a concert movie, Swift is including fans who may not be able to handle the energy and late nights of seeing a concert live."
Just like a live concert, you could feel the energy in the room, and when Swift appeared on screen for the first time, the room erupted into excited screams and applause. Everyone was singing along and applauding their favorite songs. The screen's incredible visual effects made you feel like you were there. I was stunned by the snake graphics for the "Bad Reputation" set and fell in love with the cabin created for the "Folklore" set.
Every time Swift sat at a piano or picked up a guitar, her eyes lit up — something I might've missed if I had a last-row seat at a concert. Her love of music and sharing it with others was evident on her face — even if she wasn't actually there in person. One of my favorite moments of the evening was the elderly man to my left singing and dancing to "Shake It Off" — and he nailed it! He may have been singing softly with his wife beside him, but he knew every lyric.
More Concert Movies, Please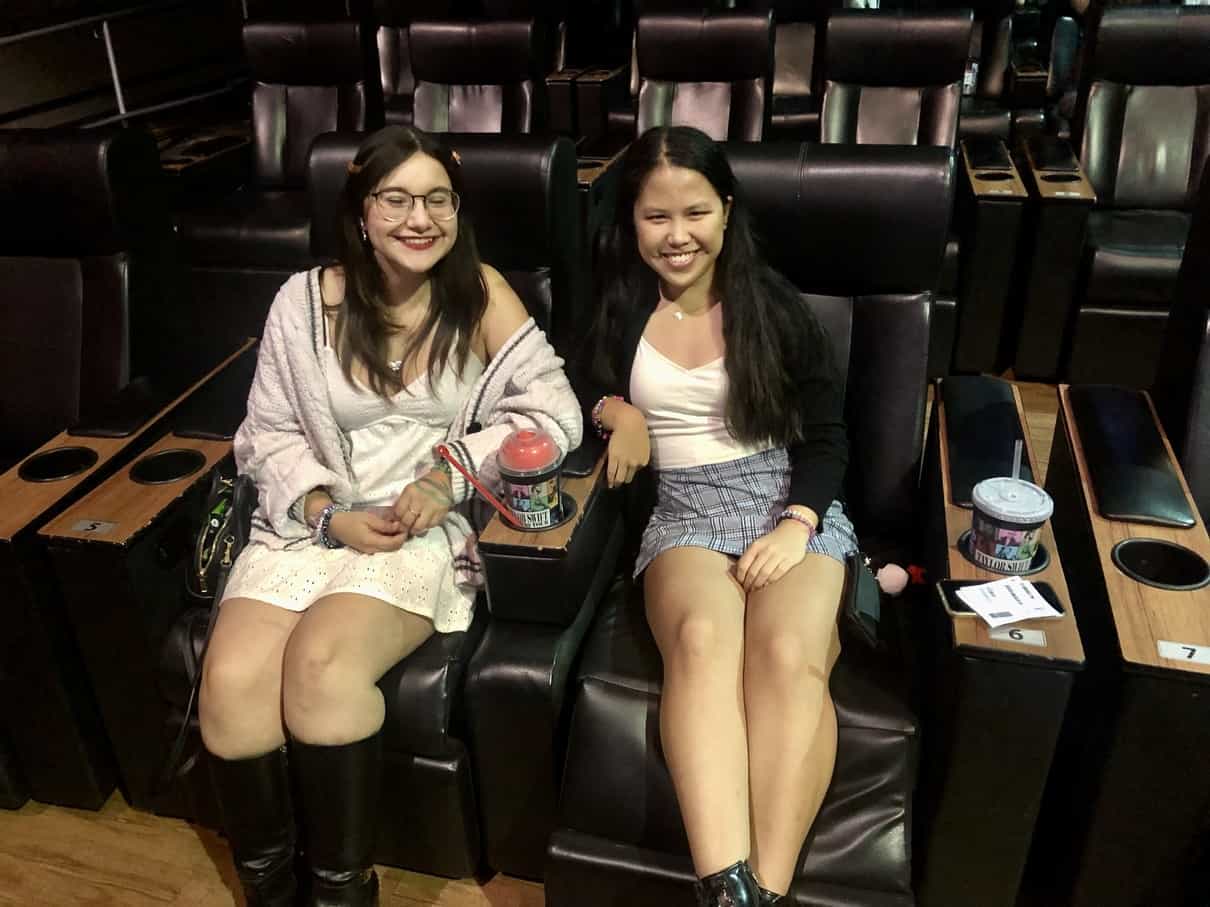 Out of everyone I spoke to, only one person had seen her in concert. Roslyn had attended Swift's Reputation and Eras tours and was back for more. She said, "I wanted to see it again. It was that awesome." Roslyn brought her friend, Kylee, with her, who had never seen Swift live.
The special edition Eras Tour popcorn bucket was a cute addition to the evening. Moviegoers with Swift tickets could get one — and yes, I had to get one. As much as I loved this, they could've sold more Swift merchandise. If they'd sold concert tour shirts, I might've gotten one. But a popcorn bucket had to do, especially because it was cheaper than official merchandise. Tour shirts started at $40 and only went up from there. A "Bejeweled" bracelet cost $35, and the popular tour hoodie was a whopping $75. Meanwhile, the popcorn bucket was only $14.99 (the cost of a streaming service subscription).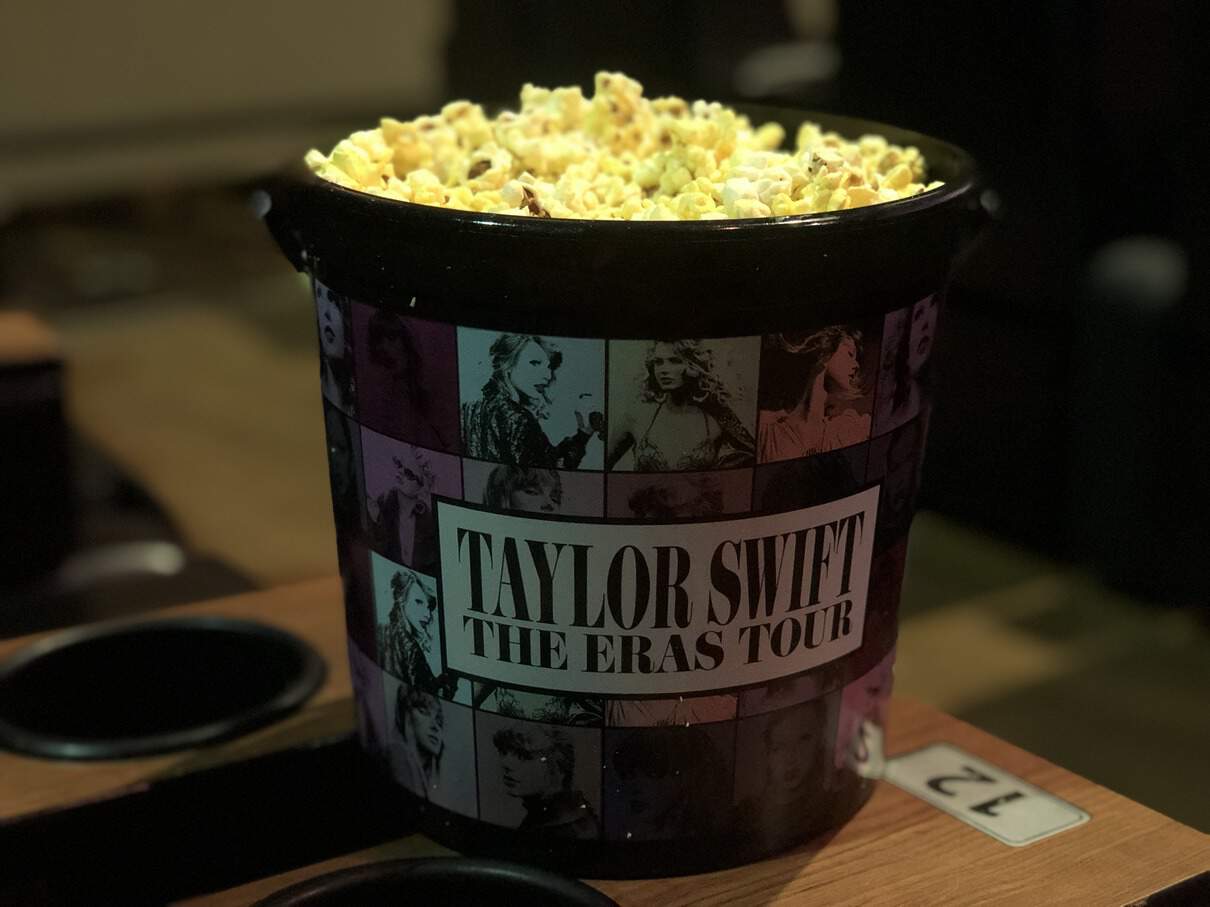 I've never been a huge concertgoer, but Swift is an artist that I really wanted to see live. My experience with the "Taylor Swift: The Eras Tour" movie made me feel like I did go. I got to dress up and meet other Swifties. I traded friendship bracelets (thanks again to Leslie for getting me started!) and I sang along to songs. I also didn't have to deal with having my personal space invaded or strategizing my exit. Personally, I'll be keeping an eye out for more concert movies.
Every time Swift picked up an instrument, I was reminded that she isn't just a singer; she's a talented woman who plays several instruments and writes her own songs. Swift loves her music, but more than that, she loves sharing it with her fans. It's this special relationship she shares with us Swifties that influenced her to produce the concert movie. After all, Swift originally only had 27 tour dates and ended up doing 52 shows — and even that wasn't enough for us.