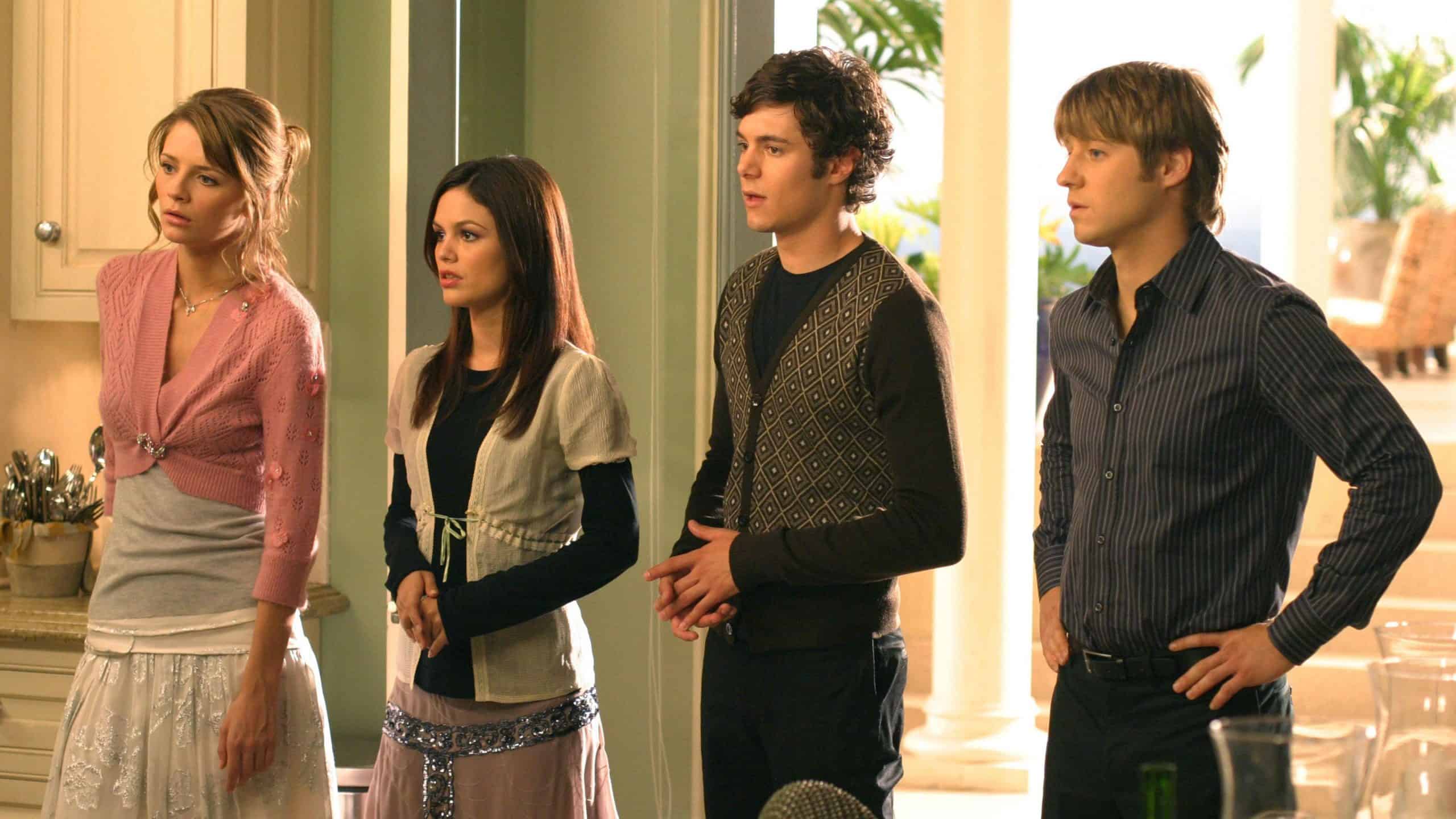 I was nervous when I hit play to watch the premiere of "The O.C." Season 2. Second seasons are tricky, and in my estimation after rewatching it, Season 1 was pretty stellar and hard to beat — funny, touching, and authentic. But when Season 2 opened with a shirtless man climbing down a ladder as though descending from the heavenly clouds above, my nerves abated and I was soon solidly back in the world I'd fallen in love with the prior season. Season 2 builds handily and successfully on already-established relationships and throws in some great (and not-so-great) new characters to complicate matters a bit. Herewith, my hot and heartwarming takes on the 24 awesome episodes of "The O.C." Season 2.
An Introduction to Season 2

Funny from the start, largely due to Seth (Adam Brody), Season 2 had me laughing out loud, maybe even harder than Season 1! From Seth drunkenly rolling across the hood of a car, claiming to be "stealth," to Alex (Olivia Wilde) walking in on Julie (Melinda Clarke) watching herself in a naughty video she'd made decades before, to Ryan (Ben McKenzie) telling Alex, "If you have to work this hard, it's not working," the quick wit and priceless moments this season are forces to be reckoned with. I wasn't quite sure what to do when Summer (Rachel Bilson) accidentally punched Zach (Michael Cassidy) in Episode 21 — my gasp quickly dissolved into more laughter.
Season 2 is darker than Season 1 too, and we see that immediately: In the premiere, Marissa (Mischa Barton) goes into a rage against her mom and throws furniture in the pool. It made the hair on my arms stand up! Meanwhile, when Caleb (Alan Dale) reveals (during Chrismukkah of all times) that he had an affair and has an illegitimate daughter, prompting Kirsten (Kelly Rowan) to slap him followed quickly by a slap from Julie, I realized I was holding my breath. Then I dissolved into tears when Seth stopped his very intimidating grandfather from approaching Kirsten for further discussion of this bombshell.
In these episodes, Caleb is even more diabolical than he was in the first season. His coldness in calling Julie a whore, when he discovers some of her past gaffes, makes even the typically villainous Julie look soft and cuddly. He really made my skin crawl! Similarly, I was immediately uncomfortable when Trey (Logan Marshall-Green) returns in Episode 17. I wasn't sure why; I just knew that I should be.
But what I noticed most about Season 2 is its honesty in showing that most of the characters' conflicts arise because they are on a quest to form some sort of familial bond. That bond may be with a blood relative or, as in most circumstances, with a non-family member in hopes they'll fill a family-like role. This theme drives Season 1, of course, with Ryan's integration into the Cohen family, and in Season 2, we see this overarching concept of family break into mini-narratives all over the place.
The primary lesson I derived from Season 2 is the importance of being in a family, even — especially, perhaps — if it's not the family you were born into. No one exemplifies this in Season 2 more than Lindsay (Shannon Lucio), Marissa, and Alex.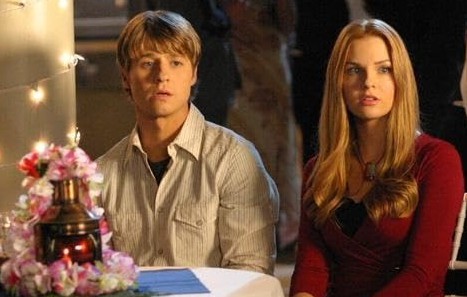 From the very start of "The O.C." Season 2, Lindsay Gardner didn't seem like the right girl for Ryan. They were not without chemistry, but I was reading that chemistry as more of a sibling bond. I had good instincts! It turns out that they are "siblings" of a sort. It is revealed on Chrismukkah that she is the daughter of the woman who Caleb had an affair with 16 years before, and so presumably is also his daughter. That makes her half-siblings with Kirsten, the woman serving as Ryan's surrogate mother. So that, in turn, makes Lindsay Ryan's…aunt?!
After this crazy revelation, Lindsay and Ryan decide they shouldn't date. It is too important to both of them that Linsday have the opportunity to bond with her new father and half-sister without the complication of a romance with another sort-of family member. No one understands how vital it is to have family, not to mention how hard it is to crack Caleb's tough exterior, more than Ryan.
Lindsay's story nicely parallels Ryan's in terms of seeking acceptance from Caleb, arguably the true patriarch of the Nichol/Cohen steed. When Ryan tries to assist Lindsay in getting to know Caleb better, Caleb, true to form, accuses both of them of just wanting access to his money. (Far from the truth! Lindsay couldn't care less about the Orange County lifestyle and optics.)
Despite this, and even after she knows that Caleb might not even be her biological father (though he is, as it turns out), Lindsay still wants to be part of the family, simply for the sake of having a family. It's hard to blame her for that.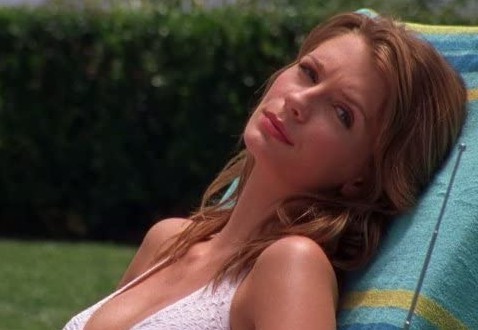 Poor Marissa. While I don't remember much of "The O.C." from my first viewing 20 years ago, I do remember Marissa's ultimate fate, so it's interesting to rewatch and notice the accumulation of events that wreak havoc in her life and make it nearly impossible for her to form meaningful bonds. In Season 1, we saw her family unit shatter — in fact, didn't she used to have a little sister who just disappeared? — and in Season 2, we see Jimmy (Tate Donovan) leave town permanently, or at least that's how it was supposed to be.
There's a moment at the end of the aptly titled episode "The Family Ties" that made me a little teary. Marissa brings bagels to the Cohen house and joins them for breakfast. It's a quiet scene, but the comfort in which they welcome her into the fold is exactly what Marissa has been yearning for. It's also the home she returns to later in the season when she can't tolerate living with Caleb and Julie any longer. All season, Marissa seeks family-like bonds wherever she can find them, which certainly results in disaster in the jaw-dropping Season 2 finale. (We'll never hear "Hide & Seek" the same way again.)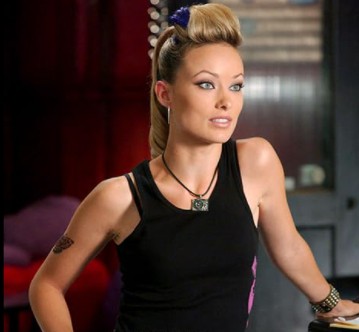 The tattooed bartender first serves as a romantic interest for Seth. Early in the season, Sandy (Peter Gallagher) and Kirsten are concerned about Seth's behavior in the wake of his runaway summer adventure, and Sandy approaches Alex to ask for her help in getting Seth to settle down, spewing some of what Kirsten calls "his hippie parenting psychobabble." Alex is very defensive at first, but her tough exterior melts a bit when she understands Sandy's sincerity, even admitting, "I don't have much experience with good dads." Sandy teases her a bit and says that if she wants to stop by the house, he'll ground her too. Ha! You could see that Alex yearns for someone to care enough to ground her.
When Alex ends her relationship with Seth and begins one with Marissa, it is her protective, almost mothering, nature toward Marissa that I found so moving. Their first intimate physical moment in "The Ex-Factor" was Alex covering up Marissa with a blanket, a very maternal gesture. A few episodes later, she describes Marissa to Julie as "scared and overwhelmed." She clearly wants Marissa to have the parenting that she herself lacked.
The romantic relationship between the women doesn't last, primarily because of the unshatterable bond between Ryan and Marissa, but they had a genuine connection and truly cared about each other. I hated seeing the relationship end!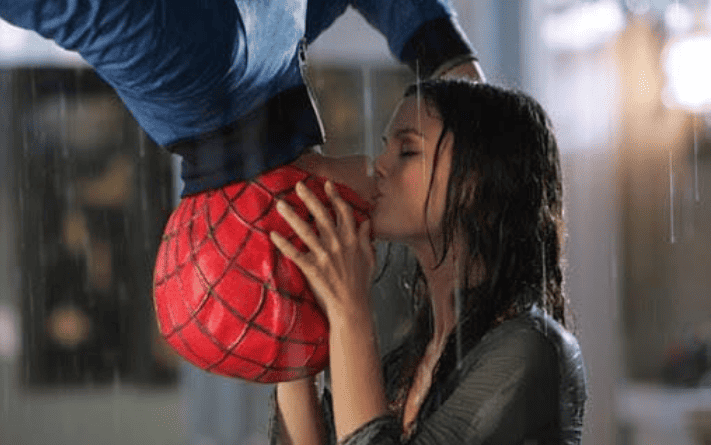 So much of the first two seasons of "The O.C." have felt like brand-new material to me, as I hadn't seen them in close to two decades. But the moment "The Rainy Day Women" started, I remembered every last moment, from Ryan and Seth gesturing at each other across the rainy backyard and eventually resorting to using the phone, to Marissa and Alex sneaking a kiss behind Julie's back in the kitchen, to Summer seeing a mini-Seth in the airport and leaving Zach behind before kissing an upside-down Spider-man (aka Seth) in the rain. The episode was an instant classic, and it made me feel warm and fuzzy and, yes, like I was part of the family.
When Summer leaves Zach at the airport, he isn't surprised. He simply acknowledges, "Can't fight fate." I agree! We should all heed this little life lesson and all "The O.C." Season 2 teaches us about family as we forge our way through these summer months. Start rewatching Season 3 and join me in a few weeks to unpack the penultimate season of "The O.C." before we hit the show's milestone 20th anniversary!