Home to Hollywood's biggest hits and original series, Cinemax takes the theater experience straight to your home. Loving Cinemax and all of its programs, like "C.B Strike: Lethal White" and "Warrior," doesn't have to mean loving cable too. It turns out you don't actually need cable to watch Cinemax. Instead, just turn on your favorite streaming device, and tune into Cinemax using one of these services.
How to Watch Cinemax Online Without Cable
Believe it or not, you can lose the cables without losing your favorite shows and movies. When you buy a skinny bundle — a streaming service that lets you subscribe and pay for the live network channels you enjoy without all that cable programming fluff — you save not only money, but also the time it takes to drive to the theater and sit through 15 minutes of previews. Choose from DIRECTV STREAM, Hulu + Live TV, Sling TV, and YouTube TV to watch Cinemax without cable. Check out all the details of these streaming services below.
Hulu has come a long way since its early days. Now more than just your standard streaming service, this innovative provider offers live TV channels through Hulu + Live TV. You can customize your skinny bundle by adding Cinemax for a small monthly charge. Check out our Hulu + Live TV review for our take on the service, or sign up for their free trial and see for yourself. Stream Cinemax with Sling TV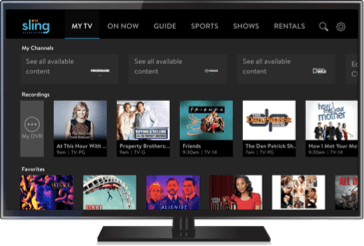 Sling TV likes to keep it simple, so if you do too, make sure to check them out. Sling TV sells two base packages that you can customize with add-on channels so that you pay only for what you want and save money. All movie lovers will be glad to know that Sling TV offers Cinemax. You can read our Sling TV review for more information.
Google is playing hardball with YouTube TV. It's an excellent skinny bundle that includes some of the best TV channels, including Cinemax. For more on YouTube TV, check out our YouTube TV review.
Can I Watch Cinemax on Roku, Fire TV, Apple TV, or Chromecast?
Knowing that you can use the streaming services listed above to watch Cinemax is only half the battle; you still need to figure out which streaming devices are compatible. We created the following table summarizing the equipment you can use to stream Cinemax:
| | Roku | Fire TV | Apple TV | Android TV | Chromecast | iOS | Android | Web browser |
| --- | --- | --- | --- | --- | --- | --- | --- | --- |
| Hulu + Live TV | Yes | Yes | Yes | Yes | Yes | Yes | Yes | Yes |
| Sling TV | Yes | Yes | Yes | Yes | Yes | Yes | Yes | Yes |
| YouTube TV | Yes | Yes | Yes | Yes | Yes | Yes | Yes | Yes |
Most Popular Shows on Cinemax
Cinemax is the gift that keeps on giving. Yes, the network mainly offers movies, but that doesn't mean its content is all the same. Some of the varied material you can find on Cinemax includes the following shows:
"The Knick"
"Quarry"
"Outcast"
"Hunted"
"Strike Back"
More to Stream for Fans of Cinemax
Cinemax is a popular network for a reason: It offers great titles of all genres for all kinds of people. But that doesn't mean Cinemax should be your only choice. Epix is like Cinemax, but it offers more TV series, a great option if you want a break between movies. Epix original titles such as "Britannia" and "Billy the Kid" feature stories full of adventure that make for great entertainment. The network also hosts historical dramas for all the history nerds out there. If any of this sounds interesting, visit our guide on watching Epix without cable for more details.
If you want more of the exclusive, top-notch content Cinemax is known for, look at HBO Max. The network carries a wide assortment of TV shows and movies. Shows like "The Gilded Age" and "Minx," for example, showcase strong female leads. If you like John Oliver, you'll be glad to know his show is also available on HBO Max. Sign up for the HBO Max free trial to see if its service is what you're looking for.