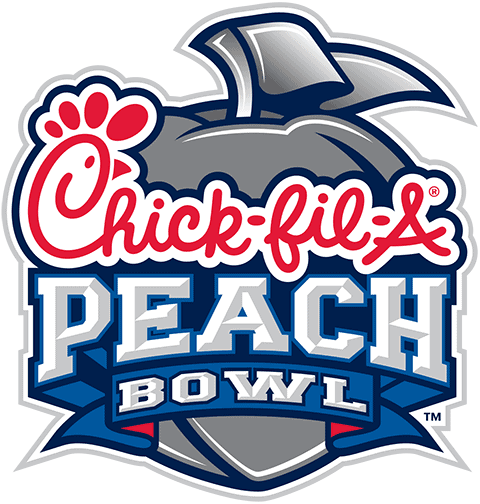 The end of the year brings more than just "Auld Lang Syne." It also brings college football bowl games, and one of the more interesting games in 2021 is the Peach Bowl. It's set to go down December 30, and we're here to tell you how to watch without a cable subscription.
When is the Peach Bowl and Where Can You Watch It?
Teams playing: (13) Michigan State Spartans (10-2) vs. (11) Pittsburgh Panthers (11-2)
Kickoff: 7 p.m. ET
Game location: Mercedes-Benz Stadium in Atlanta
Where to watch: ESPN
This is an intriguing matchup of two-loss teams. Michigan State plays in the Big Ten, while Pitt plays in the Atlantic Coast Conference, or ACC. These are both cold-weather schools, so the Peach Bowl offers them the chance to get out of the cold and enjoy some relatively mild Southern weather instead.
The game itself is technically a New Year's Six bowl, even though it's occurring two days before January 1. Technically speaking, this will be the second Peach Bowl of 2021, as the first one took place January 1 between the Georgia Bulldogs and the Cincinnati Bearcats. Georgia prevailed in a close one, 24-21.
In some years, the Peach Bowl is one of the College Football Playoff matchups. That's not the case this year, though there's still plenty of interesting things about the MSU vs Pitt game. Few people expected the Spartans to be this good, especially in new coach Mel Tucker's first year. Meanwhile, Pitt enters the game as ACC champions, led by veteran coach Pat Narduzzi. Quarterback Kenny Pickett came in third place in this year's Heisman voting, but he's decided to opt out of the bowl game, meaning Nick Patti will start at QB instead.
How to Watch the Peach Bowl Game
ESPN loves airing college football games, especially bowl games. So it's no surprise that ESPN will be the only place you can watch the latest edition of the Peach Bowl. But how can you get ESPN without cable? The answer lies in live TV streaming services, and we've got a whole list of ones that will let you access ESPN and the Peach Bowl.
You can watch the Peach Bowl via a Hulu + Live TV subscription. The live TV streaming service marketplace is a bit crowded at the moment, which may be why Hulu constantly airs those commercials reminding you it has live sports, news, and more.
fuboTV started offering ESPN in 2020, which is great news for fans of college football. That means fuboTV makes it on our list of ways to watch the Peach Bowl without cable. If you're not sure what to expect from this service, our fuboTV review can fill you in.
A Sling Orange subscription will let you access the Peach Bowl. It may help to remember that peaches are orange, just like Sling Orange. Memory tricks aside, the Sling TV channel list is an impressive one. It has plenty to watch and enjoy even when the Peach Bowl is done.
YouTube TV and Disney had a December 2021 dispute that meant channels like ESPN briefly disappeared from the service. But thanks to a Christmas miracle, or maybe just good corporate, negotiators, ESPN is back on the air now. So once again, a YouTube TV subscription will let you catch a Peach Bowl livestream.
Can I Watch the Peach Bowl on Roku, Fire TV, Apple TV, or Chromecast?
It's good to have options for watching the Peach Bowl without cable. While you can watch it on your favorite big-screen TV, you can also watch it on a mobile phone, web browser, and more. Just take a look at the chart below to fully explore your options.
| | Roku | Fire TV | Apple TV | Android TV | Chromecast | iOS | Android | Web browser |
| --- | --- | --- | --- | --- | --- | --- | --- | --- |
| Hulu + Live TV | Yes | Yes | Yes | Yes | Yes | Yes | Yes | Yes |
| fuboTV | Yes | Yes | Yes | Yes | Yes | Yes | Yes | Yes |
| Sling TV | Yes | Yes | Yes | Yes | Yes | Yes | Yes | Yes |
| YouTube TV | Yes | Yes | Yes | Yes | Yes | Yes | Yes | Yes |
More to Watch for Peach Bowl Fans
The Peach Bowl is a stellar way to wind down the year that was 2021. But once the game is over, you may want to say goodbye to this year in a more formal way. That's right, we're talking about the famed ball drop in Times Square, which means we're talking about Dick Clark's New Year's Rockin' Eve. It's now hosted by Ryan Seacrest, but it still bears the name of the late, great Dick Clark. In fact, this year will be the 50th year for the special. Head over to our Dick Clark's New Year's Rockin' Eve page to find out how to watch this end-of-year classic.