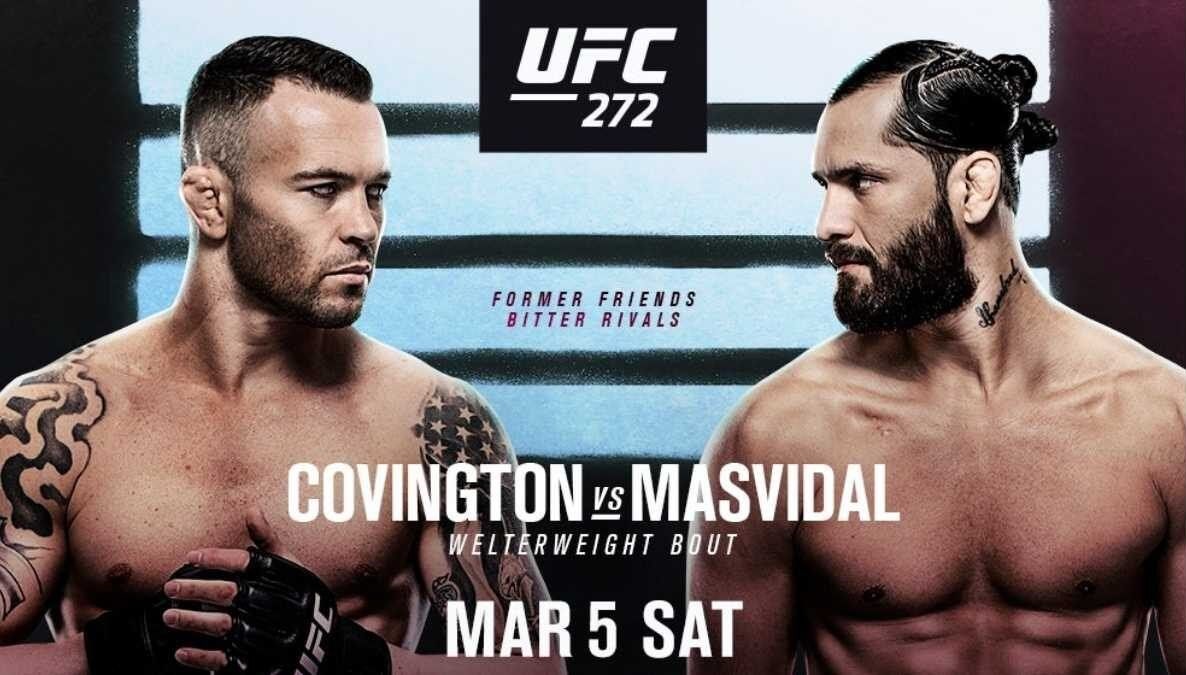 This Saturday, March 5th, UFC 272 is coming to your screen with Colby "Chaos" Covington (16-3-0) taking on Jorge "Gamebred" Masvidal (35-15-0). Both Covington and Masvidal lost their last matchups against Welterweight champion Kamaru Usman, so this bout could decide who is in line for belt contention. The last time Masvidal walked away with a win was a while ago, back in UFC 244, while Covington beat Tyron Woodley during UFC Fight Night by KO/TKO in late 2020. Both men are hungry for a win, and we wouldn't be surprised to see each of them going for an early finish.
The best part about watching UFC fights is that you don't have to have cable to enjoy all the action. Read this guide, and we will give you everything you need to know to stream UFC 272: Covington vs. Masvidal this Saturday night.
When Is UFC 272 and Where Can You Watch It
Are you ready to watch UFC 272? Get all the details about the fight below:
When is UFC 272: March 5th
Where is UFC 272: T-Mobile Arena, Las Vegas
What time does the Main Card start: 10 p.m. ET / 7 p.m. PT
What time do the Feature Prelims start: 8 p.m. ET / 5 p.m. PT
What time do the Early Prelims start: 6 p.m. ET / 3 p.m. PT
Note: You can stream the Early Prelims, but you'll need UFC Fight Pass to access those fights.
Fight Card for UFC 272: Covington vs. Masvidal
At UFC 272, you can expect to see five different major fights on the main fight card, while the preliminary card will feature four fights. Here is the UFC 272 Fight Card with all the details:
| Matchup | Weight class | Time | Odds |
| --- | --- | --- | --- |
| Covington vs. Masvidal | Welterweight | Main card | Covington -320 / Masvidal +250 |
| Dos Anjos vs. Moicano | Catchweight | Main card | Dos Anjos -165 / Moicano +145 |
| Barboza vs. Mitchell | Featherweight | Main card | Barboza +145 / Mitchell -165 |
| Holland vs. Oliveira | Welterweight | Main card | Holland -320 / Oliveira +250 |
| Spivac vs. Hardy | Heavyweight | Main card | Spivac -190 / Hardy +160 |
| Turner vs. Mullarkey | Lightweight | Preliminary card | Turner -155 / Mullarkey +135 |
| Rodriguez vs. Xiaonan | Women's Strawweight | Preliminary card | Rodriguez -255 / Xiaonan +205 |
| Negumereanu vs. Nzechukwu | Light Heavyweight | Preliminary card | Negumereanu +125 / Nzechukwu -145 |
| Moroz vs. Agapova | Women's Flyweight | Preliminary card | Moroz +155 / Agapova -180 |
How to Watch UFC 272: Covington vs. Masvidal
If you want to watch UFC 272: Covington vs. Masvidal, then you have only one option: ESPN Plus. Learn more about ESPN Plus and how to catch UFC 272 below:
You will have to have ESPN Plus to watch UFC 272: Covington vs. Masvidal. That said, the $6.99 monthly subscription cost is just to get you in the door, you're not backstage just yet. Once you subscribe (if you haven't already), you'll need to pay a $74.99 pay-per-view fee specifically to watch the UFC 272 main card. We think it's a pretty good deal, especially if a few friends chip in for the fight.
Another great way to watch the fight and get a good deal is to pair an annual subscription to ESPN Plus and UFC 272 together for $99.98. You save quite a bit this way, and you get regular access to UFC Fight Nights and many more sports events. Whichever way you go, subscribing to ESPN Plus is a no-brainer.
Can I Watch UFC 272 on Roku, Fire TV, Apple TV, or Chromecast?
No matter what device you have, you can catch UFC 272 on just about everything. Check out the following chart to find your device compatibility:
Roku
Fire TV
Apple TV
Android TV
Chromecast
iOS
Android
Web/
browser
ESPN Plus
Yes
Yes
Yes
Yes
Yes
Yes
Yes
Yes
More to Watch for UFC Fans
For us, we are big on guessing who is going to emerge supreme in each UFC fight. If you love that sensation, then you should definitely follow the NCAA basketball tournaments coming up this March. Read our guide on how to watch March Madness for more details.
While it may not be the one-on-one fighting action of the UFC, you should also consider checking out the rip-roaring, fast-paced action found in NASCAR. They have numerous events each year, and since it's a race, only one person can emerge on top. Check out how to watch NASCAR to find out how to stream each race without cable.