When Netflix debuted as a streaming service, it was the only major player in the game. It quickly built out a massive catalog of content, including both hollywood films and popular TV shows.
A lot has changed since then. By mining data from our sister site AllFlicks, which tracks Netflix's catalog, we've been able to show that Netflix's U.S. catalog is shrinking fast. These days, Hulu has more content than Netflix and Amazon Prime has an incredible four times the number of movies. At the same time, we've seen the company put an increased emphasis on original series – and, according to user review data, that's a strategy that's paying off.
But Netflix's strategy in the United States isn't its strategy everywhere. Looking at AllFlicks data, we were able to see that Netflix's library is actually growing in many other countries. Netflix's Canadian library, for instance, has grown from 3,021 titles (including 2,358 movies and 663 TV shows) to 3,365 titles (2,623 movies and 742 TV shows) since January of 2014. Numbers in Great Britain are somewhat similar – British viewers have enjoyed an increase of 254 titles since the fall of 2014 (9/30/2014), as Netflix's library has grown from 2,739 to 2,993 titles there.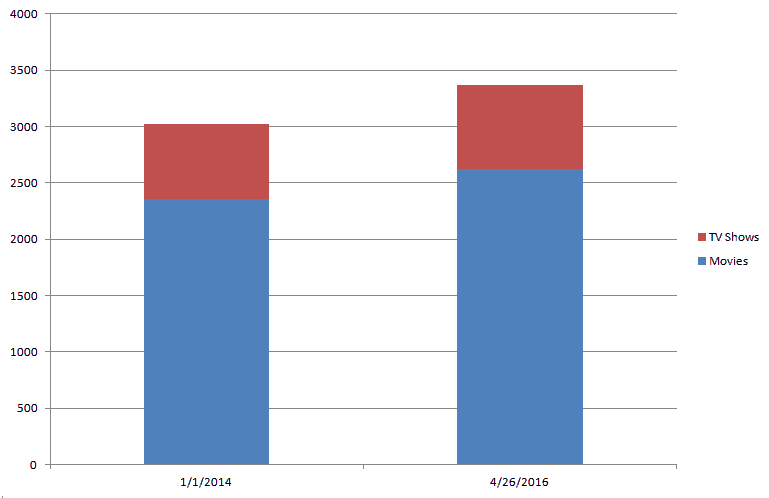 Taking this broader view, we can see that Netflix isn't exactly "shrinking" – it's just balancing its library volumes across international borders. Netflix started in the U.S., but it's now targeting growth overseas. Their budget isn't infinite, so growing their libraries in other countries leaves them less to spend on the shrinking U.S. library – a zero-sum game that's only made tougher by the increased streaming competition that we've noted in past articles.
All of these strategies interlock, of course. Netflix is targeting original content to save on royalties, cutting back on U.S. content, and improving its overseas libraries all at once. By looking at all of this data at once, we can appreciate Netflix's overall strategy. Netflix offers about 14,000 titles worldwide, and the U.S. market only sees a small portion of those.