When Netflix got started in the subscription video on demand service (SVOD), it was the only streaming service of its kind. And while competitors popped up from time to time, Netflix stayed on top: For more than a decade, Netflix was the no-brainer choice for cord cutters looking for on-demand content and a single source for all sorts of movies and TV shows from all different studios and content creators. All of that is changing now, though, as the on-demand streaming market fractures with the arrival of new heavyweights — including tech giant Apple, which just entered the market with a premium streaming service called Apple TV+. Apple TV+ is one of the many options that modern streamers have for their video entertainment, but is it the right choice for you? Read our Apple TV+ review and find out!
Apple TV+ review
User experience
Apple TV+ is built around content, but Apple TV — the Apple streaming app that acts as a portal for content that includes, but is not limited to, Apple TV+ originals — is built around the user experience. Apple TV (the app) launched on iOS devices and the Apple TV (the device) before Apple TV+ (the premium subscription service) even existed. (Yes, the branding can get a bit confusing here.) On the Apple TV app, users can access a wide range of video entertainment, including free content and premium content. The latter, of course, must be paid for — and users who subscribe through the Apple TV app give Apple a cut of the subscription fees that might otherwise go to the subscription provider in question. Premium subscription options on the Apple TV app include HBO, Showtime, and Starz.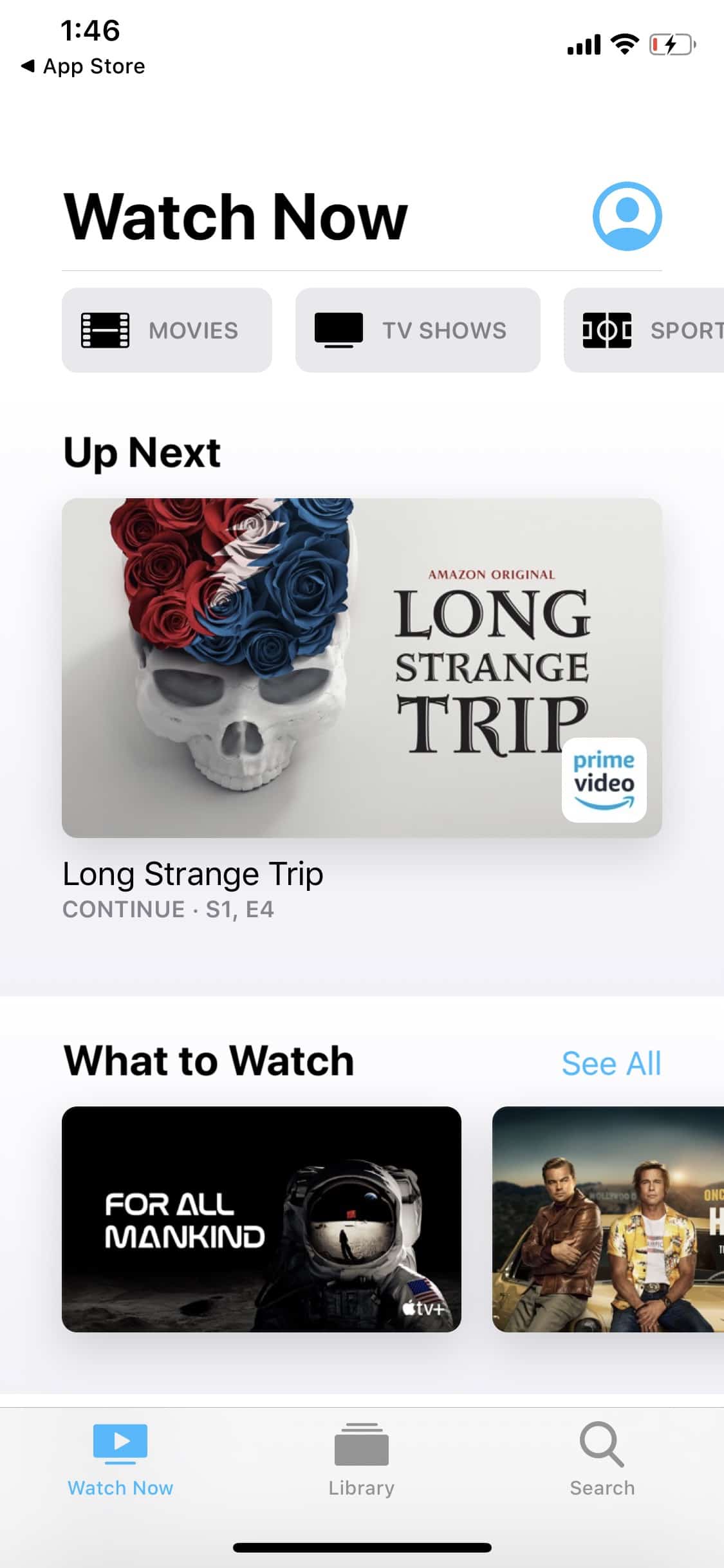 The Apple TV app does a good job of aggregating all of these content options, though it's easy to get tripped up as you browse and forget that you'll need new subscriptions to view some of the content. And aggregating all of your paid subscriptions in one spot is a good idea in theory, but a tough project in practice: Big-time subscription services like Netflix and Disney+ aren't interested in sharing their subscription profits with Apple, and are conspicuously missing from the Apple TV app.
One premium subscription service that is available through the Apple TV app is, of course, Apple TV+. And the Apple TV app does its best to surface the premium content available on Apple TV+. In addition to offering the debut episodes of its series outside of the premium paywall, Apple TV+ gets special in-app pages for its stars. Navigate to a star's page and you'll see their work on Apple TV prominently displayed (this feels a bit silly at the moment, since the star typically has only one Apple TV+ title listed). Also displayed on each star's page, albeit less prominently, are other movies and TV shows of theirs that are available through the Apple TV app's other partners or as rentals or purchases.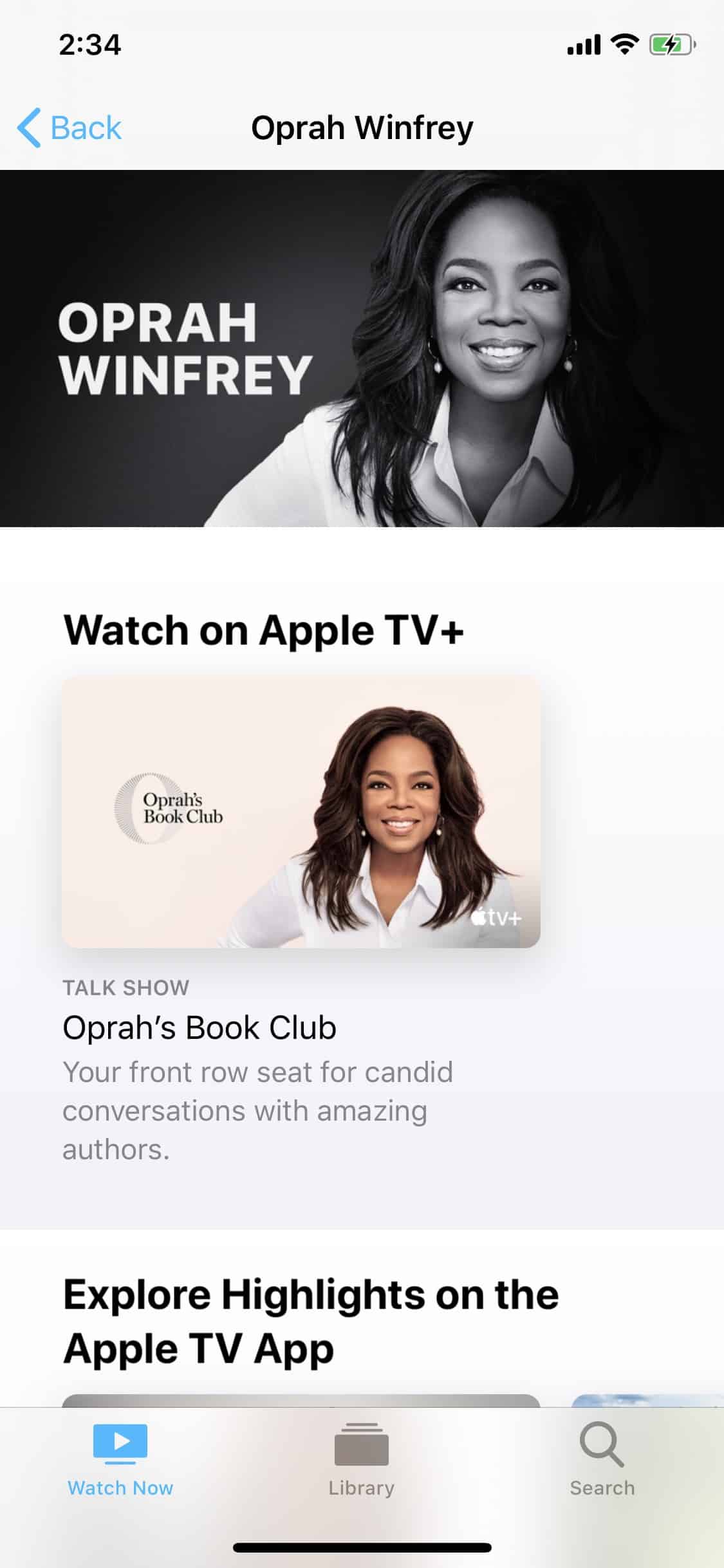 The Apple TV app is pleasant to use, and it makes a good home for the Apple TV+ premium subscription.
Content
Apple TV+ is arrived on the streaming scene at right around the same time as Disney+, and both streaming services can easily be seen as a part of the same trend toward a more fractured streaming market. But, at the same time, there are some big differences between Disney+ and Apple TV+. For Disney, getting into the streaming market made perfect sense: Disney had a huge war chest of top media properties, and its entry into streaming was inevitable, especially after its blockbuster acquisition of 21st Century Fox. But Apple isn't the steward of huge existing IPs and massive back-catalogs of shows and movies. And Apple knew it couldn't count on licensed content to fill the gaps — not when every media company is busily creating their own in-house streaming options. So Apple made huge investments in pricey new shows and movies designed to lure in new customers.
The Apple TV app has content from other sources, of course, but the premium Apple TV+ subscription is all about this new stuff. Apple TV+ originals like The Morning Show, Dickinson, and Oprah's Book Club are going to have to carry Apple TV+.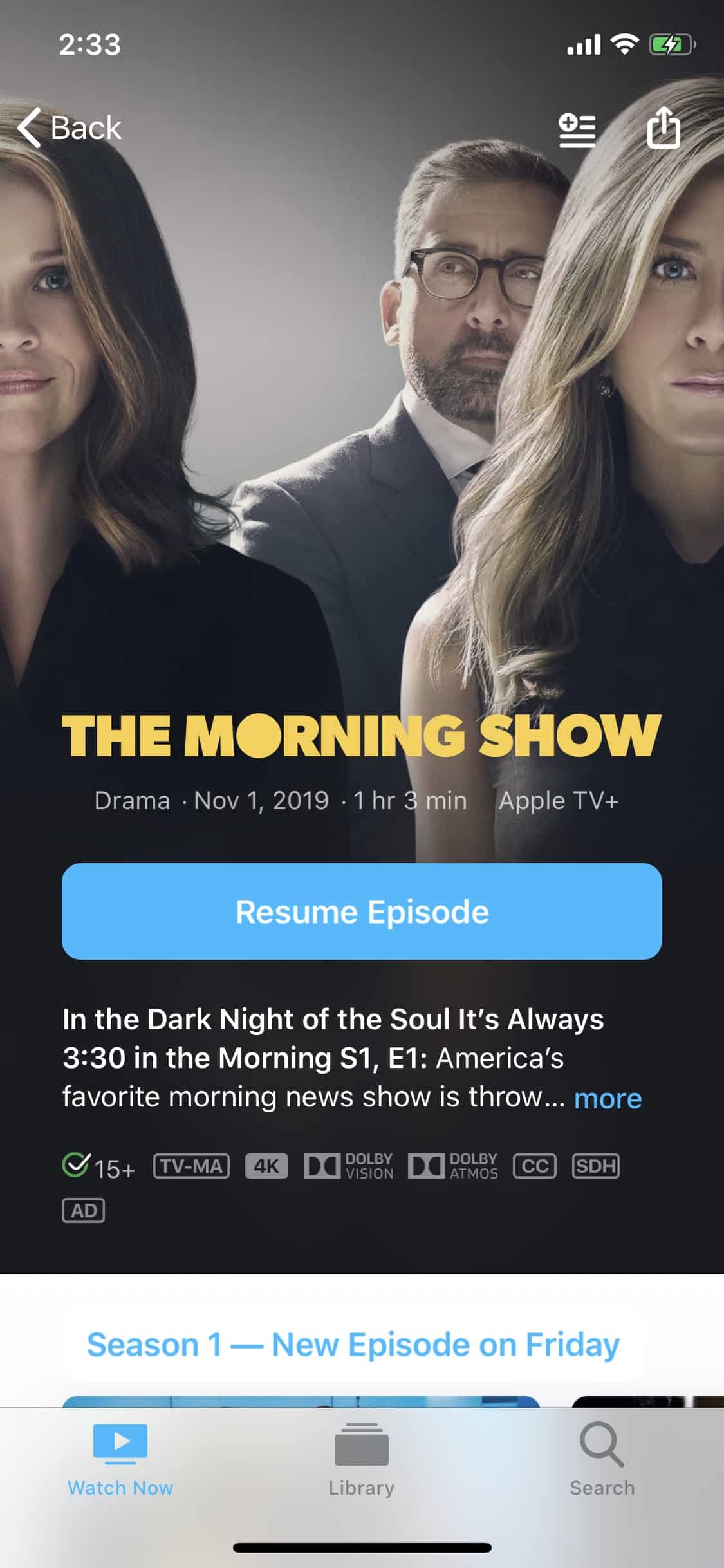 In this tribal era of streaming, it's not enough for us to tell you how large a library is. How many shows and movies a platform has is important, but not as important as it was when we could reasonably assume that the number included all sorts of different stuff from different sources. These days, we understand that the shows on Disney+ are all Disney shows, the shows on HBO are all HBO shows, and even Netflix is increasingly focused on Netflix originals alone; when current contracts with Disney, Comcast, and others are up, it will be up to Stranger Things and its ilk to keep Netflix viewers loyal.
So does Apple's new content have what it takes?
I wasn't blown away by Apple's original content efforts. I didn't see anything bad, and I certainly didn't see anything cheap — it's obvious right away that these shows had huge budgets. While they lack Game of Thrones-style CGI, there are movie stars all over the place and the production quality is clearly high.
The shows aren't bad, but the shows aren't that good either. They're interesting enough to pass the time, but none seem as likely to spark discussion as HBO's more addictive and more critically acclaimed fare, or even as likely to spark memes as Disney+'s The Mandalorian (long live "Baby Yoda").
The Morning Show's premise is interesting, and the stars involved (particularly Steve Carell and Jennifer Aniston) do a good job. But the show makes strange stumbles that more daring work would not — for instance, one of the inciting incidents in episode one is an angry rant by local news anchor (Reese Witherspoon), caught on tape and turned into a viral hit. The rant itself is pretty forgettable, though: The supposedly conservative character gives a weird both-sidesy opinion on coal mining while angrily quizzing a protester, all while absolutely nobody nearby feels the need to chime in or intervene. It's a pivotal scene, one that's replayed at multiple points during the episode, and it doesn't work at all!
Checking out pilot episodes outside of Apple TV+'s paywall or signing up for Apple TV+'s free trial offer will allow you to form your own opinions on the exclusives. For my part, I wasn't won over.
Streaming quality
Apple TV+ streamed quite smoothly for me on wired, Wi-Fi, and wireless 4G connections. Loading times were quick, and the app responded quickly as I rewound and replayed videos.
Apple TV+'s content is available in 4K and supports Dolby Atmos. And you don't actually even have to stream this stuff, per se, because Apple TV+ also allows you to download content to watch offline.
Platforms
Apple TV+ is clearly designed to take advantage of the existing user base that Apple has secured with its popular operating systems and platforms in general and with iOS in particular. Apple's new Apple TV+ service does offer apps for some other streaming platforms, but platform support is far from comprehensive.
Apple TV+ works on iOS, Mac OS, and tvOS (Apple TV), of course. It also works on the Roku and Fire TV platforms. An in-browser app makes the service available to those who use computers other than Macbooks and iMacs.
But users of Android mobile devices are out of luck, as are fans of the Android TV streaming platform, Google's Chromecast, and video game systems like Xbox One, PlayStation 4, and Nintendo Switch.
How much does Apple TV+ cost?
Apple TV+ is positioned as a cheap add-on subscription. Rather than building a huge library and offering a subscription in Netflix's price range, Apple is hoping that its content aggregation app (Apple TV, the app) will lure in customers who are willing to grab a few exclusive shows and movies on the cheap.
Apple TV+ costs $4.99 per month, which makes it the cheapest major subscription video on demand (SVOD) service. For comparison, Netflix's most popular plan costs $12.99 as of this writing. Disney's new Disney+ service costs $6.99. Again, though, this is something of apples-to-oranges comparison. Netflix has far more titles than Disney+, and Disney+ still has far more than Apple TV+.
Verdict
Some of our reviews come down to quantitative and technical appraisals: For instance, reviewing a skinny bundle like YouTube TV means comparing its channel count and selection to competitors like Sling TV, checking its streaming quality, and sizing up its price point. But, over in the SVOD market, things are changing. Apple TV+ is not a service that we can compare to Netflix or Disney+ without talking about the quality of the content itself.
Apple TV+'s shows are decent, and they may be worth the relatively cheap price tag. They're nothing that special, though, in this reviewer's view. You can decide for yourself, though: The free Apple TV app makes debut episodes of Apple TV+'s exclusive originals available to stream. If you get hooked on episode one, you can continue your series with a free trial.
Apple TV+ is a decent service with decent content, but it's far less comprehensive than Netflix and far less essential than Disney+. That may or may not be by design. Either way, Apple TV+ feels solid but uninspiring.