These days, it seems like practically every company around has its own streaming service. Tech giant Apple is no exception! The company behind the Apple TV streaming device and the ever-popular iPhone has gotten into the streaming subscription market with a premium offering called Apple TV+.
Apple's branding can be a little confusing, so let's break it down before we go any further. Apple has long offered a device called the Apple TV, which works more or less like a Roku or Fire TV device. That's a hardware device, so it's different from what we're here to discuss. Then there's the Apple TV app, which lives on Apple devices like Apple TVs and iPhones. The Apple TV app acts as a streaming hub, bringing together free streaming content as well as premium content like the subscription-only offerings from Hulu. (You can sign up for this stuff through the TV app; Apple, of course, will get a cut of the subscription fee!) Finally, there's the service we're here to talk about today. Among the premium subscriptions available within the TV app is Apple's own premium offering: Apple TV+.
It's a little tricky, but hopefully now we can say things like "you can watch Apple TV+ content via the Apple TV app on an Apple TV" without totally losing you.
With that out of the way, let's talk about Apple TV+!
What Shows and Movies are on Apple TV+?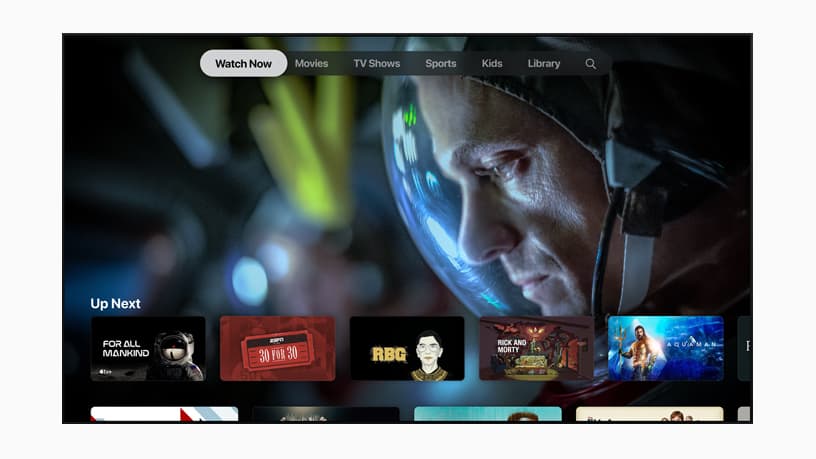 The Apple TV app has a lot of content already, but Apple hopes that the stuff in Apple TV+ will inspire streamers to pony up the extra dough for a premium subscription. To that end, Apple has been pouring money — a lot of money — into original series and movies.
The originals are what it's all about here, which is no surprise. These days, practically every media company has its own streaming service to house its shows and movies in, so Apple knew that it couldn't count on landing a ton of licensed content by contracting with the movie and TV show makers. Apple's investments have led to some high-profile and star-studded programming. Let's check out the list! Note that this list includes films and TV shows that, as of this writing, are slated to debut soon.
TV Shows
Dickinson
For All Mankind
Ghostwriter
Helpsters
Little America
Little Voice
The Morning Show
Oprah's Book Club
See
Servant
Snoopy in Space
Truth Be Told
Movies
The Banker
The Elephant Queen
Hala
This list does not include shows and movies coming way down the line (as of this writing), but Apple TV+ fans will have a lot to look forward to. It's Always Sunny in Philadelphia's Rob McElhenney and Charlie Day are working on a show called Mythic Quest that will debut as an Apple TV+ exclusive, and there's a new version of A Christmas Carol starring Will Ferrell and Ryan Reynolds in the works, too.
What Devices Can I Use to Watch Apple TV+?
A streaming service is only as good as the devices that you can watch it on. We've come a long way since the early days of streaming video, when streaming pretty much meant sitting in front of a computer. These days, you can stream great content on smart TVs, mobile devices, and more.
It will come as no surprise to hear that Apple TV+ will work great on Apple devices like the iPhone and Apple TV. But what other devices can you use to watch Apple TV? Let's take a look at the full list.
Streaming Platforms and Devices
Mobile Devices
Other
As of this writing, there are a few high-profile platforms missing out on Apple TV+ — most notably Android and Android TV, which are owned by Apple's nemesis, Google.
How Much Does Apple TV+ Cost?
Apple hopes that fans of its free Apple TV app will want the premium content available through Apple TV+ badly enough to pay for it. But how much will that be?
Not too expensive, happily. Apple TV+ costs $4.99 per month. That's pretty cheap compared to rivals like Netflix, Hulu, and Disney+, though it's important to remember that there are differences between these services other than price (for instance, Netflix is the priciest but also boasts by far the largest library of stuff to watch).
Deals on Apple TV+
Apple TV+ may not be too pricey, but that doesn't mean that we can't hope to find a better deal on it. Here at Cordcutting.com, we're always on the lookout for the next big discount or promotion.
Apple isn't exactly known for putting its stuff on sale, but it does run occasional promotions. Right now, Apple is offering a free year of Apple TV+ to customers who buy new Apple devices, so you could get a year of streaming enjoyment if you buy an iPhone or a MacBook Pro sometime soon. Of course, those are pretty expensive devices, so this isn't a deal you'd be likely to take unless you were already considering buying a new device.
We'll keep looking for more great deals, so be sure to check back with us regularly and follow us on social media for the latest.
Right now, the best deal you can get on Apple TV+ is the service's free trial offer. If you sign up for Apple TV+'s free trial, you can enjoy everything that the service has to offer for seven days without paying a dime. If you cancel before the trial period is up, you won't be charged at all; if you stick with it, the service will renew monthly at its usual price.
Getting an Apple TV+ Free Trial
Like many of its rivals, Apple TV+ offers a free trial. You can test out the service for seven days, risk-free. Getting this free trial offer is a breeze: Just head to Apple's website or sign up through the TV app on your iPhone, iPad, or other Apple device.
Apple TV+ Contracts
Like pretty much all services of its kind, Apple TV+ allows customers to cancel at any time, but won't refund past payments. This means that cancellations take effect at the end of the current "pay period." For example, if you wait until the day after you make the monthly payment to cancel, then you'll enjoy another month of Apple TV+ before your cancellation takes effect; don't expect to be refunded 29/30ths of your $4.99 just because you cancelled early in the month.
If you cancel during the free trial, you won't pay anything at all, but your service will end immediately.
How to Cancel Apple TV+
Speaking of canceling things, how does a person cancel Apple TV+?
It's pretty easy, actually. You just need to cancel through your Apple account, since that's how Apple is billing you.
On your iOS device, this just means navigating to Settings>[your name]>Subscriptions. From there, just selection Apple TV+ and hit the "Cancel Subscription" button.
You can also cancel on your Apple TV. Just navigate to Settings>Users & Accounts>Subcriptions.
Finally, you can manage subscriptions on your computer. On Macs, you can access this stuff via the app store. You can also go to Apple's website on any computer.
All About Apple TV+
If you've read everything above, then you know an awful lot about Apple TV+! But there's always more to learn, and you can learn it right here at Cordcutting.com. Be sure to check out our Apple TV+ review as well as our takes on all of the other great streaming services out there (and a few less-than-great ones, too). For the very latest in cord cutting, including great discounts and deals, be sure to follow us on Twitter and like us on Facebook.