Customize your channel lineup and make TV uniquely yours
Some people don't need (or want) the 1,000-plus channels their cable package includes. Nor do they want the steep monthly bill that comes with it. Enter Sling TV. Owned by Dish Network, Sling TV is an affordable streaming service that delivers hot new TV for just $35 per month. You won't get as many channels as traditional cable offers, but you can also save more than $50 a month by cutting the cord. The service is already affordable, but you're on the hunt for a Sling TV deal that makes it even cheaper. We've got you covered.
What's it going to be: the orange pill or the blue pill? Those are the color-coded packages offered by Sling TV. Orange offers 33 live channels and one stream, while Blue has 42 live channels and three simultaneous streams so your family and friends can watch on a different screen at the same time. You could also opt for the combination Orange and Blue package, which gives you the best of both worlds with up to four simultaneous streams.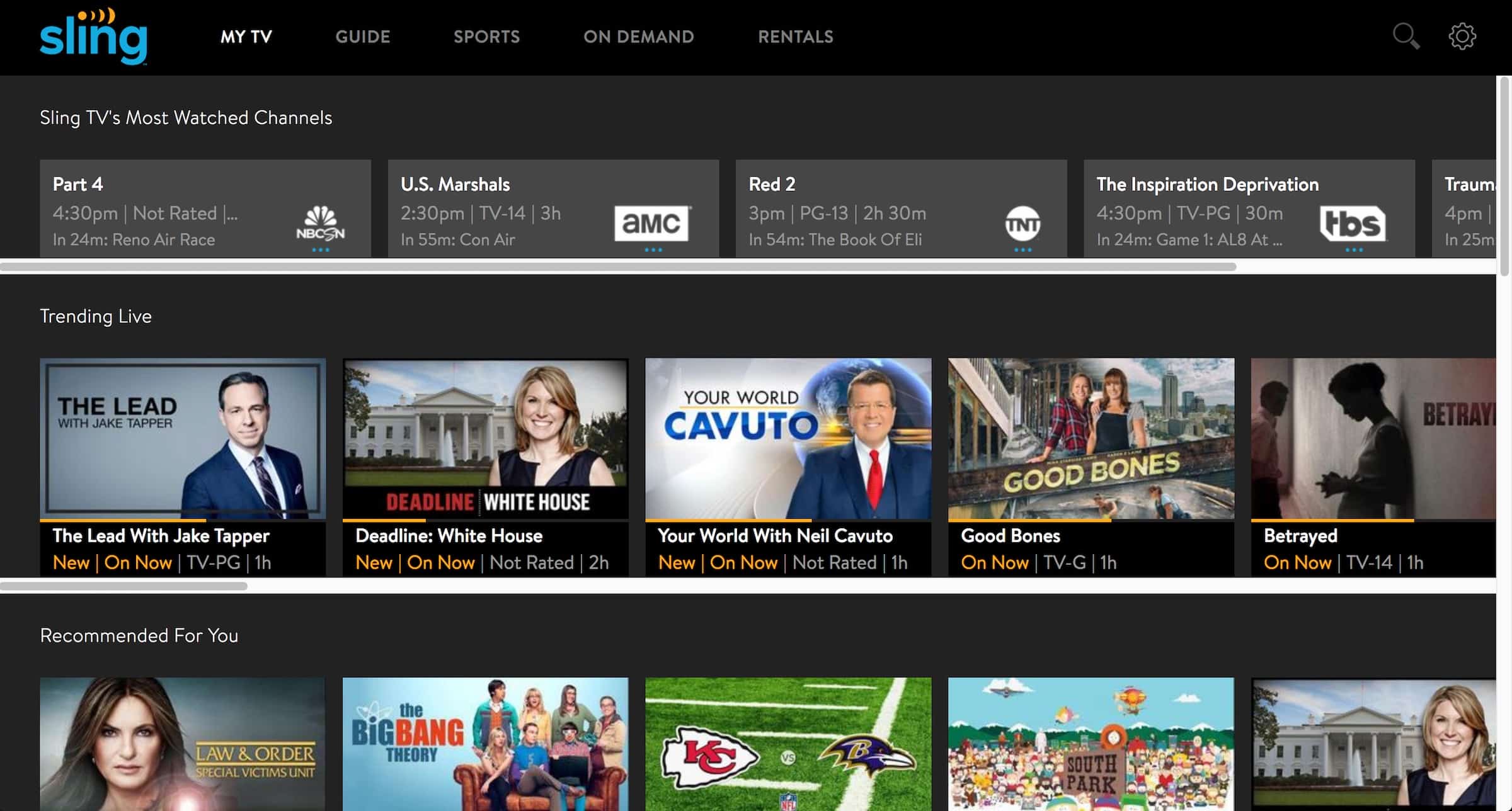 How Much Does Sling TV Streaming Cost?
Both Sling Orange and Sling Blue cost $35 per month. Why are they the same price if Sling Blue comes with more channels and more streams? Good question! It's because Sling Orange includes great channels like ESPN and Disney Channel, while Sling Blue focuses more on regular programming and entertainment. The combination Sling Orange and Blue package is $50 per month. And let's not forget Sling TV Latino, which is just $10 per month. We think these prices are reasonable considering the content you get. For more on Sling TV's pricing, check out our guide to Sling TV.
What Are The Best Sling TV Deals?
You came here for Sling TV discounts and deals, so here are the best ongoing Sling TV deals:
Get $25 off your first month of Sling TV. New customers enjoy $25 off Sling Orange, Blue, or Orange and Blue packages when they sign up. It's not clear whether this deal is short-term or ongoing, so get it while you can.
Free HD antenna or AirTV with prepaid Sling TV. Sling TV's own deals page frequently offers freebies when new customers prepay for two or more months. Right now, you can get a free HD antenna or AirTV Mini when you prepay for two months. With three months of prepaid Sling TV service, you'll get both the HD antenna and your choice of an AirTV Anywhere or an AirTV 2.
Sling TV account sharing. If you go with either the Blue or Orange and Blue plans, you get up to four simultaneous streams, which allows you to split the cost with family and friends.
As of this writing, Sling TV does not offer student discounts, military discounts, or senior discounts that we know of.
What Are Sling TV Black Friday and Cyber Monday Deals?
In years past, Sling TV has helped new customers save money on Black Friday and Cyber Monday. They're the biggest online shopping days of the year, and cord-cutters everywhere are searching for deals. We aren't sure what Sling TV has in the pipeline for future holiday sales, but chances are you'll find a deal.
Look for dollar-off and percent-off deals and discounts. Most streaming services offer holiday savings in one form or another. To remain competitive in a saturated market, it's likely Sling TV will slash prices for new customers. If you want to stream live TV at home or on the go, look out for Sling TV Black Friday and Cyber Monday deals. They probably won't last.
Are There Sling TV Discount Codes and Coupons?
You may also want to look for ongoing Sling TV deals in the form of promo codes and discount codes. These are often short-term deals for a specific season, but you may find Sling TV promo codes that are valid all year. We haven't seen any of these discounts surface recently, but we'll keep looking and share our findings with you.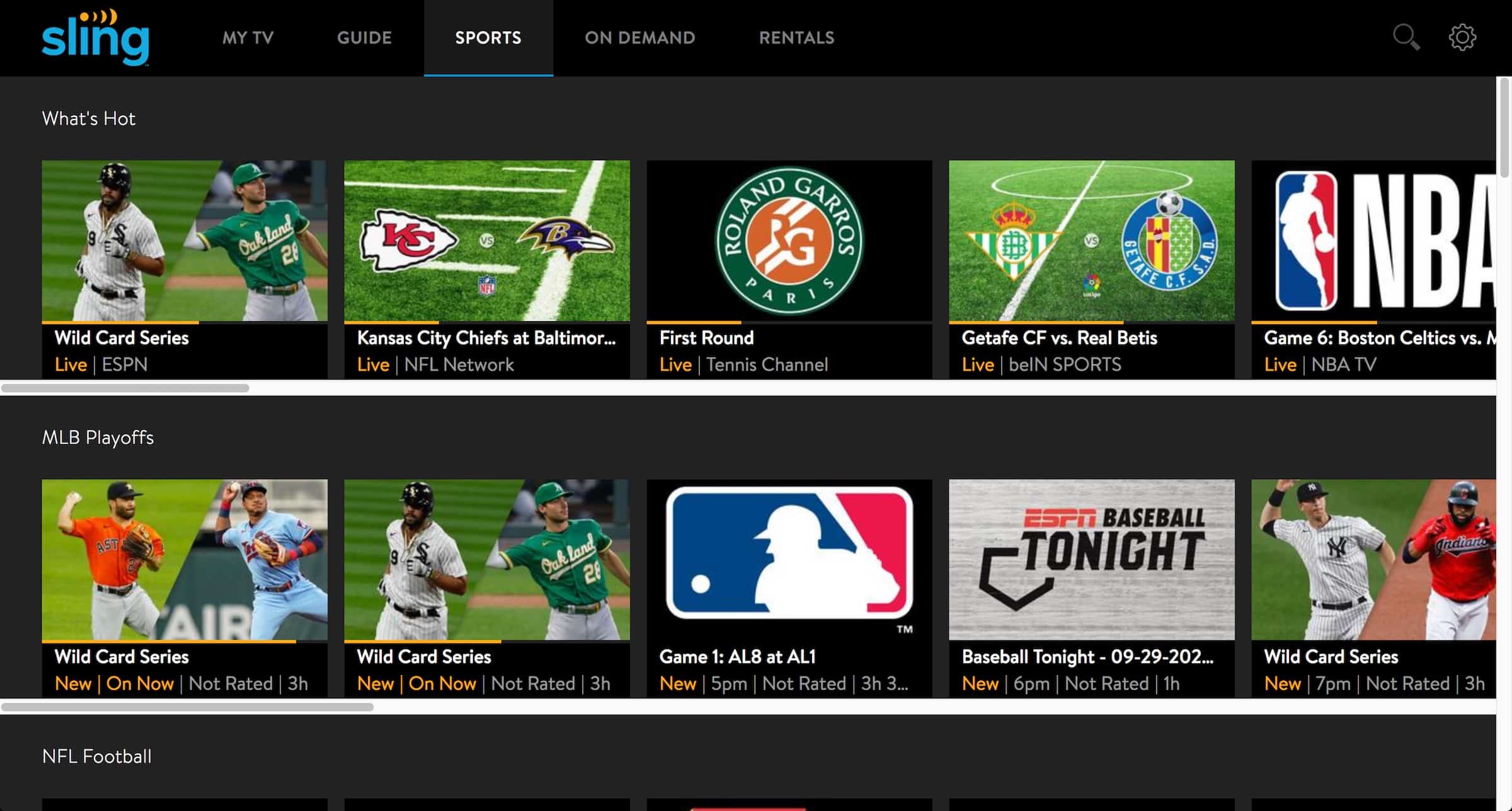 How to Stay Up to Date on Sling TV Deals
It can be easy to overlook a deal on streaming services like Sling TV. Many people just want convenience and a speedy checkout process, but others want to stay in the loop on the best Sling TV deals available. We recommend bookmarking this page and circling back every month or so. As Sling TV announces new deals and cost-saving opportunities, we'll update this page with the latest and greatest intel for your saving pleasure. Our goal is to educate readers like you on the best ways to cut the cord and save a few bucks while you're at it. Meanwhile, check out our Sling TV review.
How to Save Money on Sling TV Streaming Today
Don't let the best deals die on the vine. Sling TV offers many great ways to save on your monthly subscription. You don't have to wait for a flash sale or lightning deal to get the lowest price on Sling TV. You can cash in on the service's ongoing deals and start streaming popular television today. Whatever you do, go forth and never pay full price on your cord-cutting adventure. There's always a deal if you know where to look.