You may have heard of USTVnow, the streaming service that offers cable television packages that range in price from free to over $100.
USTVnow is ostensibly designed for Americans living abroad (military service members, for instance). The idea is that Americans would normally have access to these channels (perhaps even free over the air), but no longer can. However, USTVnow doesn't do anything to verify that you are American or living outside of the United States, so it's effectively a free-for-all.
That means you can get USTVnow no matter where you live. But should you? Here's our review.
The User Experience
Device support is fairly weak on USTVnow. There is a Roku private channel that is pretty good, and USTVnow works on your phone, tablet, computer, and smartphone. That's about it, though – don't expect support for Chromecast, Amazon Fire TV, or Apple TV. The unlimited DVR feature is a nice touch (you can only get it with the paid account, though).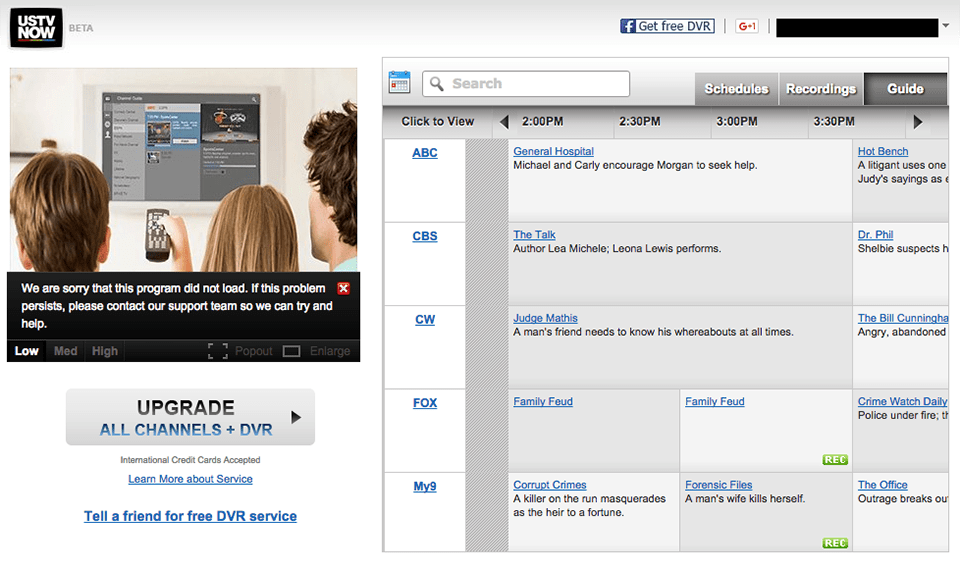 We weren't that impressed with USTVnow's UI. USTVnow's interface isn't bad, exactly, but it's also a constant reminder that the service exists on the fringe of legality. It's pretty basic, with stock photos, blue links, grey tones, and right angles galore. Using it was pretty painless, though it occasionally hit us with strange error dialogue boxes upon login. The USTVnow logo in the upper left corner of the screen indicated that the service is in Beta, and it shows.
All of this is no big deal for the free plan – you don't expect luxury when you're using a quasi-legal service and netting a bunch of free TV. But USTVnow's paid customers probably deserve better.
The Content
USTVnow's paid version includes more than 25 channels. That's not a bad selection, especially considering the big names that are included: you'll get the four major networks, plus AMC, CNN, ESPN, FX, TBS, and TNT, to name just a few. The free version includes six channels: ABC, CBS, CW, FOX, NBC, and PBS (those are free because they're the ones that Americans could theoretically get free over the air at home). Here's a quick breakdown of the pricing for the paid version: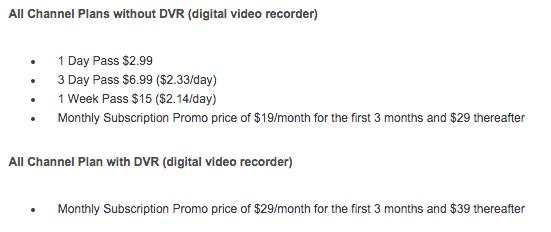 There's also a "premium plan" with over 200 channels, including HBO and Showtime. That will run you more than $99 and uses a different system.
It's hard to find reasons to complain about USTVnow's content. The only strange thing about the content is that it comes from Harrisburg, Pennsylvania. Since the major networks, PBS, and the rest have regionally-specific content, this can make for kind of weird moments. Local news, NFL games, and other programming will be based on whatever Harrisburg gets. There are also lots of local Harrisburg commercials, which is amusing. It's a little bootleg, for lack of a better word.
We mentioned the NFL up there. NFL games are a big boost to USTVnow's content selection, especially since most games are on the channels that you can get for free (the Monday night games on ESPN are the ones that will cost you extra). NFL games are really hard to get ahold of, so it's nice to be able to catch them. Note that the local broadcasts for Harrisburg cover the Steelers and Eagles, so you'll have to hope that your favorite team isn't playing in the same time slot.
Streaming Quality
Streaming through USTVnow is solid but unspectacular. The quality is determined largely by your internet bandwidth, but you can choose between low, medium, high, and HD quality at will. We experienced occasional pixelation and poor picture quality. Streaming on low quality was very consistent and smooth; at higher picture quality levels, we dealt with more freezes and choppiness. Internet bandwidth determines streaming success, so your milage may vary. For what it's worth, the low quality stream wasn't that blurry, so this wasn't the end of the world.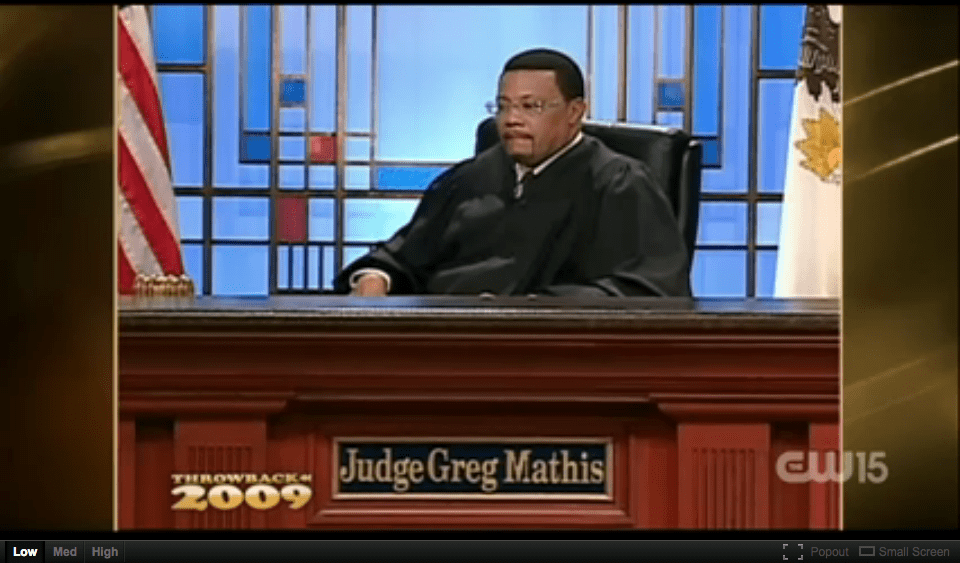 One annoying thing about the stream is that it re-loads every time you change the quality (understandable) or picture size (less understandable), and it takes a fair amount of time to do it. You'll miss 10+ seconds of your program if you make a switch from one video quality to another.
We did have some issues streaming content on Sunday, when NFL games were airing. This could have been because a high volume of users were streaming at once. Once again, it seemed like something you'd expect from a free illegal stream, but would be hard to swallow as a paying customer.
Our Conclusion
You can't beat the price of USTVnow's free plan. Even if USTVnow is eventually shut down, individual users will almost certainly never be prosecuted, so you might as well make a free account.
USTVnow's monthly rate of $29 for a paid plan is much tougher for us to justify based on our experience. Sling TVÂ has fewer channels and a weaker content selection, but it's also $9 less, features more device support, and isn't illegal. That said, USTVnow's day passes are a very attractive option for appointment viewing like sports events and TV specials.