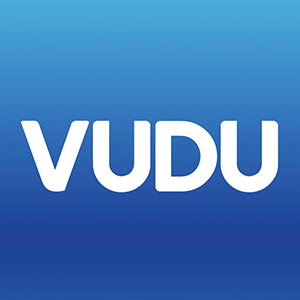 Rent or buy movies online!
If you're looking to rent or buy a movie, you have a lot of options — including Vudu, the service I'll be diving into in this review. Vudu has more than 150,000 on-demand movies and TV shows, but it also has stiff competition — including Amazon Video, iTunes, and Google Play. How does it measure up?
In my testing, I took a look at all that Vudu had to offer. That includes not just the movie rentals and purchases, but also a few thousand ad-supported streaming titles. Numbers don't tell the whole story here, though, as there's a lot more worth investigating. Sure, a big catalog is important, but it's not the only thing that matters to streamers like us. Is Vudu a worthwhile way to watch movies and TV? I'll tell you in our official Vudu review, so keep reading for everything you need to know.
Vudu Pros and Cons
Pros
Big library of rentals and digital video purchases
Crisp "HDX" video quality: 1080p at 24 FPS
Some movies available in 4K UHD
"Disc to Digital" feature
Cons
Most rentals only last 24 hours
Intrusive ad experience
Free titles seem low-quality
What You Can Watch on Vudu
Vudu is first and foremost a video marketplace: You can buy or rent movies or TV shows on this app.
Technically, you don't always have to buy a movie from Vudu to add it to your permanent Vudu library. That's because the service offers a "Disc to Digital" program. It lets viewers scan physical movies with their mobile device, then converts that movie to a digital copy for either $2 or $5, depending on the format.
I found that Vudu had more than just rentals and purchases, though. Vudu also gave me access to a library of free, ad-supported content. It reminded me of what some competitors offer — though there were also some important differences.
With some other services, like Redbox, expanding beyond rentals and purchases has meant adding "live TV." But there are no live channels on Vudu. For now, at least, Vudu is sticking to on-demand movies and TV shows for both free and paid content. The only things that Vudu's free content has in common with live TV are the ad breaks!
So there you have it: On-demand content is what you can watch on Vudu. But what kind of movies are on Vudu? I found everything from high-profile films that are still in theaters to overlooked movies that I never knew existed. I filtered the movies category by "most-watched" and saw titles like Trolls World Tour, Sonic the Hedgehog, and The Avengers.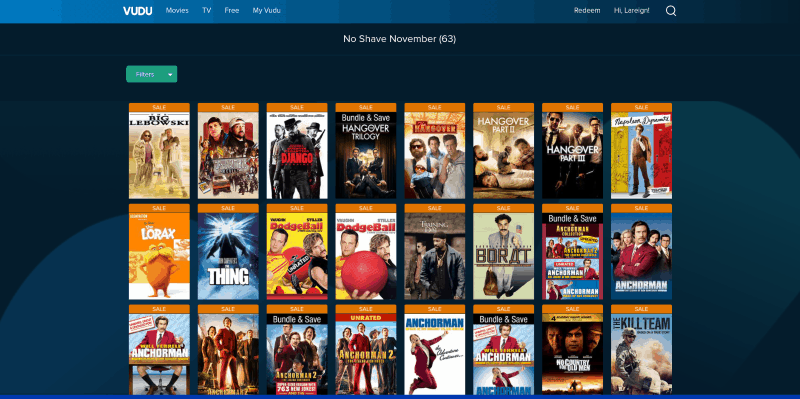 For the most part, you should assume that movies like this will cost you money to rent or buy. But what about deals? Every service like Vudu has a section for viewers who want discount movies and TV shows. When I tested Vudu, I found sales on James Bond films, "classic kids movies and TV shows," and my personal favorite, "No-Shave November." That's right: someone at Vudu pulled together a selection of movies based on the presence of facial hair. Titles include The Big Lebowski, Borat, and No Country for Old Men. Personally, when I contemplate No Country For Old Men, my first thought is always, "Man, someone give those guys a razor!"
It's not just movies: Vudu has TV shows too. I found full seasons of shows like Grey's Anatomy, Game of Thrones, and South Park on the Vudu app. If you'd rather just buy one or two episodes of a given show, you'll be happy to know that you can also purchase episodes individually. There are also ad-supported shows that stream for free, including Hell's Kitchen, 3rd Rock from the Sun, and The Big Comfy Couch.
Like any real American, I support comfy couches. But I have to be honest: I saw a definite decline in quality once I adjusted the app's filters and viewed only free TV shows and movies. It makes sense that Vudu isn't giving away its best stuff for free, but things were so bad here that there were many titles in the free category that struck me as unintentionally hilarious. I think you might feel similarly, unless you agree with Vudu that MILF (2018) belongs in the "All-Time Classics" category. Other eyebrow-raising options I spotted included a film called Hansel & Gretel Get Baked and a documentary called Boobs: An American Obsession.
How It Felt to Use Vudu
Vudu's apps are all pretty straightforward, but I don't think they are all created equal. In my testing, I found that using Vudu on the Roku platform was a better experience than using it in my web browser. To be fair, part of the reason why was the screen real estate: My TV screen is bigger than my laptop's screen, and that meant I could view more titles at a time. Still, I felt that Vudu didn't always adjust its app to make the best use of space on screens of different sizes.
The set-up of Vudu's apps is similar on all platforms: The home screen contains a sampling of featured titles to scroll through, and I could scroll to the top and click on a category to explore further.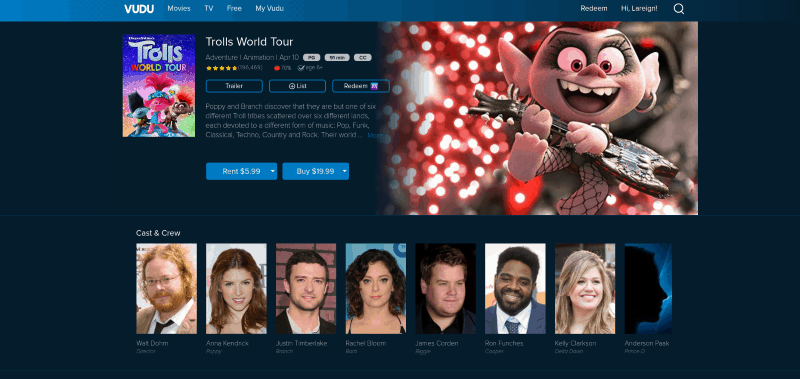 Vudu's Roku app made locating different categories a little easier, mostly because the top menus were easier to access. On the web app, I had to use a pull-down menu to fully sort through my options. But the web version also made it easy to filter by things like year and MPAA rating. I especially liked the ability to filter by a movie or TV's shows score on Rotten Tomatoes. I think you will too, especially if you enjoy reading reviews before you hit the start button.
One thing that was missing from Vudu's app on every platform I tried was any way to sort titles by price. I could view just the free titles in each category, but that was the only price-related control — I couldn't set a maximum price of $3 or $5, for example.
The "Deals" category had a selection of movies available to buy for $5.99 or less, which made the lack of price filtering a little less frustrating, but I still wished that I had more ways to sort and sift the content by price. The prices on Vudu vary significantly, even within the "Deals" category, partly because the deals were sometimes for multiple movies bundled together in packages.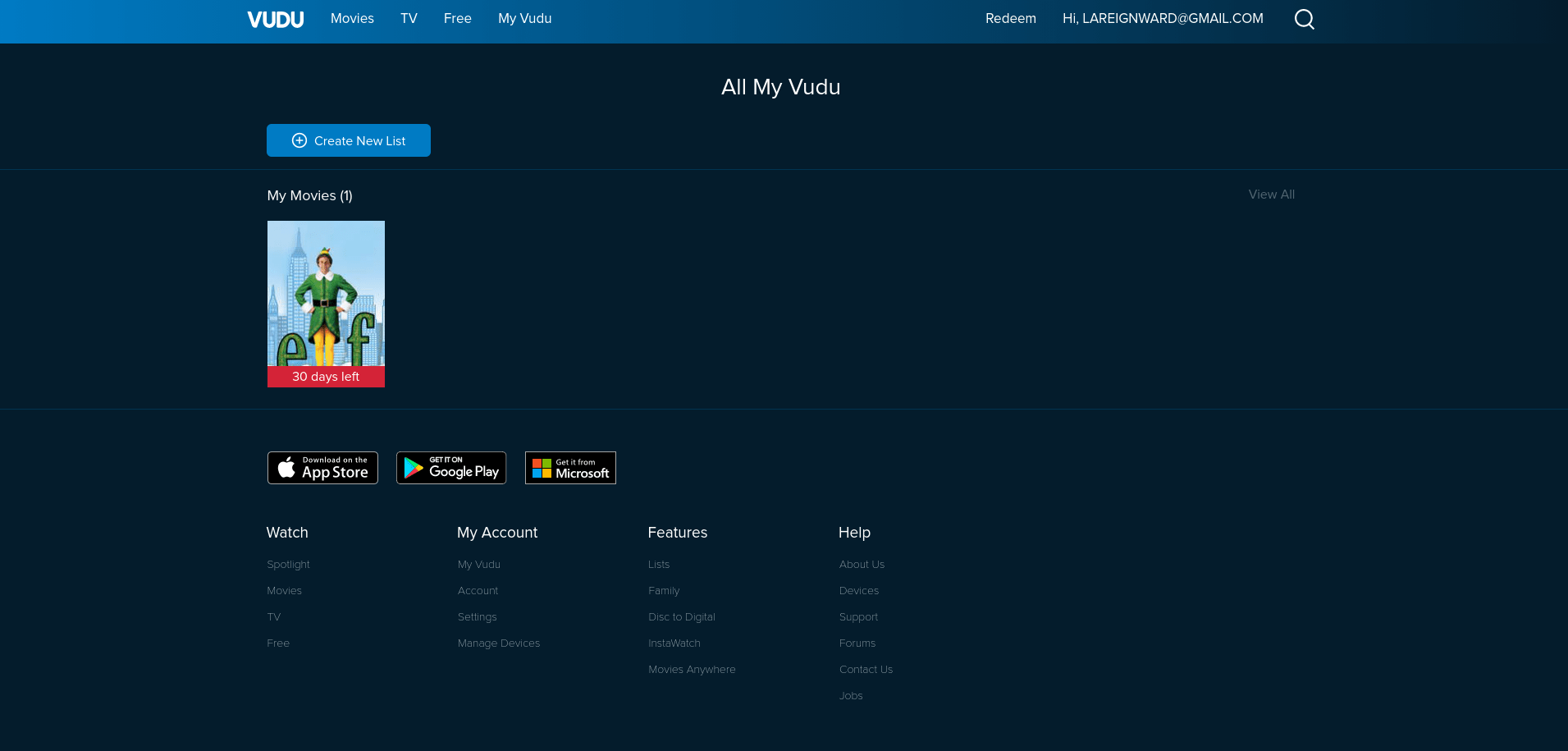 All services like this have rules regarding how long you can wait to start watching a rented movie and how long you'll have it after you hit "play." With Vudu, I got 30 days to start watching something. In my experience, that's the industry standard, so I had no complaints about that part.
But the actual viewing window disappointed me: With most rentals on Vudu, I got only 24 hours with a film starting from the time I began watching. The standard on services like Redbox and Amazon Prime Video seems to be 48 hours, so Vudu came up short here.
Again, this was most titles, not all of them: There's a category of movie rentals that last 3 days, which is nice. But most of them seemed to be Disney titles, and I can stream those anytime I want through my Disney+ subscription. All of the films I rented when testing this service gave me just 24 hours to finish once I'd started, and that didn't impress me.
Of course, the rules are different when purchasing a movie. At that point, it's in your personal library forever, or at least for as long as Vudu exists. Vudu also makes it easy to find purchased movies; all you have to do is navigate to the "My Vudu" section. I could even add movies to my wishlist for later.
Finally, I should mention this: I had to sign in to watch anything on Vudu, including free content. I created a free Vudu account, but if you don't want to do that, you can also log in using a pre-existing Facebook or Walmart account.
Vudu Features and Streaming Quality
Vudu has an exclusive type of HD known as "HDX." HDX streams in 1080p at 24 frames per second, which is similar to HD titles on other services. But Vudu says its quality is better because, among other things, it encodes videos at a higher bitrate. When I watched HDX on the app, I did notice that the video quality was nice and crisp — especially considering that, by the numbers, 24 FPS is not all that impressive.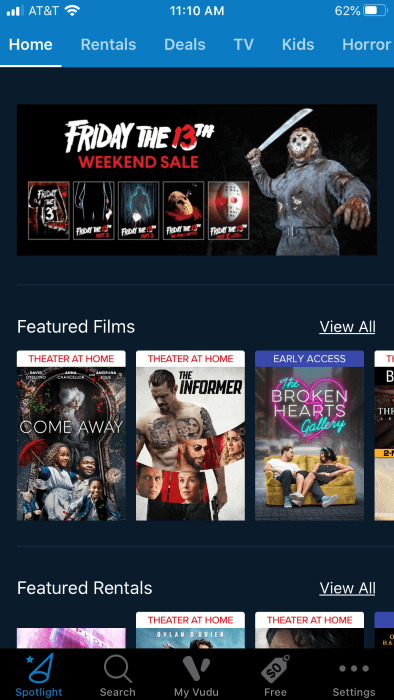 If HDX doesn't sound appealing, Vudu also contains an impressive selection of 4K Ultra HD rentals. I found at least 300 titles in that format. For comparison's sake, services like Redbox don't have any digital titles available in 4K. If you're interested in watching movies in the highest available picture quality, then Vudu is definitely worth a look. Vudu's 4K selection includes everything from Home Alone to Deadpool.
Vudu Platform Support
Vudu promises that its service "plays on all your favorite devices." That sounds nice, but there are some major gaps. First, let's talk about smart TVs: Vudu is compatible with Vizio, Samsung and LG. It also works with Sony, Samsung, and LG Blu-Ray players.
For streaming devices, you can choose from Roku, Chromecast, or TiVo. If something seems missing, that's because it is: Vudu is not compatible with either Amazon Fire TV or Apple TV. For that, you can probably blame Walmart. Walmart doesn't own Vudu anymore, but they did until pretty recently. Amazon and Walmart are fierce competitors, so it makes sense that they wouldn't exactly be buddies.
What about video game consoles? Vudu works with Playstation, Xbox, and the Android TV-based Nvidia Shield TV. If you're out and about, you can watch Vudu on both Android and iOS devices.
Finally, there are computers. You can watch Vudu on both Macs and PCs. If you want to watch in Vudu's special HD format, "HDX," then you'll need to use Safari or Edge. If you're using Chrome or Firefox, you'll only be able to watch SD.
I tested Vudu with Roku, iOS, and the Chrome browser.
Vudu Value
There's no monthly subscription cost to Vudu. Instead, you pay as you go. For instance, if I wanted to buy a new release like Mulan, I could expect to pay $19.99. That's a typical price point for buying a movie through Vudu. What if I wanted to rent Mulan? I couldn't, at least not as of this writing.
But most of the movies are available to rent as well as buy. For renting, the most common price point seems to be $3.99, which is in line with similar services like Redbox. Some titles are as cheap as $1.99, while newer titles will cost $5.99 to rent. All those prices are similar to what I've seen on other services. I was expecting to pay more for 4K titles, so I liked that you could get a movie for the same price regardless of format. In other words, if a movie costs $5.99 to rent in SD, it will also cost $5.99 in "HDX" and 4K.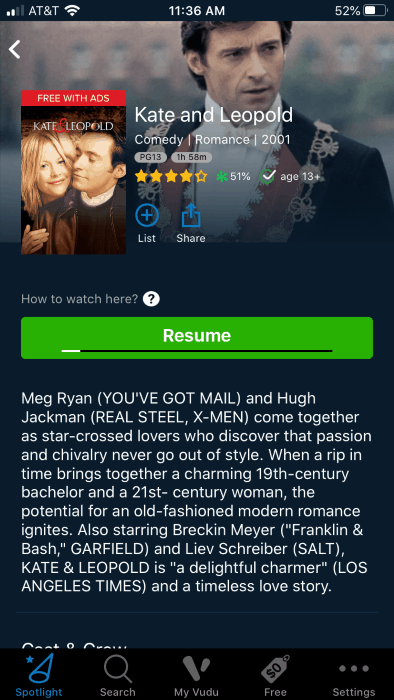 What about the free titles? It seems to me like you get what you pay for there, which is nothing. The only free titles I really recognized were the films Kate and Leopold, Sin City, and The Boondock Saints. And when I watched some of Kate and Leopold, I found that the ad breaks weren't exactly natural. The first ad break started immediately after Hugh Jackman's Leopold started chasing a guy on horseback. To be clear, it didn't feel like a cliffhanger, as some abrupt commercial breaks do on cable. Instead, it felt like Vudu was inserting ads on a specific schedule, regardless of how it affected the viewing experience.
Vudu Review: Our Verdict
Vudu gets points for its high-definition options, but it loses points for its short rental window. This service may be right for streamers who have 4K TVs, but I have a hard time getting over the fact that Vudu makes viewers finish most films in just 24 hours — half the time that high-profile competitors like Amazon Video and Redbox typically offer.
Vudu is not a good fit if it sometimes takes you a couple of days to watch a movie in its entirety. Sometimes I turn on a movie and get sleepy or decide I'd rather watch a live football game, so I like the flexibility of those longer windows. If you do as well, you can look at the 3-day rentals on Vudu. But if you want a service where 48 hours is the norm, head to Redbox or Amazon Prime Video. Ultimately, Vudu's problem is that there are some other services out there that offer the exact same services — and do a slightly better job of it.